Katlego Danke (born: 7th of November 1978) is a 45-year-old actress, radio DJ, and television personality. From all indications, Katlego Danke is not married and does not have a husband
Danke surfaced on the acting scene in 2002 and has since written her name in gold as far as the SA movie industry is concerned. Playing the role of Dineo Mashaba on the set of the most-watched soapie – Generations introduced her to the limelight and her acclaimed performance essaying the role of Kgothalo in Isidingo was just amazing.
Actresses of her caliber spark a lot of curiosity among fans who wish to know their life details, especially with respect to romance. However, with Danke, it's hard to confirm anything as the actress has kept fans wondering for many years.
Profile Summary Of Katlego Danke
Full Name: Katlego Danke
Date of Birth: 7th of November 1978
Age: 45
Nationality: South African
Education: University of Cape Town, Wits Business School
Parents: Qhawe
Occupation: Acting, DJ, Media Personality
Years Active: 2002 to date
45-year-old Katlego Danke Was Born In West North
Born in South Africa, West North to be precise, Katlego Danke's date of birth is November 7, 1978. She spent her growing up years moving from one SA town to the other; the actress touched Potchefstroom, Mafikeng, Ga-Rankuwa, and Mabopane. Very little about her family is in the public arena. We only know that her mum goes by the name Qhawe who according to reports shares a close affinity with Katlego.
On Mother's Day of 2020, the movie star dedicated a social media post to the woman who gave her life, stating her profound gratitude for having her as a guardian. Sadly, nothing has been mentioned about Danke's dad; similarly, it is hard to tell whether she is the only child of her parents or grew up with siblings. Growing up, Danke had to battle with self-love as chronicled in an Instagram post.
In the same vein, information about her early academic history is not known, but she is an alum of the University of Cape Town where she studied Theatre and Performance, graduating in 2001 at the age of 23. In 2010, Katlego Danke proceeded to Wits Business School in pursuit of a Diploma in Management Studies.
Katlego Has Made Great Achievements at 45
When she surfaced on the acting scene in 2002, Danke started on the stage, recording performances in productions like The House of Kalumba, Beyond the Veil, Crimes of the Heart, The Town that was Mad, Miss Tertiary Feel, King Lear, the Opera performance of Macbeth, and Occupational Therapy Project.
She was already active in the theater before making her debut onscreen performance in e.tv's Backstage; Danke started appearing onset in 2002. Four years later, in 2006, the actress scored a role in Generations which resulted in an award in the category of Best Actress. Danke stayed with Generations until 2016 before departing to the SA soapie Isidingo where she breathed life into the character of Kgothalo. After Isidingo had its full run on the 12th of March 2020, the actress scored another lead role in Gomora on Mzansi Magic. Her job as a media personality includes hosting the live Lotto draw.
These are some of her television and movie roles in bullet points:
Isidingo as Kgothalo
What's Bothering Marc Lottering on SABC
Elna Liebe in Afrika as Sophia
SABC2's Afrikaans soapie 7de Laan
Backstage as Keketsos
Generations as Dineo Mashaba
Danke's theater roles include:
The Suit Miss Tertiary Feel
The Town that was Mad
Beyond The Veil
The House of Kalumba
The opera performance of Macbeth
King Lear
Katlego Danke's Success In The Movies Attracted Some Lucrative Endorsement Deals and Awards
As soon as she gained prominence in the South African entertainment scene, Katlego Danke became a target for big brands who sought to leverage her fame in selling their products. She inked lucrative deals with the likes of Clover, Vanish, Klipdrift Brandy, and Honda, appearing in their commercials. In 2007, The Pond's Passport to Success employed her services as the face of their campaign. 2015 was when Philips Avent – the popular international baby products brand named her their brand ambassador. Danke has also featured in print commercials, appearing on the cover pages of publications such as True Love, Drum, and Real.
Perhaps Katlego Danke's greatest achievements in the entertainment industry are her awards and commendations. The Duku-Duku Awards of 2004 nominated her in the category of Best Screen Villian and she earned a two-time mention on the FHM's list of 100 Sexiest Women in the World; in 2006 and 2011. In 2009, Danke became the Best Dressed Actress at the SA Film and TV Awards. 2010 was when she became a nominee for Favorite Actress at the YOU Spectacular Awards.
She is also a motivational speaker, addressing the SA youth for organizations such as The National Department of Health, ANC Women's League, the World Bank, and Sonke Gender Justice Network. Danke is passionate about children, working with charities like The Johannesburg Children's Home and The Abraham Kriel Children's Home.
Katlego Danke's Relationship Status Has Remained A Mystery To Date
Arguably, the Generation actress is the most secretive Mzansi celeb when it has to do with her love life. Katlego Danke has kept the details of her romantic exploits under lock and key and going by what is perceivable, she doesn't even look as if she will open up in the future. Thus, no one knows whether she has been married or not. However, there is no denying that the celebrity DJ is active on the love scene since she has become a mother. Although there were previous speculations about her dating Andile Ncube who works as a sports presenter, these claims have never been substantiated to date.
Despite keeping her personal life away from the public arena, the mother of one has confessed to loving the nuptials, she made this claim while promoting the scene on Isidingo where she was featured as a bride, according to the actress, they were beautiful moments. Since she has never deemed it necessary to name the man in her life, Katlego Danke is considered to be a single mother.
She is A Mother of One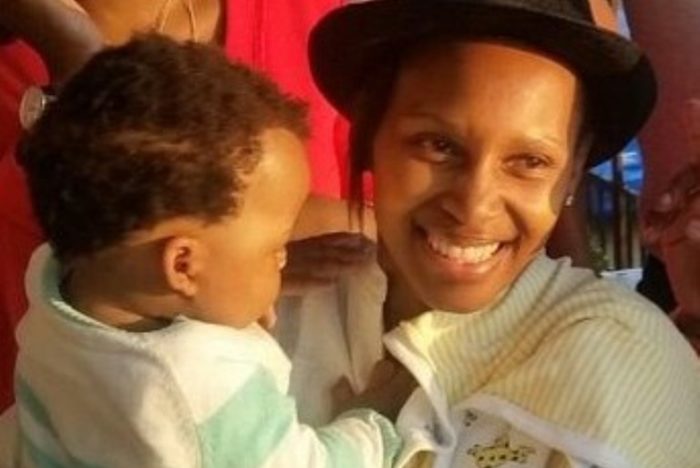 We don't have the exact date she put to bed, but according to kept records, the Generations actress became a first-time mum in October 2014. Though the hospital where she gave birth was never mentioned, it is common knowledge that Danke didn't travel abroad to deliver her baby, she did it in her home country, South Africa.
To date, the radio personality cum actress never revealed her son's father which has left fans wondering. Danke is also stingy with details about her son, even his name is not known. However, she gave us a glimpse of the baby in May 2015 via Instagram, marking the little one's introduction to the media. In the post, we saw an excited Katlego smiling at her bundle of joy. However, we already saw the child's feet posted on the same platform on the 20th of December 2014. There was also a picture taken with her son and colleagues and some showing her baby bump.
On the 5th of January 2020, we were treated to an Instagram slideshow of photos of Danke and her six-year-old son as they spent quality time in an upside-down house having fun. The photos chronicled how the boy had grown to half his mum's height. After one month, she dropped another post – a close-up shot revealing half of the boy's face. Danke sounded quite humorous as she let on that her son already started changing his teeth. With all these, it goes without mentioning that the Isidingo actress shares an enviable bond with her son.
Going by her interview with Sowetanlive, she is considering having more kids but wants to take it slow because according to the Isidingo star, children are full of energy and hard to handle.
There Were Rumors that Patrice Motsepe is Her Baby Daddy?
Following the birth of Katlego Danke's son, rumors started making the rounds that the new baby was sired by SA mining billionaire businessman Patrice Motsepe. Though fans believe there must have been a trigger that led to Motsepe being mentioned as the actress's potential baby daddy, to date, it has never been unraveled. More interesting is the fact that the billionaire never responded to the claims, thus, no one knows his stance on the matter.
On her own part, Katlego Danke seemed less concerned with all the speculations. In fact, she looks quite comfortable with the situation of things as she rides on the wings of all the publicity to take her careers to different levels. Raising her baby boy and advancing her career appears to be all that matters to the Generation actress at this stage in her life.