Talented South African musician, actor, and probably your favorite star, Sjava, is a busy man on almost every side. In his personal life, the talented individual has had to deal with the heat coming from different women, including Lady Zamar and a woman who claimed he was her child's father, following his alleged cheating ways. In spite of the affairs he continued to have with various women, it later emerged that Sjava was, in fact, a married man as confirmed by his mother. This has got more eyes wondering how he has managed to keep his marriage for as long as he did under the wraps before it all came crashing on him.
The Marital Status of Sjava Remained A Mystery Until His Mother Confirmed He Was Married
The love life of the rapper whose real name is Jabulani Hadebe is one thing about him that remained extremely mysterious. This was also the same with his marital status, leaving many of his fans speculating and guessing. But this all changed in 2019 when the mother of the talented Zulu star, Thandi Nkabinde, revealed that he was married.
Thandi made the revelation in a manner rather interesting, on stage during her son's One Night With Sjava Concert in Sun Arena at Time Square Casino. When she had her time to speak during the concert, she came on stage with a woman who she identified as her son's wife after thanking fans for supporting him. More so, she added that she didn't want to hear anyone ask the question concerning who Sjava is dating. This revelation came as a huge surprise for many most especially because that was one aspect of his life that nothing was ever leaked about.
Sjava and Lady Zamar Dated For Two Years
As previously stated, Sjava is a notoriously private individual when it comes to his relationships. It is because of this that he was able to get away with dating Lady Zamar for two years, spanning from June 2017 to March 2019 even when he was allegedly married. The rapper and the songstress kept their relationship hidden and it was only after it ended on a very sour note that South Africans got to know about it.
The relationship was said to have started without any problem and it seemed to be a healthy one. However, things took a sharp turn on the 9th of September 2017 after the Royal Heritage Festival event in Venda. Zamar, whose real name is Yamikani Janet Banda, alleged that on that day, the rapper invited her into his hotel room at the Porche Villa Hotel in Thohoyandou where he raped her.
After this incident, the two broke up, according to the songstress, but they later came back and continued dating. The relationship continued for the next two years before they decided to part ways. She said she was initially afraid to leave him and she was also living in denial of the whole episode. The relationship remained a quiet one because they never wanted it to go public and even when there were suspicions, they both insisted that they were not dating. In fact, at a point when he was asked, Sjava stated that he wished he had dated her.
The Rape and Abuse Allegations That Trailed The Relationship
Lady Zamar speaks on her relation with Sjava (Jabulani)

Thread pic.twitter.com/f4qJu53MbP

— LIVE YOUR PEACE (@MondliSkosana) August 27, 2020
The demise of the relationship between Sjava and Lady Zamar only became the birth of many controversies and allegations by the singer who as stated, claimed that she was raped by the rapper. She made it known that when it happened, she was still nursing injuries from her surgery and so she could not fight him off considering that he has always been a large fellow.
Zamar's allegation of rape became a major talking point, but it was not the only complaint she had against him. She alleged that she suffered different forms of abuse in his hands, including intimidation and verbal abuse. She brought the issue on social media on 29th October 2019 and then had a complaint filed at the Lyttleton police station in Pretoria. Because the matter had remained for two years before it was filed, there was no arrest made and the case was subsequently transferred to the National Prosecution Authority.
Sjava Insists That He Did Not Rape Lady Zamar
Sanibonani. pic.twitter.com/za08CXpHF2

— Sjava indlalifa (@Sjava_atm) March 3, 2020
The Zulu rapper did not allow the accusations to get cold before coming out to defend himself, making it clear that he did not rape his ex. He provided details of the events that happened in the period she claimed the rape occurred. Sjava did so on Twitter where Zamar had made the allegations against him. He went on to give a timeline of all that had happened since she made the accusations, saying that he sent a letter to her through his lawyers to retract the false accusations. The letter was, however, ignored.
By November 11, 10 days after calling for the singer to retract the accusation, Sjava contacted her manager to get an address where he could serve court papers, which was given. The court papers were then served to summon the singer for defamation of character. On November 14, Lady Zamar reported a case of rape against the rapper but he did not know about this until December 15 when he was contacted by the police on the matter. That started a series of meeting with the police as they said they were carrying out an investigation on the matter. He revealed that it was after this that he was contacted by Sunday Sun for questions on the matter but refused to answer on the advice of his lawyers, questioning why the police will speak to the media on the matter.
The rapper's mum also came out defending her son when she granted an interview in which she stated that she had wanted to keep her cool, but couldn't sustain it while her son was suffering. She said she knew the kind of man she brought up was not someone who would do a thing like that. According to her, she had never received any negative reports about him while he was growing up and that was the reason why she allowed him to go to Johannesburg when he wanted to. Mama Thandi made it clear that if her son was guilty of the crime, let the courts decide and make him pay for what he did, but the media and public need to stop prosecuting him before he is found guilty.
The case filed by Lady Zamar was later thrown out by the NPA because according to them, the available evidence could not lead to a successful prosecution. Nothing much has been heard about the defamation suit against Lady Zamar as the actor insisted he was not going to talk about it again since it was already in court.
A Closer Look At The Reasons Why Their Relationship Ended
Part 3 pic.twitter.com/bhsYE1io3M

— LIVE YOUR PEACE (@MondliSkosana) August 27, 2020
In as much as the couple did not make their relationship known when it was happening, many had speculated that something was going in because of the closeness they had and the bond they shared. However, like everything good, or in this case not so good, that must come to an end, Lady Zamar and Sjava's relationship ended after two years in 2019 with bitterness.
Among the chief reasons why the relationship ended according to the rapper was the reported claims that he had a wife. More so, Lady Zama pointed out that she never knew he was married and so she was not his "side anything". She made it known that she was warned by some people, and she also received messages and calls telling her the kind of man the artist was, but she still did not leave.
The marital status of the rapper and actor became the immediate reason why it ended but there were other things that also seemed to have contributed on the side. Lady Zamar revealed that she went through a lot in the relationship, including the alleged rape and verbal abuse that she suffered and was also lied to and cheated on. She added that she didn't get to know what was happening on time because the singer's friends protected him.
While commenting on the whole episode, the rapper claimed that when he met Lady Zamar in 2017, he told her he had a girlfriend but she had no problem with it at first. She later changed her mind and gave him an ultimatum to decide between her and the other woman. This became the genesis of their issues. He maintained that he had never been married before, and also apologised for the embarrassment he caused the songstress by making people see her as a side chick.
Interestingly, the relationship came to an end a few months before a Jozi woman had a baby for him. However, it is not known if that was one of the reasons why the relationship came to an end.
The Singer Had An Affair With A Woman Who Lied He Was Her Baby Daddy
Yet another woman that Jabulani had something to do with is Mandisa Mtubu. The Jozi woman, who was 26 at the time and ran a small business in East London, revealed that she had an affair with the multitalented South African that resulted in the birth of her child in March 2019.
Sjava and Mandisa were said to have met in her home town in 2017 when he came there to perform at a festival. The affair remained hidden from the public until the Jozi woman decided she had had enough of the rapper's unwillingness to care for "his child". She dragged him out as a deadbeat dad before slamming him with charges concerning child support as he insisted he was no longer going to continue paying her until a DNA test was carried out to prove the paternity.
Initially, Mandisa claimed that when she wanted to bring the affair to the public's notice, the rapper's team contacted her that he was going through a lot and it was going to break him. They gave her R10,000 cash to keep her mouth shut but she claimed to have taken it to the police.
Mandisa further made use of lawyers from PJ Mathebula Attorneys to get to Sjava. When they were unable to make headway with the case, they decided to agree to a paternity test which they informed him in a letter, stating that their client was willing to have a paternity test carried out on 12 December 2019 at Lancet laboratories in Milpark Netcare Hospital. Results from the test, however, vindicated Sjava as it proved that he was not the father of the baby in question.
Before she contacted PJ Mathebula Attorneys, it was learned that there was a previous DNA test carried out at Toga pathology laboratories in Edenvale. Results from the test conducted showed that the rapper was not the father of the baby which was named after one of the albums of Sjava.
Sjava Was Rumored To Have Dated Sho Madjozi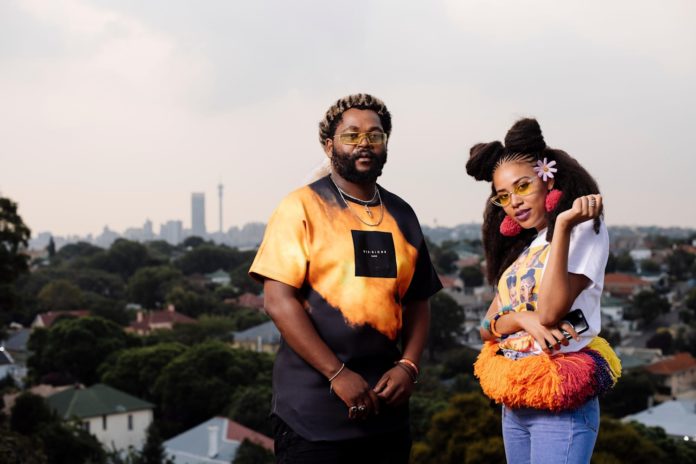 In 2019, after the dust had started to settle on the rapper's failed relationship with Lady Zamar, another report made the rounds that he could be in a relationship with everyone's darling rapper, Sho Madjozi. The rumor was sparked after some pictures of the duo were captured and shared online.
The Tonga rapper decided to set the records straight that she was not in a relationship with the Zulu rapper, both of whom are BET award-winning acts. She stated that she knew the picture that had got people talking. It was captured when she had glitter on her head and the rapper was helping her remove it.
A few months later, Sjava got another ball of rumor rolling when he shared a photo of himself and the beautiful Madjozi, wishing her a happy heritage day and describing her as someone special to him. She replied with hug emojis and thanking him as it made her day. Since then, nothing more was heard about the two being an item, even though at the time, their fans had hoped they would date even if it was secretly.
Sjava Has Since Hinted That He is Probably Single
— Sjava indlalifa (@Sjava_atm) March 8, 2021
In the wake of the many accusations of cheating that continued to trail his almost every move, there were recent indications that Sjava's marriage had hit the rocks. The indications were made by the musician himself who suggested that he was now also single.
Sjava took to his Twitter to make a remark that it was only single men that ate pies. He would go on to make another post stating that pies had finished in every garage, accompanying the tweet with an emoji of a broken heart. Tweeps asked the singer if he meant he was now single, but he did not reply, leaving all to keep guessing.
Most recently, there were suggestions that the Grammy-nominated South African artist might be going out with fellow actress and co-star Andy Mnguni. Speculations of a romantic relationship between the duo began when a cozy picture of them was shared by the rapper on his social media, in which they were seen laughing heartily.