With the latest technological advancements in Nigeria, effecting funds transfers has become simplified. In First Bank Nigeria, funds transfer is now a swift, seamless, and easy process requiring few steps with little or no stress. The methods through which funds can be moved from one bank to the other has continued to increase and presently in First Bank, money can be moved through five different routes: USSD codes, FirstMobile, FirstOnline, ATM, and the traditional method of going to the bank.
Those who wish to complete their transaction through the first three methods (USSD code, FirstMobile, and FirstOnline) can conveniently do so from any location of their choice. However, to make use of the Automated Teller Machine, you will have to move to its location. The same applies to those who wish to go the age-old way of funds transfer by going to the bank's branches.
All The Different Ways of Making Transfers At First Bank
1. USSD Code
The introduction of the USSD banking code in Nigeria is simply banking made easy! For First Bank customers, the approved code to use is *894# and it brings banking services to your doorstep. It works on all GSM networks and can be accessed on all types of mobile devices – blackberry, android, iPhone, even the simplest of handsets called "kpalasa" in the typical Nigerian lingo.
The best part of using the USSD is that it works without an internet connection and thanks to this, it can be effective in every location across the country, including the remote ones. Important to note that the USSD service can only be delivered on the registered phone numbers connected to a customer's First Bank account.
Requirements To Register The USSD Code In First Bank
Below are the essential things a customer of First Bank needs to register for the USSD Banking
An active First Bank account
A functional mobile number
The phone number must be linked to your First Bank account.
A mobile phone of any type
Linking your debit card to your account
Your phone must be profiled to be receiving SMS alerts
How To Activate The First Bank USSD Code Banking
*894# has converted mobile phones into mobile branches for First Bank customers and activating this service is easy and straightforward. Just follow the simple steps listed below;
Dial *894*0#
If you have more than one debit card linked to your account, then, all the card numbers will be displayed albeit, masked.
Pick your preferred debit card
Enter your four-digit PIN (Personal Identification Number) for the debit card you selected.
Complete the registration process by creating a new 5-digit PIN
Get Started!
With your USSD code registration in place, banking transactions at First Bank are now at your fingertips. From the comfort of home, office, shop, and on the move, you can perform basic transactions such as airtime purchase, account balance check, money transfers, pin resets, and a whole lot more. All you need to do is dial the right code.
How To Use The First Bank USSD Code
Without internet connections, without a token device, and without having to be physically present at any branch of First Bank, customers can effectively carry out transactions with just their Personal Identification Number – PIN. Funds transfers can be done both in-house and inter-bank.
How To Do Interbank Money Transfer Using The First Bank Transfer Code
After they have successfully completed registration for the USSD code banking, customers of First Bank are free to make funds transfers both in-house and inter-bank. However, before we proceed, we must note that the limit for daily transfers for First Bank customers using the USSD code is up to N100,000.00 and N10,000 for airtime recharge. Sending money out of the bank is a simple process that takes little or no time. The steps are well outlined below;
Dial the First Bank shortcode *894#.
Enter the exact amount of funds you wish to transfer from your account.
Next is to input the beneficiary account number; this is the account number you want the funds to go to.
Select the beneficiary bank; the bank where the beneficiary account is domiciled
Now, confirm the amount of money you are sending to the beneficiary.
Enter the name of the beneficiary.
The five-digit pin created during registration should always be handy and should be entered at this stage
Select the account you wish to debit the funds from
Before hitting the send button, do a thorough check ensuring that you populated all the provided fields with correct information.
In the case of any mistake, then you have to cancel the transaction
However, if all provided information is correct, then, it is time to press the send button
Now, expect a message indicating that your transaction is successful.
How To Transfer Funds from one First Bank Account to Another (In-house)
Using the USSD code to make in-house funds transfer in First Bank requires five easy steps
Customer dials *894*Amount*Account Number#
Confirm that you imputed the correct amount for the transfer
Impute your First Bank Five-digit PIN that was created during registration.
Select the account you are debiting the funds from.
Send.
This is how to move funds both in-house and from a First Bank account to other banks in Nigeria. However, while using the bank's USSD code in transferring money, customers of the bank should be conscious of the activities of fraudsters. Thus, they should be aware of the measures to take in blocking the USSD code and thwarting the plans of fraudsters if need be. This usually becomes imperative when you have lost or misplaced your mobile number.
Blocking your USSD code can be done from any location, just use any phone line within reach to dial *894*911#, then enter the particular phone number linked to the account you wish to deactivate and it is done.
In case you later find your misplaced phone and wish to unblock your First Bank USSD code, then, you must visit any of the bank's branches in your vicinity.
Useful First Bank USSD Codes
Register for First Bank USSD Banking *894*0
Airtime Recharge for Self *894*Amount#
Airtime Recharge for Others *894*Amount*Phone Number#
For Transfer *894*Amount*Account Number#
For Mini-Statement *894*Account Number#
To Check Balance *894*00#
For Account Opening *894*0#
To Deactivate a User's Mobile Number *894*911#
2. Mobile App
While the USSD codes are there for the benefit of everybody, including those who don't have access to the internet, the First Bank mobile app called FirstMobile is targeted at people who can access the internet for their banking transactions.
Before a customer can be able to use the First Bank mobile app, the person needs to install it. An official version of the mobile app is downloadable from the Google Play Store @ https://play.google.com/store/apps/details?id=com.firstbank.firstmobile. You can still access it from the apple store. Once you have the app installed on your mobile device, then, you can proceed to register for the services.
About FirstMobile
FirstMobile is First Bank's official mobile-banking smartphone application. With FirstMobile, account holders of the bank are provided with convenient access to financial and non-financial transactions via their mobile devices. This service is available to all account holders of First Bank with Verve Cards, and/or Naira MasterCard.
The application is sleek as well as convenient to use. Without having to be physically present in the bank, customers of the bank can leverage the DIY enrolment process and start transacting. They only need to have their Verve and Naira MasterCards. Also, FirstMobile is poised to offer the bank's teeming customers a more convenient and more reliable digital banking experience, whilst it goes on to complement its plethora of lifestyle offerings.
How To Register For Your First Bank Mobile App
Visit Google play store or Blackberry App Market or iOS Appstore
Get the App installed on your phone
Registration is done with your ATM card and ATM PIN.
You will receive a One-Time Password (OTP) on your mobile phone through an SMS to verify the account. There is an indicated field on the mobile app where you are expected to enter the OTP and click "next." Your OTP is majorly for the purpose of authentication.
Punch in your pin code; this refers to your mobile App login pin
Enter your four-digit pin security; this should be safeguarded as it will also be needed while making future transactions on the Mobile Application.
At this stage, you can start doing transactions like money transfers, bills payment, airtime purchases, check account balances and many more!
Using the First Bank Mobile App for Funds Transfers
Once you have successfully downloaded the First Bank Mobile app and completed your registration, you are now set to make transfers anytime and anywhere. Just follow the under-listed steps;
Go to the device where you downloaded the mobile app and open it.
Enter your username and password
This will display several options but since you only wish to move funds, click on transfers
Input the account number of the beneficiary or recipient's account number
Enter the exact amount you wish to transfer to the recipient
Verification must be done to ensure all provided information is correct
Now, it is time for authorization, and to do this, you must input your secure pin code
Submit and wait for a message, telling you that your transaction is successful.
See What's New on FirstMobile
Customers of First Bank Nigeria should be aware that the bank has revamped its FirstMobile application which offers a more exciting experience as you interface with the bank. Below are some of the improvements and additions.
Improved Dashboard: The improved dashboard update enables the bank to give its customers a more customizable and personalized experience. This particular feature showcases a high-level display of the spending pattern of the mobile banking user, highlighting both the inflows and outflows in his or her account. This helps the customer in making better decisions about their finances.
Frequent Transactions: This feature smartly cumulates/aggregates customer's most frequent transactions (transfers, purchases, airtime bills payment, and what have you) based on historical data – this will be presented in a user-friendly manner for the benefit of the user. With this, customer can easily access their frequently completed transactions; with just a few clicks, such transactions can be re-initiated.
Top-up From Contact: With this feature, a mobile banking user is permitted to "select from the contact list" while doing transactions for Airtime recharge.
Favorites/Beneficiary Management: This feature gives users the room to add/include new users as a beneficiary for Funds Transfer, Airtime Transactions, and Bills Payment. From the beneficiary list, you can then select your favorite contacts. Now, transactions can be complicated with the minimum number of clicks as all these are now accessible on the transaction home page
Biometrics for Transactions: This is targeted at Android users who are now permitted to use their fingerprint in consummating transactions – be it money transfer, bill payment, airtime recharge, and more – this is an innovative and easy way of validating transactions.
Personalization: With this feature, users of FirstMobile can go ahead and personalize their dashboard, including their beneficiaries for Transfers, Airtime Transactions, Bills Payments by uploading pictures.
3. First Bank Internet Banking
Just like in FirstMobile, customers of the bank who wish to use their internet banking services should arm themselves with a smartphone and internet access. With FirstOnline, users are allowed to make multiple transfers in just a single transaction. Customers can go through the bank's online portal to send money or create an inter-switch portal for transactions like money transfer and bills payment such as GOtv, DStv, airline tickets, and more.
New customers of the bank and old ones who wish to start using FirstOnline need to complete their registration before using the services. The process is outlined below;
How To Register For FirstOnline
Visit online portal @ https://ibank.firstbanknigeria.com/corp/AuthenticationController?
Enter your Card Number
Input your Card PIN
Enter Preferred User ID
Verification Code
Confirm Verification Code
Click next and then follow the ensuing onscreen info to complete your FirstOnline registration
Transferring Funds with FirstOnline
Visit the First Bank online portal – https://ibank.firstbanknigeria.com/corp/AuthenticationController
Enter your username and your password
Click on transfers
Input the recipient/beneficiary account number
Enter the exact amount of money you wish to send
Verify to ensure all provided information is correct
Last, click on the submit icon.
4. Automated Teller Machine (ATM)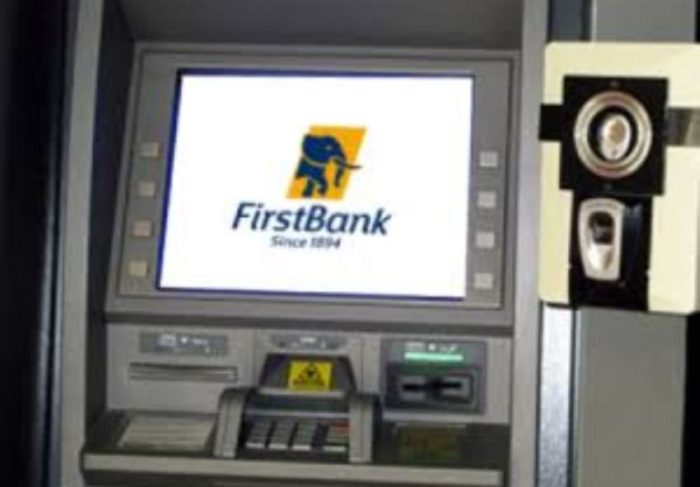 ATM machines are located in strategic places all over the country. These Automated Teller Machines are not just for withdrawing cash, they have been configured to carry out several other transactions like funds transfers, both in-house and inter-bank, airtime purchases, bills payments, and many more.
Using the Automated Teller Machines to transfer money at First Bank is a simple process that only requires a few steps. You only need to arm yourself with your ATM card and PIN number and it is a done deal. The steps are listed below;
Insert your ATM card into the machine (this can be a Verve or Naira MasterCard)
Enter your four-digit pin number
Select send money
Choose destination bank (this can be FirstBank for in-house transfers or other banks if it is inter-bank transfer)
Choose the type of account you wish to transfer from – savings, current, credit card accounts.
Choose the type of account to receive the payment
Enter beneficiary's account number
Enter the exact amount you wish to transfer
Confirm transaction details
Then complete the process
5. Going To The Banking Hall To Make Funds Transfers
While the USSD code, FirstMobile, and FirstOnline allow customers to carry out transactions from the comfort of their locations, there are still those who would wish to go the age-old way of doing transactions by going to the bank.
If you have chosen to be physically present at the banking hall for your transactions, then you need to go to the Funds Transfer Unit. At The FT unit, the bank staff will provide you with a form to fill out the details of your transactions like
Your Name
Your Account Number
Beneficiary Name
Beneficiary Account Number
Beneficiary Bank
Amount To Be Transferred
Phone Number
After populating all the required fields with the correct info, you will submit the form to the FT officer who will then peruse it to know if everything is in other. Once the funds' transfer staff is satisfied, he or she will enter the details into the system to consummate the transaction, and immediately, you will receive an SMS notification on the transaction.