Basetsana Kumalo, a former Miss South Africa, television host, and businesswoman invested the money she won from the 1994 SA beauty pageantry wisely in acquiring a luxury house in one of the most affluent estates in the country. The five-bedroom house which is best described in glowing words like opulence can boast of some top of the range amenities and a welcoming atmosphere orchestrated by the beautiful landscaped garden in its immediate surroundings. Kumalo alongside her husband and children currently call the R25 million luxury mansion home, though the Miss South Africa title holder has made several other investments in real estate.
Although her net worth is currently not known, the businesswoman has continued to feather her nest through multiple endeavors. For one, she is one of the most successful television hosts in her country. Kumalo has established a good number of businesses that will always keep her afloat wealth no matter the situation. Her victory at the 1994 Miss South Africa beauty contest attracted lucrative endorsement deals that went to line her pocket. Besides, the former black queen has made her mark in publishing with a few publications. Basetsana's efforts have not gone unnoticed as the beauty queen has bagged some prestigious awards and accolades to show for her years of hard work and perseverance.
Did Basetsana Kumalo Build or Buy Her Luxury House?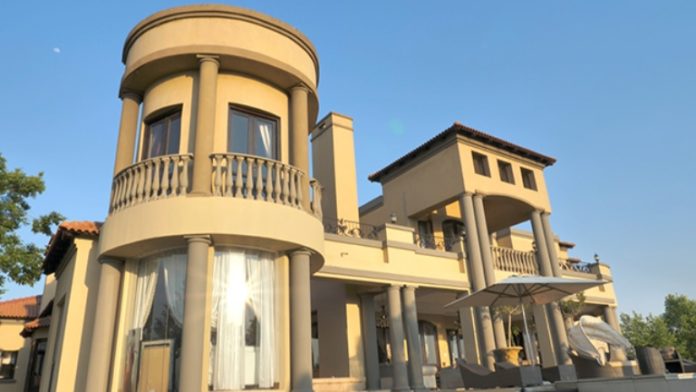 From what we gathered from the existing records, Basetsana Kumalo did not build her luxury mansion from the scratch; rather, the former Miss South Africa bought the property when she was 21 years of age in 1995. The money she used in acquiring the house came from the proceeds of her victory from the Miss South Africa Beauty Pageant. Kumalo came into great wealth at a time when her mates were still living with their parents, struggling to figure out what to do with their lives and the best career path to follow.
Kumalo was faced with several choices of what to do with the money she won from the beauty pageant, but her mum was on hand to guide the youngster, advising her to invest the money in landed property as opposed to acquiring an exotic automobile. Though she had other overwhelming financial needs at the time, the South African beauty heeded her mum's advice and went for real estate. The house came into her possession precisely one year after she handed over the Miss South Africa Crown, and 25 years later, the opulent 5-bedroom mansion is where Basetsana Kumalo currently resides with her husband and children.
Basetsana Kumalo's Luxury House Sits At Saddlebrook Estate
When the talk is about the most prestigious estates in all of South Africa, then, Saddlebrook Estate deserves a mention as it houses only the rich and famous. Saddlebrook is sited in Midrand – a town located in central Gauteng Province which boasts of the best in basic amenities like 24-hour top-of-the-range security. The estate is equipped with a biometric system that features a fingerprint recognition technology used in controlling access to the territory. This special arrangement reduces the influx of people into the estate, giving it a quiet and peaceful atmosphere.
The TV personality and former beauty pageant has her home situated somewhere on the map of Saddlebrook where she brought up her children who are all grown-up now. Value-wise, the five-bedroom mansion will surely fetch a tidy fortune if put on the market. Though we don't seem to have the details about its purchasing price in 1995, the house is currently estimated to be worth around R25 million in market value as it has continued to appreciate with the passage of time.
Basetsana's Saddlebrook Estate Mansion is the Last word in Luxury
The word opulence does not even begin to describe Basetsana Kumalo's house; a visitor would be completely engulfed in glamour by a mere view of the compound which is bordered by a beautiful landscaped garden. The garden itself pictures comfort and luxury and would appeal to anyone who loves to be surrounded by nature. An Instagram photo shared by the SA television personality's daughter revealed a model front lawn attached to the house as well as a fashionable driveway within the compound.
Moving into the building, you will find the five-bedroom mansion equipped with state-of-the-art amenities. Only the master's bedroom can boast of a salon, a lounge sporting its own refreshment spot, double dressing-rooms, in addition to a massive balcony where you can relax and enjoy an early morning coffee. Right at the center of the building is an entertainment area with a beautiful design, there are also other attractions like a pool, a huge balcony, a Jacuzzi, and an impressive family room.
After taking a tour of the house, one would have no choice to agree that it is a house fit for a king. However, a surprise lies in wait, in the form of a second dwelling tucked away in the mansion. The second living place is fitted with some amenities like an expansive cellar that houses the wines, a magnificent chef's kitchen, and a soundproof cinema. All these put great finishing touches to the house and we are yet to factor in this triple volume foyer brandishing a superb double staircase decorated in solid marble. It is gathered that part of the second dwelling is currently being used as offices and gym as the main house is big enough to cater to the family's needs.
What Does Basetsana Kumalo do?
Basetsana Kumalo is one South African woman with many hats and keeps acquiring more. She is a beauty queen title-holder, a television personality, a radio host, and a businesswoman. Moreover, she is a philanthropist just like every other beauty queen before and after her. The SA beauty's philanthropy is targeted towards children, especially the ones orphaned by AIDs and other related diseases. The Romeo & Basetsana Kumalo Family Foundation was launched alongside her husband to target these kids and she also joined efforts with actress Salma Hayek in working towards the eradication of maternal and neonatal tetanus on a global scale.
Kumalo prepared herself for the task ahead by acquiring basic education from Thabisang Primary School and Trinity Secondary School. It was while the youngster was a student of the University of Venda that she joined the Miss SA beauty pageantry. The entrepreneur released her memoir entitled Bassie: My Journey of Hope in October 2019.
25 yrs of a public life, 25 yrs as a TV producer, 25 yrs as an entrepreneur, 25 yrs of serving the Lord & 25 yrs of SADemocracy, here is my Memoir:

Bassie:My Journey of Hope
Out October 2019#BassiesBook #JourneyOfHope #HappyWomensDay@PenguinBooksSA pic.twitter.com/aWtcFopZoZ

— Basetsana Kumalo (@basetsanakumalo) August 9, 2019
These are the Contributors to her Fortune
The former beauty queen's net worth is said to be under review, but Basetsana Kumalo's journey to financial emancipation started during her formative years as the South African has been a hard worker even while still in her parent's home. Besides, she was greatly influenced by the neighborhood she grew up in and the viable financial advice she received. Her financial bottom-line is continually boosted by
• Pageantry
• TV and Radio Hosting
• Business
• Publishing
• Awards
She Became A Beauty Queen at 16
Kumalo was still a student studying education at the University of Venda when her career in beauty pageantry took off at the age of 16. Her reason for choosing to study education was to forge a career path in teaching like her mother. Her mum takes the credit for channeling her mind towards contesting for the Miss South Africa pageant and consequently, she became Miss Soweto at 16 and also Miss Black South Africa. 1994 was when the SA beauty was bestowed with the crown of Miss South Africa after which she went on to Miss World where she ended up as the first runner-up the same year.
She Started her Television Hosting Gig While Still the Reigning Queen
Basetsana Kumalo was still basking the glory of her reign as Miss South Africa when she began hosting Top Billing – the lifestyle TV program. She later collaborated with the producer of the show Patience Stevens to form a partnership; their collaboration birthed Tswelopele Productions with the former Miss SA having a fifty-percent stake. Impumelelo accredited the company as one of SA's top 300 empowerment firms. Tswelopele Productions' flagship brand happens to be Top Billing television show popular on SABC3. The company embarked on a successful merger with Union Alliance Media in 1999 which saw it listed on the JSE Securities Exchanged South Africa.
This feat gave Basetsana pride of place among the youngest women directors of black extraction to become part of South African's mainstream economy. Of recent, top billing has recorded impressive success, furnishing the Tswelopele brand with more projects including SABC2's Afrikaans magazine program entitled Pasella and SABC1's Seskohona – the Swati youth show. She became a director at Gauteng Travel Academy in 2001 and made a guest judge appearance during the finals of the 2016 Miss South Africa beauty pageantry aired on Mzansi Magic and M-Net.
Kumalo had a brief gig on radio in 2006. On the 10th of August, the television host took charge of the Breakfast show on Metro FM but it clearly didn't work as the former beauty queen came out petrified after handling the microphone for three hours.
She Is a Shrewd Businesswoman with a few Brands to her Credit
Basetsana Kumalo moved fully into business in 2000 following the launch of her clothing range. She collaborated with Stature Ladies wear by Bassie by going under their label to launch her range. However, she later put a stop to the range, but while it lasted the brand reached over 240 outlets in Sub-Saharan Africa under the distributorship of Ackerman's department stores.
A couple of years later in 2002, the television host went under the Bassie brand to launch her range of eyewear distributed across 60 stores nationwide through Torga Optical. This was followed up by the Bassie Red cosmetics textrange which was launched into 100 Foschini stores throughout South Africa. Then in 2006, the Bassie Gold range was birthed.
As her business acumen continued to increase, Basetsana Kumalo joined the South African Business Women's Association, emerging as its president. Pro-Direct 189 is the name of her investment company through which she earned a place as a new shareholder with Tawana in 2008. Unipalm Investment Holdings Vhangana Energy Resources has Kumalo as a board member, so do other companies like SME Financial Holdings Limited, Tactic Group Limited, Seven Falls, Morongwa Investment Holdings, PHAB Holdings, as well as Q2 Petroleum.
She has a Hand in a Few publications
Inspirational Women at Work is a book released in 2004 that addressed South Africa's new face of leadership; Kumalo is a contributor to its content. She joins a league of 36 most loved celebs in South Africa to feature on Recipes. The businesswoman is part of Top Billing magazine as its editor-at-large and also functioned as Drum Magazine's Beauty Editor during the period of her reign as Miss South Africa.
The Former Beauty Queen Also Earns through Endorsements
Emerging as the winner of South Africa's beauty pageant and ending up as the first runner-up in the ensuing Miss World contest put Basetsana in the public eye and it goes without saying that she would become a magnet for brands. Within a short period of time, Revlon Realistic Hair Care range of products chose her as the face of the brand. While the deal lasted, Kumalo covered both Sub-Saharan Africa as well as the international market, working as a spokesperson for the brand for a period that spanned five years. She made an appearance on the website of the BriteSmile procedure in a brief endorsement gig.
Basetsana Kumalo swept Quite a good Number of Awards in Recognition of her Work
Basetsana Kumalo started getting rewards for her good work in 2002 and 2003 when she was voted in the Television Style Awards by Elle Magazine and the Sunday Times as the most fashionable female entertainment/magazine show host. She was also recognized in 2004 when the businesswoman cum television host was voted #74 as the only Miss SA on the 100 Greatest South Africans list. Two years down the line in 2006, she earned further recognition from the Cape Town Fashion Festival which bestowed her with the Fashion Icon Award. She became a nominee in the category of the Top 10 Most Glamorous South African women.
Even before she started her hosting gigs and dong exploits in the business world Kumalo was bestowed with an honorary scholarship from the legendary South African freedom fighter and late president, Nelson Mandela; the scholarship covered overseas studies. The successful entrepreneur has also received the Annual Rapport/City Press Prestige Awards.