Jill McCormick, also known as Jill Vedder, is a former fashion model, current philanthropist, and activist. She is a prime example of what chasing your dreams can bring you, as she started out her modeling career at a very young age. Besides her strong will and dedication, she also had very supportive parents that were ready to let their teenage daughter get into the world of modeling. In this article, we take a look at the philanthropist's life and other details.
Jill McCormick's Bio and Age
The stunning model was born on the 11th of November, 1977 in Los Angeles, California. Jill McCormick is the daughter of Amy and Bud McCormick; a divorce lawyer and stock-broker respectively. She grew up in Los Angeles before she moved with her family to Bradenton, Florida. Along the way, she grew up with her sisters Denise and Ashley. When she was in her teens she made her dream of being a model known to her parents, to which her parents were very supportive.
Jill McCormick attended the Manatee High School in Bradenton and graduated in 1995 when she was 17. Before her graduation, she had already begun chasing her dreams to become a model, and by the time she was done with high school she got accepted into the Miami Division of the chain modeling agency Elite Model Management, also known as Elite Models
Jill McCormick's Career
Jill McCormick followed her modeling career through with tenacity and determination. Just one year after getting into Elite Models as a professional model, she became one of the 15 finalists in the 1996 Elite Model Look of the Year contest. Shortly afterward, she moved to Paris, the original home of Elite Models to push her modeling career further along. That proved to be a wise choice, and over the years Jill McCormick appeared in a plethora of fashion magazines. She has appeared in the following: Vogue (USA, UK, and Russia), Marie Claire (USA and UK), Shape, Cosmopolitan (USA and UK), Redbook (USA and UK), Ladies Home Journal, Elle USA, Harper's Bazaar UK, and Esquire UK. She has also been in the Laundry by Shelli Segal and Nicole by OPI nail wear fashion campaigns.
Jill McCormick quit modeling after a while and moved to become an activist and philanthropist, using the widespread fame she had acquired in her modeling years to help raise awareness for certain causes. She is a co-founder and Vice-Chairman of the EB Research Partnership. EB Research Partnership is a non-profit that was founded in 2014. It is the collaboration of the Jackson Gabriel Silver Foundation and Heal EB. It materialized out of the need for two separate families looking to cure their children of the genetic skin disorder Epidermolysis bullosa. Jill McCormick's husband Eddie Vedder also serves on the board of EB Research Partnership as co-founder.
Jill McCormick also serves as an ambassador for Global Citizen, another non-profit that is dedicated to ending extreme poverty by the year 2030. She is an active participant with the Vitalogy Foundation, an organization that supports other non-profit organizations making commendable contributions to community health, arts, the environment, and social change. She is a strong supporter of Moms Demand Action, a network of mothers fighting against gun violence, and the National Rifle Association. Jill McCormick has been a supporter of the non-profit Every Mother Counts, an organization that aims to make pregnancy and childbirth safe for mothers in the US and worldwide.
2013 was the year Jill McCormick banded with her sisters Ashley and Denise to create the charity foundation Babes Against Brain Cancer, basing their charity works and donations on helping people with glioblastoma, the rarest and most aggressive form of brain cancer.
Facts About Eddie Vedder's Wife
Husband and Children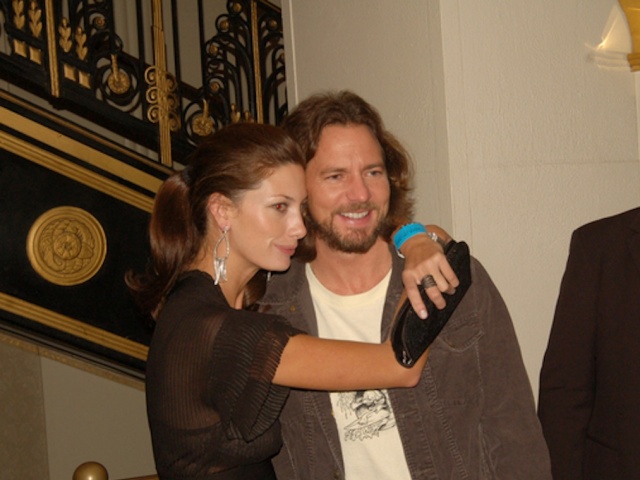 Jill McCormick met rock band Pearl Jam's frontman Eddie Vedder in 1999, and the following year they began dating each other. The relationship stayed strong, and in 2009 the couple got engaged. On the fateful day of 18th September 2010, they exchanged their vows and got married. Together they have two daughters; Olivia and Harper.
Height and Body Measurements
Listed below are the different body measurements of former fashion model Jill McCormick:
Height: 5'10"
Weight: 120
Hair color: Brown
Eye color: Green
Size/suit: 6
Bust: 36
Waist: 24
Hips: 35
Inseam: 28
Shoe size: 9