Julius Malema is a South African politician and the founder/leader of the Economic Freedom Fighters party who also serves as a Member of Parliament with a net worth of $3 million.
A fearless and hugely controversial man, Julius Malema is a South African politician and activist who is very popular among his compatriots and is said to have a net worth of $3 million. Malema rose to prominence as a supporter of former South African President Jacob Zuma before establishing himself as one of the most outspoken people in South African politics. He was a long-time member of the ruling party, the African National Congress, before forming his party through which he has since become a fierce critic of the government. Malema serves as the President and Commander-in-Chief of the Economic Freedom Fighters, the political party he founded in 2013 and became a Member of the South African Parliament.
A very controversial figure, the SA politician has been charged with fraud, money laundering, and racketeering and has been convicted of hate speech. As expected, the South African lawmaker is also a wealthy man. Having been in politics for quite a long time and having handled several positions in government and political parties, it is expected that he has been able to rake in some money for himself over the years.
How Politics Contributed To Julius Malema's $3 Million Net Worth
Julius Malema has always been involved in politics. In fact, his journey into the realms of political affairs began from his childhood. Born on the 3rd day of March 1981, Julius Malema, who is now 42 years old, joined the Masupatsela wing of the African National Congress (ANC) when he was just about nine or ten years old. The Masupatsela simply referred to Young Pioneers or young trailblazers in politics.
At the time he joined the party, his main task was just to remove National Party posters. From that time, he became very intrigued by the intricacies of politics and, as he grew older, he became determined to continue in the path he had found himself.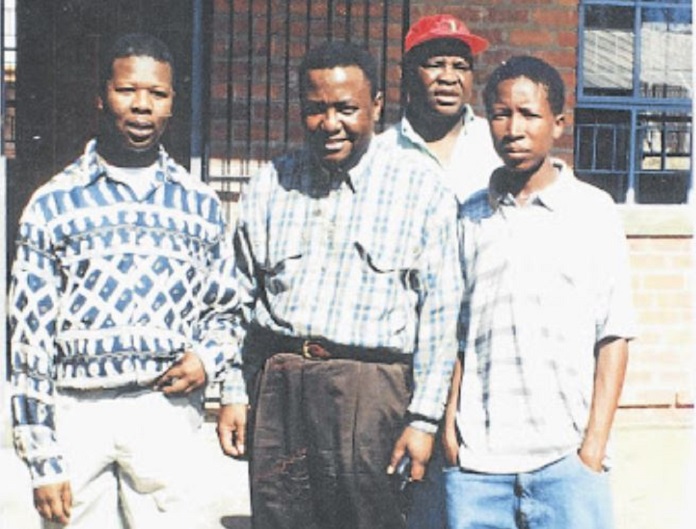 Julius Malema continued his political rise and as he kept growing up, he began to assume a leadership role among his peers and became very vocal about how things should be done wherever he was. In 1994, when he was only about 13 years old, he joined the ANC Youth League and by the next year, in 1995, when he was 14 years old, he had quickly assumed local and regional leadership positions in the group and was elected as both the chairman of the Youth League branch in Seshego and the regional chairman.
At this time, Malema was also active in the Congress of South African Students (COSAS) and was already becoming a heavyweight. In fact, in 1997, two years after becoming the chairman of the ANC Youth League branch, Julius Malema rose to become the chairman of COSAS for the Limpopo province. In 2001, when he was about 20 years old, he got elected as the national president of COSAS. Malema quickly became popular in some parts of South Africa especially because of his very vocal nature and his strong socio-political statements. He was also known to be a very fearless man.
In 2002, he was instrumental in leading a COSAS march by school pupils, through the city of Johannesburg. The widely reported march ended up being marked by incidents of violence and looting.
Malema As President Of ANC Youth League
As he kept rising, it was clear that Julius Malema was destined for great things. In April 2008, he was elected as the president of the ANC Youth League by a narrow majority during a contentious group conference that was held in Bloemfontein. He received 1,833 votes to beat his challenger, Saki Mofokeng, who scored 1,696 votes. After he became ANC Youth League President, Julius Malema started raking in a monthly salary slightly in excess of R42,000.
In 2009, during the South African presidential elections, Julius Malema rose to national prominence after he gave his entire support to Jacob Zuma who was contesting to become president. Zuma was also ANC deputy president at the time. Malema was so outspoken in his support of Jacob Zuma that he even claimed he was ready to take up arms and kill for the man. These comments did not sit well with many people who criticized him and described his words as hate speech. Zuma went on to win the elections as South Africa's president.
Julius Malema's Many Controversies
Julius Malema has been involved in so many controversies during his political career. These controversies are mainly because of his outspokenness. The man says things the way they are or the way he sees them. And many times, this can come across as rude and very offensive to the general public. His outspokenness and racially charged rhetoric turned him into one of South Africa's most controversial figures.
He Was Convicted Of Hate Speech
After attracting a lot of criticism during the 2009 South African presidential elections when he said he could kill for Jacob Zuma, Julius Malema brushed aside the public outrage that greeted his words and even continued his antics by singing an ANC liberation song that included the lyrics 'shoot the Boer'. This action further infuriated many more people because it was generally felt that the lyrics were racially charged and had the strong potential to incite violence among South Africans.
However, Malema continued singing the song publicly and was eventually charged for hate speech in court. In September 2011, Malema was found guilty of hate speech by the court and was fined accordingly.
The Incident In Zimbabwe
In April 2010, Julius Malema visited Zimbabwe in what was described as a visit to indigenization. During this visit, Malema was expected to meet with the President of Zimbabwe, Robert Mugabe, before returning to South Africa. However, his visit ended up causing serious controversy after he publicly declared support for Mugabe while also publicly disparaging Mugabe's rival, Morgan Tsvangirai.
All this happened at a time when the South African President, Jacob Zuma, was actually trying to broker peace between Mugabe and Tsvangirai. It seemed that Malema had ruined chances of the peace being brokered and this sparked public outrage over Malema's lack of decorum.
Verbal Altercation With A Journalist
Also in April 2010, Julius Malema got into another controversy when he returned from Zimbabwe. The incident happened in Johannesburg during a media briefing covering his visit to Zimbabwe. At the media briefing, Malema criticized the Movement for Democratic Change for having offices in affluent Sandton, a municipality in Gauteng Province. When he said this, a BBC journalist who was covering the event reminded Malema that he himself had lived in Sandton.
The journalist's comments deeply infuriated Malema who could not contain himself anymore. He publicly lashed out at the journalist to the dismay of the people present. When he was asked to apologize, Malema refused and remained unapologetic, accusing the journalist of being disrespectful. The next day, the ANC released a statement condemning Malema's actions. President Jacob Zuma also condemned Malema. However, to everyone's surprise, Malema remained very defiant and even began criticizing the president in public.
He Was Subjected To Party Disciplinary Procedures
Fed up with Julius Malema's ways, the ANC called him to face disciplinary procedures for bringing the party and the government into disrepute. The charges against him included his antics during his visit to Zimbabwe as well his behavior toward the BBC journalist and others, including criticizing Zuma. After entering a plea bargain, some of the charges were dropped and he was ordered to make a public apology for his conduct and pay a fine of R10,000. He was also ordered to attend anger management classes and was warned that if he continued in his ways, he would be suspended from the party.
After he had been reprimanded for his unsavory actions by the party, Julius Malema went on to retain and even grow his immense popularity within the ANC Youth League and was eventually reelected president of the ANC Youth League in June 2011 to the delight of his many supporters.
Why He Was Suspended From The ANC
But, before long, Malema had returned to his antics. He continued the rhetoric and behavior that the ANC considered disruptive. Some of his actions that infuriated the party included some further criticism of Jacob Zuma. This was not tolerable at all. To cap it all up, in August 2011, Malema actually called for the government in neighboring Botswana to be overthrown. This got him into more trouble with the party and the general public.
The same month, in August 2011, Julius Malema was called to face another disciplinary hearing by the ANC. At the hearing, the ANC charged Malema with provoking divisions within the party and also contributing to bringing it into disrepute. Malema was eventually found guilty and was suspended for 5 years.
In February 2012, Malema's appeal was rejected and he was expelled from the party. He was accused of being a repeat offender. He was asked to vacate his office as the President of the ANC Youth League but was given the chance to appeal the decision within 14 days. Finally, on 24 April 2012, the National Disciplinary Committee of Appeal of the ANC ended the appeal process and his expulsion was confirmed with immediate effect. Malema ceased to be a member of the ANC.
Julius Malema's Formation Of The Economic Freedom Fighters
Following his expulsion from the African National Congress, Julius Malema decided to form his own political party which he called the Economic Freedom Fighters. Malema began to canvas for the party's formation in 2013 and staged an appeal for funds to be able to set up the party. He sent out emails asking interested persons to contact him via e-mail or social networks. He also explained that he was setting up the party because the ANC Youth League could not provide the answer to South Africa's problems.
Malema did not stop at appealing for funds, he also visited Nigeria in August 2013 to meet with the famous cleric and founder of the Synagogue Church of All Nations, Prophet T.B. Joshua, to receive spiritual blessings with regards to his new party's success going forward. The Economic Freedom Fighters was later set up in that same year. The party won over many South Africans after styling itself as a radical, anti-capitalist, leftist, and anti-imperialist movement that was out to fight for economic emancipation in the nation.
The Economic Freedom Fighters have since gone on to do exploits. In fact, Malema and EFF stunned people with how they hit the ground running during the 2014 general election after they won 25 seats in the National Assembly. Consequently, Malema was sworn in as a member of parliament on 21 May 2014. As a member of parliament, Julius Malema was paid R101'885 (equivalent to US$6,500) a month.
As an elected member of parliament, Julius Malema has not stopped being controversial.  In fact, he kept on being very critical of President Zuma and the ANC. He has also made other controversial statements, including claiming that there is actually a black genocide going on in the U.S.A.
Julius Malema Has Also Been Involved In Money Scandals
Julius Malema is known to live a very lavish lifestyle and this has raised eyebrows. He has been accused of living above his income and people have become curious to know exactly how he manages to make all the extra money he flaunts. In 2011, it was alleged by City Press newspaper that there was a secret family trust fund called Ratanang Family Trust, (it was named after Malema's five-year-old son) and that Malema was the sole trustee of this fund.
The paper also claimed that the trust may explain how he was able to bankroll his lavish lifestyle. The paper further claimed that many senior South African politicians, as well as companies, contractors, mayors, and even municipal managers, actually deposited "thousands" into the account. They allegedly deposited these monies in exchange for Malema to facilitate deals and pushing their agenda. However, Malema has since denied these claims. Notwithstanding, there were calls to investigate the trust fund.
Also, Julius Malema has been accused of evading tax. In September 2012, the South African Revenue Service revealed that Malema owed almost $2 million in unpaid taxes. The service then went ahead to obtain a judgment to collect the money from the Parliament member. Malema later reached an agreement with the revenue service in 2014. However, in February 2013, reports emerged that Malema's property was going to be auctioned off in order to pay the R16.1 million debt he owed the South African Revenue Service because he had failed to meet the payment deadlines he was given to make up for unpaid taxes. The lawmaker eventually entered into another deal to pay back the money.
Also, in September 2012, Malema was also charged by national prosecutors with having committed money laundering. Later, he was charged with additional charges of corruption, racketeering, and fraud. These charges were dismissed in 2015 by the courts due to excessive delays by the National Prosecuting Authority. However, in 2018, AfriForum, an Afrikaner rights group, announced that it would kickstart a private prosecution of Malema on the corruption charges.
He Was Linked To An Engineering Firm
In 2011, Julius Malema was linked to an engineering firm called SGL. Although Malema's exact role in SGL is not known, it is believed that his involvement in the firm went a long way to fund his lifestyle and was considered one of his main sources of income.