Khalyla Kuhn is the wife of Bobby Lee, the popular American comedian whose real name is Robert Lee Jr. Khalyla is an American social media star and co-hosts the TigerBelly podcast alongside her husband.
Kuhn is one of those internet personalities who seem to glory in controversies. She is fond of making obscure and ambiguous statements on social media, some of which include calling her husband her first lesbian boyfriend, saying she does not want a monogamous relationship with Lee, boasting about her past affairs as well and making it clear that she loves money, among others.
Another intriguing thing about this lady is the fact that  Bobby Lee has never been associated with any woman before her emergence! All these end up earning her much more public attention, with many curious to know more about her. Who exactly is she, where is she from, and so many such-like questions keep arising.
That's exactly why we bring you the biography and all the needful facts about the woman who stole Bobby Lee's heart away – his wife, Khalyla Kuhn.
Who Is Khalyla Kuhn?
Kahlyla Kuhn was born in 1984 in the United States. Her exact birth date and place are not available at the moment. She is an American national and of the white ethnical background. Kuhn had a difficult childhood and was raised by her mum singlehandedly, although details of what made it so are not available. This caused her to start catering for herself right from her teenage years, precisely at 17.
Khalyla Kuhn is reportedly a biochemistry graduate and has worked as a private teacher in related areas including microbiology, anatomy, and physiology. She has also worked as a waitress in a beach bar near her home to make ends meet. Kuhn may have done some other jobs, but she only gained prominence after striking a relationship with Bobby Lee.
Kahlyla Kuhn's Family
Khalyla Kuhn prefers to keep her background under wraps. And so very little information is available on her family. As earlier mentioned, her mother Marites Kuhn raised her alone alongside her sister Julianna. Her father's identity remains a mystery.
In addition, some sources hold that Khalyla is of Egyptian-Filipino decent. While her father has Egyptian ancestry, her mother has Filipino origin.
Khalyla Kuhn's Relationship with Bobby Lee
Kuhn and Lee met via the chatting app which doubles as a dating site called Tinder. After chatting on a number of occasions, they created an opportunity and met, after which they started dating. They subsequently tied the knot privately in August 2016 at a New York church. The couple does not have any child together yet.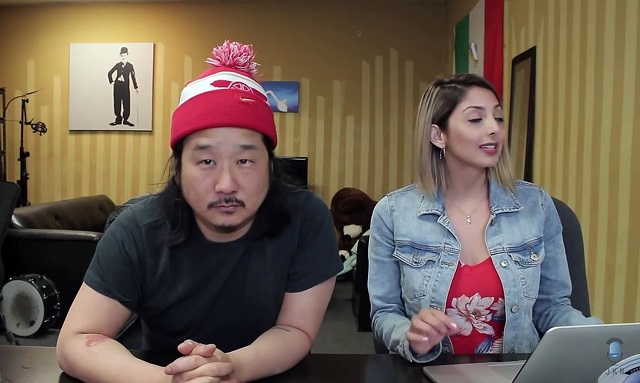 Some months ahead of their marriage, Khalyla started hosting TigerBelly with Bobby. The podcast which they created in 2016, covers a wide variety of topics including popular culture, entertainment and showbiz, racism, politics, sexuality, and so on. It airs every Thursday on YouTube, iTunes and other major apps that relay podcasts.
The duo has entertained numerous guests on their TigerBelly show including, popular American actor and comedian, Eric Stonestreet and his counterpart, Jordan Peele. With over 277k fans currently subscribed to their podcast, the couple has become nothing less than famous.
Meanwhile, Kahlyla Kuhn's husband Bobby Lee is not only a comedian but also an actor credited with appearances on the comedy television series MADtv from 2001 to 2009. He has also starred in a number of movies including Harold & Kumar, Go to White Castle (2004), Pineapple Express(2008), and The Dictator (2012), and most recently, in the ABC's comedy series Splitting Up Together (2018).
Other Facts About Bobby Lee's Wife
1. Khalyla Kuhn is gradually turning into a social media sensation. As at the time of writing this article, she has garnered over 113k Instagram followers and 15,500 fans on Twitter.
2. Kuhn is a fan of Mixed Martial Arts (MMA). She is fond of playing UFC's MMA video games with Lee and also shares her podcasts of the sport on her Instagram.
3. Khalyla Kuhn is reportedly Bobby Lee's first and all-time girlfriend. Prior to meeting Khalyla, Bobby has never gone public with any woman. He was even accused of being gay for this reason. On the contrary, Khalyla has dated a number of men before meeting Bobby.
4. Both fans and foes have severally accused Khalyla of marrying Bobby for wealth and fame. But the Instagram star dismissed the claims, pointing out that she was living comfortably, having a nice home and a good job before meeting Lee.
5. Khalyla is passionate about dogs. She rescues and adopts endangered dogs and cats, and uses her social media platforms to advertise and find homes for them. She usually shares her photos with dogs on Instagram and has a special one for herself named Gobitron.
6. Kuhn has an average height of 5 feet 6 inches, an equivalent of 1.68 meters, as against her husband, Bobby Lee who stands at a miniature height of 5 feet 4 inches (1.6 meters).
7. Khalyla Kuhn is a tattoo lover. She has a very conspicuous one inked on her left hand and another on the left side of her upper body.
8. She also loves luxury and exotic lifestyle. That could be the reason why she came under fire following her hookup with Bobby Lee. She relishes driving in deluxe cars, vacationing at pricey locations, and spotting high-end clothing and accessories.