The world went crazy when Chance the Rapper got married to his baby mama Kirsten Corley. She is popular for being the girlfriend turned wife of this iconic rapper but the African American beauty has a lot more than that going for her. There is a lot more the world is yet to know about this woman, and we are bringing you all the details about her, so we suggest you keep reading.
Kirsten Corley's Bio
Kirsten Corley was born on the 31st of May in Chicago, Illinois, United States of America. Information about her family and early life isn't known to the public as Kirsten has managed to maintain a rather low profile despite being in the news repeatedly. She is a practicing Christian. For her education, Kirsten graduated from DePaul University although her course of study and year of graduation is not known.
Kirsten has always been an independent woman and her relationship with Chance the Rapper has not in any way stopped her from chasing her ambition. She used to be a professional model, modeling for reputable designers such as Alexander Wang in 2014. Asides from modeling, she is also a renowned author having written a book titled But Before You Leave which was a huge success and has sold copies all over the world. She also used to work as a real estate agent and even as a freelance branding agent. There's no stopping this young lady! However, it appears now that Kirsten Corley is focusing fully on her marriage and kids.
Kirsten Corley's Sister and Family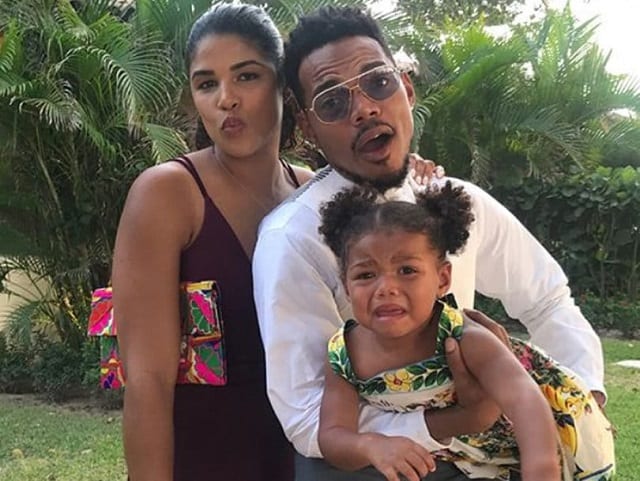 Kirsten Corley has a sister by the name of Krystal Corley, and the two of them share a close relationship. Krystal, just like her sister and her mother Janice Corley, is also a successful real estate agent.
Kirsten Corley has been in a long-term relationship with Chance the Rapper since 2013. However, that was not the year they met. The story gets really interesting. It turns out Chance the Rapper had met Kirsten when he was only 9 years old; he had watched her dance and had decided there and then that she was the one he would marry. Talk about a man with a vision! The two of them reunited as adults and started dating in 2013.
Their relationship has been known to be a little inconsistent. However, in September 2015, the couple welcomed their first bundle of joy; a daughter they named Kensli Bennett. Unfortunately, the couple hit rocky grounds in 2016 as they separated. They got back together in 2017 and on the 4th of July, Chance the rapper proposed to the love of his life, Kirsten Corley, at a house party in the presence of family and friends. She said yes amidst the fireworks and cheers from their friends and family. The video of the proposal was shared by a friend on social media and it was just as magical as we hoped.
The couple got legally married on the 27th of December, 2018 but delayed the actual wedding ceremony until the 9th of March 2019. The wedding took place at Pelican Hill in Newport Beach, California and it was star-studded with guests like Kanye West, Kim Kardashian, Kirk Franklin, and many others. The bride and groom were both dressed in white and looked gorgeous and extremely happy. In 2019, the couple revealed that they are expecting a second child and the world is brimming with expectations and good wishes.
Other Facts About Chance the Rapper's Wife
1. Her husband, Chance the Rapper is worth $9 million!
No surprises there seeing as her husband is a multiple award-winning artists.
2. Her zodiac sign is Gemini
You don't know about zodiac signs? That's too bad! We'll help you out. Geminis are easily the most likable and approachable people in a room as they are extremely friendly and nice people.
3. She has appeared in his songs.
In his songs All We Got, Chance raps about turning his baby mama to his wife. Going beyond that, when Chance won a Grammy award for Best Rap album in 2017, he gave a lovely shout out to Kirsten Corley and his daughter Kensli.
4. She Plays Basketball.
Seeing as she has a beautiful and athletic build, it makes sense to know that this beautiful woman plays basketball. Chance once rapped about her height recalling when they used to play basketball together. Couples that play together… stay together!
Height and Body Measurements
Kirsten is a strikingly beautiful woman and stands tall at 5 feet 9 inches. She maintains a healthy weight of 61 kg although we can't precisely say how much baby weight she's put on. Regardless, brandishing black hair and dark brown eyes, Kirsten Corley remains an extremely stunning woman.