Lil Kesh, born Keshinro Ololade, is a Nigerian rapper and businessman who has an estimated net worth of $1 million. 
The young artist of Yoruba extraction who has made a name for himself in the Nigerian music industry has his record sales, shows, and tours as the major sources of income. However, he also earns from other businesses, endorsements, and awards.
The Yoruba Afro hip hop artist has continued to grow since he surfaced on the Nigerian music scene in 2012. Through sheer hard work and perseverance, the Shoki crooner ascended to a remarkable position on the prestigious celebrity success ladder.
How Lil Kesh Accumulated a Net Worth of $1 Million
Needless to mention that the music hitmaker has been earning his biggest pay from his singing career. However, with the advent of fame, he spread his wings, extending fingers into different pies like business and endorsements. Lil Kesh has a handful of awards to show for his years in music. His sources of revenue include;
• Music
• Business
• Endorsements
Music is his Major Source of Income
Lil Kesh's remarkable singing talent takes the credit for bringing him to prominence, and to date, music has remained his major source of revenue. From record sales to shows, and tours, the musician has been smiling to the bank since 2012, and from what is obvious, he is still very much relevant in the music scene. his hiatus notwithstanding, the artist has resurfaced on the music scene with promises of greater songs in the future
Growing up in the busy neighborhood of Bariga, Lagos State, the young and talented artist would always perform for his peers, showing off his remarkable rapping prowess. Though it all started as a fun, his street performances became a pacesetter for the artist, heralding a successful music industry career.
His professional music career started in 2012 as Lil Kesh joined millions of aspiring artists hustling to create a niche for themselves in the Nigerian show biz scene. His early days saw him hatching music styles conforming to diverse genres like Afropop, Hip Hop, and Dancehall. It goes without saying that he was relatively unknown in his early days until Shoki hit the Nigerian music stand.
The Track 'Shoki' Takes the Credit for Bringing Him to Prominence
Subsequently, he became the protégée of Olamide Badoo, known for singing in his local Yoruba language. When Lil kesh's hit track Shoki hit the music stand in 2012, it came with a big bang that kept resounding for a long time; this marked his rise to fame. However, the bang was not just about the song 'Shoki,' but it also came with its unique dance steps, which all contributed to paving the way for the singer's career success. We would not be far from the truth to say that the music hitmaker started earning the big bucks from his music career because of Shoki. The song equally made him a household name in the country as both the young and old try to master the Shoki dance steps.
However, the song's fast-growing popularity was stunted after the Nigerian Broadcast Commission placed some restrictions on it; the song was stopped from receiving airplay during daylight hours, especially in Lagos. According to NBC, the word Shoki is Yoruba slang for a quickie and was fast spreading into other parts of Africa, and people were promoting it ignorantly. The NBC clampdown may be considered an act of negative popularity, but it increased the music hitmaker's fame.
On the 17th of March 2016, he dropped his debut album named Young And Getting It (YAGI) from the stables of Olamide Badoo's record label YBNL Nation. The album, which belongs to the production credit of Young John and Pheelz, has four tracks like 2014 Lyrically, Is It Because I Love You, 2015, Efejoku, 2015, as well as Ibile 2016. The artist has earned a lot from his songs, but we don't know exactly how much has accrued from each track.
Here are Some of His Known Songs
• Shoki, 2014
• Shoki (remix) featuring Davido and Olamide Badoo, 2014
• Female Version of Shoki remix featuring Chidinma, Cynthia Morgan, and Eva Alordiah, 2015
• Is It Because I Love You, featuring Patoranking, 2015
• Efejoku, 2015 featuring Viktoh
• Semilore, 2016
• Shele Gan Gan, 2016
• Ibile, 2016
How the Artist's Videos Fared on YouTube
After he dropped the hit number Shoki in 2014, the song garners over 910k views on YouTube with 4.3k likes. Gbese did a lot better with 2.9 million views and 14k likes, followed by Nkan Be, which amassed 1.8 million in views; the likes were above 19k. The track All The Way is another number that attracted massive views at 828 views and 12k likes.
Going by the indications of his YouTube records, The Shoki crooner may not have earned a lot from that avenue; however, his story might just be in for a change with his return and promises of great things to come.
The Rapper Has Earned From One Known Endorsement Deal
Many fans believe that all the criticism Lil Kesh was subjected to during the early days of his music career impacted negatively on his acceptance by product brands. Their reason for this is that a musician of his caliber should have many brands running after him for endorsements, but sadly, Lil Kesh only has one endorsement to date.
He only ever inked a deal with Surebet Nigeria – a known online betting/sports company; the deal is believed to be worth millions of naira. However, his endorsement history may likely change for the better now that he is fully back into show business.
His Business Interests in Both Music and Fashion Industry Are Other Avenues Through Which He Makes Money
When he eventually left his former boss Olamide Badoo's record label, Lil Kesh went fully into business, floating his own music label YAGI Records. The name of his label 'Young and Getting It' coincides with the name of his debut album, and Massive Management is credited with managing YAGI.
Lil Kesh's business acumen doesn't seem to end with music, as the popular rapper also has a finger in the fashion industry. While he was celebrating his 2018 birthday in May, the Shoki hitmaker announced his clothing line's launch, Titikeshinro Clothing line.
How Does Lil Kesh Spend His Money?
In the music industry today, a luxurious lifestyle seems to be the order of the day, and once an artist hits it big, it manifests in exotic cars and plush homes. Nigerian rapper Lil Kesh is no different from his contemporaries. He has at least one house in Lagos and is associated with some expensive brands of cars.
Lil Kesh's Dream has Always Been to Own A House
As he emerged on the Nigerian music scene, Lil kesh expressed his desire to buy a house of his own as soon as he makes it big. True to his words, the singer wasted no time securing a house in Lekki, where he is presently residing. With his dream of owning a house fulfilled, Lil Kesh seems rather averse to sharing info about his home with fans on social media. We only get to view glimpses of the house, but he is yet to treat us to the full view.
After he secured the house in Lekki, rumors started running rife that it was actually gifted to him by someone. However, Lil Kesh didn't let the grass grow under his feet in coming up with a blunt denial of such claims and affirming that the house was bought with his money, though he never stated exactly how much.
Lil Kesh's Garage is Fast Filling Up With Expensive Cars
The Shoki hitmaker put himself on expensive wheels as he became famous and has since increased the number of automobiles in his garage. He also extended his magnanimity to his mother, who received a car gift from him. These are some of the brands he splurges around town with.
Mercedes Benz C Class
To commemorate his 21st birthday in 2016, Lil Kesh gifted himself with a Mercedes Benz C Class. Though the musician failed to unveil the car's exact market price, it generally costs around 30 million naira, its special features are well known;
• A twin-scroll turbo
• Direct Injection plus CAMTRONIC valve modification team up for 255 hp in its C 300 engine.
• It unleashes all 273 lb-ft of torque from 1,800 rpm and reins in efficiency with as much as 35 highway mpg.
• MSRP: From $41,400
• Horsepower: From 255 to 503 hp
• Dimensions: 185-187″ L x 71-74″ W x 55-57″ H
• MPG: as much as 24 cities / 35 highways
• Engine: 2.0 L 4-cylinder, 4.0 L V8, 3.0 L V6
Range Rover Sports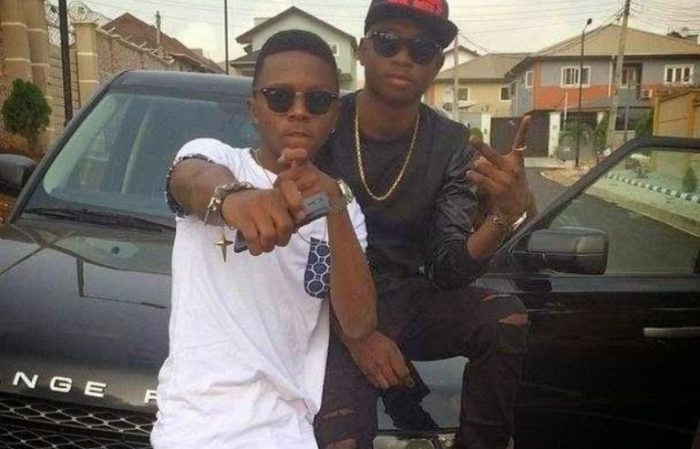 The YAGI boss' second automobile is Range Rover Sports. The four-wheel-drive has special features like a 4.4liter V8 petrol engine; this has the capacity to produce a 340 horsepower speed, making the speed capacity compatible with the car's balance. Lil Kesh must have been prompted to acquire the automobile because of its exquisite nature, and he makes most of his regular movements with the Jeep. The market price for the vehicle is pegged around 50 million naira. Other features of the car include;
• MSRP – From $68,650
• Dimensions – 192″ L x 78″ W x 71″ H
• Horsepower – 254 to 575 hp
• MPG – 22 for cities/28 for highways
• Engine: 2.0 L cylinder, 3.0 L V6 diesel, 3.0 L 6-cylinder, 5.0 L V8.
Mercedes Benz C400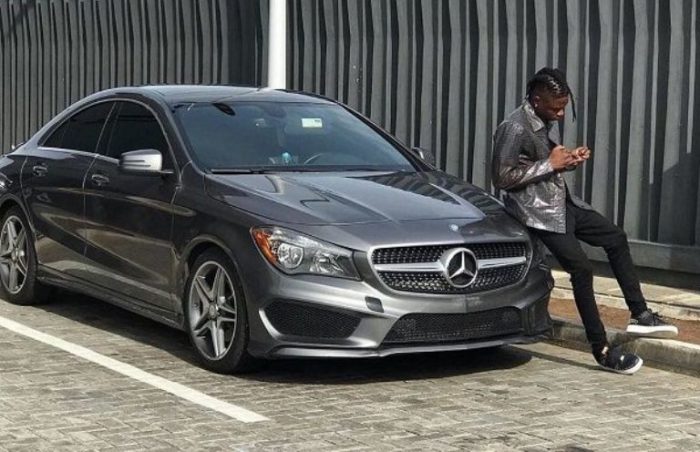 Lil Kesh seems to have a thing for the Mercedes brand; despite having a Mercedes Benz C Class, he still acquired a Mercedes Benz C400. After he took delivery of the vehicle, the rapper took to Instagram to share the good news with fans. The car was said to have cost at least N20 million, excluding clearance cost, delivery fee, and import tax.
The Rapper Also Gifted His Mother A Car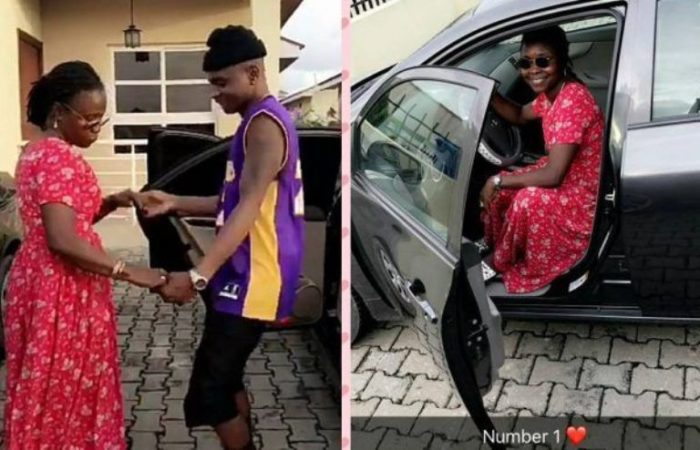 In 2017, fans were treated to a YouTube video of Lil Kesh and his mum dancing to one of his songs to celebrate the car he gifted her with. His mother just came for a visit when he decided to surprise her with the car, and the woman was so overjoyed that she broke out in a dance. However, the make and model of the car were not mentioned.
Lil Kesh Shocked Fans When he Announced that he was Quitting Music
A while ago, Lil Kesh dropped a bombshell when he came up with an announcement about calling it quits from his music career, which is relatively young. According to the Young And Getting It boss, his reason for resigning was that he needed to create more time to concentrate on his business ventures.
However, the youngster neglected to mention the exact kind of business taking his time so much that he had to quit music. As time rolled by, fans began to view his announcement as a publicity stunt, something to draw the media's attention. Besides, when you consider that he has only ever dropped one album and his YAGI record label is still in the infancy stage, this claim begins to ring true.
Lil Kesh Later Came Up With His Reasons For Taking a Hiatus
After he has been absent for a while, the rapper's fans started asking questions on his whereabouts. Lil Kesh himself took to Instagram to provide answers regarding his situation. He told a tale about being busy recreating himself mind, body, and soul rather than force trash music on his loyal fans.
The young artist later opened up to blame his absence on mental ill-health, citing his case as one of the worst kind. According to Lil Kesh, he normally wouldn't share something of this magnitude with fans on social media and would be averse to telling people the exact cause of his mental ill-health. However, after being there and knowing how it feels, he deemed it necessary to advise people in similar situations. He mentioned that a year as difficult as 2020 may likely put many people in a dark place, and it is always difficult to talk about such situations.
Lil Kesh said when he found it difficult to put out consistent music like before, he instantly knew that all was not well with him; something was definitely amiss and needed to be fixed fast. The Efejoku singer advised those who find themselves in a dark place to close their ears to those voices ringing in their heads. Lil Kesh said people in such conditions should know that those voices are always wrong and are full of lies. In his conclusion, the singer said that a day would come when they will see the light again, and it would be worth their while.
With his hiatus far behind him, the award-winning rapper promised his fans a banger for the 25th of September. Colleagues, fans, and supporters who missed his music were seen commenting on his post in anticipation of September 25th. Thus, it has become glaring that the rapper's career is not dead after all. The 25th of September sounded like it would be a turning point for Lil Kesh's music career, and fans were full of expectations. Perhaps his promise for September was the video we saw on YouTube in November 2020. Lil Kesh uploaded his new music video, YAGI Level, which has already amassed over 120k views.'