Mike Shinoda is Japanese-American. He can be described as a Sansei, a term used to refer to the children of children born to ethnically Japanese emigrants in a new country of residence outside of Japan. Shinoda was born in Panorama City, California, United States of America, and his parents are Muto and Donna Shinoda. He has a younger brother named Jason.
What Is Mike Shinoda's Ethnicity?
Mike Shinoda's ethnicity is Japanese descent on his father's side and Caucasian (European) ancestry on his mother's side. He is a member of the band Linkin Park and has often addressed and expressed his cultural and ethnic background in various interviews and through his music.
Mike Shinoda is Japanese-American, particularly a sansei. If you are wondering what a sansei is, it simply means a third-generation Japanese-American. That is the children of children born to Japanese families in a new country. Second generation Japanese-Americans are called Nisei, the third generation, Sansei, and the fourth generation, Yonsei. Mike Shinoda's paternal grandfather was placed in a Japanese-American internment camp during the Second World War.
Shinoda has frequently talked about how he struggled with an identity crisis for the longest time. Being Japanese-American, he always felt like he was a lot different from most people in the United States but had no way to communicate this difference. In an interview, he talked about how there is a huge difference between Japanese and the Japanese-Americans and that he never realized this until he got to college. However, he recounted that when he went to Japan, he was able to pick out some cultural similarities in the Japanese that also exist in the Japanese-Americans.
He said, "There are little things that culturally come from Japan but they also exist in Japanese American culture and it made me feel like the connection was there." He noted little things like taking a person's business card with both hands as something his uncle does even in America.
Mike Shinoda's ethnicity has had a great influence in his line of work. In 2008, Mike partnered with an American shoe company called DC Shoes to create shoes that showcased both the American and Japanese culture. His second art show was displayed at the Japanese American National Museum located in Los Angeles.
Who Are His Parents and Family?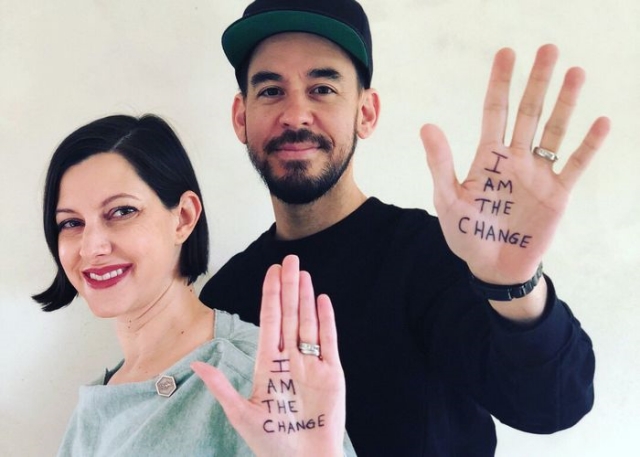 Although their names are unknown, Mike Shinoda's parents have had a huge influence on the man he has become. His father is a Japanese-American particularly a Nisei (second generation). When Mike was only six years old, his mother began to encourage him to engage in classical piano classes and he obliged. However, by the time he was 13 years old, he had a clearer picture of his future and decided to move from classical piano to jazz, blues, and hip hop. When he was in high school, he began to experiment with the guitar and even added rap vocals to his practice. He grew up with his younger brother named Jason and the entire family lived in California. His parents are liberal Protestants and raised both their boys to be also.
Mike Shinoda got married to Anna Hillinger in 2003, although they met in the late '90s. Anna Hillinger is a writer and about the time they met, she was just working on her first manuscript. By the time they got married, Anna's career was starting to soar and the couple did the bravest thing. On Anna's request, her book was publicized and promoted without any mention of her relationship to Mike Shinoda. This was done so that she could get the full merit she deserved and not just because she was married to a popular man. The book was a huge success and earned her two nominations for the Sue Alexander Most Promising New Work Award. The novel is titled Learning Not To Drown.