Mmabatho Montsho (born October 19, 1983) is a 39 years old South African actress, fine artist, writer, and film director known for playing the role of Lumka in Generations and Wanita in Mr. Bones 2: Back from the Future.
Before she started her career in the entertainment industry, Montsho had been heavily involved with fashion design. She began designing clothes long before fame came calling. Since then, she has steadily moved from one level to the other, establishing herself as a household name and becoming a fan favorite with her spectacular role-interpreting skills.
Profile Summary of Mmabatho Montsho
Full Name: Mmabatho Montsho
Gender: Female
Date of Birth: October 19, 1983
Mmabatho Montsho's Age: 39 years old
Place of birth: Soweto, Johannesburg
Nationality: South African
Education: University of South Africa
Religion: Christian
Sexual Orientation: Straight
Marital Status: Married
Mmabatho Montsho's Husband: Mbuyiseni Ndlozi
Famous For: Her Roles in Generations, Rhythm City, and Jacob's Cross
Mmabatho Montsho's Net Worth: $500,000 – $1 million
Twitter: MmabathoMontsho
Instagram: montshotheblack
Mmabatho Montsho Was Born In Soweto
Mmabatho Montsho was born on the 19th day of October 1983. This means she is 39 years old at the moment. The actress was born in Soweto, a township of the City of Johannesburg Metropolitan Municipality, in Gauteng Province, South Africa. It was there that she grew up with her family.
Information regarding the identity of Mmabatho Montsho's parents remains vague, including what they do for a living. However, we know that she is very close to them. The actress has often flaunted her mother on social media, showering her with praises, especially on occasions like Mother's Day. She has also spoken fondly of her father, describing the man as a shy person.
It is noteworthy that Mmabatho Montsho is not an only child. She actually has three siblings – two brothers and one sister. The identities of her siblings are also vague, however, we know that she has a great relationship with them as they have shown up to support her in many ways, including during her art exhibition. She has also posted her sister several times on social media especially on her birthdays.
She Studied Audiovisual Multimedia
It is not clear the primary school that Mmabatho Montsho attended while growing up. However, we know that she had her high school education at Greenside High School located in Johannesburg. When she finished high school, she proceeded to further her education at the University of South Africa (UNISA), which happens to be the largest university system in South Africa by enrollment.
At the University of South Africa, Montsho who had already taken to the arts from when she was a little child, studied Audiovisual Multimedia. Not satisfied, the actress would later go on to obtain a Master of Arts degree in Script and Screen Writing from Falmouth University, a Specialist University for the creative industries based in Cornwall, England. She obtained her Master's Degree in 2019. However, because of the COVID-19 outbreak, she only got to have her graduation ceremony in 2021.
Her First Love Is Fine Arts
Before she fell in love with acting and began to mesmerize people with her acting prowess onscreen, Mmabatho Montsho first fell in love with fine arts. The actress once revealed that she has been 'painting her whole life' and was completely in love with the arts. Art was something she used to seek expression. For her, having to paint was a spiritual thing and she considered the arts to be something that defies easy interpretation.
Mmabatho Montsho has been in love with arts since she was a little child. As a matter of fact, her love for art dates way back to when she was in primary school. She explained that she was never taught how to paint but just picked interest in painting as a little girl and began drawing patterns at that age. She quickly became good at painting even as a child and began to attract attention with her work. In fact, the actress revealed that she got her first art award when she was just in Grade 1.
Since then, she has become better at painting, inspiring other artists with her work.
Her First Art Exhibition Went On Display In 2018
Like most fine artists would strive to do, Mmabatho Montsho has had her own solo art exhibition. The actress put together the art exhibition in August 2018 and it was attended by many people who were thrilled by her paintings.
Mmabatho Montsho's art exhibition was a 20-piece exhibition which was titled "Manyano". It featured a series of oil paintings by the actress depicting the defiance, spirit, and strength of the Manyano women of the Methodist Church. The art exhibition was open to the public for the duration of Women's Month at Constitution Hill Women's Jail which is located in the heart of Johannesburg.
At the exhibition, her parents and siblings were all in attendance to give her all the support she needed. Her lover was also there. Several top personalities were in attendance to see her artwork. Interestingly, the actress revealed that she was first approached to curate an exhibition in 2017. However, she turned the opportunity down at the time because she wanted to be in the right headspace before she does anything.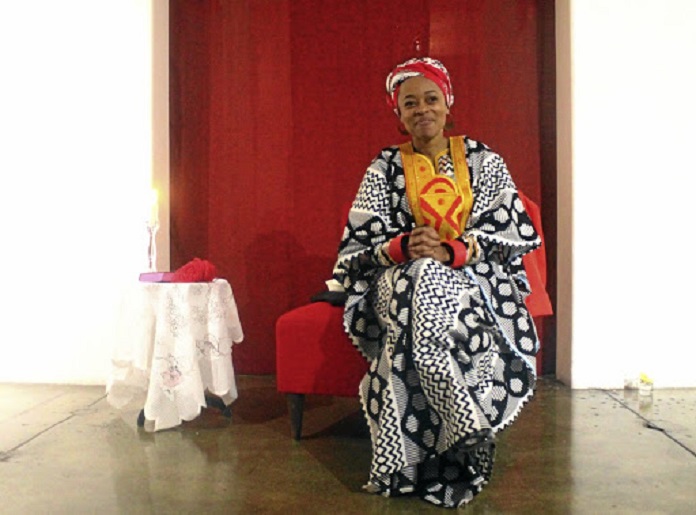 Mmabatho Montsho Launched Her Acting Career At Age 21
In 2004, when she was about 21 years old, Mmabatho Montsho kickstarted her acting career when she was cast to star in Generations, one of the most popular South African TV series. She was cast to play the role of Lumka Dhlomo, the daughter of the show's villain Sibusiso and got fans of the show talking with her incredible role interpretation.
The series, Generations is one of Mmabatho Montsho's biggest roles so far. It is also the role that launched her to stardom, especially because of the huge appeal the show had. Many years later in 2015, the actress revealed that while she was filming Generations, she was a nervous wreck. This was because she had very little acting experience before being cast to play the role and so she had to learn to act on the job in front of millions of viewers who dissected her every move, word, and emotion.
Also, the show had so many top stars, including Xolile Tshabalala, Connie Ferguson, Akin Omotoso, and Faye Peters, whom she only saw on TV before that time. So, acting alongside them was a tough task, especially because she was a perfectionist and often felt that she did not have enough training to handle such a big role at that point in her life. However, she did play the role and got the approval of fans, launching her into widespread popularity.
The actress has also starred in other roles. In 2006, she made a guest appearance on SABC 1's A Place Called Home. She went on to play the role of Puleng Letsedi in the TV series, 90 Plein Street. She also played Noni in the series Hard Copy and hosted Season 3 of Artcha. In 2007, Mmabatho Montsho was cast to play the role of Lerato in the TV series, Jacob's Cross. The series helped to increase the actress' visibility because of the show's increasing popularity at the time. The actress became one of the highly-rated TV stars in South Africa. The same year, she was cast to play the role of Thembi Selani in the series, Rhythm City. 
In 2008, the actress was cast to portray Wanita in Mr. Bones 2: Back from the Past, one of the very popular independent movies of that year in South Africa. In The movie, she played the wife of the Hekule, the King of Kuvukiland. The movie was very successful and even became the highest-grossing South African film of all time when it was released before it was eventually toppled. The success of the movie took Montsho's fame beyond the shores of South Africa.
In 2013, the actress portrayed Reneilwe Motene in Nothing for Mahala, and in 2016, she was cast to play the role of Nandi, a perfectionist lawyer in the movie Happiness Is a Four-letter Word. The next year, she played Cynthia Abolo in the TV series, Happy Family and in 2018, she was cast to play Phindi in the popular series, Lockdown. Today, the actress continues to thrill fans with her incredible role-interpreting skills.
Mmabatho Montsho Is Also A Movie Director And Writer
It is noteworthy that apart from her acting skills, the actress is also a talented movie director and writer. In 2018, Mmabatho granted an interview where she explained that she had always wanted to be a director since she was a little child. She also revealed that she learned directing while on the job as an actress by paying keen attention to the directors doing the jobs.
Montsho's Works As A Director
Mmabatho Montsho has worked on a number of projects as a movie director.
Thula's Vine (2017)
Shuga (2017)
The Groom's Price (2017)
Emoyeni (2018)
Joko Ya Hao (2020)
The Award Ceremony (2021)
Desmond's Not Here Anymore (2021)
Her Writing Credits
Montsho has proven to be a good scriptwriter and now has some writing credits. With her Master of Arts degree in Script and Screen Writing, writing for movies has become natural to the actress and she has done quite a job of that.
The Groom's Price (2017)
Emoyeni (2018)
Lockdown (2018) – three episodes
In The Award Ceremony (2021)
Apparently, the future is bright in the writing and directing departments for Mmabatho Montsho.
The Actress Is A Talented Fashion Designer
Apart from being an actress and fine artist, Mmabatho Montsho is a fashion designer. The actress actually began designing clothes even before she became an actress. According to our findings, she picked interest in fashion when she was still in senior high school and determined she was going to explore her passion for fashion by designing different wears. This is exactly what she did.
When she finished high school, Mmabatho Montsho immediately launched her first fashion label which she called "Black Olive Designs". This was a big step for her as the move opened doors to bigger things. After launching "Black Olive Designs", Montsho collaborated with some of her close high school friends to grow the business by designing trendy clothes and then selling those designs at the B&B Rooftop market in Johannesburg.
She Gained Recognition At South African Fashion Week
Soon after Montsho and her friend began to showcase and sell their designs at the B&B Rooftop market in Johannesburg, they started catching quite a lot of attention. They attracted people with their impeccable designs which were noticeably trendy and laced with fashionable edges.
Mmabatho Montsho and her friends were able to make so much buzz that in 2004, their clothing line earned public recognition at the South African fashion week. It was shortly after this that the actress made her acting debut.
Montsho Has Accepted An Ancestral Calling
In 2017, Mmabatho Montsho stunned fans when she revealed that she had accepted her ancestors' calling to accomplish traditional feats. At first, she did not make this development public but fans were quick to notice that, in one of the photos she posted on Instagram, she was wearing some traditional beads around her neck and hands which signified that she had gone into traditional healing.
The actress later confirmed the speculations. According to her, she has had visions since she was a child and always knew that her ancestors were calling her to do something big because she could always feel tremendous energy flowing in her. She also revealed that she initially resisted the urge to accept this calling but she realized she couldn't hide anymore and it was time to connect with her roots.
Interestingly, the actress revealed that she had accepted her calling in 2012 and even undergone certain traditional training at the time but had kept things secret because she was not sure she could handle what could come from the public. At the moment, she had not disclosed if she has been called to be a diviner (sangoma) or a herbalist (inyanga). However, she continues to juggle her ancestral calling and her career in the film industry.
Mmabatho Montsho Is In Love With A Prominent Politician
Mmabatho Montsho's life is not all about making movies, directing them, or painting artworks. It is also about loving and finding peace in relationships. At the moment, the actress is in a loving relationship with Mbuyiseni Ndlozi, a South African politician and political activist who happens to be a member of the National Assembly, representing the Economic Freedom Fighters (EFF). However, this information was kept away from the public for some time.
When the actress first burst into the limelight, many fans, especially the male ones were stunned by her startling beauty and questions started flying around about who her boyfriend or husband was. However, for a long time, the actress kept her private life out of the public glare and refused to disclose who the man in her life is.
In 2017, speculations that the actress was dating Mbuyiseni Ndlozi began to emerge but they didn't confirm or deny the reports. Eventually, both Montsho and Ndlozi began to make public appearances together and soon confirmed they were dating when they started sharing photos and videos of themselves on social media.
Are They Married?
For some time, there were speculations that Mmabatho Montsho and her lover, Mbuyiseni Ndlozi were already married. However, this report has not been confirmed to be true. At the moment, there are no records of their marriage anywhere.
What we know is that the couple is deeply in love with each other and has been there for each other. Mbuyiseni Ndlozi has always supported the actress in her career and was there for her art exhibition. He also makes sure he publicly celebrates her when she achieves something big. In 2021, the actress celebrated bagging a Master's Degree and the politician made a post on Instagram to celebrate her.
On her part, the actress has also shown love to her politician boyfriend. A quick look through her Instagram page shows she also celebrates the man often.