Rock and Roll Hall of Famer, Anthony Kiedis, is one whose name and music will certainly live forever. The legendary rock star is popularly known as the lead singer of the musical band, Red Hot Chili Peppers. Thanks to the success of the group, he has grown to become one of the richest rock artists in the contemporary world and you can not successfully write about the wealthiest in rock music without having to talk about Anthony Kiedis' net worth.
Not just only a music artist, Kiedis is also an actor and author who has penned a best selling book. Having achieved a thriving music career that has spanned over three decades, many are inquisitive to know how the rocker has made his money and if he is richer than his contemporaries. In this article, we will give you an overview of Anthony Kiedis' net worth as well as other important details.
Anthony Kiedis Background Details
The accomplished singer was born to John Michael Kiedis and Margaret "Peggy" Noble in Grand Rapids, Michigan. His father, who is better known as Blackie Dummett, is an actor. At the age of three, Anthony's parents got separated and as a result, he was raised by his mother. He has three siblings; two from his mother's second marriage and one from his father's side.
Anthony Keidis is a graduate of Fairfax high school, Los Angeles, California. He attended the University of California, Los Angeles but later quit his studies in order to pursue a music career.
At the age of 12, Kiedis went to live with his father in California. During that time, he got used to using hard substances, including marijuana and cocaine. Having met Michael Balzary, who is known professionally as Flea, while in high school, Kiedis formed the musical group, Red Hot Chili Peppers in the early 1980s together with Flea and other bandmates. The band has moved on to release eleven studio albums, eight video albums, five extended plays, 47 music videos and 44 singles.
At present, the band has sold over 80 million albums worldwide. Along with his bandmates, Anthony Kiedis has gained 12 Grammy Awards nominations of which they have gone home with three. The band has made several exploits including attaining the most cumulative weeks at the number one spot on the Billboard Alternative Songs chart and equally producing 13 number one singles.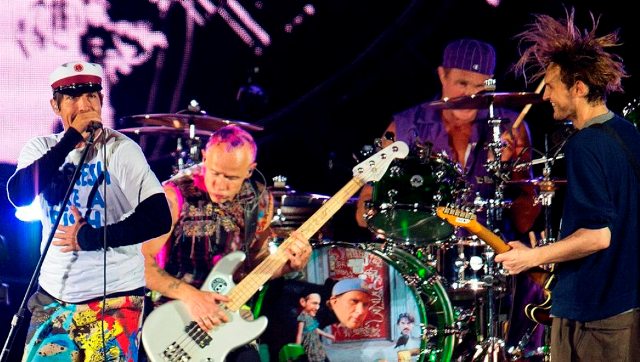 In addition, about 25 of their songs have been among the Billboard Alternative Songs chart most top-10. Some of their most popular songs include "Get Up and Jump", "Fight Like a Sugar Sex Magik", "One Hot Minute", "Buckle-Down", "The Brother's Cup", "Cabron" and many others.
How Much is Anthony Keidis Net Worth Today?
Aside from his earnings from his music career, Anthony Kiedis' net worth has been largely shaped from the tremendous wealth he has amassed from other endeavors. In addition to having written numerous songs for other artists, he is also the author of a few books including his autobiography, Scar Tissue, which reached No. 1 on The New York Times Best Seller list as well as Fandemonium for which the musical band went on a mini-book tour.
The celebrated music artist has additionally dabbled as an actor and has appeared in some movies and series such as Jokes My Folks Never Told Me, Less Than Zero, Point Break, Chase and others.
See Also: Is Austin Brown Single Or Married? Everything To Know About The Singer
Anthony Kiedis has also served as the executive producer of the biopic film, Low Down and was among the faces of the American fashion designer, Marc Jacobs ad campaign in 2015. Through the sale of his asset – a three-bedroom, four-bathroom Hollywood Hills home in 1997, Anthony Kiedis realized the sum of $560,000. Then in 2015, he earned through the sales of his 1940s villa in Hollywood Hills West $4.2 million. Through his thriving plethora of careers, Anthony Kiedis' net worth is an estimated jaw-dropping sum of $120 million.
Meanwhile, through the sales of the Red Hot Chili Peppers albums, the band has bagged huge earnings which are broken down in estimation below.
The Red Hot Chili Peppers (1984) – $300,000
Freaky Stylet (1985) – $60,000
The Uplift Logo Party Plan (1987) – $500,000
Mother's Milk (1989)- $1.1 million
Psychedelic Sexfunk Live from Heaven (1990) – $50,000
Funky Monks (1991) – $75,000
Blood Sugar Sex Magik (1991) – $8.9 million
What Hits!? (1992) – $1.7 million
Out in L.A (1994) – $126,000
One Minute (1995) – $2.2 million
By the Way (2002) – $8.82 million
Californication (1999) – $14.7 million
Greatest Hits (2003) – $7.38 million
Stadium Arcadium (2006) – $6.64 million
I'm With You (2011) – $1.44 million
The Getaway (2016) – $1.5 million