The NHIF ByProduct scheme has made it easier for people to pay and submit their by-products online or via M-Pesa's mobile money platform. In the past, people had to visit the NHIF office physically or send these documents via e-mail. As technology takes over the world, companies and institutions adapt and deploy it to make processes easier – and the NHIF is not an exception. They have created a more accessible system for members to submit their NHIF employer ByProduct online. It also involves online payment. This process is much more efficient and faster than the initial procedure.
What is the NHIF ByProduct?
The NHIF ByProduct is a scheme introduced to help tally all the amounts deducted from employees' salaries. It is done to make services faster to every member and their dependents. The process entails every employer submitting a list to the NHIF. The list contains their employees' brief details, including name, passport or national ID number, and the rate or amount each employee should be deducted.
Initially, this process was carried out through physical visits to the NHIF office to submit the documents. This meant inconvenient waiting times and delayed submission. Alternatively, people sent in the documents via e-mail. This was not very progressive, as well.
The NHIF eventually created a more efficient and faster method of collating employers' monthly payroll by-products to the NHIF through the ByProduct system. The NHIF suggests that companies use a uniform software application to process its ByProduct documents to avoid confusion.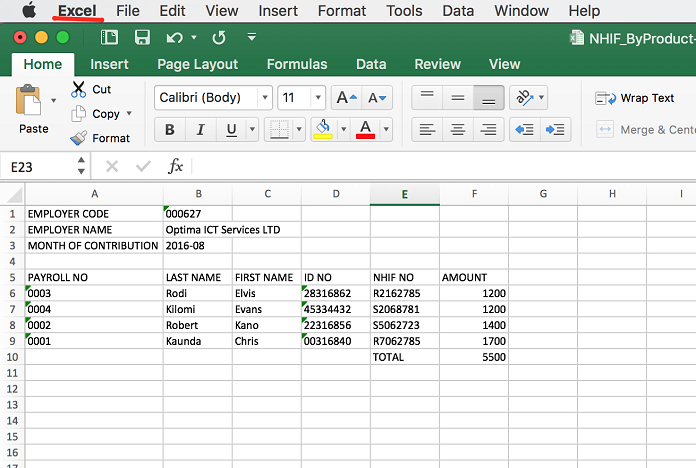 This was due to the availability of various software applications employed by companies. The agreed software application was Microsoft Excel. Therefore, every company processes its ByProduct documents with Microsoft Excel. Any other format will be deemed invalid and subsequently rejected.
How to Submit Your ByProduct?
According to the NHIF, there are three acceptable methods of submitting your ByProduct documents. These include:
Through the Payroll ByProduct/Payment Online
Through E-mail
Submitting at the nearest NHIF branch in a soft copy, i.e., on a flash or a CD
NHIF will not accept ByProduct documents that:
Have no ID numbers
Are not in the required format, i.e., Excel
Have no proof of payment
How to Register for the NHIF ByProduct
There is no longer a need for anyone interested in registering for the NHIF ByProduct to visit the NHIF office. The registration process can now be done quickly online. All you need is an active internet connection and a desktop or PC. Then proceed to follow the steps below. Ensure you follow the steps carefully to ensure you get a successful result:
Open your browser, preferably Google Chrome. Ensure your internet connection is reasonably fast. This is to ensure you are done as quickly as possible.
Enter the following NHIF portal's address 248. 31. 214 and click enter
Once the page is done loading, you should notice the 'register' tab somewhere below.
Click on the tab and wait a few seconds for it to load the registration form
Once the form has loaded, fill it with the right details, including company name, employer code, and E-mail address. Also, create a safe password.
After this is done, click on the 'register' button, and you should be automatically registered to the service.
Sending ByProduct Document via Portal and Making Payment
It is now easier to make your NHIF ByProduct for your employees using the NHIF employer portal. This method is only available to companies and organizations. To send your ByProduct online, you have to be logged in to the portal first.
To do this, enter the same address you entered for the registration process. However, this time around, click on 'login' instead of 'register.' Enter your employer code and password, then click on the login button. You would be successfully logged into the portal.
Now that you are logged in, it is time to begin the process of submitting your NHIF ByProduct document. Once you are logged in, a page appears prompting you to upload your NHIF ByProduct. Proceed with the following steps below:
Click on the 'Browse' button and proceed to the location of your ByProduct document in Microsoft Excel format. Also, ensure that the form is in tandem with the required format provided by the NHIF. The NHIF has a sample ByProduct document in Excel format that guides companies and employers on how to fill their documents.
If the ByProduct you have submitted is correct, you will be asked to validate the document. Click on 'Validate ByProduct.' This will display the content of your document on the screen with errors highlighted in red.
If there are no errors, click on the 'Submit ByProduct' button.
After submitting, you are auto-directed to a page containing your NHIF ByProduct number generated by NHIF online system. It has your employer code, company name, the month of contribution, and the total amount of money to be paid.
There is a 'print' option for this page. Click on it and print the slip.
Take the slip to the nearest branch of any of these banks – Kenya Commercial Bank, Cooperative Bank, or National Bank. You will be given an NHIF slip similar to the one below to fill at any of these banks. Fill the form and include your ByProduct number. Proceed to make payment.
Ensure you keep the receipt of payment for future proof.
How to make Payment for ByProduct via M-Pesa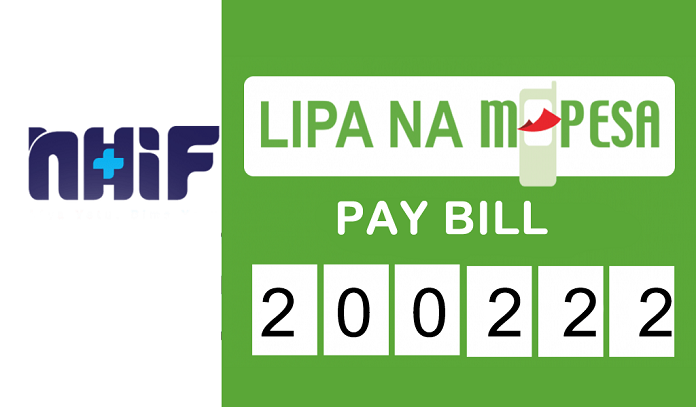 Employees can make their ByProduct contributions individually to NHIF by using M-Pesa, Kenya's mobile money service. All that is needed is a smartphone, NHIF's paybill number for the transaction, and your generated ByProduct number. After getting all these, follow the step-by-step guide below:
Go to the M-Pesa menu on your phone
Click on the Lipa na M-Pesa option
Select 'Paybill'
Enter NHIF's paybill number of 200222 as the business number
Input your generated ByProduct number as the account number
Enter the amount you wish to pay
Enter your secret M-Pesa pin
A confirmation message from M-Pesa will be sent to you.
It is a completely easy process that should take no more than five minutes of your time. Before completing the transaction, please make sure you have inputted the right paybill number as failure to do so means your payment will be received by the wrong recipient.