Nigerians who wish to further their education but lack the necessary funds to accomplish such a pursuit have a reason to smile because there are several ongoing scholarships in Nigeria that they can leverage. These scholarships are available for Undergraduate, Master's, and Ph.D. programs for students who wish to study in Nigerian universities as well as those who have plans to do so abroad.
The organizers of these scholarship schemes include the Federal Government of Nigeria, state governments, and big oil conglomerates, among several others. Application submission is usually done online and intending applicants must ensure that they qualify for the grants before applying. Thus, applicants must first peruse the eligibility criteria and required documents before proceeding. Never fall into the temptation of submitting multiple applications to increase your chances, as this will only attract disqualification. Continue reading to get the full details on all the available scholarship schemes, including the application process requirements.
The Top Scholarships for Students of Nigerian Origin 
1. NNPC/Total Undergraduate Scholarships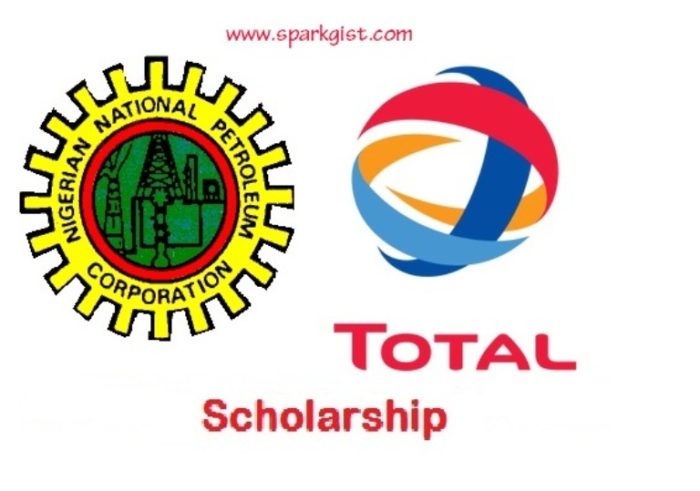 NNPC/Total Undergraduate Scholarships are offered to deserving undergraduates in Nigeria yearly. The scheme is available to students in all courses but you must be studying in a Nigerian tertiary institution. It is a combined effort of NNPC (Nigerian National Petroleum Corporation) and TUCN (Total Upstream Companies in Nigeria); comprising of TUPNI (Total Upstream Nigeria Limited) and Total E&P Nig Ltd (Total Exploration & Production Nigeria Limited).
The scheme, which is the group's way of demonstrating its commitment to educational development in Nigeria, is aimed at the development of quality manpower and the promotion of academic excellence. It has been sustained for several years as part of their Corporate Social responsibility.
Who is Eligible?
Undergraduates on full-time programs in any recognized Nigerian institution can apply. Those on part-time and sandwich will not be considered.
Students who wish to apply must be either at 100 or 200 levels.
Students that have proof of their Senior Secondary Certificate Examination (SSCE) or its equivalent.
Students who have proof of their UTME (Unified Tertiary Matriculation Examinations) score. The score must be from 200 and above.
Students who have already obtained admission letters and matriculation numbers from the university of their choice.
Direct entry students who have proof of their A-level or its equivalent.
Enrolees must have up to 2.50 CGPA or its equivalent (this is measured on a 5-point scale).
Who is Not Eligible?
Students whose UTME score are below 200
CGPA less than 2.50 will not be considered (this is measured on a 5-point scale)
Students who are at 300 level and above should not apply
Students who are already beneficiaries of similar scholarship awards need not apply
How to Apply For The Scholarship Scheme
Intending applicants should visit the scholarship portal – https://scholarships.totalcsredu.com/scholarship-application-form/ to register. Upon registration, a link will be sent to your email; go through the link to complete your application form. Below is a detailed explanation of how to complete the form with your personal data
Personal Information: In this field, your name, your date of birth, and your home address are required alongside a recent passport photograph which must be uploaded and attached.
Contact Information: This is the field where you are expected to enter your contact details phone number, and email address. Only active ones should be used
Origin: Enrollee's state of origin and local government area goes into this field. Also, applicants should get a certificate of origin from their state or LGA and upload
University Information: A list of all the recognized universities is already on the form, just select yours, including other things like the year of study and course of study. JAMB/University admission letter must be uploaded here.
Result Information: Enter your CPGA or JAMB score. Copies of your university CPGA or JAMB statement of result need to be uploaded. Jamb score suffices for 200 levels medical students.
Review Application: This is the stage where you painstakingly ensure that all information entered is correct. After the review, ensure that the following documents are uploaded:
Recent Passport Photograph
Certificate or Proof of Origin
Senior Secondary Certificate of Education (SSCE)
UTME result
JAMB/University Admission Letter
1st Year Result showing CGPA
Conclusion: After attesting that you only entered correct and accurate info, accept all the terms and conditions and then submit. A message goes to your email confirming that your application was successful. You will also see a pop-up message on the page telling you the same thing
2. KPMG Nigeria University Scholarship Program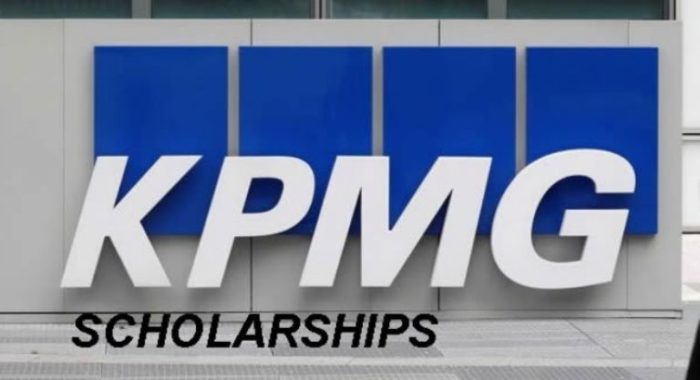 Each year, KPMG sponsors Nigerian undergraduates who wish to further their education to the university level. The number of scholarships offered by the company per year is not specified and the duration of the award will be the same as the duration of awardees' respective courses. However, before an applicant can qualify for the scholarship, he or she has to meet the under-listed criteria:
Applicant's secondary school education record must show that the person is a product of the public school system and completed their studies within the last two years.
Their WASSCE certificate must show a minimum of five distinctions comprising of As and Bs; this should include both English and Mathematics
The minimum score for UTME is 230
Evidence of admission letter/provisional letter of admission; this should be from any of the federal universities in Nigeria
The Application Process
Interested candidates should forward an email to [email protected]. The code for each year is always provided, ensure to impute the correct code for that particular year in the subject of your email. For instance, in 2019, it was KSP2019.
The following details should be provided:
Full name
Residential address
E-mail address
Phone number
For the application to be deemed complete, the following documents must be attached in a zip folder.
WASSCE Certificate
UTME Result Slip
JAMB Result Slip
Provisional Letter of Admission or your Admission Letter to any Federal University in Nigeria
Birth Certificate
Certificate of Origin
3. NNPC/SNEPCo National University Scholarship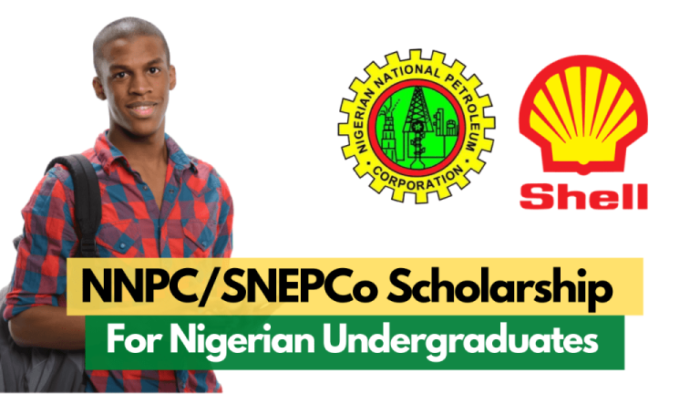 This scholarship award comes as a corporate social responsibility of two of the biggest oil corporations in Nigeria; NNPC (National Petroleum Corporation) and SNEPCo (Shell Nigeria Exploration and Production Company Limited); SNEPCo's co-venture partners are also involved.
The aim of the NNPC/SNEPCo National University Scholarship is to improve skills acquisition among Nigerian youths and promote academic excellence. Here, the scheme starts providing grants from an enrollee's second year; the funds come yearly till the person completes his or her degree program. The focus is on full-time undergraduates studying in Nigerian universities only. Here are the courses covered;
• Agricultural Science
• Chemical / Process Engineering
• Chemistry
• Civil Engineering
• Economics
• Electrical Engineering
• Finance
• Geophysics
• Geoscience / Geology
• Instrumentation Engineering
• Marine Engineering
• Materials / Corrosion Engineering
• Mathematics / Applied Mathematics
• Mechanical / Aerospace Engineering
• Medicine
• Metallurgical Engineering
• Mining Engineering
• Petroleum Engineering
• Pharmacy
• Physics / Applied Physics
• Process Control Engineering
Who is Considered Eligible?
To be eligible, an applicant must fulfill the under listed criteria:
Be a citizen of Nigeria
Must currently be a full-time student at a NUC (National Universities Commission) accredited university in Nigeria and must be at 200 levels.
Applicant's CGPA grade must be a minimum of 3.5 in a 5-grade system
Must not be benefiting from any other scholarship
The scheme encourages female students to apply
Duration of Scholarship
The awards are renewable until the beneficiary graduates and as a recipient, you are expected to maintain very high academic and ethical standards as well as any other condition stated in the award letter.
How to Apply
To submit an application for the NNPC/SNEPCo National University Scholarship, intending enrollees can visit their scholarship application portal at https://candidate.scholastica.ng/schemes/SNEPCo to register. Upon registration, your email will receive a link through which you can activate your account, and then follow the ensuing steps to complete your application. These are the criteria to meet
Intending applicants ought to have a valid phone number and personal email
Both your educational and personal details must be provided in the application.
The following docs should be scanned and uploaded
Applicant's recent passport photograph in JPEG format; this shouldn't be more than 200 kilobytes
University/JAMB Admission Letter
UTME Result
Results to be included are O' Level/ 'A' Level /OND /NCE as applicable
Letter of Identification. This should be obtained from the applicant's State of Origin indicating his or her LGA
Academic results for applicant's 100 level
4. NITDA Postgraduate Scholarships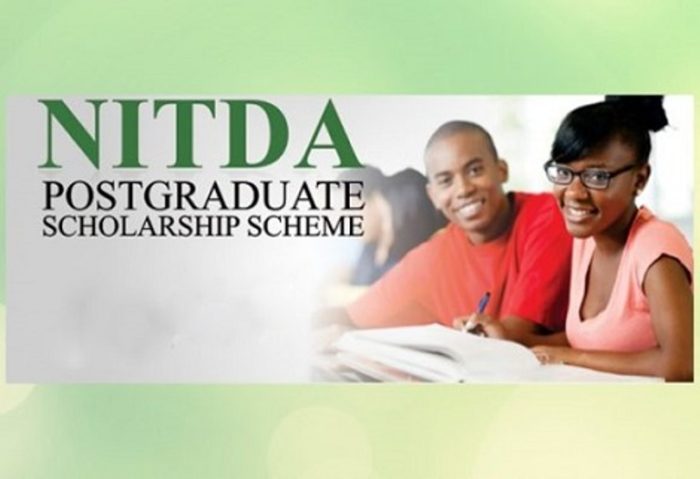 NITDA's (National Information Technology Development Agency) mandate in Nigeria is to transform the country into an IT-driven economy. Their aim is to bridge the digital divide and global competitiveness. Thus, the agency established an annual scholarship scheme in 2010. The scheme, which covers both MSc and Ph.D. degrees, can be obtained in relevant areas of IT (Information Technology) and is obtainable in any of the recognized Nigerian universities, government or private. The scheme also covers those studying law.
Selection Criteria
The criteria for selection under the NITDA's scholarship program is based strictly on merit and no part of the six geo-political zones in Nigeria is left out. For the scheme, the agency went into collaboration with several institutions of higher learning both in Nigeria and abroad; this is in a bid to ensure its success.
Who is Deemed Eligible?
Candidates that are deemed eligible to apply for the Ph.D. are Polytechnic and University Lecturers who already have MSc in any Info-Tech related field.
The MSC grant is open to holders of First Class/Second Class (Upper) division Bachelor's degree. This must come from Info-Tech related field and Law.
Duration of the Scholarship Scheme
The tenor for the Master's program is one year while the Ph.D. program runs for a period of three years.
How to Submit Applications For the Award
Go to the NITDA scholarship portal – https://scholarship.nitda.gov.ng/Registration and complete the application form.
Your passport photograph should be scanned and uploaded in jpg format and shouldn't exceed 50kb.
Your certificate should be scanned, converted to a PDF doc not larger than 100kb before attaching.
Candidates should prepare to sit for an aptitude test and only the successful ones will be shortlisted.
For further enquires, send an email to [email protected] or you can visit Scholarship Webpage for more application details
5. Oando Graduate Accelerated Programme
Oando Graduate Accelerated Programme is also called OandoGAP. The program is a distinctive opportunity to develop new graduates with the potential/prospective to become leaders in Nigeria. Besides, in the medium to long term, the scheme is expected to strengthen and reinforce the local/indigenous oil and gas talent pipeline. This type of scholarship is listed under internship and it is an 18-month long program targeted at citizens of Nigeria who are studying in the country. Applicants who emerge successfully will take part in structured experiential learning and they will be privileged to learn from some of the best minds in the industry. This is in a bid to get them prepared for different career opportunities/prospects within the sector.
Who is Eligible?
Bachelors/Master's Degree holders must have at least Second-Class Upper Division (2.1) in Engineering, Economics, Geoscience, Business Administration as well as other Business-related degrees
Applicant's age shouldn't exceed 26 at the time of application.
Must have an NYSC Certificate
The application should be submitted once. Multiple submissions lead to disqualification
How to Apply
Visit the official award webpage and peruse all the necessary application requirements.
If you deem yourself qualified, go ahead and leverage the scholarship application portal to apply.
6. NNPC/Eroton JV Undergraduate Scholarships
This is an undergraduate program targeted at Nigerian citizens who are indigenes of Rivers State/Eroton Host Communities. The grant, which is referred to as Rivers State/Host Communities Merit Award, is targeted at 200 level students who are currently enrolled in any of the NUC accredited universities in the country. The scheme will sponsor them for the remaining part of their programs.
Conditions for Eligibility
The beneficiaries must be undergoing full-time programs as part-time and sandwich programs are not considered to be eligible.
The applicant's university must be accredited by the Nigerian University Commission.
As of the time of application, applicants must be at 200 level.
The average minimum grade point acceptable is 3.0 (official records or transcript must be attached as proof)
Applicants must be Nigerian citizens from Rivers State/Eroton Host Communities
Applications from this category of students will be disqualified
100 level students
300 level students
People who are already benefiting from similar scholarship schemes.
How to Submit Application For the Scholarship Scheme
Before visiting www.scholastica.ng/schemes/erotonscholarship to submit your application for the scholarship award, ensure that all the necessary documents are scanned and properly named to reflect what they represent, this way, you won't get them mixed up while uploading as the system will be asking for them one by one. Also, ensure that the phone number and email you submitted are valid to facilitate effective communication. The documents needed are;
A less than three-months-old passport photo with white background; the size shouldn't exceed 200kb (450px by 450px)
School ID card
O'level Certificate
Admission Letter
Birth Certificate
Letter from Community Paramount Ruler (Eroton E&P Host Communities)
The following steps should be followed for the application:
On the scholarship portal, click on the "Apply Now" button and create an account by clicking on "Register Now"
Your email will receive a link through which your account can be activated
Go back to the scholarship site at www.scholastica.ng/schemes/erotonscholarship
Upload your information using the email and password created from the registration
Your personal info such as NIN, educational information, and others should be imputed alongside the scanned documents which should be uploaded at the same time.
The name on all your docs should correspond with what you entered on your application form in the same order; otherwise, the applicant should upload a sworn affidavit/certificate.
To eliminate errors, recheck all your application info
Submit your application by clicking on the "Apply Now" button
An SMS will hit your phone confirming that your application was successful. You will also receive a similar email via your email address.
Go back to the portal to download your profile and get it endorsed by your HOD (Head of the department)
When your profile has been endorsed, scan it and upload for verification purpose
7. Federal Government Scholarship for Nigerian Undergraduate, Masters and Ph.D. for Study Overseas
These scholarship awards emanate from the Nigerian ministry of education and target deserving citizens of the country who wish to study overseas. The BEA (Bilateral Education Agreement) Scholarship Awards are offered annually to interested candidates.
Bilateral Education Agreement (BEA)
Undergraduate (UG) studies/courses tenable in countries like Russia, Algeria, Morocco, Serbia, Egypt, Hungary, Tunisia, Cuba, Turkey, Romania, Macedonia, and Japan
Postgraduate (PG) studies/courses tenable for candidates who got their first degree from Russia, China, Serbia, Hungary, Turkey, Mexico, Japan, South Korea, and more
Nigerian Award Scholarship (NA)
Federal Government of Nigeria (FGN) scholarship awards tenable in the country's tertiary institutions (recognized ones) for NA, Sustainable Development Goals (SDG) for only girls
Type of Award
For UG (Undergraduate) and PG (Postgraduate)
Criteria for Eligibility
Each of the scholarship awards has its criteria for eligibility
For BEA (Bilateral Education Agreement)
Undergraduate scholarship:
Applicants for UG degree courses ought to have a minimum of Five Distinctions (As & Bs) in their SSCE, WAEC (May/June) only in relevant subjects to their respective fields of study; English and Mathematics inclusive.
Certificates shouldn't be above two years old
The age limit is from 18 to 20 years.
Postgraduate Scholarship:
Applicants for the PG degrees must be holders of first degrees showing a minimum of 2nd Class Upper Honors
Applicants who have previously benefited from foreign awards ought to have completed two years of post-qualification/employment practice in Nigeria (this is the minimum)
Applicants should have proof of completing their N.Y.S.C.
The age limit for Master's is 35 years while Ph.D. is 40 years.
Applicants must get evidence of readiness from their employer
BEA countries happen to be non-English speaking, thus, it is mandatory for applicants to do a one-your-course in the language of their chosen country as it is going to be the medium of instruction. Those for Hungarian Scholarship can visit https://www.afterschoolafrica.com/18417/stipendium-hungaricum-scholarship/ to complete their application forms online. The application forms in addition to the aforestated requirements should be presented at the interview.
FOR NA (Nigeria Award Scholarship) Federal
Applicants who wish to enroll for PG (postgraduate) studies should have completed their first degree and must have a minimum of Second Class Upper Division.
They must be registered students of either state or federal universities (Full Time)
Other categories of applicants for Undergraduate (UG), HND, and NCE ought to be registered students from federal or state universities, Colleges of Education, Monotechnics and Polytechnics on Full-Time programs; level should be from 200 and above
All applicants (physically challenged inclusive) for undergraduate scholarships must obtain a minimum of 4.0 CGPA (Cumulative Grade Points Aggregate) on a five-point scale, its equivalents, or 5.0 on a 7 point scale.
These Documents are to Be Attached to the Application
Copies of applicant's Educational Certificates and Testimonials from his or her previous school (two copies). Originals must be brought along for sighting
For the UG applicants, the scheme accepts just one certificate WAEC of May/June only
Two copies of the applicant's birth certificate; must be issued by NPC (National Population Commission)
Certificate of state of origin duly dated signed and stamped.
Four passport photographs (colored and on white background)
Applicants for PG studies should present their NYSC discharge certificate or Exemption certificates, including academic transcript.
How to Apply
Candidates nominated and selected by:
A. The awarding BEA countries will submit these documents to Federal Scholarship Board:
Authenticated copies of applicant's academic certificates;
Data page of applicant's current International passport
Specified medical reports
Where applicable, a Police clearance certificate may be one of the requirements.
B: The NA/SDG Award:
For the NA/SDG Award, the forms for the application process must be completed online after which you submit and print out a copy. The printed copy will be attached to photocopies of the following;
Admission letter to the institution
Most recent course registration form
CGPA results of 1st, 2nd, 3rd year, etc.
Current school's Id card
Letter of Identification; this must be issued by the applicant's State/Local Government
Two passport photographs duly signed by the applicant with the person's name boldly inscribed on the back
While completing the application for the scholarship award, candidates should indicate the following;
Preferred center for the CBT (Computer Based Test)
The preferred choice of programs; must be listed in the order of priority, for instance, N/A (Nigerian Award), BEA, (Bilateral Education Agreement), and SDGs (Sustainable Development Goals) scholarship for girls only.
Avoid double entries as it leads to disqualification
A good majority of these scholarships come fully funded for each of the awardees; it covers their tuition till graduation, especially for the undergraduate programs.