Before we share the best places to visit in Nairobi, let's give you a little background on the city. Nairobi is the capital of Kenya and the largest among cities of Kenya. Its name translates to a phrase meaning "cold water". Nairobi came into existence in 1899 when it was founded as a rail depot by the British, it quickly grew to become the top destination for tea and coffee. Today, Nairobi is the 12th most populous city in Africa and the largest city in East Africa.  It has some of the best places for tourists to visit in Kenya and East Africa with many attractions to keep business persons and visitors happy. If you are a visitor, you may have to take an organised tour offered by a guide to be on a safe side.
Best Tourist Places in Nairobi: Amazing Destinations to Visit
These are some of the most amazing places to visit in Nairobi. They all offer different attractions and with a good guide, you can enjoy your visit to Nairobi.
1. Dame Sheldrick's Elephant and Rhino Orphanage
Since the 1950's while working in a Tsavo National Park, Dame Sheldrick has been raising orphan elephants. She opened a nursery for rhinos and elephants in late 1970 which is a part of David Sheldrick Wildlife Trust. The orphanage is located inside the Nairobi National Park. You can visit the orphanage at 11 am every day for an hour. If you wish to adopt elephants, then you should visit at 5 pm every day, by that time the baby elephants are fed and given a mud bath.
2. Nairobi National Museum
This museum was founded in 1920 and was established in 1929 in its current location at the Museum Hill which is approximately 10 minutes drive from the Nairobi City Center. It is accessible both by public and private means of transportation. The visitors get a chance to learn about Kenya's history, paleontology, art and culture. Anthropological discoveries by the Leakey family are found in it, there is a huge collection of stuffed birds. This place has two restaurants and a botanical garden. It is open all the year round and the visiting time is from 8.30 am to 5.30 pm daily. Visit this museum if you love history and want to get to the roots of "Kenya".
See Also: 10 Most Popular Kenyan Cities to Live in
3. Kibera Slum Tour
It is a place where a million of Kenya's national tribesmen lives. They all live in an area of about 2.5-kilometer square. The tour in this region benefits the local community by giving better lives to the Kiberans. The local guides are the Kiberans who offer a view into their daily life. If you are on a Kibera tour then you have to walk and explore the place. If you wish to take photographs then you should first ask them for their permission.
4. Karen Blixen Museum
It is located in the farmhouse of Danish author, Karen Blixen at the Ngong Hills foot and it was built in 1912. This museum sells handicrafts and African souvenirs. Its visiting hour is from 9.30 am to 6 pm daily.
5. Giraffe Center
It is a center where the rare Rothschild Giraffes are bred. This center was established in the 1970's. Its visiting hour is from 9 am – 5.30 pm if you want to tour. You can also spend a night or two at the Giraffe Manor.
6. Kazuri Bead Factory and Pottery Center
It is a good place for those who like local crafts. Pottery, beads and leather goods that are made by the local women. The factory now has more than 300 women. You can walk around the factory and watch the pots and beads being glazed and fired. Its visiting hour is: Monday- Saturday 8.30 am – 6 pm, and Sundays 9 am – 4 pm.
7. Shops at Nairobi
There are many shops for gifts in the Nairobi's shopping centers and upscale hotels. If you like bargaining, then you should try the Maasai market. It is at various points within the city and it opens on alternate days.
8. Nairobi National Park
This park was established in 1946. It is 7 km away from the City center. It is home to cheetahs, giraffes, hyenas, buffaloes, elands and many other animals and birds.
9. Uhuru Gardens
Uhuru Gardens is the largest Memorial Park in Kenya. It is located on Lang'ata Road, Nairobi. It holds memories of remarkable events in Kenya including the inaugural ceremony President Jomo Kenyatta; Kenya's first president which was conducted there on the 12th December 1963 after Kenya's independence. Among the list of things to see at this park is a 24-metre high monument which depicts Kenya's struggle for independence of which on one side is the statue of freedom fighters raising the Kenya flag. You will also see the Fountain monuments.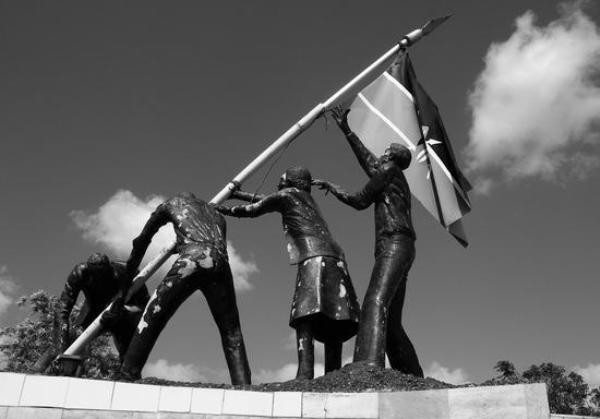 10. Bomas of Kenya
Bomas of Kenya was established by the Kenyan Government in 1971 to serve as a miniature view of Kenya. It is located 10 km from Nairobi City Center, and about 1 km past the main entrance of the game-filled Nairobi National Park. The sole purpose of its existence is to preserve, maintain and promote the rich and diverse cultural values of the various ethnic groups in Kenya, letting visitors see much of Kenya's diverse cultures in their purest forms. Part of what is displayed involve various aspects of Kenyan culture including lifestyles, crafts, art, music and dancing. The traditional and acrobatic dances are some of the features that you can see starting from 2.30 pm to 4.30 pm on a weekday and 3.30 pm to 5.15 pm during weekends and public holidays.
Other Interesting Places to Visit in Nairobi
Lake Naivasha
Lake Naivasha is one of the freshwater lakes found a few hours from Naivasha. It is spectacular for viewing game and wildlife in their natural habitat and offers one of the most amazing tourist attractions in Kenya. The lake is a natural habitat for a variety of wildlife including more than 400 different species of bird. You can also get closer and interact with large Kenyan beasts like the rhinoceros, the leopard and the lion, just to name a few (with extreme caution, of course).
Mamba Village
Would you expect to find lots of mamba snakes here? Maybe, but this pleasant park is home to lots of ostriches and crocodiles. If you've got lots of gut to spare, you can get up close to interact directly with more than 70 Nile crocodiles and even hold a baby croc if you want with the help of a skilled guide.
The US Embassy Memorial Site, (Central District)
The location of the former United States embassy has an established memorial that can be visited. This was following a terrorist attack which occurred in 1998 when a bomb blast rocked the city of Nairobi very close to the US embassy reducing it to rubble and killing 212 people, including staff and bystanders.