Russell Simmons is one name who has been making headlines as a result of his dating history and the controversies surrounding his love life. He was romantically involved with a couple of ladies prior to his marriage to the fashion model and designer, Kimora Lee. And after his divorce from his ex-wife, Russell Simmons' girlfriends' list is still quite long as the co-founder of Def Jam Recordings is a self-acclaimed ladies man who appreciates finer things. Here we bring you an overview on Russell Simmons' girlfriends after divorcing his ex-wife.
Does Russell Simmons Have a Girlfriend?
Prior to his marriage to Kimora Lee Perkins on December 1998, after the duo got acquainted during New York City's Fashion Week in November 1992, Russell Simmons' girlfriends include Karin Taylor. Karin is a former International fashion model known as playboy magazine's June 1996 Playmate of the Month. Simmons also dated the American actress and model, Donna Jeanette D'Errico who posed for playboy magazine as it's the playmate of the Month for September 1995 and also starred in the TV series, Baywatch, during such time.
Then from 1988 to 1989, the business magnate reportedly dated Cynthia Bailey, an American model, reality TV personality and actress who has worked as a runway model in Paris and Milan. She is known for her starring role in the Real Housewives of Atlanta and films like For Love or Money and Without You I'm Nothing. Russell Simmons then kicked off an affair with the actress and model, Manta Stavrou from 1990 to 1991. Manta is best known for her roles in Dinner Rush, Strictly Business and Family Matters.
While still married to Kimora, the film producer was speculated to be romantically involved with ladies like Veronica Webb whom he dated in 1994. Veronica is an actress, model, writer and TV personality who became the first African-American to have a major cosmetics contract as she appeared on covers of Vogue, Essence and Elle Magazines. Later in 1996, Simmons was linked to former model and actress, Amber Lee Smith.
His other speculated partners during such time include Karrine Steffens who worked as an actress and a video vixen, having made appearances in more than 20 music videos as well as Porschla Coleman whom he dated from 2007 to 2008. Following his divorce from Kimora Lee in 2009, Russell Simmons' girlfriends' list became quite long as he began a romantic affair in 2009 with Julie Henderson, an American model who is known for her appearances in the Sports Illustrated Swimsuit Issue. Also, Julie has done advertisements for notable clients like Benetton and Gant.
In the same year, Russell Simmons also dated the French model and actress, Noémie Lenoir who has been featured in a line-up of the world's most successful black models by eminent photographer, Annie Leibowitz. Noémie is also recognized for her work with Gucci, L'Oréal, Tommy Hilfiger, Victoria's Secret, Next and Marks and Spencer. From 2010 to 2011, Russell Simmons' girlfriends were reported to be Jaslene Gonzalez, Heidy Allende and Paige Butcher. He was spotted with Paige, a model and actress at the launch party for Running Russell Simmons at Lavo on October 2010 in New York City. Paige however, has currently welcomed two kids with her fiancé, Eddie Murphy.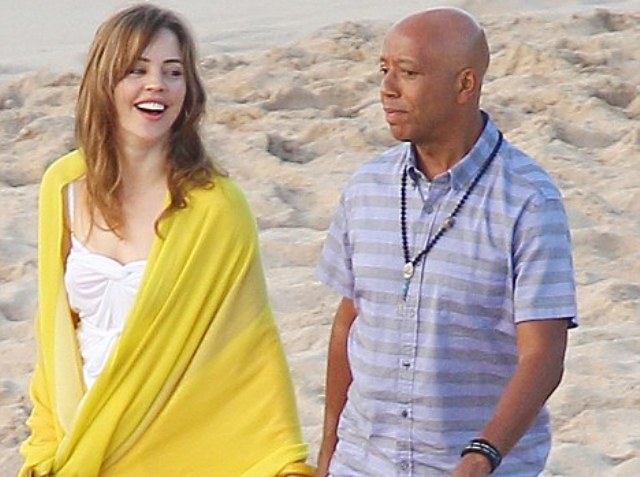 Then in 2011, the American entrepreneur reportedly had an affair with Melissa George, an Australian actress and enterpriser who is a former model and national rollerskating champion. She has appeared in The Limey, Mulholland Drive, Sugar & Spice and Down with Love. However, in the next year, Russell Simmons was spotted with the model, Hana Nitsche as they were on vacation together with his ex-wife, Kimora and their kids in St. Barths. Despite their divorce, Simmons has remained close to his ex-wife for the sake of their children and businesses.
See Also: Shamicka Gibbs, Martin Lawrence's Ex-Wife: All You Need To Know
Shannon Elizabeth is another name on the list of Russell Simmons' girlfriends after divorcing his ex-wife. Shannon whom he began dating in 2014 is a former fashion model and actress who has starred in American Pie, Scary Movie, Jay and Silent Bob Strike Back, Thirteen Ghosts and Jack Frost. Additionally, Simmons has been romantically linked to an Australian model named Lucy McIntosh in 2018.
However, in June 2019, he was seen with his ex-girlfriend, Donna D'Errico walking out of Tantris holding hands together as it seems that the pair have rekindled their love life once again. With regards to the controversies surrounding Russell Simmons, more than twelve women have accused the co-founder of Def Jam Recordings of sexual misconduct and rape of which he denies the allegations. He has moved on to state that he is innocent of the allegations leveled against him.