Russell Simmons is one name that has been making headlines as a result of his dating history and the controversies surrounding his love life. He was romantically involved with a couple of ladies before his marriage to the fashion model and designer, Kimora Lee. And after his divorce from Lee, Simmons' list of girlfriends continues to expand with new names. This is not surprising for a man who has been accused of sexual assault and misconduct by at least 20 women.
Simmons met his ex-wife sometime in November 1992 and on the 20th of December 1998, they became life partners. 2000 came and they welcome their first child; another joined the family in 2003 and in 2006, the couple parted ways. About three years later, their divorce was finalized.
The American Entrepreneur Has Been With Many Popular Women Since His Divorce
1. Julie Henderson (2009)
Date of Birth: March 5, 1986
Occupation: Model
Height: 1.78 m
Following his divorce from Kimora Lee in 2009, Russell Simmons was seemingly let loose to pursue as many women as he desires. The same year his divorce was finalized he began a romantic affair with Julie Henderson.
She is an American model known for her appearances in the Sports Illustrated Swimsuit Issue. Also, Julie has done advertisements for notable clients like Benetton and Gant. What she had with Russell was shorth-lived; it began and ended in 2009.
2. Noémie Lenoir (2009)
Date of Birth: September 19, 1979
Occupation: Model and Actress
Height: 1.76 m
In the same year he dated Julie, Russell Simmons also dated the French model and actress, Noémie Lenoir, who has been featured in a line-up of the world's most successful black models by eminent photographer, Annie Leibowitz.
Noémie is also recognized for her work with Gucci, L'Oréal, Tommy Hilfiger, Victoria's Secret, Next, and Marks and Spencer. As an actress, her popular projects include Rush Hour 3 and The Transporter Refueled.
3. Paige Butcher (2010 – 2011)
Date of Birth: June 10, 1979
Occupation: Model and Actress
Height: 1.65 m
— Paige Butcher (@paigebutcherok) June 30, 2015
Between 2010 and 2011, Russell Simmons reportedly had encounters with Jaslene Gonzalez and Heidy Allende; the same time he dated Paige Butcher.
He was spotted with Paige, a model and actress at the launch party for Running Russell Simmons in October 2010, in New York City. Paige however, has currently welcomed two kids with her fiancé, Eddie Murphy.
4. Melissa George (2011 – 2012)
Date of Birth: August 6, 1976
Occupation: Model, Actress, and Entrepreneur
Height: 1.71 m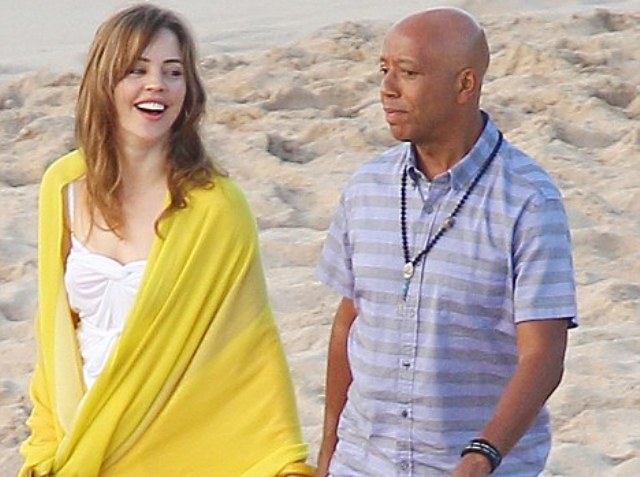 The American entrepreneur reportedly had an affair with Melissa George, an Australian actress and enterpriser who is a former model and national rollerskating champion. She has appeared in The Limey, Mulholland Drive, Sugar & Spice, and Down with Love.
Like most of the relationships he had had, Russell's relationship with Melissa hit the rocks just as people were about to begin taking them seriously.
5. Hana Nitsche (2012 – 2013)
Date of Birth: December 12, 1985
Occupation: Model and Actress
Height: 1.75 m
Russell Simmons didn't wait around for people to figure out what happened to what he had with Melissa before he jumped into another relationship. He was spotted with Hana Nitsche as they were on vacation together with his ex-wife, Kimora, and their kids in St. Barths.
Despite their divorce, Simmons has remained close to his ex-wife for the sake of their children and businesses. The fact that Hana joined him on vacation with his family, it was thought that things would be different with her; this didn't happen as the relationship collapsed in 2013.
6. Shannon Elizabeth (2014 – 2015)
Date of Birth: September 7, 1973
Occupation: Model and Actress
Height: 1.75 m
Shannon Elizabeth is another name on the list of Russell Simmons' girlfriends after divorcing his ex-wife. Shannon whom he began dating in 2014 is a former fashion model and actress who has starred in American Pie, Scary Movie, Jay and Silent Bob Strike Back, Thirteen Ghosts, and Jack Frost.
What they had, began in 2014 and ended in 2015 for reasons that are yet to be ascertained.
7. Lucy McIntosh (2016 – 2018)
Date of Birth: Undetermined
Occupation: Model and Actress
Height: Undetermined
An actress and a model, Lucy reportedly came to America in 2011. As a model, she was the face of the 2010 Melbourne Spring Fashion Week, winner of Project Runway Model division 2008, and TV model Awards 2009.
Simmons was romantically linked to the Australian model in 2016 and their relationship went on-and-off until 2018. Why they eventually parted ways is best known to them.
8. Donna D'Errico (2019)
Date of Birth: March 30, 1968
Occupation: Model and Actress
Height: 1.65 m
In June 2019, he was seen with his ex-girlfriend, Donna D'Errico, walking out of Tantris holding hands; it was expressed that the pair had rekindled their love. But then, it's as though the effort failed as nothing has been had from the two recently.
Meet the Kids He Had With Kimora Lee 
As stated earlier, Simmons' marriage to Kimora Lee lasted from 1998 to 2009 when they officially parted ways. When news of their separation broke, Russell related that he and Kimora would remain committed parents and would always love and admire each other. While the union lasted, it saw to the birth of two daughters:
Ming Lee Simmons
Date of Birth: January 21, 2000
Occupation: Model and Social Media Influencer
While she is striving to find her ground as a model, Ming, in addition to her claim to fame as the daughter of Kimora Lee and Russell Simmons, is popular on Instagram.
Her popularity on the platform has made her a social media star and influencer as she commands over 1.1 million followers on the social site.
Judging from what she shares online, Ming has a good relationship with her father and indeed all the members of her family.
Aoki Lee Simmons
Date of Birth: August 16, 2002
Occupation: Student at Harvard
Even though she has been described as a model and social media star in various quarters, only time can tell what Aoki would do for a living. At the moment, we know she is a student at Harvard who has a thing for ballet.
In 2019, Aoki and her older sister joined their mother in re-launching the Baby Phat fashion line. The sisters made their runway debut as toddlers and throughout their childhood, appeared with their mom at runway shows.
She is also very fond of her father, as much as she adores her mother and sister. Through their mother's marriage to Tim Leissner, the sisters have two brothers, Wolfe Lee Leissner and Gary. Kimora and Tim adopted Gary and had Wolfe in April 2015.