In the world of today, there are people who are ready to leave behind the technological advances mankind has achieved to live life as one with nature. Some do it so well their lives get optioned for a reality television series. The Brown family is one of such, and their first daughter Snowbird Brown is a well-known face on the Discovery channel series Alaskan Bush People. Keep reading as we unveil more about Snowbird Brown, a girl very much in love with nature.
Snowbird Brown Bio
Snowbird Brown was born on the 18th of November, 1994 in Alaska. She was born Amora Jean Snowbird Brown, the first daughter in a family of six children. Her brothers are Joshua, Solomon, Gabriel, and Noah while Rain is her sister. Snowbird appears with her family on Alaskan Bush People, a reality TV series that follows the Brown family as they live off the Alaskan wilderness. In the series, Snowbird has shown her love for the outdoors and all things nature. Snowbird's hobbies are hunting and mountain climbing, activities that an average girl would not necessarily consider.
Her childhood is a very unconventional one. At one time she spent up to 9 months in the Copper River Valley with no contact to other people besides her parents. It's no wonder that she's a lover of nature and has a special liking towards outdoor activities. Her love for nature isn't just for vegetation; Snowbird also loves animals.
Brown's first major contact with other people asides her family was when the Discovery channel chose to feature the life of the Brown family as a reality series. The show began airing in 2014, and since then it has garnered lots of fans that are awed and entertained by the Browns' way of life. They rely on neither electricity nor modern facilities. For food, they either grow the things they can or hunt in the forest. Snowbird learned how to fish at a young age and had already begun to contribute to the food stock of the household.
The cast of the series is not without its controversies. In 2016, the family was charged with fraud and theft pertaining to the Alaska Permanent Fund. Snowbird Brown, however, was not charged with any criminal or civil charges. The show has also come under fire over evidence gathered over time which suggests that its stories and sets are made up for television, and not the actual lifestyle of the Brown family.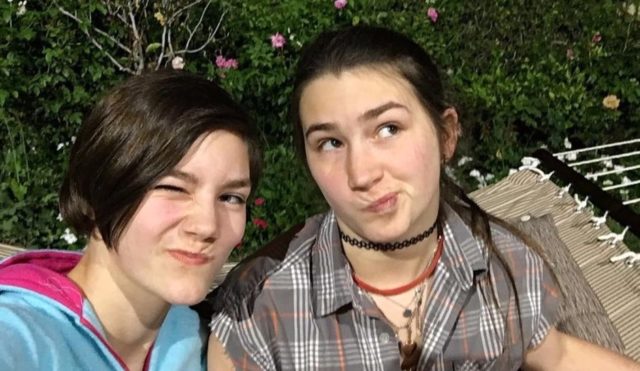 Who's Her Boyfriend?
Lots of rumors have gone round pertaining to the relationship status of Snowbird Brown, and they took a particular peak when she gained weight, such that make her look as though she was pregnant. However, none of the rumors have been substantiated, and as it stands, it looks like the reality television star is still single. Regarding the pregnancy, she was never pregnant. She didn't have a miscarriage either, and eventually, she regained her normal body size.
When Snowbird Brown gets into a relationship, it would most likely be aired on Alaskan Bush People. It makes sense that her boyfriend would have to meet the family, and maybe even spend some time with them. Fans all over are waiting for the day Snowbird announces she is in a relationship. But as of now, the only thing that Snowbird Brown is in love with is Mother Nature.
What Happened To Her Teeth?
Perhaps, the most distinguishing feature that Snowbird Brown has is her set of teeth. Even though the young woman has very appealing looks, anyone who has seen her on TV has always wondered why her teeth are the way they are. The front of her top row are misaligned, and with modern-day medicine, it's fairly easy to have them straightened out. It's very likely that because the family has a strict policy on living off the land, Snowbird decided that she wouldn't have her teeth aligned properly. The misalignment is not as a result of an accident, it's natural.
Snowbird Brown's Net Worth
Snowbird Brown has been able to make up a little net worth for herself. Even though the TV show she features in focuses on living off the land without the use of modern facilities, she still earns a living showcasing her life for thousands of fans. She has an estimated worth of $100,000. She also earns an annual salary of $60,000 thanks to Alaskan Bush People.