There are a lot of things that Stevland Hardaway Morris is famous for. He has won twenty-five Grammy Awards to be the most awarded solo artist of all time. He has also sold more than 100 million records, making him one of the best-selling music artists of all time. The Motown legend, who is better known as Stevie Wonder, is also famous for having fathered nine children from five different women, thus resulting in a topsy turvy personal life.
It can be challenging for a man with nine children to have a relationship with every one of them, especially when you have the kind of schedule that has allowed you to sell millions of records. Still, the R&B icon has found a way, describing them all as his friends. Some of them have ended up following in his footsteps while others have found their own path. Either way, they are all part of the music icon's blessings, as he would say.
The Women Who Gave Stevie Wonder His Nine Children
Stevie Wonder has been thrice married to three different women; Syreeta Wright, Kai Millard, and Tomeeka Bracy. Of the three women who were married to the singer, only Syreeta Wright did not bear him a child. Syreeta, who was a Motown singer-songwriter and his frequent collaborator, married him in September 1970. Although they did not share children, their relationship produced songs like "It's a Shame", "Signed, Sealed, Delivered (I'm Yours)", and "Where I'm Coming From".
Stevie further had romantic affairs with Yolanda Simmons, Melody McCulley, and one unidentified woman who all gave him at least one child. The singer is today a proud father to five sons and four beautiful daughters (nine children in all). They are all adults today, living and pursuing their respective dreams.
Stevie Wonder's Children Are Working To Make a Name For Themselves
1. Aisha Morris
Date of Birth – February 2, 1975
Sex – Female
Mother – Yolanda Simmons
Profession – Singer/Songwriter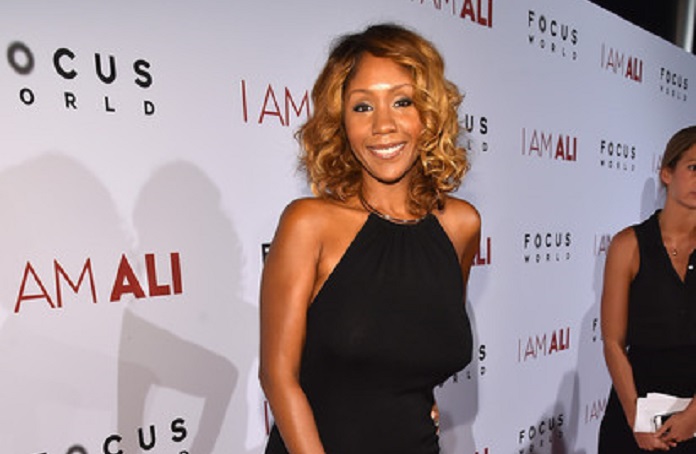 Stevie Wonder's first child, Aisha Morris, was born on February 2, 1975, in Detroit, Michigan. She is the most accomplished of his children so far. Her mother is Yolanda Simmons, a woman Stevie met after she applied for a job in his publishing company. Her parents never married, but they gave birth to one other child named Keita.
When Aisha was born, Stevie described her as a source of joy and inspiration. It proved to be more than a sentimental statement as she famously inspired the hit song, "Isn't She Lovely?" While her existence was inspiring, when Aisha got older, she became a more active part of her father's music process.
Contracted under Stevland Morris Productions, her father's music company, Aisha has gone on several tours with her father and even featured in some of his songs. She featured on the track "How Will I Know" from his 23rd album, A Time to Love. She has also performed on stage with him at events like Stevie Wonder: Live at Last and Rock in Rio and was a part of the BBC Stevie Wonder 1981 Documentary as well as The 25th Anniversary Rock and Roll Hall of Fame Concert.
As a performer alongside her father, Aisha Morris has received a Grammy nomination for Best R&B Vocal Performance by a Duo or Group. The premier award body nominated them for their performance of the song, "How Will I Know".
Unlike her father, Aisha, whose name means strength and intelligence, has had a noticeably quiet personal life. It does not appear she has ever been married. However, there are unconfirmed reports she got engaged in February 2013 and has a son named Miles.
2. Keita Morris
Date of Birth – 1977
Sex – Male
Mother – Yolanda Simmons
Profession – Musician/Producer
The second child out of Yolanda and Stevie Wonder's relationship is Keita Morris who is a spitting image of his father. Keita was born in Detroit, Michigan and his name, which is of African origin, means blessing.
Although not as renowned as his sister, Stevie's second child is also a musician. He is a songwriter, model, and disc jockey. According to his LinkedIn, he has been working with his father since 2000 under his company, Stevland Morris Productions. As a producer, he has a SoundCloud presence, and he goes by the stage name DJ Jersey Wonder.
Keita is the father of two children; a son Asmar and a daughter Lula Mae. Just like other members of the Wonder family, he has a good relationship with his father even though he resides in New York and his dad lives across the country in Los Angeles, California.
3. Mumtaz Morris
Date of Birth – October 14, 1983
Sex – Male
Mother – Melody McCulley
Profession – Singer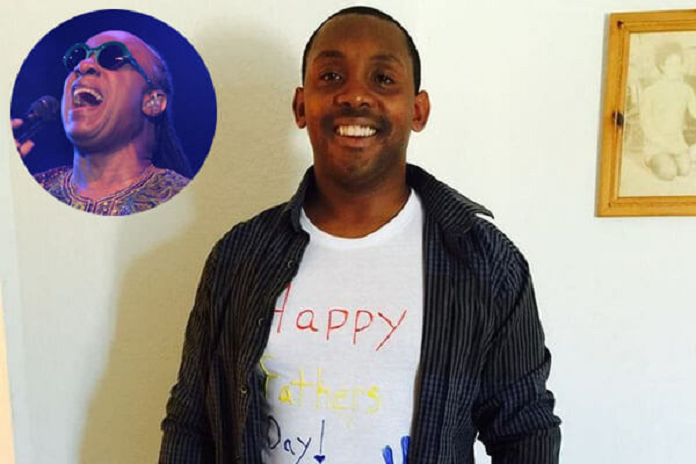 After Stevie Wonder parted ways with Yolanda, he got romantically involved with Melody McCulley, a vocalist in his band. Their relationship's exact timeline remains unknown, but it produced a child, Mumtaz Morris, on October 14 1983.
Mumtaz's name means excellence, and although he is one of the lesser-known children of his father, he has followed in his steps as a musician. Mumtaz Morris grew up in Los Angeles and expectedly, his father had a lot of music influence on him. Thus, he is an R&B singer fluent in other genres like soul and pop. However, before pursuing a music career, he attended college in Virginia where he studied business and entrepreneurship.
Since he decided to pursue music, Mumtaz has recorded songs like "Ribbon In The Sky" and "The Gift and the Curse". Although his father has given him a chance to make something of himself, he has supported his career. In one of his tours, Stevie Wonder allowed Mumtaz to serenade the fans with one of his songs.
As for his personal life, Mumtaz is a married man. He got married to Candice Morris on July 17, 2009, and they have six children – two sons and four daughters. They live in Los Angeles.
4. Sophia Morris
Date of Birth – 1985
Sex – Female
Mother – Unknown
Profession – Unknown
Certain reports have suggested Melody McCulley is the mother of Sophia Morris and her sibling, Kwame, but that has never been confirmed as most publications just refer to their mother as an unnamed woman.
So far, of all Stevie Wonder children, Sophia has been kept a surprising lowkey media presence. While she has made appearances in family pictures and even posed alongside music stars like Kanye West, her life remains a mystery. What does she do? Where was she born? The answers to these questions remain locked outside of public information. On the other hand, her brother Kwame has embraced the spotlight and intends to revel in it.
5. Kwame Morris
Date of Birth – August 6, 1988
Sex – Male
Mother – Unknown
Profession – Model/Songwriter
Kwame is the second of the only two Stevie Wonder children whose mother remains unknown to the public. According to the bio on his managing agency, Storm Management, he was born in Sydney. He spent the first twelve years of his life there before relocating to Los Angeles where he began pursuing a career in modeling.
As a model, Kwame has worked in print for brands like Bud Light, Ford, and L'Uomo Vogue. He has also appeared in commercials for international companies like Heineken, Pepsi, Canon Camera, and Moet & Chandon. Like most of his siblings and his father, he is also musically inclined. Kwame Morris is a songwriter and producer who has worked with acts like Edwin Arzu, TrapMoneyBenny, and FnZ. He works in a similar genre of work with Stevie, in Soul, Funk, and R&B.
Beyond music and modeling, the Sydney-born creative is also an entrepreneur. He owns the eyewear brand Yagan Stone Eyewear which focuses on infusing modern spins into classic eyewear designs.
6. Kailand Millard Morris
Date of Birth – September 1, 2001
Sex – Male
Mother – Kai Millard Morris
Profession – Model/Drummer
Stevie Wonder fell for fashion stylist and designer Kai Millard in the late 90s. She became his wife in 2001 in the Bahamas and they lived together as man and wife for eight years until 2009 when they separated. They later officially divorced in 2012. Their marriage was blessed with two sons; Kailand Millard Morris and Mandla Kadjay Carl Stevland Morris.
Although one of his youngest children, Kailand has quickly stood out among the pack. First, as a musician, he occasionally plays the drum for his father during his tours. He is also a model who has interned for Dior designer Kim Jones. As part of his foray into fashion, he has walked the New York Fashion Week runway. He walked the high-profile event for Comme Des Garcons and Pyer Moss clothing lines in June 2018. At the Milan Fashion Week, he walked the runway for Dolce and Gabbana.
As for his personal life, Kailand is in a relationship with social media star and dancer Maddie Ziegler.
7. Mandla Kadjay Carl Stevland Morris
Date of Birth – May 13, 2005
Sex – Male
Mother – Kai Millard Morris
Profession – Aspiring Musician/Fashion Designer
Mandla is the second child born out of Stevie Wonder's marriage to Kai Millard. His first name Mandla means Powerful while the second name Kadjay means Born from God in Swahili. Mandla happens to share the same birthday with his father.
While he is still a young man with a great future ahead, he has already made his way to the spotlight. He featured in season one of ABC's Dancing With The Stars Junior along with competitive dancer Brightyn Brems. His father and eldest sister, Aisha, was on stage to support him with the hit song "Isn't She Lovely". Sadly, Mandla was one of the last to be eliminated.
In 2018, he appeared in the film, A Star is Born, opening the door for a possible acting career. His professional life can still go in any direction, and music appears to be on the cards too as he has been playing the piano since he was nine. Also, he is a budding fashion designer who designs high-end streetwear. He has also modeled for Ugg shoes in an ad campaign alongside Slick Woods.
8. Zaiah Morris
Date of Birth – Unknown
Sex – Female
Mother – Tomeeka Robyn Bracy
Profession – Unknown
After several years of dating and testing the waters, the Detroit native tied the knot for the third time with schoolteacher Tomeeka Robyn Bracy in July 2017 at a star-studded ceremony in the Hotel Bel-Air, Los Angeles. Stevie met Tomeeka, who was born in 1975, in 2012. Their wedding had music icons like John Legend and Pharrell Williams in attendance. We also understand that the couple signed a prenup before legalizing their union.
But while we have a picture of their relationship and marriage, there is a scarcity regarding their first child's birth. Tomeeka, who had three children with her previous husband, has kept her fourth and Stevie's eight child's identity secret. We do know, however, that the child is female and goes by the name Zaiah.
Interestingly, while the eighth child's existence remains a mystery, the singer's ninth child has a public presence.
9. Nia Morris
Date of Birth – December 2014
Sex – Female
Mother – Tomeeka Robyn Bracy
Profession – Yet to be Determined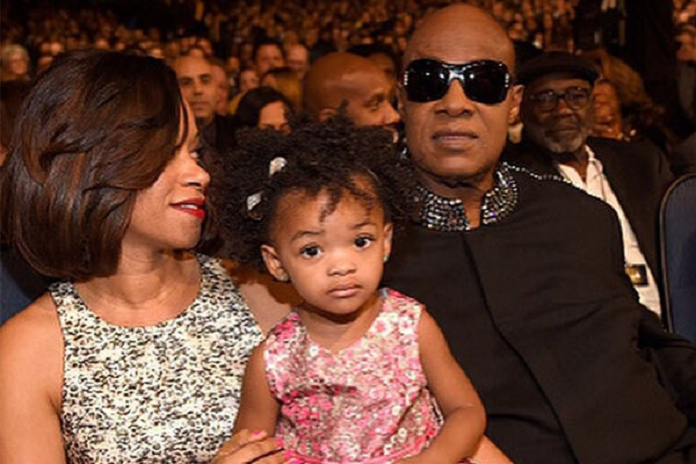 When the world learned Tomeeka was pregnant with the child that became Nia, rumors suggested the couple were having triplets. However, during his appearance on an episode of The View, after joking about the number of children he has, he dismissed it.
Eventually, Stevie Wonder and Tomeeka gave birth to their second child in December 2014. They named her Nia, which means purpose. It is one of the seven principles of Kwanzaa, an annual week-long African American celebration. Since she is still in her childhood years, there is still so much to learn about her. But having gotten an interesting start to her life, the world can only be excited about what is to come.
Stevie Wonder Maintains a Good Relationship with All His Children and their Mothers
Even for those with a smaller pool of family members, managing and building solid relationships is not easy. Yet, Stevie Wonder has consistently made an effort to defy this and maintain a relationship with his children and their mothers.
Having grown up abused by his father, along with his mother and siblings, Stevie learned the importance of a good family early on. Thus, he has sought to be a positive light to his family, however unconventional they might be.
Even though his wealth enables it, Stevie tries not to be the kind of father that only sends money. As evident on his or the children's social media pages, he spends quality time with them, and they seem to share the love he has for them.