Tomeeka Robyn Bracy came under the spotlight when she embarked on a live-in relationship with the legendary American vocalist, songwriter, record producer, musician, and multi-instrumentalist, Stevie Wonder. Their five-year-long dalliance which culminated in a 2017 wedding resulted in the birth of two of the singers children, but of course, Bracy is not Wonder's first wife, she is his wife number three and Bracy herself came from a previous marriage with Terry Lee Junior Fair with whom she had two daughters and a son who died at age two.
One notable fact about the relationship between Tomeeka Robyn Bracy and Stevie Wonder is that there is a huge age gap between the duo, in fact, Bracy's age is same as that of Wonder's first child named Aisha. Before she met Wonder, Bracy was a staff of a school in Washington. This article is centered on the early life and family background of Wonder's wife number three; join us to find out more.
Who is Tomeeka Robyn Bracy?
Detailed facts about Tomeeka Robyn Bracy's early life and family background is not available but the little information we could sieve from the available records said that her year of birth is 1975, but the exact date is not known though it is common knowledge that the third wife of Stevie Wonder is an American national, born in Northern Virginia, however, her ethnicity is obviously Afro-American. In the same vein, nothing is known about the identity of her parents and it is equally not known if she was raised as an only child or has other siblings.
Talking about academics, no information exists to that regard but she must have been educated to a reasonable level because before Stevie Wonder came into her life, Tomeeka Robyn Bracy was earning a decent living as a staff of The Monroe School located in Washington, D.C. A job which she quickly abandoned to move in with Wonder.
Her Relationship with Stevie Wonder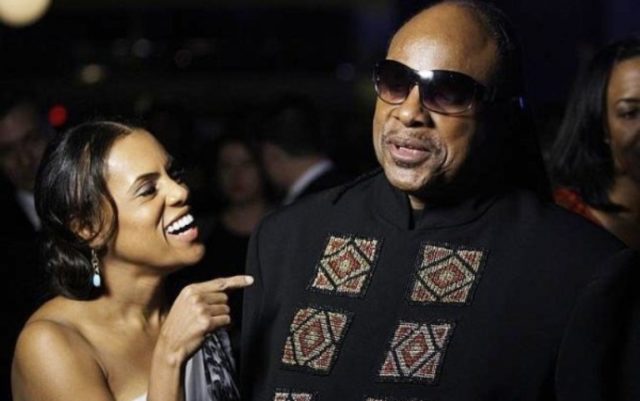 We just cannot complete talk about Tomeeka Robyn Bracy without x-raying her life with the legendary blind musician Stevie Wonder. Bracy started living with the singer in 2012 and they stayed together for all of five years before making the conscious decision to formalize their relationship in a 2017 wedding, which took place in the month of July at Hotel Bel-Air located in LA California. The wedding ceremony was a luxurious affair with the guest list comprising of stellar celebrities like Usher, John Legend, and Pharrell Williams. The ceremony was quite eventful with the couple releasing hundreds of butterflies in the hall.
Though the iconic singer is quite taciturn with his private affairs and avoids the media at all cost, he made no attempt to hide information regarding his relationship with Tomeeka Robyn Bracy. Their union gave rise to a couple of children and though the identity of their first child was never revealed, the duo welcomed a baby girl in 2014. When Bracy was pregnant with the girl named Nia, rumors ran rife that she was going to have a set of triplets. However, the rumors were put to rest when the pregnancy resulted in a single birth in December 2014. Nia is the superstar singer's ninth child.
It happens that Steve Wonder is not Tomeeka Robyn Bracy's first husband; she was formally married to Terry Lee Junior Fair and came off the relationship with two daughters named Bri Sche Milan and her sister Kenaya Tare Fair. They equally had a son named Isaiah who died in a fatal home accident. On that fateful day in 2005, Tomeeka Robyn Bracy was in the kitchen leaving the two-year-old boy unattended for a short while when he fell off their apartment window. Upon hearing a loud screen, Bracy rushed to her son only to find him lifeless on the ground. She quickly hurried to him, though her other children had already called 911.
The little boy sustained several facial as well as head injuries and when Bracy carried him to go look for help, the rescue team arrived at the scene in the company of the cops. The injured boy was rushed to the Inova Fairfax Hospital where they declared him dead upon arrival. Subsequent investigations found nothing on Tomeeka Robyn Bracy.
Bracy comes in the long line of Steve Wonder's spouses as wife number three and mother of the singer's last couple of children. The iconic musician is a father to nine children whom he had from five women. The mothers of his children were not all married to him, he even had two children from the woman that works as his secretary, another two from another woman that has never been identified till date and the rest five came from his three wives.