Most people are familiar with John Legend's music career since Devo Springsteen introduced him to Kanye West in 2001. That momentous introduction has led to a global reputation as one of the best singers and songwriters on the planet. One part of his life that most do not know about is his background, specifically his parents.
Although it was not their primary job, he was raised by musicians – a father who drummed, and a mother who sang in the choir. His parents' interest in music helped create the EGOT winner and man we have all come to love.
He is One of the Four Children Born to His Parents
John Legend was born on December 28, 1978, in Springfield, Ohio, to Phyllis Elaine Stephens and Ronald Lamar Stephens. They gave birth to four children, three boys, and one daughter. Phyllis and Ronald were married for the first ten years of John's life before they got divorced for the first time.
The Stephens siblings were homeschooled by their parents, with his mother leading the charge. They reunited twelve years after their divorce and, as of 2020, are no longer together. Despite their past struggles, the Stephens family has remained a solid unit, with various degrees of success recorded by each member.
Phyllis Elaine Stephens is a Professional Quilt Maker
John Legend's mom, Phyllis Elaine Stephens, once worked as a seamstress. In her early years as a mom, she combined her job and homeschooling John and his siblings. Despite years of personal troubles, Phyllis has built a long career as a professional quilt maker.
She has been in the business for more than 25 years, making gorgeous quilts woven with African-American stories and history. Her works have been featured in various museums and galleries around the globe. Some of them have featured in American Quilter's Society in Kentucky and a Ghanaian museum.
Aside from quilt-making, Phyllis was also a singer, who sang in the church where she was also a choir director. She was one of the first people who noticed John Legend's incredible singing voice and helped him nurture it. He began playing the piano at the age of four, and by seven, he was performing alongside his mother in the church choir.
Despite this initial connection, John and his mother's relationship fell apart because of drug addiction after his maternal grandmother died. For more than a decade, his mother went in and out of prison four times for crimes ranging from theft to soliciting. As a result, she missed out on his teenage years. For a long time, John Legend, who found success despite his family troubles, harbored resentment towards her.
However, years of growth between him and his mother has brought them closer. In 2015, he penned an essay revealing the impact of her mother's struggles on him and their family. Today, Phyllis Elaine Stephens is a regular fixture in the Legend family, spending a lot of time with his kids and making up for lost years.
His father, Ronald Lamar Stephens, is a Fashion Entrepreneur
While Phyllis worked as a seamstress, Ronald Lamar worked as a factory worker at International Harvester. Aside from working to provide for his family, he was also a drummer, who performed at the family's church. Despite his divorce from Phyllis when John was ten, Ronald remained a constant presence in the musician's life.
As a result, the two have a remarkably close relationship. Aside from the fact Ronald is a regular fixture on his Instagram page, John has expressed his appreciation in many words for being his father. Their relationship has further deepened with the return of Phyllis into the family. However, it appears his father and mother are no longer a couple. A look through Ronald's Instagram page shows he is married to Deidre Hamlar.
Aside from his new marital status, Ronald Lamar Stephens has also found his entrepreneurial bone. He is the owner of a hat business, Popz Topz, A man who sewed his own clothes for years; he came up with the idea for the business when he was doing some spring cleaning.
Combining the design of straw hats and the gambler hat, he developed the Popz Topz style. Wearing the hat in his neighborhood, it found a lot of admirers, and a business was born. Popz Topz came into official existence in 2012 and has become a successful brand with various styles and collections.
One of John's Siblings is an Aspiring Singer
While his parents have crafted a presence in the public eye for one reason or the other, John Legend's siblings are a lot more reserved, except for one. One of his younger brothers, Vaughn Anthony Stephens, is an aspiring singer who shares his famous brother's singing talent.
However, he has yet to find a similar level of success. A soul music singer, Vaughn was one of the first two people signed to Legend's label, HomeSchool Records, alongside Grammy winner Estelle. He has released a track with John, Hold Me Down, which he released online.
After years of waiting for his spot in the limelight, Vaughn parted ways with John's label in 2011, albeit on good terms. Since then, he has released additional tracks like Curiosity and Love One. Another alongside his son, Tay Da Prince. Aside from Tay, he has three other children.
Despite the difference in personal success, John Legend has a good relationship with his siblings. His older brother, Ronald Stephens II, and his sister, Phyliss 'Missy' Stephens, were present alongside his parents at his 40th birthday party in January 2019. They have also been present at other major family events.
John Legend Met Chrissy Teigen on the Set of a Music Video
As far as modern Hollywood marriages go, few are public and as beloved as John Legend and Chrissy Teigen's marriage. Their playful and affectionate social media personalities have fueled their rise as Twitter and Instagram stars. The road to their beloved status began just after the release of his sophomore album, Once Again.
They met on September 14, 2006, on the set of the music video for Legend's Stereo, a single off the album. Chrissy, who was contracted to play his love interest in the video, had a meet-cute moment before the shoot after walking in on him ironing his underwear.
After they finished the video, they hung out for the next 12 hours and hooked up. They maintained their connection for the next year, refusing to define their relationship. But while both tried to keep things cool, they were falling in love with each other.
Despite a feeble attempt on one occasion to end their budding affair, the couple ended up getting serious. John and Chrissy made their red carpet debut as a couple in 2008 at the 50th annual Grammy awards. Three years after, in December 2011, they got engaged. Two years later, on September 14, 2013, at Lake Como, Italy, they got married. Before leaving for the exotic location, they got married at a courthouse in New York City.
Earlier in June 2013, John Legend released the hit song, All of Me, which he wrote for her. She starred in the music video, released after their wedding in October 2013.
Meet Chrissy Teigen, a Model and TV Personality
Unprofessionally, she is considered the Queen of Twitter. Professionally, she is a talented woman who has dipped her fingers into various professions since she came onto the scene in 2006. She started her career as a teenage model for the clothing company, Billabong.
Since then, she has appeared in a Sports Illustrated swimsuit issue and was a briefcase model on the game show, Deal or No Deal. Outside of modeling, she has hosted reality series like Model Employee and Lip Sync Battle. Although not a professional chef, she has also had quite a presence in the food industry.
Chrissy Teigen has published a couple of cookbooks. Her 2016 book, Cravings: Recipes for All of the Food You Want to Eat, was the second-best-selling cookbook of the year. She released the sequel, Cravings: Hunger For More, in 2018. Other food-related ventures include food stylist and panelist on FABLife, the cooking website, Cravings by Chrissy Teigen, and releasing a line of Target cookware.
In April 2020, she began hosting the comedic court arbitration show, Chrissy's Court. The Quibi show launched on April 6 and aired twelve episodes in the first season. Two months after the show premiered, the streaming platform renewed the show for a second season.
Like John Legend, who is known for speaking and fighting for prison reform, Chrissy Teigen is an activist and politically outspoken. She makes donations to Planned Parenthood and has been a vocal critic of US President Donald Trump. These shared values are part of why their relationship has lasted to date.
Communication and Couple's Therapy Has Helped Them Stay Together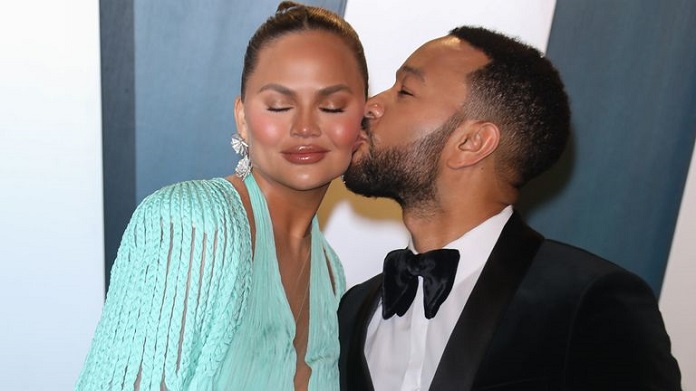 Reading and observing their banter on social media, it is easy to presume John Legend and Chrissy have a seamless dynamic that needs little effort. But in a 2020 interview, John admitted that it is far from the case. It has taken couples' therapy and various forms of personal development to keep their love story going.
John revealed communication has been a helpful tool in keeping them together. As part of his personal development, he has learned how to dismiss minor arguments and focus on the great times they have had together. Also, being considerate, listening better, and actively ensuring their needs are met are qualities he has imbibed and deployed to sustain their marriage.
Other qualities that the couple has let slip over the years include humour, love, respect, and enjoying each other's company. One other quality is their professional collaboration. John, known for his love ballads, often involves Chrissy and his family in his songs' music videos.
Since Stereo brought them together, John and Chrissy have appeared together in music videos for All of Me, Love Me Now, Bigger Love, and Wild. He has also appeared in her shows like Chrissy's Court, Lip Sync Battle, FABLife, Cookies and Cocktails, among others.
John Legend and Chrissy Teigen Conceived Their Two Children via IVF
On October 12, 2015, John Legend and Chrissy announced that they were pregnant. The couple revealed that they had been trying to have a baby for a long while before turning to in vitro fertilization (IVF). Their first attempt at IVF failed, but the second attempt worked, resulting in their first pregnancy.
They gave birth to their first child, Luna Simone, on April 14, 2016. After the birth of Luna, Chrissy Teigen suffered from postpartum depression. However, with the help of her husband and friends, she was able to power through. Less than two years after giving birth to Luna, the couple announced they were pregnant again.
The couple shared the news on November 21, 2017, in an Instagram video and shared it was a boy on January 28, 2018. The couple's son, Miles Theodore Stephens, who was also conceived via IVF, finally arrived on May 17, 2018. In October 2019, their growing family was the cover of the month's issue of Vanity Fair.
On August 13, 2020, John Legend and Chrissy Teigen announced their family would grow further. The couple revealed they were expecting their third child in the music video for Wild. Unfortunately, their expected son failed to arrive.
The Beloved Couple Suffered a Miscarriage in September
A little over a month after they shared their third child's impending arrival, John Legend and Chrissy Teigen suffered a miscarriage. Chrissy shared news of the miscarriage on October 1, 2020, revealing she had been taken to hospital earlier in the week on Sunday for excessive bleeding.
Despite doctors' attempts to keep the child and mother alive, they could not stop the bleeding and lost the baby. The couple usually chooses to name their child after their birth and just before leaving the hospital. However, in excitement for his arrival, John and Chrissy departed from their rule and called him Jack.
In the statement that has since gone viral, Chrissy Teigen revealed the loss was a deep pain for the family. The couple received an outpouring of support from far and wide, with many women sharing similar experiences. In an Instagram video for the Billboard Music Awards on October 16, 2020, John Legend performed a song, Never Break, which he dedicated to his wife.
In the post, he declared his love and admiration for his wife, her strength, and the good and bad times they have shared. He further added that their love will remain, and they will get through anything.