Norman Kali is the boyfriend of Evangeline Lilly, the Canadian actress and author. He met Evangeline while working as a production assistant on the set of the TV series Lost. It is uncertain when they started dating, but it is generally known that they've been together for over a decade and have two children together.
Norman Kali is a Hollywood production assistant who is best recognized for his works behind the camera especially for the ABC hit TV series Lost which aired from 2004 to 2010. Kali may not be a household name, but his long-term partner, Evangeline Lilly, sure is. Here are all the interesting facts you need to know about the unusual celebrity partner and father.
Norman Kali is a production assistant from Hawaii who is best known for his behind the scene works on the series Lost, 50 First Dates, North Shore, and The Big Bounce.
Who Is Norman Kali?
Norman Kali was born in Hawaii. There is little or no information available about his date of birth, parents nor early life. However, it is known that he dropped out of school as a teenager and began working odd jobs. At age 18, he relocated to Los Angeles in order to pursue a career in Hollywood. He has some successful Hollywood productions to his credit including his work as a production assistant in the movies/TV shows 50 First Dates (2004), North Shore (2004 – 2005) and Lost (2004 – 2010), among others. He also worked as an assistant director on the movies Undercovers (2010), Special Delivery (2008), and The Prince of Motor City (2008). More so, he served as a location manager for Tears of The Sun (2003) and as a special effects assistant on Tropic Thunder (2008).
His Relationship With Evangeline Lilly
The Hawaii native met Evangeline while working as a production assistant on the set of the TV series Lost. It is uncertain when the couple actually began dating, but it is generally known that Evangeline later relocated to Hawaii to live with Norman in his homeland. The long-term lovebirds have two children together. After Evangeline announced sometime in 2011 that she would be taking a break from her acting career, her pregnancy rumors were confirmed when their first child, a son named him Kahekili (meaning thunder in Hawaiian) was born on 21 May 2011. Their second child, a baby girl was born in November 2015. The couple who have tried to remain very private with details of their personal life and children have so far been successful in concealing the name and face of their second child from the media.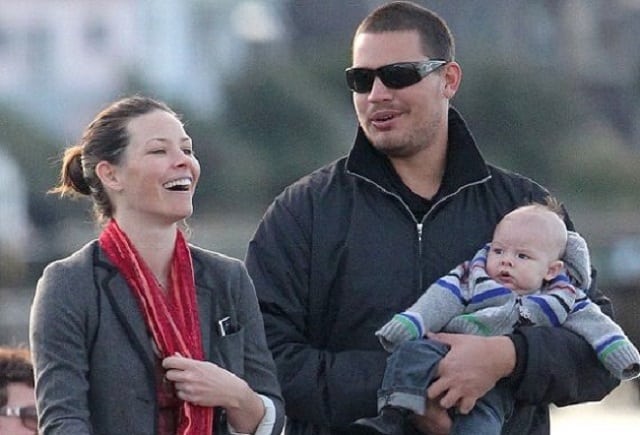 Norman and Evangeline currently live in Hawaii and are raising their kids there with Norman putting his career on hold to become a stay-at-home dad. The couple has publicly stated that they don't feel compelled to tie the knot. However, they have admitted that they may consider it later in the future probably for tax or health care reasons.
Who Is Evangeline Lilly?
The Canadian actress was born Nicole Evangeline Lilly on August 3, 1979, in Fort Saskatchewan. She and her two sisters were raised in a low-income and strict religious family by their father who was a teacher and their mother, a cosmetic consultant. From her teenage days, Lilly was interested in humanitarian work and began volunteering for children's project. She joined a missionary group which made her travel to over 14 countries including serving as a foreign missionary in the Philippine jungles.
She attended the University of British Columbia where she graduated with a degree in International Relations. Lilly, whose initial dream was to become a missionary only considered acting after she became broke trying to put herself through college and then made a bold decision that would change her life forever by contacting a Ford Models scout who had earlier spotted her on the streets of Kelowna, British Columbia.
Before taking up a career in the movie industry, Evangeline first worked as a waitress, then as a flight attendant which helped her hone her French language skills. Lily debuted as an actress in 2002 with minor roles in movies and TV series such as Smallville, Freddy vs Jason, Lizzie Mcguire, and Royal Hospital. However, her claim to fame came in 2004 when she was cast as a lead character, Kate Austen in the ABC series Lost. The series which was aired from 2004 to 2010, was a huge success and earned her a Screen Actors Guild Award as well as a Golden Globe Award nomination. The brunette beauty's career has since been on a progressive rise. She has other successful movies to her credit including The Hobbit: The Desolation of Smaug (2013) and The Hobbit: The Battle of the Five Armies (2014), among others.
Evangeline was formerly married to Canadian hockey player, Murray Horne from 2003 until 2004, and thereafter dated her Lost co-star Dominic Monaghan from 2004 to 2007. As earlier mentioned, she and Norman Kali met on the set of Lost and today, the rest is history.
Interesting Facts About Norman Kali
Handsome Norman is 5 feet 10 inches tall and weighs about 60kg. His body measurements are 38-30-35.
Norman doesn't only work behind the camera. He has a minor unscripted acting role to his credit in the movie Hobbit: The Desolation of Smaug.
Norman previously had a short-lived relationship with actress Lisa Edelstein in 2009. After the duo split later that same year, Edelstein publicly admitted that he was a great guy but they were not a compatible match.
Norman Kali is athletic and an outdoor person. Some of his interests include surfing and rock climbing which helps keep him in shape. Interestingly, his partner Lilly also shares similar interests. Her outdoor hobbies include ice-skating, canoeing, kayaking, snowboarding and rock climbing.