Teodoro Obiang Nguema Mbasogo is currently the president of Equatorial Guinea. The Equatoguinean politician assumed office in August 1979 after ousting his uncle, President Francisco Macias Nguema, through a coup. Having served as president for over four decades, Mbasogo is not only Equatorial Guinea's longest-serving president but also the world's second longest-serving non-royal Head of State.
His pattern of leadership has been characterized by widespread allegations of gross abuse of power and corruption. This is not in any way surprising, seeing that the constitution of Equatorial Guinea gives the president overwhelming powers and the right to rule by decree.
How Teodoro Obiang Nguema Mbasogo Became a Politician
Born on June 5, 1942, Obiang hails from the Esangui ethnic clan in Acoacán, Equatorial Guinea. Having bagged a degree in labor administration from the Enrique Nvo Okenve National College, Teodoro opted to join the Equatoguinean military and enrolled at the General Military Academy, Zaragoza, Spain. A couple of years later, Teodoro's uncle, Francisco Macías Nguema, was elected as the country's first president and went on to assume office on October 12, 1968.
Before emerging as president, Francisco had previously served as Mayor of Mongomo, as well as a member of parliament and deputy prime minister of the transition government. With his uncle's influence, Obiang quickly rose through the ranks to attain the rank of lieutenant, and later, he was appointed to serve in various capacities. The astute politician was equally a one-time Governor of Bioko, previously known as Fernando Pó Island.
He was subsequently made the leader of the elite National Guard before being transferred to head the dreaded Black Beach Prison. Teodoro Obiang was also appointed as Vice-Minister of the Equatoguinean Armed Forces. Unfortunately, Nguema's presidency was trailed by a series of political unrests, infamous decrees, repressions, oppression, and corruption. This also included ordering the executions of families and villages opposed to his rule. Members of Nguema's family and ethnic clan were appointed into various top government and military positions.
The Circumstances that Brought Him into Power
Following the brutality of his uncle's dictatorship regime, tens of thousands of families who couldn't bear the brunt sought safety in nearby countries. A 1979 Time Magazine report estimated that 70% of the nation's populations had fled for their lives during the regime of President Francisco Macías Nguema. The incessant repressions and executions carried out by the Nguema regime were heavily condemned by the European Commission and the United Nations.
In the summer of 1979, Nguema ordered the execution of several members of his own family, including Obiang's brother. Fueled by rage and supported by highly influential people in the government, Teodoro organized a coup d'état to overthrow his uncle's regime. He toppled Nguema's government on August 3, 1979, in a bloody coup. A few days later, the deposed ruler mustered some of his loyal forces to repel the coup, but his troops abandoned him later on in the fight.
Obiang's forces caught him hiding out in a forest on August 18, 1979. After his arrest, Francisco was tried and found guilty of genocide, embezzlement of public funds, human rights violations, treason, and mass murder. He was sentenced to death by a special military tribunal on September 29, 1979, alongside 6 of his closest allies.
Obiang Manipulated The Constitution & Continually Rigged Elections 
Upon assuming office in August 1979, President Teodoro Obiang immediately set out to restructure the country. He promised that the new government would be nothing compared to the repressive regime of his uncle. As expected, Obiang recused himself from the atrocities committed by his uncle and made no mention of the role he played.
That same year, Teodoro granted amnesty to political prisoners and abolished the system of forced labor imposed by the previous regime. He went ahead to organize a constitutional referendum on August 15, 1982, which oversaw the enactment of a new constitution for the country, and ultimately returned the country to civilian rule. This new constitution appointed Obiang as president for a seven-year term.
The Equatoguinean politician also won re-election in 1989, 1996, 2002, and 2009, which were reportedly marred with irregularities, rigging, and intimidation. By some accounts, Obiang's tenure is considered better than that of his uncle, but it is still considered to be oppressive, ethnocentric, and corrupt.
His Presidency Trampled On The Concept Of Democracy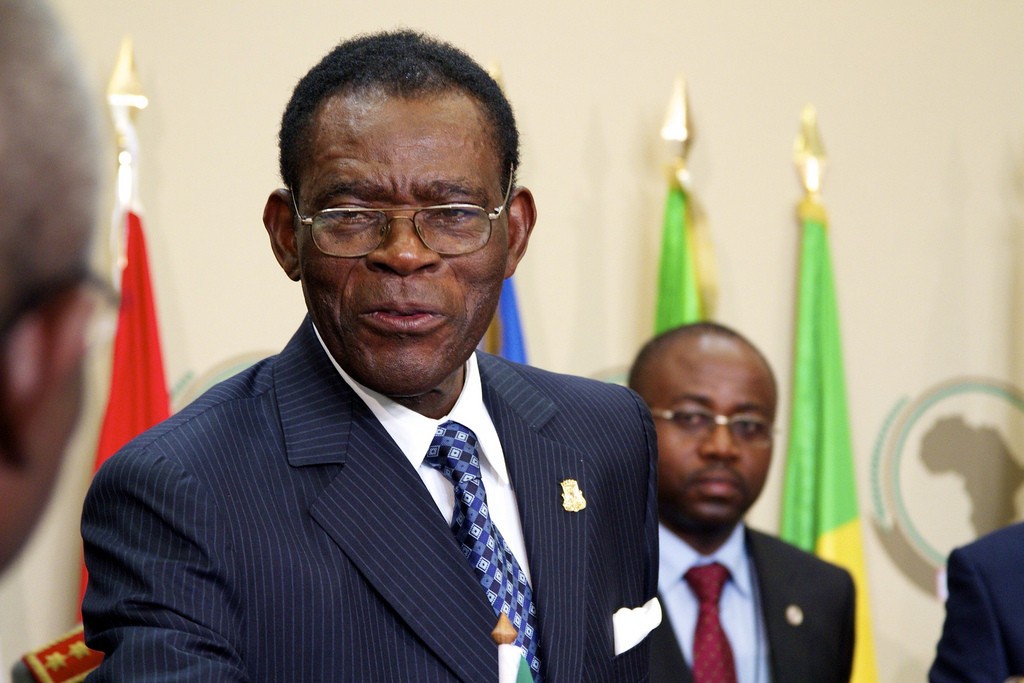 International and domestic observers have labeled the country as an undemocratic state because the country is a one-party state. The Democratic Party of Equatorial Guinea is the country's ruling party, and it is headed by Teodoro Obiang. The legislative arm of government is dominated by members of his party, PDGE. Also, the constitution of the country has been amended to give Teodoro sweeping powers, including the right to rule by decree.
The president is said to have all the governing power in the country. Part of the reservations held by the international community is the fact that there is no freedom for the press in the nation. The government and its allies' controls all broadcast media in the country. In July 2003, one of the state-operated radio stations proclaimed Teodoro as the 'country's god' and went further to state that he had power over all things and men.
Similarly, Obiang refers to himself as El Jefe, amongst other creative titles. The politician has also been faced with controversies bothering on unlawful arrests and killings, corruption, systematic torture of prisoners, impunity, and abuse of power. In 2003, the president took full control of the national treasury and went on to deposit over half a billion dollars into numerous off-shore accounts.
Read Also: Everything You Must Know About South Africa's Desmond Tutu
President Teodoro Obiang & His Family Are Notable For Their Lavish Lifestyles
Notable for having veto power over all the affairs of the country, including its finances, Obiang had amassed quite a huge sum of money to his name, and Forbes currently ranks him as one of the wealthiest heads of state in the world with a net worth of over $600 million. He is suspected of using government funds in acquiring private properties and sponsoring the lavish lifestyle of his family.
More so, it was gathered that Obiang and his son, Teodoro Obiang Mangue, own several fast cars and lavish properties in France. Mangue is also believed to own some properties in the United States and has come under heavy investigation in the past. The US Justice Department claimed that Obiang and his son had raked in hundreds of millions of dollars through illegal and corrupt means.
The French and American authorities had seized many properties belonging to both father and son. According to reports, a Parisian mansion that belongs to Obiang Mangue was raided by the French police in February 2012. A warrant for his arrest was issued, and he was charged to court for several reasons, including money laundering.
Equatorial Guinea sued France at the International Court of Justice for breaching their clause of diplomatic immunity. However, after a couple of years of legal battle, Obiang Mangue was found guilt in October 2017, and his mansion, as well as luxury cars, were seized by the French authorities. Also, his Switzerland properties were seized and auctioned.
Read Also: Everything You Must Know About Liberia's Iron Lady, Ellen Johnson Sirleaf
Teodoro Continues To Vie For International Allies
Despite the dictatorial nature of Obiang's government, which is not in favor of human rights, he still tries to forge relations with foreign countries such as the United States. He has never been publicly condemned in the global platform like his fellow dictators, and to the annoyance of many human rights activists, President Obama invited him as an honored guest to the 2014 African Leaders Summit in Washington, D.C.
Presently, the Equatorial Guinea president is carrying out incessant political activities, with continual official visits outside the country to enable him to strengthen the good relations between Equatorial Guinea and other nations such as China, United States, Spain, Morocco, Brazil, Cuba, Argentina, etc.