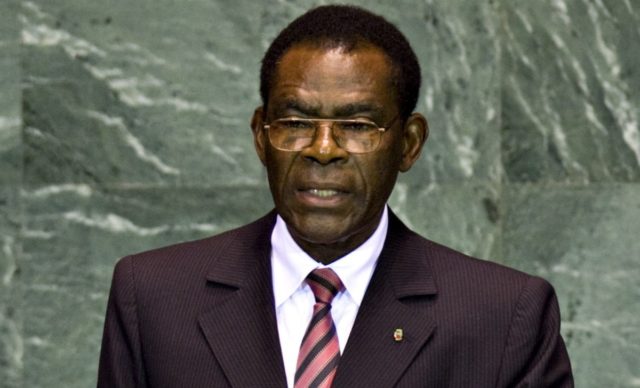 Teodoro Obiang Nguema Mbasogo is an Equatoguinean politician who has been President of Equatorial Guinea since 1979. He ousted his uncle, Francisco Macías Nguema (the first President of the country) in an August 1979 military coup. He is the second and most long-lasting president of the Equatorial Guinea. Teodoro is not only Equatorial Guinea's longest ruler but also Africa's President who has stayed in power for the longest period till date. He has ruled Equatorial guinea for almost 4 decades – straight 39 years!
Here are important facts you must know about Teodoro Obiang:
Birth and Early Life
Teodoro Obiang was born on the 5th of June, 1942. He is 73 years old. He is from the Esanguii clan in Acoacán, Wele-Nzas Province of Eastern Equatorial Guinea. In 1958, he was baptized in the Catholic faith. He also enrolled in La Salle Center of Bata, the same period where he received his degree in Labor Administration. In 1963 he was selected to take a course of Cadet of the Territorial Guard and months later, to enter the General Military Academy of Zaragoza. He joined the Equatorial Guinea Military, schooling at the Military Academy in Zaragoza, Spain during the colonial period.
He was able to rise to the rank of a lieutenant soon after his uncle, Macías Nguema was elected the first president of Equatorial Guinea after the country's independence. He was actively involved in the government during his uncle's regime, handling several posts such as governor of Bioko, leader of the National Guard, and head of the infamous Black Beach Prison.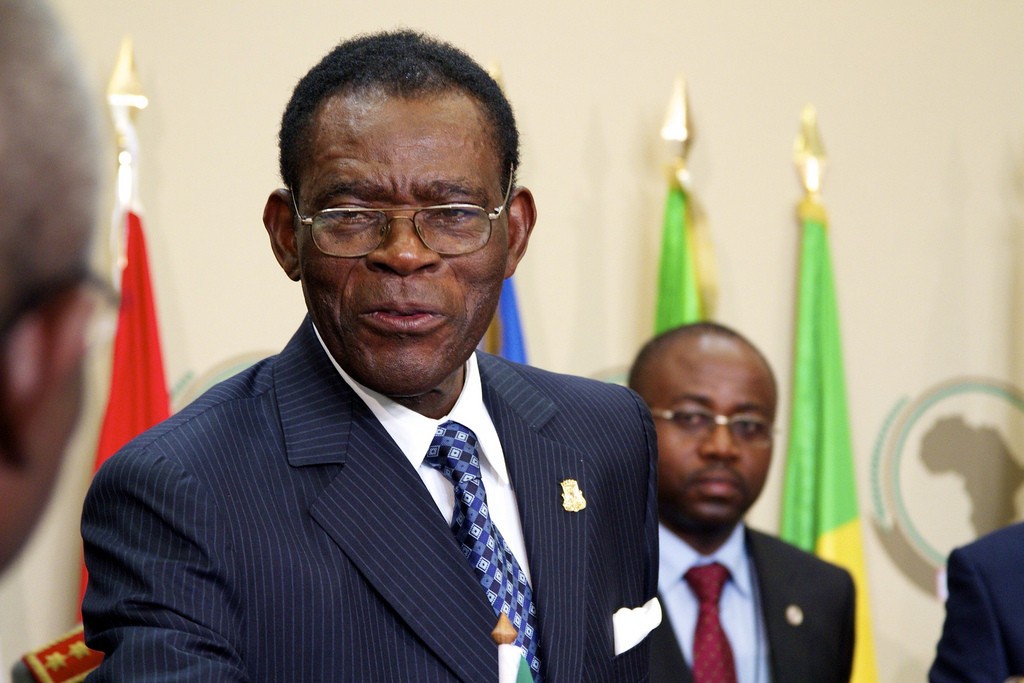 Take over of Power
Teodoro's uncle was a nasty and cruel dictator who oppressed his people in the most bestial ways. At a time, after Macías ordered the murders of several members of his own family – including Obiang's brother, Obiang couldn't take it any longer and he therefore planned a coup which was successful but bloody. Thus, he overthrew his uncle. Subsequently, he placed Macias on trial for several charges including murder and genocide. He was sentenced to death and on 29 September 1979, executed by firing squad.
Presidency/Dictatorship
Teodoro Obiang was elected for a seven-year renewable presidential term. On ascending the presidency, he granted amnesty to political prisoners and ended the previous regime's system of forced labor. After 3 years, that is in 1982, the government returned to civilian rule, the type I'll call a nominal one because it did not rid the president of powers to rule by decrees – he still exercised absolute control. The only significant difference was that a less autocratic constitution was enacted. This led to the release of some restrictions such as lifting the ban on the Catholic church.
Obiang is an African president known to possess great political and economic prowess. He presides over an African country with an unbelievable (by the standards of sub- Saharan Africa) per-capita income of $30,000, but most of the oil revenues are gobbled up by his family and inner circle. Consequently, 70 per cent of the country's 680,000 people live below the poverty line, with little access to clean water and other basic necessities.
Read Also: Everything You Must Know About South Africa's Desmond Tutu
Although Obiang overthrew his uncle in other to save his people from his brutal oppression, himself is also a fierce dictator. He is known as the country's "torturer-in-chief."  Most recently, Amnesty International reported that Nguema's henchmen abducted four nationals living in exile in Benin in January 2010, held them in secret detention, tortured them, and then forced them to confess to an alleged coup attempt, all before executing them in August following a kangaroo court military trial. Also, most domestic and international observers consider his regime to be one of the most corrupt, ethnocentric, oppressive and undemocratic in the world. The most gruesome of his atrocities, though yet unfounded is the accusation leveled against him by opponents of cannibalism: that he skins enemies alive and eats their testicles and livers to gain powers!
Obiang during this long rule has defied all oppositions and powers. Since 1979, he has been continually re-elected into power with not less than 90% of the votes. The opposition is severely hampered by the lack of a free press to express their views. Around 90% of all opposition politicians live in exile, 550 anti-Obiang activists have been jailed unfairly, and several killed since 1979. Sometime ago, the State Radio in Malabo, referred to Obiang as the "country's God," and claiming that he had "all power over men and things." They went on to say that the President is 'in constant touch with the Almighty' and 'can decide to kill without anyone calling him to account and without going to hell'. Similar to this back in 1993, and also refers to himself as "El Jefe" (the boss), and the "Gentleman of the great island of Bioko, Annobón and Río Muni."  That's what the political scientists call 'a strong executive mandate'. 'The Boss', (which is his preferred nickname) adorns T-shirts, umbrellas and billboards around the country.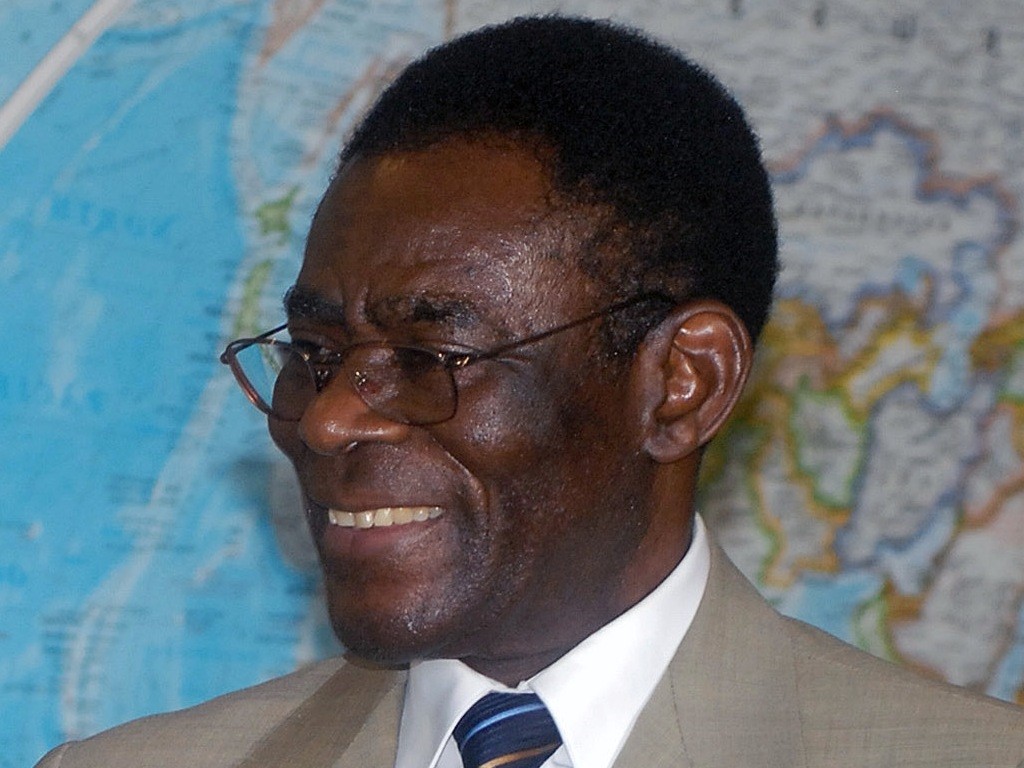 Personal Life
Teodoro Obiang is married to Constancia Mangue and they have one issue, a son, Teodoro Nguema Obiang, popularly called 'Teodorin'. His son is known to be mischievous. Just like his father, he has been accused severally of embezzlement of public funds and other unacceptable behaviours. According to Forbes, the Equatorial Guinea President, Teodoro Obiang has a net worth of $600 million, which makes him one of the richest heads of states in the entire globe. However, this is not fully founded.
It is also rumoured that Obiang is suffering from terminal prostate cancer. But contrary to this, it is observed that even at 73, Obiang is exhibiting tremendously good health condition. He engages in daily exercise for body fitness.
Read Also: Everything You Must Know About Liberia's Iron Lady, Ellen Johnson Sirleaf
International Recognitions
Despite the dictatorial nature of Obiang's government which is greatly not in favour of human rights, he still has close relations with foreign countries such as the United States. He has never been publicly condemned in the global platform like his fellow dictators. To the annoyance of many human rights activists, President Obama invited him as an honored guest to the 2014 African Leaders Summit in Washington, D.C.
Presently, the President is carrying out incessant political activities, with continual official visits outside the country to enable him strengthen the good relations between Equatorial Guinea and other nations such as China, United States, Morocco, Spain, Brazil, Cuba, Argentina, etc.