Cape Town is a magnificent coastal city in South Africa. As locals often call her, the Mother City is the oldest and second-largest city in the country. She is one of the three capitals of South Africa, being home to the National Parliament building where legislative activities take place. Cape Town accounts for a large percentage of tourist visits to South Africa. Most of the over 14 million tourist arrivals in SA in 2019 spent time in Cape Town, and the number increases every year. There are lots of wonderful attractions in the city that draws in visitors. These attractions include The Table Mountain and its Natural Park, The Castle of Good Hope, Robben Island, natural water bodies, and a host of many others. But one major thing that attracts tourists is the wildlife. Most tourists want to catch a glimpse of "African animals" in their natural habitat. Because of this, they come to the best zoos in Cape Town to have firsthand animal encounters, and they don't leave disappointed.
There are 8 Zoos Currently Operational in Cape Town
There are many zoos located in South Africa. Out of the reported c. 200 known zoos on the African continent, South Africa is home to over 15 of them, spread across different cities. The largest zoo in South Africa is the National Zoological Garden of South Africa (also known as the Pretoria Zoo). But the highest concentration of zoos, wildlife conservatories, and animal parks is in Cape Town. Little wonder it is often described as the country's animal haven.
Cape Town, as a place, is very ideal for wildlife conservation due to its natural and unique climate, lush forests, as well as a vast expanse of land, which makes this possible. This makes it suitable for zoos, aquariums, and wildlife parks. At the moment, there are 8 zoos in the City of Cape Town. It also has the highest number of zoos in the Western Cape Province. These zoos are
The Groote Schuur Zoo (formerly known as the Cecil Rhodes' Zoo, Cape Town),
The Two Oceans Aquarium
The World of Birds Wildlife Sanctuary, and Monkey Park
Giraffe House Wildlife Awareness Center
The Cape Town Ostrich Ranch
The Table Mountain National Park
The Cape Point Ostrich Farm
The Reptile Gardens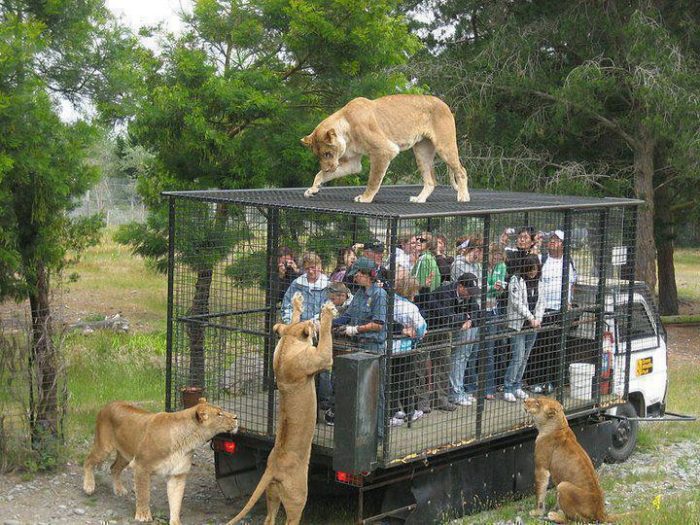 Petting Zoos in Cape Town
It's important to note that not all zoos allow physical interactions with animals for many reasons. Animals can be generally dangerous to handle. However, a good number of these Cape Town zoos are petting zoos. Here, visitors are allowed to touch and even play with animals. These petting zoos include:
Cape Town Ostrich Ranch
Giraffe House Wildlife Awareness Center, Cape Town
World of Birds Wildlife Sanctuary and Monkey Park (petting only allowed for monkeys)
Cape Point Ostrich Farm.
These zoos provide feeds and snacks which can attract these animals to visitors. Many, however, frown at forced interactions. They can have some adverse effects on the animals if done continuously. Some zoos allow visitors to ride animals. The Cape Town Ostrich Ranch and Cape Point Ostrich farm allow visitors to ride on the back on ostriches.
Choosing The Best Zoos in Cape Town
Choosing the best zoos in Cape Town is no doubt a herculean task. What makes a zoo a great one primarily depends on how well it treats its animals. Appropriate welfare, shelter, supply to clean water, food, and exposure to light are some of the common metrics by which zoos are graded and luckily, most of these zoos meet these requirements. However, we took out time to get the best of the best zoos in Cape Town. If you intend to spend your next holiday in this city, these are the zoos and wildlife parks you should look out for.
1. Two Oceans Aquarium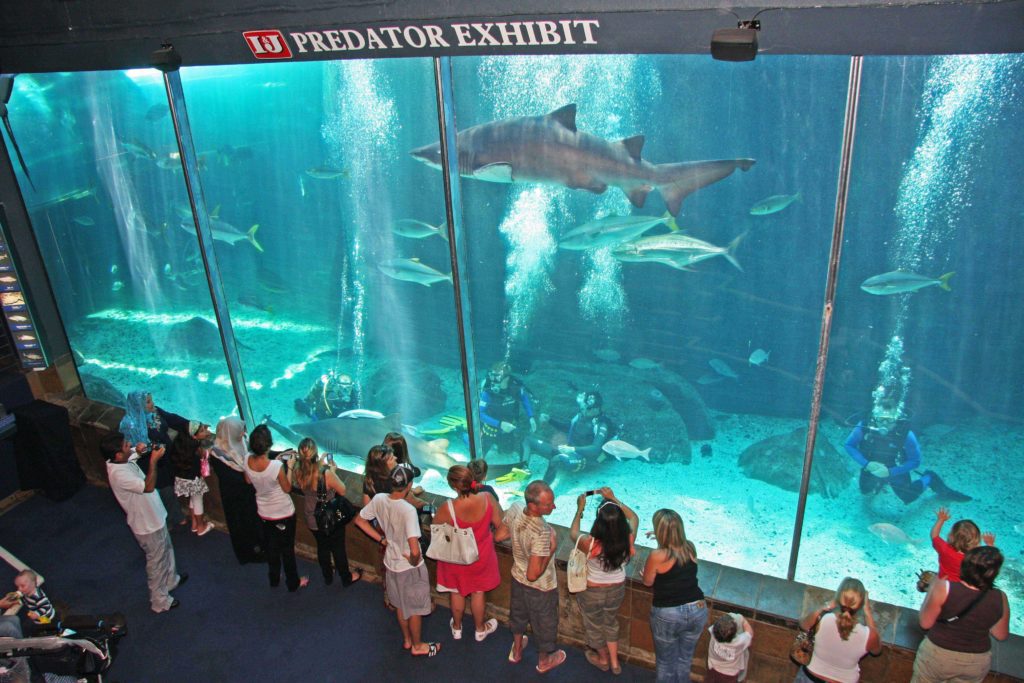 Location: Dock Road, Victoria & Alfred Waterfront, Cape Town, South Africa.
Year It Opened: 1995
Number of Animals: 8,000
Owners: V&A Waterfront Holdings (Pty) Ltd and Investec Bank
Highlight: Situated at the meeting point between the Indian and Atlantic Oceans
Entrance Fee: Adults: R210. Children: R160 (age 14 – 17), R100 (age 4 – 13), free (Children under 4). Pensioners: R160. Students: R160
It's unsurprising why The Two Oceans Aquarium makes the list of the best zoos in Cape Town. This aquarium is unique because of its location. Situated at the meeting point between the Indian and Atlantic oceans, this aquarium allows users to see animals from these two oceans. The aquarium is owned by two partners – V&A Waterfront Holdings (Pty) Ltd and Investec Bank. The day-to-day administration is in the hands of the former who runs the facility in line with the best international practices.
The aquarium is open to the public for 365 days a year at fair admission fees. There are even waivers for young children, students, and pensioners. Tourists can meet the 8,000 animals from over 300 species in the facility at the different exhibits. The Predator Exhibit shows the Ragged-tooth shark and some other fishes. The I&J Ocean Exhibit is home to turtles, rays, and a variety of fishes while the Kelp Forest Exhibit shows some marine life in their natural underwater forest habitat. There is also the Penguin Exhibit for penguins of different species, toads, frogs, and even the mole snake. There is also the Skretting Diversity Gallery which tourists would find amazing.
There are other side attractions at the facility too. There is the I&J Children's Playgroup where toddlers get entertained while their parents continue their tour of the facility. They would be entertained by puppet shows, art and crafts, games, and a whole lot more. Indeed, it is always a great time for families and friends who come to the Two Oceans Aquarium as there is always something for everyone to learn from or be entertained with irrespective of the person's age.
2. World of Birds Wildlife Sanctuary and Monkey Park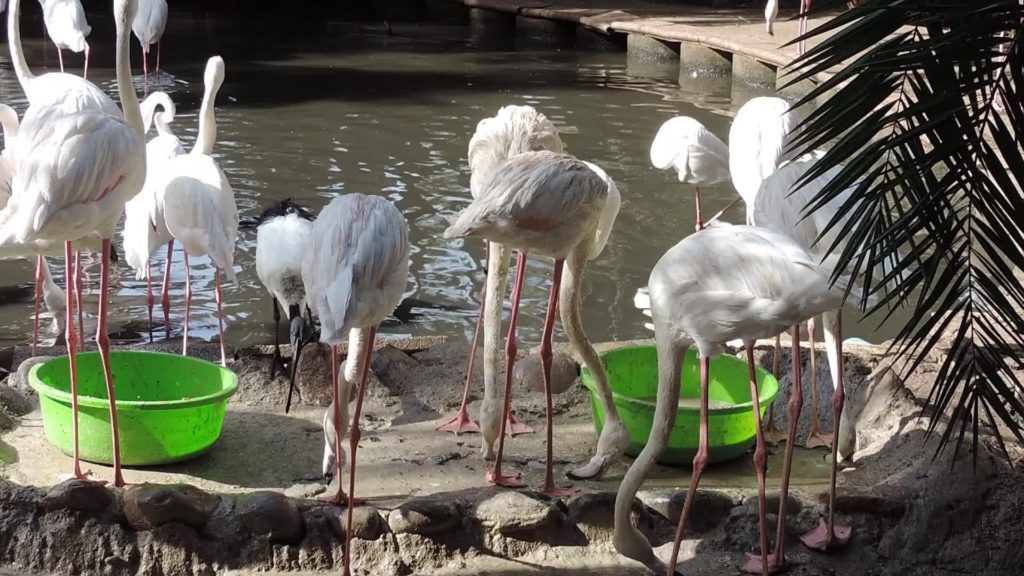 Location: Valley Road, 7806 Hout Bay, Cape Town, South Africa.
Year It Opened: 1973
Number of Animals: Over 3,000 birds (and small animals) and 38 monkeys
Owners: Hendrik Louw and Walter Mengold
Highlight: Largest Bird Park in Africa
Entrance Fee: Adults: R85. Children: R40. Pensioners and Students: R55
Also making the list is the largest bird park in Africa. As the name implies, the major concentration is on birds and monkeys but other animals such as Baboons, Squirrels, Marmosets, Racoons, Mongooses, Porcupines, etc. can be found there too. Situated in Hout Bay on a land of over 4 hectares, this Reserve boasts of 3,000 birds, 38 monkeys, and a good number of other South African animals as well.
Among the species of birds that can be seen in their aviaries are eagles, owls, penguins, flamingoes, pheasants, parrots, turacos, and many others. The Monkey Jungle at the park is also a place to be. Unlike the birds that the tourists get to see in walk-through aviaries, the monkeys in the jungle freely roam the forest and may even come to play with tourists.
The owners and management team have managed this park well. It recently bounced back from being on the brink of bankruptcy to reclaim its place as one of the foremost tourist attractions and bird reserves in Africa. Thanks to the great managerial skills of Hendrik Louw (The Park Manager) and the rest of the team, tourists can now get to hear the sweet melodious songs of these wonderful birds.
3. Cape Town Ostrich Ranch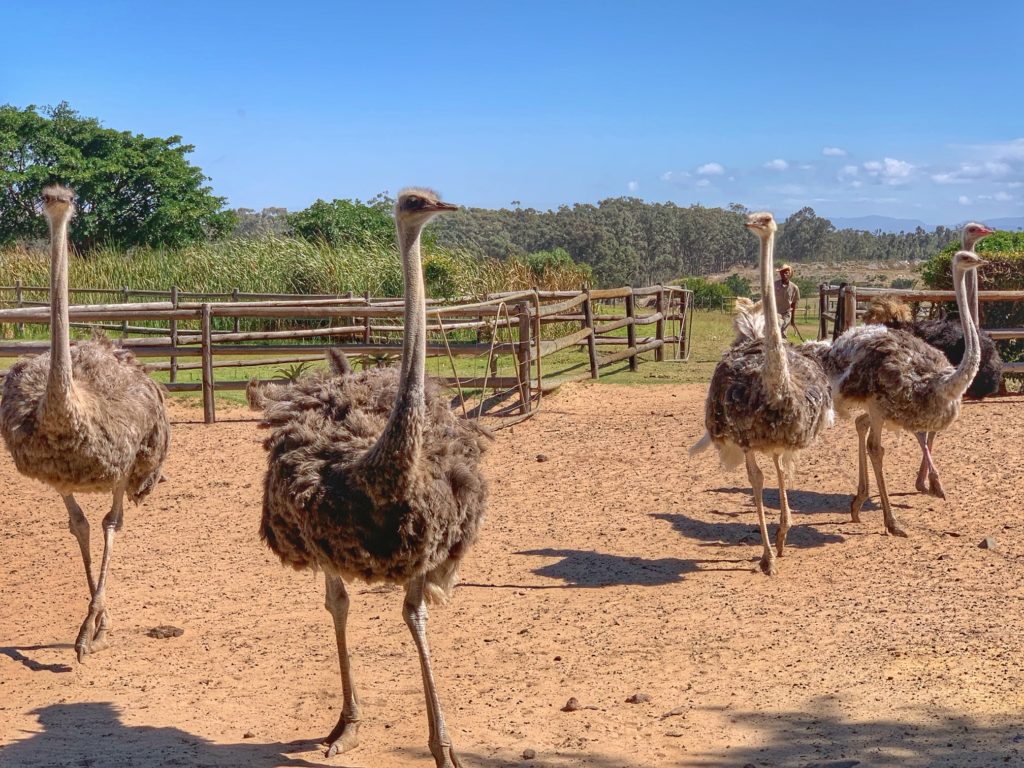 Location: Van Schoorsdrif Road, Philadelphia, Cape Town, 7439, South Africa.
Year It Opened: 1994
Number of Animals: Over 320 ostriches and other animals
Owners: The Kanigowski Family (Mainly Gavin, Pawel, and Garth Kanigowski)
Highlight: One of the best petting zoos in South Africa
Entrance Fee: Adults: R109. Children (age 2 – 6): R55, (age 7 – 16): R98. Pensioners, Students, and Disabled Persons: R65.
This wonderful ranch, located exactly 20 minutes from the City Center, offer tourists a once-in-a-lifetime opportunity to get to meet and also learn more about Ostriches. This ranch hosts different species of ostriches such as the South African breed, the Kenyan Breed, and more. It was also the home of Tom Thumb, which is in the Guinness book of records for the smallest ostrich in the world. Unfortunately, Tom Thumb passed away on the 17th of September, 2017.
This ranch is a petting zoo. Visitors are usually provided animal snacks so they can attract and pet these ostriches. They are also allowed to touch ostrich eggs which are one of the hardest on earth. Apart from ostriches, this ranch is home to other animals too. Tortoises, goats, sheep, cheetahs, penguins, and many more can be found here. The ranch is open to all from 9:00 am to 5:00 pm.
One major side attraction of this Cape Town Zoo cum ranch is its 145-seat restaurant which offers a variety of cuisines from ostriches and eggs. If you haven't tasted ostrich meat, a taste of the delightful ostrich streak would change and ignite your taste buds. They are grilled and spiced to perfection. There is also a vast open space for a picnic, perhaps a family comes on holiday at the ranch. The farm is on a 21-hectare expanse of land. Gavin Kanigowski, the Co-owner, plans to bring more fun to the ranch by incorporating Ostrich Polo games. The Cape Town Ostrich Ranch is undoubtedly a place to be and not just one of a kind in South Africa but indeed the rest of the world.
4. Giraffe House Wildlife Awareness Center, Cape Town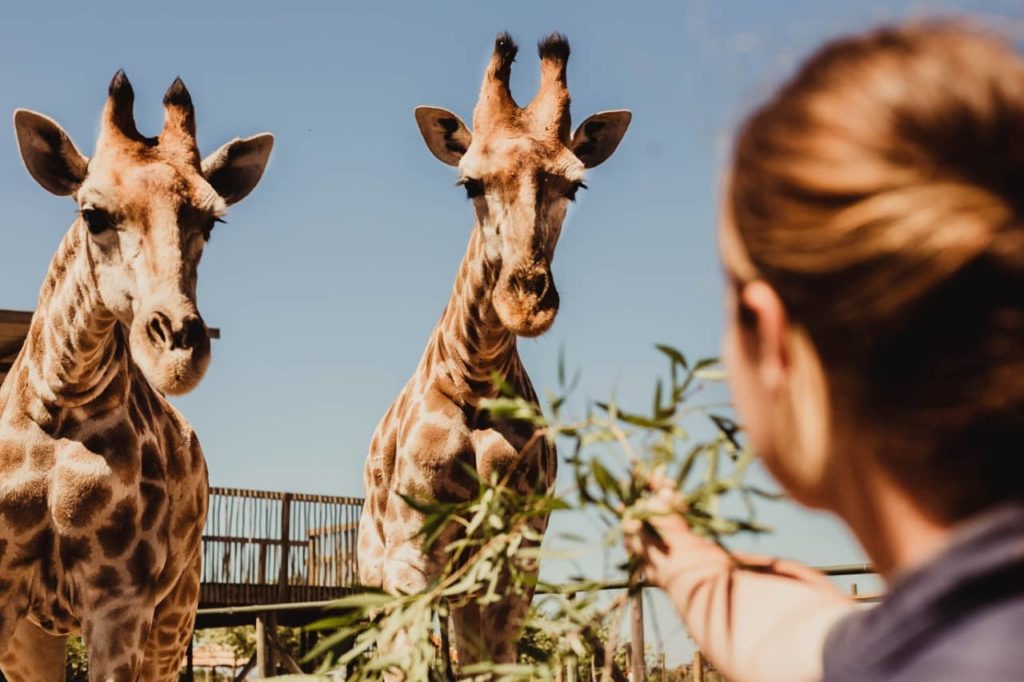 Location: c/o Road 304 (towards Stellenbosch ) and Road 101, (towards Paarl), Muldersvlei, Cape Town.
Year It Opened: 2007
Number of Animals: 4 giraffes and a variety of other animals.
Owners: Werner Fourie.Highlight: The only Park dedicated to giraffes in South Africa.
Entrance Fee: Adults: R75. Seniors: R55. Children (age 2 – 15).
The Giraffe House Wildlife Awareness Center is a zoo cum educational center based in Cape Town. This institution seeks to preserve the lives of giraffes as well as other animals and plants, retain and exhibit African biodiversity, and allow people a breather from the hustle and bustle of everyday city life.
The focus is primarily on the tallest land mammals on earth – giraffes. But the zoo keeps other animals as well. The earth's largest Antelope, eland, and earth's smallest antelope, the blue duiker, can be seen in the zoo amongst others mammals, reptiles, and birds. This facility can also be classed as a petting zoo like some others in Cape Town which we have already mentioned here. It is on 15 hectares of land. Visitors would usually be provided with special snacks or treats to feed the animals but forced interactions with the animals are banned.
The main vision of the facility is to educate the public about the importance of wildlife preservation. They wish to create awareness about the need to preserve wildlife for future generations. And for many years after they began operation, they have steadily been achieving this aim.
Although there are no restaurants in the facility, visitors can bring their food or purchase from available kiosks in the zoo. The zoo also has a 100 square meter thatched Lapa where visitors can host parties, get-togethers, and other social events under the stipulated guidelines for doing such. There are also lots of fun activities such as 3 jungle gyms and a lawn area where visitors can do recreational exercises. This zoo is open every day of the year except on Christmas day. Therefore, people have ample time around the year to visit this Cape Town Zoo, relax, learn and make merry.
Visiting zoos in Cape Town just got a lot more fun because the city has the best zoos around. If you are a lover of wildlife or you are just interested in seeing these animals and learning about them, visiting one zoo in the city is something you don't want to miss. While at it, relish the moment because you may never get this experience in many other parts of the world.
Recap Of The List of Best Zoos in Cape Town
Two Oceans Aquarium
World of Birds Wildlife Sanctuary and Monkey Park
Cape Town Ostrich Ranch
Giraffe House Wildlife Awareness Center, Cape Town