Throughout the 90s, Tonie Perensky was a popular and recognizable face as an actress. She starred in several films and TV shows, making her name in the independent film circuit and feature films. If you are a fan of old films, you have probably seen her in movies like Varsity Blues and The Return of the Texas Chainsaw Massacre.
However, for all the growth and accomplishments she received in the 90s, it did not continue in the new millennium. She has not appeared in a role since 2004, in what many have described as an unscheduled retirement.
Tonie Perensky Started Her Acting Journey As A Teenager
The beauteous actress was born in Austin, Texas, the United States on April 23, 1959. Tonie left Hollywood before celebrity culture, and paparazzi influence was at its peak. Thus, several details about her background, such as her parents or potential siblings, remain out of reach.
We do know, however, that Tonie Perensky's relationship with acting began when she was a child and led to an impressive accomplishment in her early teens. Tonie was privileged to be picked at the age of 13 to work with few A-list University of Alberta Bachelor of Fine Art and Design (BFA) Grad students.
She joined the special program under the mentorship of the eminent New York directors, Mark Schoenberg, and late Sir John Neville. Following the completion of the training, she went on to make many appearances in theatre and was named, Top Teen Actor in the Provence at the age of 16.
However, despite the early introduction into the world of acting, Tonie Perensky did not make her onscreen appearance until she was 28 years old. She spent her early twenties working in Canadian theatre and starring in commercials. She appeared in commercials for NASA, Sea World and IBM.
Tonie Has 27 Credits In Her Filmography
Perensky made her first big-screen appearance by playing the role of Edison Girl alongside John Hawkes and S. Kathleen Feigny in the 1988 crime thriller movie, Murder Rap. She did not appear in another role for the next two years until 1991 when she began a decade-long stint onscreen.
The year 1999 was a busy one for Perensky. Having gone a couple of years without an onscreen role to her name, she made a series of appearances in four movies, albeit all of them were minor roles. They are Another Pair of Aces: Three of a Kind, A Seduction in Travis County, Without Warning: The James Brady Story and Horror Hayride.
Regardless, they provided enough reel for Tonie Perensky to expand her onscreen career. She made her first named role in 1992, in an episode of Dangerous Curves, as Eileen. She featured in a couple of films, Shadow Force, Witness to the Execution, 8 Seconds and Texas Justice, before finding a modicum of success in 1995.
In 1995, Tonie Perensky starred alongside Matthew McConaughey and Renee Zellweger in Texas Chainsaw Massacre: The Next Generation.
In the film, she played Darla, the girlfriend of Matthew's character, Vilmer. Following the release of Texas Chainsaw Massacre: The Next Generation, Tonie continued her modest appearances in several films. She appeared in Seeking the Café Bob, Underneath, Sanity, Spamarama the movie, She Fought Alone and a couple of others.
Her last role in the 90s was an appearance in the short film, Bad Habits. She did not appear in another work until 2002 when she appeared in two more short films, The Ten Rules and Project Redlight.
Eventually, in 2004, Tonie Peresnky made her last onscreen appearance as a nameless hostess in The Vision, with a total of 27 credits in her filmography.
She has Limited Successful Onscreen Appearances
As you can probably tell, Tonie was not an ultra-popular actress in her heydays. That was down to the limited successful roles in her filmography, with her in a prominent role. In her 27-credit-long filmography, she has only two notable successful roles – Varsity Blues and Texas Chainsaw Massacre: The Next Generation.
She was ushered into the limelight with her excellent portrayal of Darla in the 1995 horror film, Texas Chainsaw Massacre: The Next Generation, starring along with Renee Zellweger, Matthew McConaughey and Robert Jacks. Despite receiving limited theatre release, and getting critically panned, the film received a cult following, transforming Tonie into an underground film star to date.
Four years after – in 1999, she played Miss Davis, a teacher at West Canaan High School who moonlights as a stripper in the comedy-drama, Varsity Blues. Although it was another minor role, the success of the film brought Tonie within touching distance of being a mainstream actress.
Beyond the success of live-action roles, Tonie successfully displayed her array of talent with a couple of voice roles. She voiced Janet in the 1993 video game, Strike Commander, and in 1995, voiced Sgt. Shannon Brooks in Crusader: No Remorse.
A Family Tragedy Ended Her Hollywood Career
Could Tonie Perensky have found her way to Hollywood stardom in the 2000s and beyond? We can not possibly say. Her last appearance was in 2004 in the short film, The Vision, after she quit the industry to deal with a family tragedy.
The exact nature of the tragedy remains undisclosed, and thus, we cannot speak to its gravity. We do know it was big enough for Tonie Perensky to call time on her three-decade-long acting journey. Since she said goodbye to the camera, she made zero public attempts at returning to the screen, until 2015.
In 2015, she was reportedly in talks to end her retirement and appear in a coveted role for a ground-breaking film. The film was expected to start shooting in August 2015. The title of the film remains unknown and according to her IMDb page, the talks may not have been successful. Her last recorded appearance remains her 2004 role as a nameless hostess in The Vision.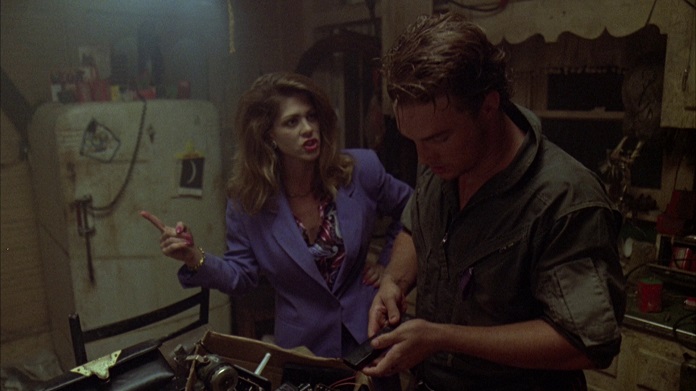 Since that little break from her bubble, we and the world have heard nothing from Tonie Perensky. She appeared in a 2017 interview by Dread Central on the legacy of her Texas Chainsaw Massacre: The Next Generation film. The interview focused on the making of the film, and there is zero information on her current whereabouts and life.