Some people seem to be wired for certain vocations, almost from birth. One of those is certainly Trent Reznor whose music stint began since his childhood. For Reznor, music is more than a vocation; it's his world. He is an American singer, songwriter, musician, record producer and Academy Award-winning film score composer.
Reznor is also the founder and sole member of the multi-platinum act Nine Inch Nails; a position he maintained for twenty-eight years, until 2016 when he added his long-time collaborator Atticus Ross as a permanent member of the group. More than that, Reznor is a husband and a father of four. Let's get on with the details of his biography and other personal facts.
Trent Reznor's Age and Family Background
Trent Reznor was born Michael Trent Reznor in New Castle, Pennsylvania, on May 17, 1965, to parents, Michael Reznor and Nancy Lou. Reznor has a long German and Irish genealogy and his roots have been successfully traced to the business mogul, George Reznor, founder of the heating and air conditioning establishment, The Reznor Company, founded in 1888. The younger Reznor was just six when his parents divorced. In hindsight, he describes the aftermath of his parents divorce as the most trying period of his childhood. He only got through it with the help of his grandparents; his maternal grandmother especially.
Growing up, Reznor displayed a unique gift in music and began playing the piano at age twelve. He was multi-skilled and talented, excelling in skateboarding, building model planes, and of course, playing the piano. He attended Mercer Area Junior/Senior High School where he learned to play the tenor saxophone and tuba and was an active member of both the school's jazz and marching bands.
More than a band member, Reznor was involved in the theatre back in high school and was even voted "Best in Drama" by his classmates for incredibly portraying Judas in Jesus Christ Superstar and Professor Harold Hill in another play, The Music Man. Following his graduation from high school in 1983, Reznor proceeded to Allegheny College in Meadville, Pennsylvania, where he studied Computer Engineering for barely a year, before dropping out and moving to Cleveland to build his music career.
Details of His Sister, Wife and Kids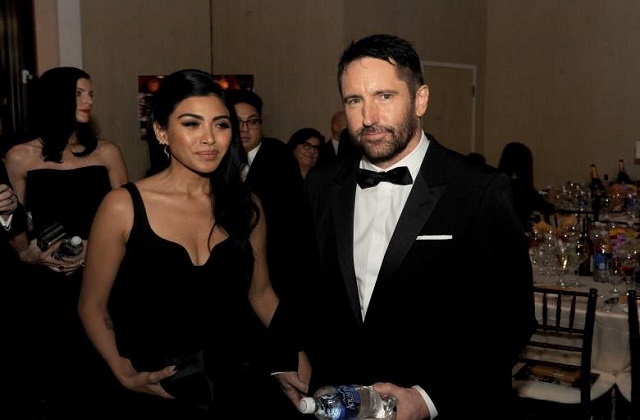 Reznor and his sister, Tera were raised in Mercer, Pennsylvania until their parents were divorced. Young Reznor went to live with his grandparents while his sister, Tera, remained with their mother. He was only six at the time.
Trent Reznor has been married to Filipino-American singer-songwriter Mariqueen Maandig since October 2009. Together, they have four children: a daughter; Nova Lux Reznor (b. December 2016), and three sons; Lazarus Echo Reznor (b. October 10, 2010), Balthazar Venn Reznor (b. December 31, 2011), a third son (b. November 1, 2015). The family lives together in their Newcastle mansion in Pennsylvania.
Trent Reznor's Career
His career began as an assistant engineer and janitor at Cleveland's Right Track Studio but before then, he'd joined the cover band, Urge, before moving on to The Innocent where he worked as a keyboardist for only three months; in 1985. The following year, he joined Exotic Birds; a local band and even appeared with them in the 1987 film Light of Day.
Most of Reznor's incredible works came as a founder and sole actor in his successful multi-platinum act, Nine Inch Nails. His over thirty-year career has seen the release of several albums and soundtracks for games such as Quake (1996) and Doom 2 (2003) and several movies including, Natural Born Killers (1994), Lost Highway (1997), The Social Network (2010), The Girl with the Dragon Tattoo (2011) and Bird Box (2018).
All that hasn't gone unnoticed. Reznor has been the recipient of several awards, including the 2011 Golden Globe Award for Best Original Score (with Atticus Ross) and the Academy Award for Original Score for their work on the 2010 drama The Social Network. In 2012, Trent Reznor and Atticus Ross were nominated for the Golden Globe Award for Best Original Score ― for their work in the film, Girl with a Dragon Tattoo. A year later, they won the 2013 Grammy Award for Best Score Soundtrack for Visual Media; however, neither of them was there to accept the award. Ross and Reznor's soundtrack in the movie, Gone Girl, was nominated for Best Original Score in a Feature Film at the 5th Hollywood Music in Media Awards (HMMA) in 2014.
Net Worth
As of 2019, sources have revealed that Trent Reznor's net worth stands at a whopping $70 million. Most of his wealth comes from his tremendously successful music career; with over 20 million records sold worldwide.
However, there are no details about Reznor's annual salary or earnings, but we know about his real estate stint. In 2007, Reznor acquired a $4.2 million Beverly Hills mansion which he eventually listed in 2015 for $300,000 more added to the purchase price. Asides that, we have no details about his investment portfolio or what other properties he owns such as houses or a collection of cars and luxury items. At best, we can only say he is living a lush lifestyle with this family.
Height and Body Measurement
Trent Reznor has an average build. He stands at 5 feet 7 inches (1.7 meters) tall and weighs 67 Kg. He has dark brown hair and a rare shade of green eyes. As of this writing, we have no specifics about his shoe size and body measurements. As soon as we get tabs on these, we're sure to put them all out for you.