Wendy Fiore is a well-known American model and social media personality. Born on the 21st of December, 1983, 39-year-old Wendy was able to acquire enormous fame and recognition due to the pictures she posted on different social media platforms. 
She stands tall with a count of more than 500 thousand followers on Instagram and over 110 thousand followers on Twitter. She also has a significant fan base on other social media sites.
Fiore, who didn't envisage getting popular over her looks, is learning to cope with all the attention she gets and channels them into something positive. One of the things that have made her popularity so phenomenal is the fact that her breast, which is her major point of attraction, is all-natural. As her popularity continues to soar, she has proved her mettle as an amazing model and is surprisingly a good writer who has a long term goal of someday writing a book.
Summary of Wendy Fiore's Biography
Full name: Wendy Anne Fiore
Gender: Female
Date of birth: 21st of December, 1983
Place of birth: Downers Grove, Chicago Illinois
Wendy Fiore's Age: 39 years old
Ethnicity: Mixed
Nationality: American
Zodiac Sign: Sagittarius
Profession: Social media personality, model
Wendy Fiore's Height in Inches: 5 feet 5 inches
Wendy Fiore's Height in Centimetres: 165
Wendy Fiore's Weight: 70 kg
Hair Color: Brown
Eye Color: Brown
Body Type: Hourglass/Curvy
Body Statistics: 43-26-37 (inches)
Bra Size: 32K
Dress Size: 16
Famous for: Pictures she posted on different social media platforms
Wendy Fiore's Instagram: wendyfiore_, wendyfiore
Twitter: @WendyWendyql
Wendy Fiore Snapchat: @wendyfiore 
Wendy Fiore Reddit: @wendyfiore
Wendy Fiore was Raised By a Fashionista Mother and This Reflects in Her Fashion Choices
The internet sensation was born in the United States in Downers Grove, Illinois on the 21st of December, 1983. She is of mixed ethnical background with her father being of Italian descent while her mother is from Poland.
As a young child, Wendy Fiore was primarily raised by her fashionista mother, Dawn Asher, as a result of her parents' marital issues. The duo relocated to New York where they lived together alone for a long time. Dawn would later find love again in the hands of the former football coach and politician, Bud Asher.
By having a mom who was a fashion enthusiast, Wendy initially harbored a keen interest in becoming a fashion designer and a make-up artist. Along the line, she realized that she can do better in modeling and decided to pursue that career.
Her Rise To Prominence and How She Single-Handedly Established Her Career Via Social Media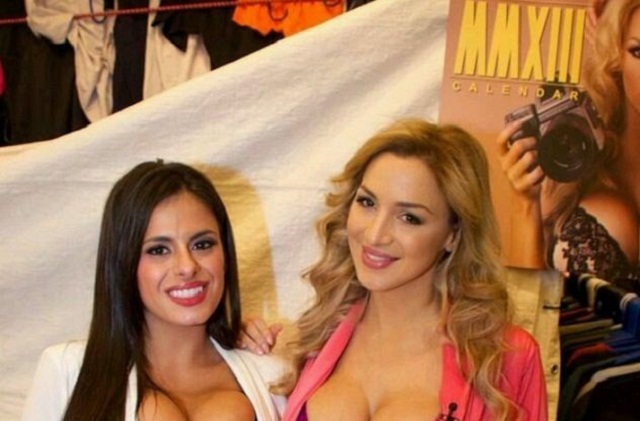 After Wendy Fiore made the decision to pursue a modeling career, she was able to land a few minor modeling gigs before the idea of using social media to sell herself to the world popped in. She began by creating various social media accounts on different platforms in the year 2010 and soon began to gain the desired attention with several of her pictures going viral.
Wendy's followers just couldn't get enough of her and she soon became every man's walking fantasy. However, one good thing about her raunchy pictures is that she never overdid it; she never mistakenly or intentionally revealed her areola and nipples, just teasing her fans with pictures of her humongous mammary glands which they kept coming back to see in hopes of one day seeing the full picture.
After her social media success which led to her being able to book several jobs, Wendy Fiore launched her website to promote herself. She has described her website as a place where she feels safe enough to be herself. The good thing about all this is that she has succeeded in gaining prominence through her activities on all the social networking sites she is on by publicizing herself through the uploads of her jaw-dropping photos, which are sometimes unclad. She also loves to show off her enviable body and her fashionable dressing style which undoubtedly, has attributed to her huge fan base as her social networking pages have garnered millions of followers collectively.
More so, her rise to rapid success and stardom is attributed to her vivacious personality and innumerable talents. There is no doubt that Wendy is the perfect blend of beauty and brains and isn't shy to stand up for herself. She has definitely charmed many with her dazzling persona, her curvy body, and her amazing confidence.
All this seems to have made her one of the undisputed queens of social media for a while now and it is known that her works have captured the attention of the advertising company, Surreal Chicago, which aids in promoting her work across the globe.
Can Wendy Fiore Continue To Keep Her Personal Life Hidden?
With the amount of attention this internet star gets in her life, one would think it will be impossible for her to keep her personal life off the media's radar but she has done that quite well.
Wendy has not given the public a glimpse of her love life and hasn't been romantically linked with anyone over the years. However, for someone that popular, there will always be speculations about who they might be seeing.
While some have it on good authority that she might already be married which is why she has toned down her activities on social media recently, some have even speculated that she might be gay as a video (which has since been taken down) of her flirting with another woman surfaced online one time.
Wendy Fiore put that rumor to rest in one of her interviews saying it was a stupid phase where she did a lot of stuff for attention. Presently, the social media sensation has not officially said anything about her relationship, according to her, she keeps her private life personal.
Wendy's Rumored Breast Reduction and Health Challenges
It has made rounds in recent times that Wendy Fiore had breast reduction surgery after a video of her surfaced on the internet with 'the girls', as she popularly refers to her breast, looking smaller.
As typical of Wendy, she never outrightly addresses any rumor about her so it's hard to tell if she actually did any breast reduction surgery. She has admitted though that when she was in high school, her mom did take her to see a plastic surgeon for a possible reduction but routine tests showed that she was severely anemic so she couldn't have the surgery.
Around 2007, the Instagram model got really sick and was hospitalized for 2 weeks. Sadly, she was diagnosed with an autoimmune disease called Crohn's which was why she was so anemic. Crohn's is a disease in which the immune system attacks the digestive system. She had to make a conscious effort to follow a specific diet and eat healthily. Wendy Fiore totally changed her lifestyle due to her illness and continues to seek a cure as well as creating awareness about the disease.