Jon Jones' net worth is an estimated $10 million. He is an American professional mixed martial artist currently signed to the Ultimate Fighting Championship (UFC).
Jon Jones remains one of the greatest athletes in MMA history. Popularly known as bones, the American fighter holds the record as the youngest ever UFC champion. He also holds the record for the longest winning streak as well as most successful light heavyweight title defenses. All of Jones' success has however not come without some failings.
The fighter has been embroiled in several controversies which has cost him juicy endorsement deals with several brands. So, what is Jon Jones' net worth and how much does he make per fight? All these and more are explored below.
Jonathan Dwight Jones was born on the 19th of July 1987 in Rochester, New York. His father's name is Arthur Jones Jr while his mother's name is Camille. The MMA fighter also has an older brother named Arthur and a younger brother named Chandler.
Arthur is a retired NFL player while Chandler is an outside line backer who currently plies his trade in the league. Jon Jones grew up in New York and attended Union-Endicott High School. While there, he established himself as an outstanding wrestler and went on to become state champion. Jones later attended college but dropped out to pursue his MMA career in 2008. The New Yorker racked up six victories in his first six fights, and the UFC unsurprisingly came calling.
How Much Does Jon Jones Make Per Fight?
Since making his UFC debut on the 9th of August 2008, Jon Jones has witnessed a steady increase in the prize monies that he pockets per fight. This does not come as a surprise given the litany of achievements he has recorded. Bones has not only established himself as the greatest MMA fighter ever but the best pound for pound fighter. In his very first UFC match, Jones recorded a unanimous victory against Andre Gusamo and pocketed $12,000.
For his second and third matches, which were equally victorious, the fighter took home $14,000 and $18,000 respectively. Jones' only defeat till date came in a controversial disqualification against Matt Hamill in his 4th match.
John Jones still went on to make a cool $20,000. Jones recorded TKO victories in his 5th (v. Brandon Vera) and 6th matches (v. Vladimir Matyushenko) and went home with $90,000 and $46,000 respectively. The New Yorker continued his winning streak in matches 7 (v. Ryan Bader), 8 (v. Mauricio Rua) and 9 (v. Quinton Jackson) and scooped up $215,000, $140,000 and $275,000 respectively.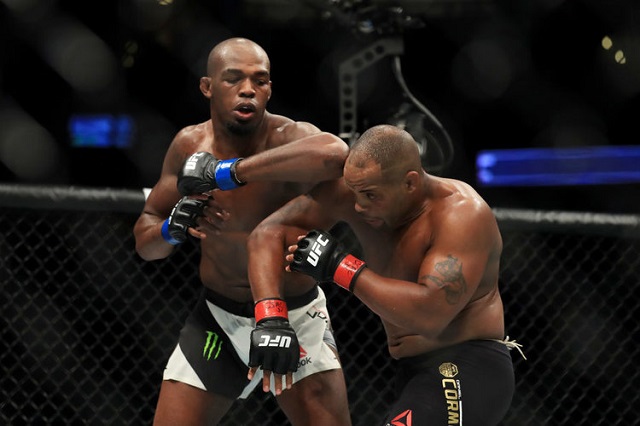 Since then, Jon Jones has not gone below the six-figure mark. For his match 10 victory against Lyoto Machida, he got $475,000; for his match 11 victory against Rashad Evans, he got $400,000. In match 12 (v Belfort) and match 13 (v Sonnen), the New York native earned $465,000 and $400,000 respectively. In his 14th UFC fight, Jones defeated Alexander Gustafsson and pocketed $450,000 including a $50,000 fight bonus.
In his 15th and 16th matches, Jones defeated Glover Teixeira and Daniel Cormier to earn $400,000 and $550,000 respectively. Jones also defeated Ovince Saint Preux, to pocket $530,000, in his 17th match. For matches 18, 19 and 20, Jones recorded three consecutive victories and earned $580,000, $500,000 and $500,000 respectively.
Jon Jones has therefore amassed a total of $6.8 million from his bouts. The New Yorker currently makes not less than $500,000 per fight and one can bet that he will surely reach the 7-figure mark if he continues his impressive exploits.
What is Jon Jones Net Worth?
Jon Jones' net worth now stands at a respectable $10,000,000. Asides his impressive prize monies, Jon Jones' net worth has been greatly enhanced by juicy endorsement deals. The UFC champion has scored sponsorship agreements with the likes of Reebok, Gatorade and MuscleTech. Jones also landed a multiyear sponsorship deal with sports gear giants, Nike, in 2012. He thus made history as the first MMA fighter to land such a deal which was reported to be in the 6-figure region.
Jones has sadly lost most of these deals due to several controversies. For instance, in April 2015, the fighter ran a red light and crashed his vehicle into a Collison involving two cars. He later fled the scene, leaving behind an injured prevent woman. The UFC champion was subsequently charged with felony and sentenced to 18-months' probation as well as charity outreach. Also, during a promotional event in August 2014, Jones was involved in a brawl with rival, Daniel Cormier.
The fighter was later charged by the Nevada State Athletic Commission and docked $50,000. He was also ordered to undergo 40 hours of community service.
Sources of Jon Jones Net Worth
His wrestling career
Endorsement deals