Rudeboy is a Nigerian singer and record producer with a net worth estimated at $16 million. Some of his best-known songs are "Reason With Me," "Doube Double," "Woman," and many others.
Rudeboy originally gained fame and fortune as a member of P-Square before the group disbanded. He and his identical twin brother Mr. P were unarguably one of the richest musicians in Africa in the 2000s and 2010s. The pair are now back together and they are looking to carry on from where they left off.
What Is Rudeboy's Net Worth Now?
The 2020 review of Paul Okoye's fortune pegged it at a handsome $16 million and still counting. The Other half of P-Square got his rightful share after their fortune as a group was divided between him and Peter. Since then, he has been recording success as a solo artist with several hit singles under his belt.
Paul Okoye's Early Experience put his Music Career on the Path to Sucess
While he was a student of St. Murumba Secondary School, Jos, Plateau State in Nigeria, Rudeboy honed his skills by registering at a school of drama and music club where he spent quality time with his twin, performing and dancing with a focus on cover songs by the likes of, Bobby Brown, Hammer, and Michael Jackson.
While still a secondary school student, Rudeboy co-formed MMMPP – an Acappella group comprising of his twin Peter, Michael, Melvin, M Clef a.k.a. Itemoh, and Paul himself. The group began break-dancing, drawing inspiration for music greats like Michael Jackson whom they regard as their idol. Subsequently, in 1997, They launched another group Smooth Criminals. M Clef was eventually dropped from MMMPP when they changed the name to MMPP. The group exhibited some rare artistic talents plus a precise dance routine that soon turned them into household names in Jos Plateau Nigeria as they performed in schools and other events.
Paul later went back to music school in 1999 alongside his twin to develop their skills on instruments like drums, keyboard, rhythm, and bass guitar. Their early works are evident in soundtracks for some films like Mama Sunday, Tobi, Evas River, and Moment of Bitterness. Upon the disbandment of Smooth Criminals, Peter and Paul formed a duo Double P" which was later changed to several names like "P&P", "Da Pees", before settling on "P-Square".
Sources of Rudeboy's Net Worth since his Solo Career
Since his solo career, the father of three has been earning his keep through multiple sources, and it goes without saying that Rudeboy's major source of revenue is music. His sources of income include;
• Music
• Endorsements
• Business
What Works Best Define Rudeboy's Solo Career?
Until 2017, Rudeboy and his twin dominated the Nigerian music scene, emerging as the richest musicians in the country. They achieved this feat through the release of several hit albums like Get Squared, Game Over, Last Nite, and many more collaborations with international artists like Akon, Rick Ross, and T.I.
Despite going solo, Rudeboy has succeeded in rising through the ranks, finding favor in the sight of both fans and the general public, all thanks to the quality of his music. The singer's pattern of singing obviously defines the P-Square sound even though he was perceived as laid back with respect to choreography and dancing whenever his group performed. His popularity has continued to soar higher and has gone beyond the expectations of some diehard P-Square fans who were of the opinion that the group was more of moves and dance, believing that Rudeboy wouldn't make it in his solo effort.
Launching a separate music career in 2017, Paul Okoye didn't let the grass grow under his feet in dropping his debut solo single Fire Fire. The track Nkenji Keke also came to light at the same time. The number, Reason With Me is arguably his biggest hit to date, generating YouTube's highest view of over 42 million in all of Africa in 2019. Going forward, he began to dish out back-to-back hits among which is the popular Audio Money where he featured Shatta Bundle – Ghana's self-acclaimed billionaire. His other popular song since he went solo include Shekini, Bank Alert, Personally, Collabo, Reality, and Ifai. In all, Rudeboy has dropped above 40 tracks in his solo career. Other artists have also featured him in various songs since the disbandment of P-Square.
What Big Brands Is Rudeboy Associated With as a Solo Artist?
Anybody calculating Rudeboy's fortune may likely end up with the wrong figure if he neglects to include the singer's endorsement deals. Though some of these deals are co-owned alongside his twin Mr.P, Paul Okoye still enjoys revenues from them. He has inked lucrative deals with the likes of Olympic Milk, GLO Telecommunication, and Skol Bee (Congo). All these deals are great contributors to the singer's bottom-line.
Paul Okoye has a Finger in Business
In 2019, the other half of the defunct P-Square music group decided to expand their horizon by launching the record label known as Fire Department Inc, It goes without saying that this became another avenue of generating income and of course, impacted his already affluent bank balance.
Rudeboy Received Several Prestigious Awards as One Half of P-Square
With regards to awards, Paul Okoye is yet to receive any; perhaps because it has not been long since he broke away from the group. However, as one half of the dynamic singing duo P-Square, the Reason With Me crooner swept awards in their numbers. Their shelf is a testament to how successful the defunct group was as it is said to be overflowing with a plethora of Headies, Channel O Music Video Awards, MTV Music Awards, and many more. Needless to say that the proceeds from these accolades were part of what was divided between the twins as they went their separate ways. Below is a comprehensive list of all the awards ever received by P-Square;
• Headies Special Recognition Award for Chief Executive Officer One Africa Music Fest
• City Magazine 9th Awards
• Nigeria Music Awards
• The Headies Awards
• Channel O Music Awards
• Ghana Music Awards
• MTV Africa Music Awards
• MTV Europe Music Awards
• Soul Train Music Awards
The P-Square Family Controversy
Jointly as P-square, Peter and Paul would have maintained their position as the richest Nigerian musicians but thanks to their split, the brothers' names disappeared from the top ten. The rift started in 2015 when the singing duo hinted at their imminent separation. Their entertainment career has always been viewed as a family business as the twins keep everything in the family by hiring the services of their big brother Jude Okoye who acted as their manager for a long time.
Peter revealed what led to their difference of opinion, Mr. P said he perceived some lopsidedness in each person's input of tracks featured on the P-Square albums with his twin getting a share of his tracks selected. Consequently, Mr. P refused getting involved in anything that had to do with P-Square for some weeks. He eventually took his family and relocated from their joint home where they accommodated other family members. Peter also complained bitterly about Paul disrespecting him and his wife. They later brought in a lawyer to help in splitting the fortune from their joint venture. It was Peter who penned a letter to the group's solicitor, Keyamo (SAN), demanding termination of P-Square's contract.
Peter also revealed in an interview that he fired his older brother Jude from acting as the group's manager for his failure to give P-Square a befitting structure and brand. In fact, Peter was quite vocal in voicing out his displeasures over the sharing formula employed in the business. According to Peter, Jude, getting an equal share of their revenue with them was not ideal, the proper thing is for managers to collect from 15 to 25 percent of an artist's revenue and Jude shouldn't be treated differently. Even Jude himself got fed up with the whole thing which led him to tweet about his exit from managing the group. Peter's wife Lola Omotayo has been making efforts to see that they reconcile, but to no avail.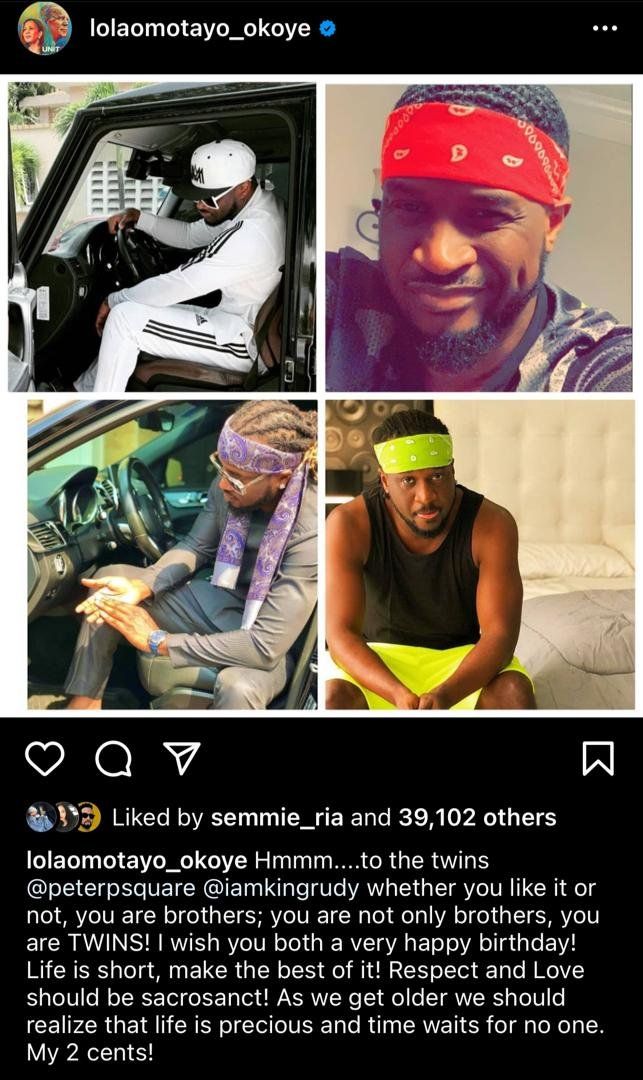 Paul Okoye's Lifestyle is chronicled in Exotic Automobiles and Mansions to Die For
It has become the norm for celebrities who have made it in the entertainment industry to spend lavishly on exotic cars, luxurious mansions, and in some cases, private jets, and the dynamic singing duo Peter and Paul Okoye are not exempted from this trend. Though they jointly owned properties during their days as P-Square, Rudeboy has continued to acquire more as an individual; this is after he got his own share of their jointly owned assets split between them.
Paul Okoye has Money well Invested in Real Estate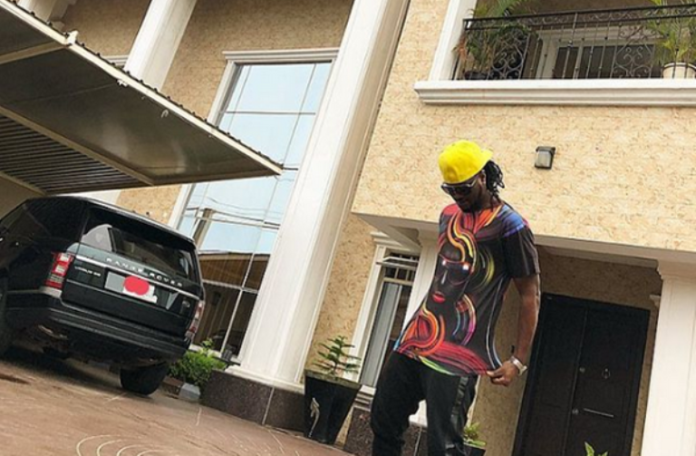 You cannot talk about Rudeboy's investments in property without involving his twin Peter because, prior to their split, the singing duo used to own things in common, houses, cars private jets, you name it. We know about a few exotic mansions in highly sought-after locations like Banana Island, Lekki, Ikoyi, and Omole Estate, all in Lagos Nigeria, jointly owned by them.
In the case of their property in Omole Estate in the Lagos mainland area, it was a twin duplex where they lived for long and accommodated other family members before moving to the Island. According to the records, they decided to put the twin duplex on the market following their split and it eventually went for the whooping price of N320 million. The proceeds, reports said, were later split into two between Peter and Paul.
As an individual, Rudeboy is the proud owner of a state of the art mansion located in Parkview Estate in Ikoyi Lagos; living up to one of his hit tracks Double Double, where he featured music greats like Phyno and Olamide. The singer's houses are not just concentrated in Nigeria, Paul Okoye has also acquired some choice properties abroad, a good example is his Atlanta, Georgia mansion which is said to be next to Peter's house in the United States.
Paul splurges around Town in some of the most Expensive Brands of Automobiles
While they were together, their car collection was nothing short of legendary, and even as a solo artist, Paul Okoye has continued in that trend, cruising around town in some exotic machines. The singer is known to pose for shots with some of his cars. He has a BMW X5 purchased with the sum of 36 million. Rudeboy has since shared the car with fans on social media where he was photographed coming out of it.
Another notable addition to the Double Double hit maker's garage full of cars is his Jeep wrangler. This particular baby came at the price of 15 million naira and looks so befitting as the father of three was pictured sitting on it.
Perhaps, Paul Okoye's most expensive automobile in his fleet of cars is a top-of-the-range Range Rover Vogue. This is simply a car to die for, according to kept record, Rudeboy lavished an astounding 83-million naira in acquiring the vehicle, and from what is obvious, it is worth every penny spent on it.
We cannot conclude the talk on Paul Okoye's fleet of cars without giving a mention to his beautiful Mercedes Benz C-Class Coupe (2014 Model). He actually shared a photo of the car with fans from the dealer's garage where he was spotted taking it home. there are also a Lamborghini Huracan and a Lamborghini Aventador Roadster.
Now, not many celebrities have the mind to acquire their own private jets perhaps because of the expensive maintenance it usually attracts. Most celebrities just charter these jets when they need to get to their destination urgently as it is cheaper than keeping one. However, the P-Square duo seems not to be bothered by this as they acquired a15 billion naira worth private jet before their split. After Rudeboy and Mr.P went their separate ways, fans couldn't help but wonder at what has become of the jet. Though, to the best of our knowledge, it never went on the market and thus, was never sold.