One of the most popular rappers across the globe, T-Pain has raked in a lot of money for himself, having grown into a globally admired and successful rap artist. T-Pain's net worth raised eyebrows in 2015 when he was ranked as the 19th wealthiest rapper in the world. However, it is noteworthy that he is not just a rap artist, but also a singer, songwriter, record producer, actor as well as a real estate investor. This, actually throws more light on how the music artist accumulated his financial value. Sit back, as we bring you an overview of T-Pain's net worth and how he makes his money.
How Does The Rapper Make His Money?
T-Pain who was born as Faheem Rasheed Najm has indeed established himself as a renowned rapper as he has released chart-topping albums along with numerous hit singles. He has acquired his wealth mostly through his music activities as most of his albums and songs are RIAA certified gold and platinum. So far, the talented rapper has under his belt no less than six studio albums, one compilation album, one instrumental album, one soundtrack album, seven mixtapes, eighty-nine singles (which includes his seventy-one credits as a featured artist) and nineteen music videos.
Having kicked started his music career in 2004, T-Pain was shot to fame the following year with the release of his first studio album, 'Rappa Ternt Sanga'. The album charted at No. 33 on Billboard 200 and had a sales of 500,000 copies for which it was certified gold by the Recording Industry Association of America (RIAA). It also had two hit singles titled 'I'm Sprung' and 'I'm 'n Luv (Wit a Stripper)' which peaked in the Us Billboard Hot 100 top ten and were RIAA certified platinum and 3x platinum respectively.
T-Pain's net worth got inflated through his earnings from the album sales which is estimated at $500,000. Soon after, he formed a collaboration with rapper, E-40 and singer, Kandi Burruss to drop a single titled, 'U and Dat' which clinched the No. 13 spot on the United States record chart and was certified platinum by RIAA. Then in 2007, the songster dropped his second studio album, 'Epiphany'. The album peaked at No. 1 on Billboard Hot 100 along with it hit track, 'Buy U a Drink (Shawty Snappin')'. Its other hit single 'Bartender' clinched at No. 5 spot on the United States record chart as it was RMNZ and RIAA certified gold with about 830,000 copies sold in the United States.
Through its record sales, the songwriter reportedly realised an estimated $507,500. He released his third album, 'Thr33 Ringz' which debuted at No. 4 on Billboard Hot 100 and had three lead singles titled, 'Skrewed', 'Freeze' and 'Can't Believe It'. The album went on to record sales of 700,000 copies and was RIAA certified gold. It also had estimated earnings of $500,000 from its sales which boosted T-Pain's net worth.
His fourth album, 'Revolver' released in 2011, charted at No. 28 on Billboard Hot 100 and had a sales of 110,000 copies in the US. Meanwhile, from 2006 to 2010, T-Pain was a featured artist in over 50 chart-topping singles. His most successful feature to date is Florida's hit song, 'Low' which is RIAA certified 8x platinum and ARIA certified 3x platinum. His other successful features include Bow Wow's 'Outta My System' (RIAA certified platinum), 'I'm a Flirt' by R-Kelly (certified platinum by RIAA), Chris Brown's 'Kiss Kiss' (certified RIAA 3x platinum, ARIA platinum and RMNZ 2x platinum), 'Got Money' by Lil Wayne (certified 2x platinum by RIAA), among many others.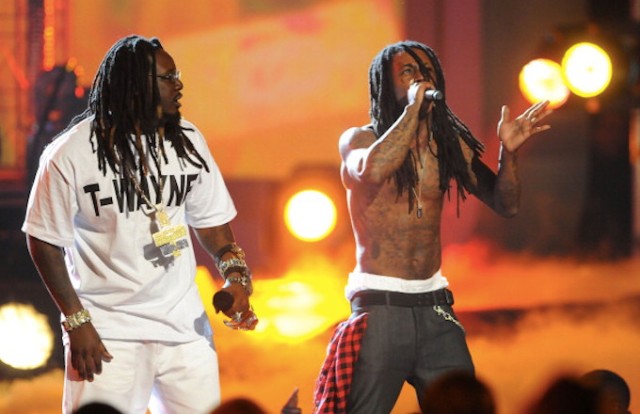 Additionally, T-Pain became a record producer in 2005 when he founded his record label, Nappy Boy Entertainment. The label has been credited with the production of singles such as 'You Got Nerve' by Charlie Wilson, 'I Can't Wait' by Akon, Chris Brown's 'Kiss Kiss', Lil' Mama's 'Shawty Get Loose', E-40's 'Give Her the Keys', among several others. The accomplished singer has also racked up his finances through his business ventures. In 2009, he partnered with Smule, an American mobile app developer to invent an app called, I Am T-Pain which gives people access to his Autotune style.
See Also: A Look at Rihanna's Insane Net Worth and What She Spends Her Money On
He has further beefed up his account through concerts, tours and performances with other artists. He has also made appearances in films and television after making his acting debut in the animated TV series, Aqua Teen Hunger Force. His other acting credits including voice roles are Freaknik: The Musical, Lottery Ticket, Robot Chicken, The Cleveland Show, Squidbillies, We Bare Bears and others.
What is T-Pain's Net Worth?
Widely recognised for his chart-topping songs and albums through which he has established a bloomy music career, T-Pain's net worth is estimated at $35 million. The famed singer is known to have invested in real estate of which he stated that some are bad investments, being that he couldn't later sell them as a result of their poor locations. Nevertheless, T-Pain owns a 5,962 square feet luxury mansion located in Duluth, Georgia which he purchased at $1.3 million.
The music star who is a well-known car freak reportedly has a car collection that comprises of 32 exotic cars including 2 Rolls Royce, Bugatti Veyron, Phantom Drophead Coupe, Gucci Fiat 500, Ferrari, Chevrolet SUV, Lamborghini Gallardo, to mention a few. He has earned many accolades as a result of his great works in the music industry and they include two Grammy Awards for his collaborations with Kanye West in 'Good Life' and Jamie Foxx for 'Balme It', BET Hip Hop Awards, BMI Awards, and many others.