Thembinkosi Nciza is a South African record label boss who became a politician and currently functions as the secretary-general of the African National Congress in Gauteng. The co-founder of TS Records Company worked with several musicians before leaving the showbiz scene and today, he can hold his own among the country's top politicians.
The Gauteng-born politician was married for 15 long years but his marriage to musician Nhlanhla Nciza hit the rocks in 2019 and the blame was laid at the doorstep of infidelity with him as the culprit. The couple shares three surviving sons whom they are doing their best to co-parent.
Summary of Thembinkosi Nciza's Biography
Full Name: Thembinkosi Nciza Nyatsi
Nickname: TK
Gender: Male
Ethnicity: Black
Nationality: South African
Sexual Orientation: Straight
Marital Status: Divorced
Thembinkosi Nciza's Husband (Wife): Nhlanhla Nciza
Thembinkosi Nciza's Children: Nkululeko, Thamsanqa, and Luvuyo Nciza (Zinathi Nciza is late)
Thembinkosi Nciza's Parents: Nomafu Nciza (mother)
Famous For: Politics
Thembinkosi Nciza's Instagram: tknciza_sa
Thembinkosi Nciza Hails From Gauteng
Thembinkosi Nciza or TK as his pet name says has always been in the limelight from the days of his career in showbiz as a music producer. Even his current gig in the South African political realm as a top shot politician has continued to keep him in the view of the public. However, he has managed to keep the details of his personal life under lock and key despite his popularity. Thus, no one knows his date of birth early life, and academic background.
All these grey areas in Thembinkosi Nciza Nyatsi's history may be due to the fact that the man doesn't embrace social media much, his activities on the internet space are just limited. The only few known facts about the South African politician's early life are that he hails from the Gauteng area of the country. His mother's name was revealed as Nomafu Nciza after MaNciza was involved in a ghastly motor accident with TK's only daughter.
Nciza's Career Started In the Music Industry
Even as his academic background remains unknown, it is obvious that the Gauteng native is educated enough to attain his current status in life. Before he surfaced on the South African political scene, Thembinkosi Nciza was part of the country's showbiz industry, contributing his bit as a music producer.
Nciza is credited as the co-founder of TS Records Company which is currently defunct. While the record label lasted, Thembinkosi and his partner and co-founder, Dj Sbu were well known in the field as the duo recorded a plethora of tracks and music videos for several musicians in South Africa.
Though the exact date that TS Records Company was founded was never made public, it is common knowledge the music imprint was active until 2015 when it was shut down. In the same vein, whatever it was that led to its closure was never disclosed. The two record label bosses explained it away to fans and the general public with the overused excuse of "irreconcilable differences". To date, the alleged differences have remained hidden.
He Delved Fully Into Politics Following the Break Down Of His Music Imprint
Since he left the South African music scene, Thembinkosi Nciza decided to delve fully into politics. The former record label boss became a member of the ANC (African National Congress) political party, rising through the ranks to become its substantial secretary-general in Gauteng, South Africa
As secretary-general of South Africa's leading political party, Thembinkosi is saddled with a lot of responsibilities. The record label boss turned politician is said to be a man of great vision who is passionate about the younger generations of South Africa. The Gauteng native has taken it upon himself to mentor young men and women which goes a long way in helping sort out societal problems in the country.
Since he started making worthy contributions towards the betterment of his society Thembinkosi made himself relevant in the scheme of things. The former record label boss has come a long way in life and needless to say, all his endeavors contributed to making him the man he is known to be today.
How Thembinkosi Nciza Met His Ex-Wife, Nhlanhla Nciza
Thembinkosi Nciza is one South African politician that has always been secretive about the details of his personal life. Thanks to his penchant for secrecy, info about his early days with SA musician, Nhlanla has remained hidden to date. Fans have come to the conclusion that those grey areas in their relationship exist because the celebrity duo had not attained the level of fame and popularity they currently enjoy.
However, the celebrity couple was reported to have come across each other around the 1990s when Thembinkosi Nciza wasted no time in declaring his interest in Nhlanla. According to reports, Nhlanla played hard to get with the former record label boss but Thembinkosi refused to take no for an answer. His persistence finally paid off and they commenced a romantic relationship that led to marriage.
Who is Nhlanhla Nciza?
Born in Schweizer-Reneke, South Africa on the 15th of March 1978, Nhlanhla Nciza is an SA musician known as a member of the Mafikizolo music duo. Founded in 1997, the group consisted of three members, Theo Kgosinkwe, Nhlanhla Nciza, and Tebogo Madingoane who kicked the bucked on February 14th, 2004.
Even after the exit of Tebogo Madingoane, Mafikizolo has remained relevant in the scheme of things with just two members. They can lay claim to hit tracks such as Khona', 'Love Potion', 'Ndihamba Nawe', and 'Happiness'.
Thembinkosi Nciza Married Nhlanhla in 2004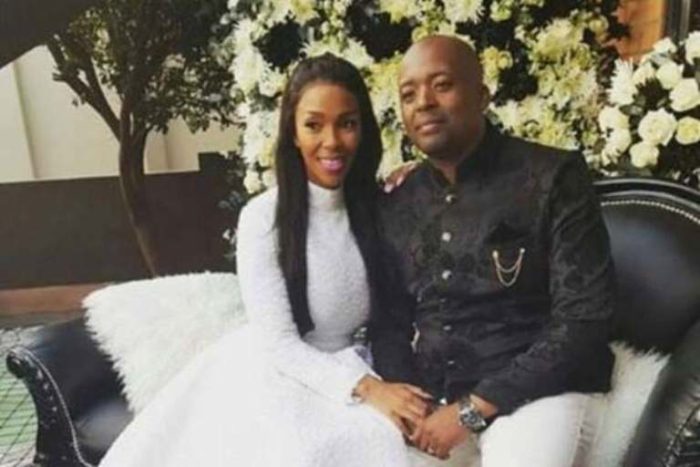 Going by what we could sieve from several reports, Thembinkosi Nciza, and his love interest, Nhlanhla didn't rush into matrimony as they dated for a while before taking things to the next level. The duo's official engagement was never captured but reports say they exchanged the forever commitment vows in 2004; the date and nature of the wedding were not mentioned.
It was obviously a happily married life for the couple as their marital bliss was palpably felt from the onset. Both Thembinkosi and his beautiful wife, Nhlanhla were always seen on social media platforms, celebrating their union, they only needed a little excuse to send out shootouts of love and affection to each other.
The duo never missed celebrating their anniversaries and the events were always colorful. Both husband and wife never forget to leave those heartfelt messages for each other on social media to mark their wedding anniversary. They actually went to town with their 2017 celebration by opting to renew their wedding vows in July. What's more, family and friends who graced the occasion attested to the fact that the couple looked radiant, giving the impression of an enviable marital bliss.
The couple's 13th wedding anniversary was graced by the crème de la crème of South Africa's celebrity class, including the Gigabyte family – Thembi Seete, Malusi, Norma Gigaba, as well as Nthato Mashishi, and more.
Nhlanhla had fans and the general public swooning after the famous musician took to the picture-sharing platform on Father's Day to celebrate Thembinkosi Nciza whom she described as a great role model to their three sons. In the IG post, Nhlanhla was full of thanks to her man, and considering that their union has long gone past its first decade, fans really applauded the couple for keeping love alive even after such a long time.
Thembinkosi Nciza's Marriage to Nhlanhla Birthed Four Children
Even though Nhlanhla Nciza did not succeed in getting the elusive "happily ever after" in her union with Thembinkosi Nciza, the Khona crooner was rewarded with four children before their marriage hit the rock in 2019. The celebrity duo's children include three boys and one girl.
The boys are Nkululeko, Thamsanqa, and Luvuyo Nciza. The only girl of the Nciza family, Zinathi is late. Being a couple who love to keep things under wraps, Thembinkosi and Nhlanhla has never shared the actual date of births for all their children. However, the female singer celebrated Luvuyo's 5th birthday in April 2021. Through a loving IG message, the singer narrated how her last child contributed to saving her life by being on hand to assist pull through tough times.
Describing her little boy as the reason she wakes up everyday, striving to be a better version of herself, Nhlanhla said Luvuyo is the reason she is excited about what the future portends and the reason she wants to continue doing good. Luvuyo is the reason she is alive, the singer said. Nhlanhla elucidated her statement by narrating how Luvuyo saved her life twice and because of him, nobody can stand and question the love of God in her life.
The music superstar has always been full of praises for her sons, crediting them for being the sole reason she can pick herself up and forge ahead anytime she fails. Nhlanhla is obviously very close to her children but Thembinkosi Nciza's relationship with them has never been emphasized.
All the three Nciza boys are obviously still in the process of acquiring basic education – Nkululeko for one is a student of Varsity College where he is majoring in business management. Ciza as his stage name says is already following in his mom's footsteps. The youngster started writing his own songs at age 15, and so far, he has dropped two singles, Come Alive and Adge.
Unlike their celebrity parents, the trio is not visible on any of the social media platforms yet. Reports said TK and his ex are doing their best at co-parenting the boys.
The Couple Lost Their Only Daughter in 2009
As earlier mentioned, the celebrity duo lost their only daughter Zinathi Nciza through a ghastly motor accident. The little girl who was then five years old met her untimely death on the 7th of December 2009 while riding in a car with Nomafu Nciza, her grandmother (TK's mum). They were said to be on their way to pick Zinathi's cousins from school when their car crashed into a tree.
The unfortunate incident led to severe neck and head injuries for Zinathi but MaNciza escaped with minor chest and leg injuries. The little girl later died as a result of complications from her extensive injuries.
The accident obviously happened before the birth of the couple's last son, Luvuyo. This conclusion was drawn from Nhlanhla's statement where the singer narrated how she found solace from the excruciating heartbreak in giving birth to her last child. One year after the tragic accident, Nhlanhla said her ex-husband's mom still blames herself for Zinathi's death but they have assured the older lady that no one bears any grudge against her.
Thembinkosi Nciza and Nhlanhla Duo Called it Quits With Their Union After One and Half Decades
Surprisingly, a few days after Nhlanhla celebrated her husband on Father's Day, via social media, the announcement of their impending separation and divorce hit the airwaves. The celebrated singer herself came up on the 20th of June 2019 to make the news of her marriage breakup public through her Insta Stories. Penning a heartfelt message, the music star and fashion icon expressed gratitude for the years they spent in marriage and the support they enjoyed from both family and friends.
Needless to say, this announcement came as a huge shock to people who witnessed Nhlanhla's sweet Father's Day message to Thembinkosi Nciza a few days earlier. How is it possible that a couple that seems to be enjoying marital bliss for the past 15 years will suddenly wake up to announce the end of their union? Besides, the fact that the Mafikizolo music star just celebrated her spouse on Father's Day also kept fans wondering and we are yet to factor in their renewal of marriage vows a couple of years back. Obviously, all these weren't strong enough to hold them together.
Being people who are known to be secretive with their personal lives, it came as no surprise that neither Thembinkosi Nciza nor Nhlanhla deemed it necessary to mention the circumstances that led to their separation, she equally didn't say why they were ending their 15-year-long union. The mother of four only shared what was convenient, her exact words were that it was an amicable separation and a cordial relationship will be maintained between them for the sake of their children who are looking up to them.
With that said, all of Nhlanhla's tacit approach to their separation didn't stop fans and the general public from speculating, and needless to say, tweeps went all out to dig deeper.
Infidelity May Have Led To The End Of Their Marriage
Tweeps who went digging soon dup up some juicy tidbits. Speculations soon ran rife that the superstar singer has been facing a lot of challenges in her matrimonial life even though the announcement of their divorce sounded like she had it all figured out.
Thembinkosi Nciza was said to be the culprit; according to the ensuing rumors, the SA politician has been having affairs outside his marriage for a while. The grapevine also alleged that Nhlanhla has been privy to her spouse's infidelity for some time but was making attempt to salvage her marriage. Obviously, all her efforts went to waste.
Tweeps also unearthed the identity of the lady that came between the celebrity couple. Her name was said to be Lebo Pasha who was not previously popular. However, her relationship with the South African politician made Lebo's name hit the airwaves with the speed of lightning, but obviously, the lady was faster than tweeps and the supersonic social media detectives. She was quick to deactivate her IG account after her identity was discovered, though, tweeps were able to share a few photos. Note, Lebo's IG account has started functioning again.
Thembinkosi Nciza's Love Life Post Divorce
Thembinkosi Nciza and Nhlanhla Nciza's unexpected divorce was enough heartbreak to fans who have been following the ostensibly happy union. However, the part that was even more heartbreaking was the revelation that a young lady on Instagram was the major reason for the couple's marriage issues.
After social media detectives did their bit by exposing the lady's identity, Labo never bothered to confirm or refute the claims. However, further investigations revealed that she started a clandestine affair with the South African politician in 2015 while he was still married to the Mafikizolo music star.
In due time, Thembinkosi Nciza Nyatsi himself was the one who let the cat out of the bag. It would appear that the former record label boss has come to terms with his new status and was no longer ashamed to come out in public with his lover. Thembinkosi took to the picture-sharing platform to let the whole world know how happy he is. In his post, TK said he doesn't care how people feel about it and it is hard to know who this ambiguous remark was targeted at – his ex-wife or fans who have been eloquent in condemning his infidelity.
The picture TK shared on his Instagram handle was equally ambiguous – fans were only treated to a back view of the South African politician and his current lover which has kept many wondering. To make it worse, he didn't deem it necessary to mention the name of his lady love.