Wladimir Klitschko's net worth is estimated at $90 million. He is Ukrainian former professional boxer who competed for a little over two decade (from 1996 to 2017). 
For nearly a decade, Wladimir Klitschko dominated the heavyweight boxing division. He won 20 straight title bouts on his way to holding the IBF, WBO, WBA, and IBO heavyweight championship belts. Klitschko's enormous talents not only earned him mouthwatering prize monies but also juicy endorsement deals.
The Ukrainian boxer called time on his glorious career in August 2017 and has since turned his attention to other endeavors. So, what are these endeavors and what is Wladimir Klitschko's net worth since retirement? All these and more questions are answered below.
His Boxing Career Before Retirement
Wladimir Vladimirovitsch Klitschko was born on the 25th of March 1976 in Kazakh, former Soviet Union, present-day Kazakhstan. He started boxing in his early teens and commenced his amateur boxing career in 1993, aged 17. He spent six years as an amateur boxer and won 134 out of 140 fights. Klitschko later ended his amateur career on a high, winning the super heavyweight gold medal at the 1996 Atlanta Olympics.
Wladimir Klitschko turned professional in 1996 and quickly amassed 24 victories in his first 24 bouts. He later suffered his first defeat at the hands of American boxer, Ross Purity in his 25th professional fight. All in all, Wladimir Klitschko spent a total of 21 years as a professional boxer (1996 to 2017) during which he won 64 out of 69 fights. He held belts such as the IBO, IBF, WBO, and WBA heavyweight championships, and holds the record for the longest cumulative heavyweight title reign of all times (4,382 days). Klitschko recorded only five defeats in his entire professional career. These defeats came at the hands of Anthony Joshua, Tyson Fury, Lamon Brewster, Corrie Sanders, and Ross Purity.
What is Wladimir Klitschko's Net Worth After He Retired From Boxing?
Wladimir Klitschko is one of the richest boxers in the world. The Ukrainian pugilist initially built up his wealth during his boxing days. Klitschko was so popular in countries, such as Germany, Ukraine, and Poland, that his bouts were held in stadiums in order to accommodate huge crowds. This made his fights premium TV material and different networks paid as much as $3 million for the rights to air each match. Wladimir Klitschko's Net Worth also grew thanks to endorsement deals. The former heavyweight champion is one of the most recognizable, and beloved, faces in Europe and this made him the toast of several brands.
Klitschko has served as an ambassador for brands such as SAP, Porsche, Deutsche Telecom and McFit. McFit is the largest fitness center chain in Germany and boasts of over 246 studios. It has more than 1.4 million members and extends to countries such as Austria, Italy, Poland, and Spain.
Klitschko is also a budding entrepreneur and has founded several ventures since retirement. They include a boxing promotion company, known as K2 Promotions, and a sports marketing agency known as Klitschko Management Group. The retired boxer also has Klitschko ventures which is dedicated to building and maintaining a comprehensive strategic partner network. All these ventures have contributed to Wladimir Klitschko's Net Worth of $90 million.
Sources of Wladimir Klitschko's Net Worth
His boxing career
Endorsement deals
Businesses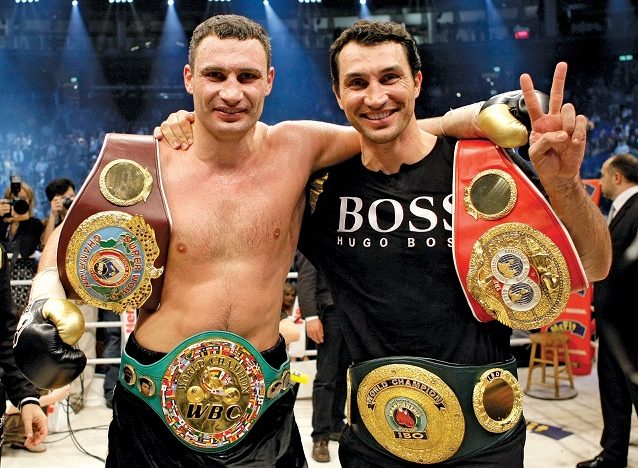 What has Wladimir Klitschko Been up to Since Retirement?
Asides the above-mentioned business ventures, Wladimir Klitschko has also dedicated a large chunk of his time and resources to charity. The former heavyweight champion is the founder of the Klitschko Foundation, an organization that aims to help children discover their potential and bring their dreams to life.
The Klitschko Foundation implements several programs including the Challenge Academy. The Challenge Academy is an international education program for teens in Ukraine and Germany, aged 14 -16.
The program targets teens who want to learn how to master personal challenges, raise environmental awareness and improve their leadership skills. These youngsters are trained on the four pillars of focus, agility, coordination, and endurance, and the purpose is to give them the strength/will power to transform problems into challenges. The Klitschko Foundation has so far assisted more than one million children through its programs.
Other Facts About The Retired Boxer
Wladimir Klitschko's monthly income and salary are over $1 million and $9 million annualy.
Klitschko and his brother are the only siblings in history to both be world heavyweight champions.
Wladimir Klitschko is multilingual and speaks Ukrainian, Russian, English, and German.
He auctioned his 1996 Olympic gold medal for charity purposes in March 2012 to help poor children, earning one million dollars in the auction, however, the buyer, returned it to him as a sign of respect.
Klitschko and his elder brother, Vitali, have never fought each other and this is due to a promise they made to their mother.
The boxer was unbeaten for 11 years prior to his 2015 loss to Tyson Fury
Klitschko and his elder brother both have doctorate degrees in sports science.
The retired boxer boasts of a prodigious size. He is 6 feet 6 inches (2.01m) tall and his weight is given as 240lbs or 109kg.