The LGBT community still suffers repulsion from conservative religious groups. But some celebrities are coming out to speak up for the community by openly announcing that they are one of their kind. From athletes to actors comedians and journalist, it is a long list of brave stars creating a new path for future generations who might be afraid of prejudice and hide their sexualities. We've gathered 10 of such famous black gay celebrities walking out of their shells to both inspire others like them as well as show them how to courageously endure or face whatever people have to say about them.
Famous Black Gay Celebrities
Patrik Ian Polk
The producer and writer of the film Punk, Patrik has been a great influence and motivation to many several people after he came out to announce his sexuality. Most of his works tend to focus on empowering African-American LGBT people. The actor is known for his films Noah's Ark: Jumping The Broom.
André Leon Talley
Another familiar face on the list of famous black gay celebrities is fashion superstar, stylist, and editor of good repute, André Leon Talley. Talley edited his way into becoming an editor-at-large of Vogue magazine and an international editor of Russian Numero from a humble start. But before his success, he didn't have to battle his sexuality. As a child, he dressed weird to church and one time embarrassed his grandmother for it. Also, he has had to face some angry students at Duke who hauled stones at him for his bizarre outfit. Despite this ups and downs from the past, the star has been using his 45 years of experience in the fashion industry to advocate for the gay community as well as black stylists who are hiding as a result of prejudice they might face in the hands of society.
Johnny Mathis
Born on September 30, 1935, Johnny Mathis is one of the most respected artists in the music industry. Furthermore, he expanded his enviable position in the industry when he announced his sexuality fearlessly. The Grammy-award winner revealed that homosexuality is a way of life that he has gotten used to and from all indication, he prefers to be with a fellow man.
RuPaul
Emmy Award winner and drag Queen, RuPaul is one of Hollywood's famous black gay celebrities who is an inspiration to many that look up to him. He acts, sings writes, models and now advocates for LGBT rights. He is another star that is blazing a trail for less-known homosexuals who may be afraid of sharing their sexuality to the world.
Lz Granderson
A multi-talented journalist in his own right who has grown his career across sports, culture, and politics, Granderson is one of the big names of Hollywood who has a penchant for his fellow men. The award-winning ABC news contributor and ESPN writer kept his sexuality to himself at the early stage of his career especially for being married to a woman and having a son but later came out at some point when he felt he was drowning his personality because of people's opinion. Since openly accepting he is gay to CNN, he feels open to discuss his sexuality anytime the conversion comes up.
Read Also: Top 10 Countries Where Women Are In Short Supply
Many fans were probably crushing on Grammy-award winner Frank Ocean but the R&B  singer broke their hearts when he wrote a letter on his Tumblr blog announcing that he was into fellow gender. He gained more male fans afterward and was named a gay legend at age 19 especially for being the first to make such bold move in the hip-hop world, leading to many reputable hip-hop stars applauding him immensely. Today he has stood out of self-denial and is of popular mention wherever famous black gay celebrities are being discussed.
Lee Daniels
The brain behind many great movies, Lee Daniels does excellent works behind the scenes to get movies live long on screen as a producer, writer, and director. But when it comes to his sexuality, he speaks openly and has announced countless times that he is gay. He said he began expressing his sexuality as a six-year-old child when he got beaten by his dad for always wearing his mom's heels.
Jason Collins
The former professional basketball player broke records with his achievements on the basketball court having played for 13 seasons in the NBA. He warmed more rainbow hearts when he came out as gay in 2013 in an interview with Sports Illustrated magazine, Jason was the first athlete to go public as gay in major American sports. Although his outing caused mixed reactions, many have called him super dauntless and a hero for his decision.
Paris Barclay
Two-time Emmy award winner, Paris Barclay is one of the directors that have stayed way wrapped in works with over 150 episodes of TV shows to his directorial credit. He is openly gay even while in college and as you might guess right, he is not that type of gay man that allow loneliness to close in on him since he always has something going for him at all times when it comes to relationships, going by his relationship history. Now he is happily married to Christopher Mason whom he said "I do" to since 2008. They share two adopted kids together and don't seem like they are going to break up any soon.
Don Lemon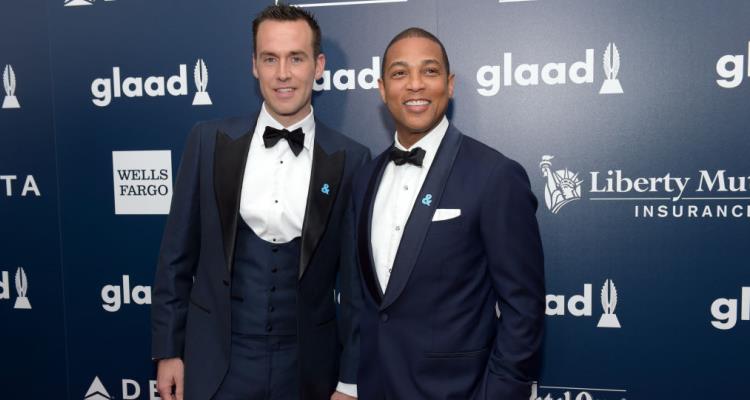 The Emmy-award winner and CNN reporter was still a child when he was sexually abused and was forced to hide this from close family members including his mother. However, in his thirties, the Lousiana-born opened up to his mom and because he wasn't proud that he had to hide the abuse for so long, he resorted to being a bit more open about his personality. He is openly gay and currently dating Tim Malone.