In recent years, the African entertainment industry has been experiencing a massive influx of women with amazing figures, hence making it seem like one of the major requirements you must possess before you get a space in the industry. And mind you, these are not implants, these ladies are naturally endowed and Kim Kardashian, Amber Rose, and even Nikki Minaj will be intimidated by the curvy nature of these women.
Here is a list of the curviest African Celebrities; it is not like these are all the curvaceous ladies the continent has, only that we selected a few out of many. We'll walk our way through, from the curvy to the curviest. Viewer discretion is advised…
20. Londie London (South Africa)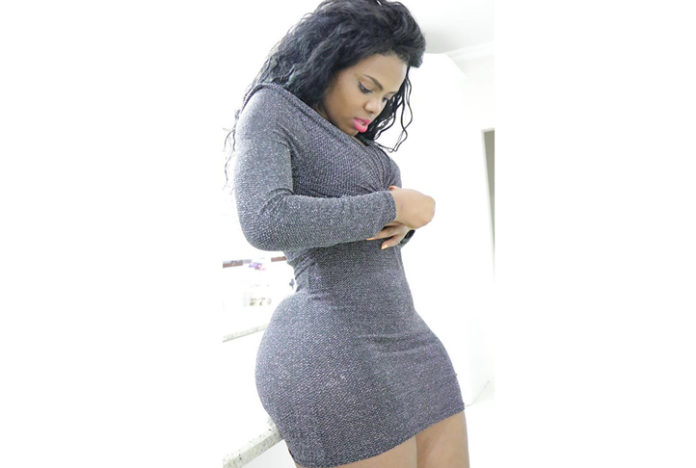 The curvy South African is not just a social media sensation but also a businessman, jewelry designer, and musician. She has gained popularity over the years as a social media influencer and has released her first single.
Londie has over 900 k Instagram followers where she is constantly showcasing her curves and her followers seem not to ever get enough of her and she has not failed in keep them entertained with her jaw-dropping uploads.
19. Daniella Okeke (Nigeria)
Daniella is a Nigerian actress who came to limelight in 2007 after starring in the movie Sleek Ladies. Her role in the movie earned her a place as one of the Best Actress in a Leading Role at the 10th Africa Movie Academy Awards (AMAA) and the Nigeria Entertainment Award in 2013.
She is one of Nollywood's actresses with the hottest bodies in the industry. She never hesitates to flaunt her protruding backsides at the slightest given opportunity. Her fans can't just get enough of her.
18. Nosipho Zulu (South Africa)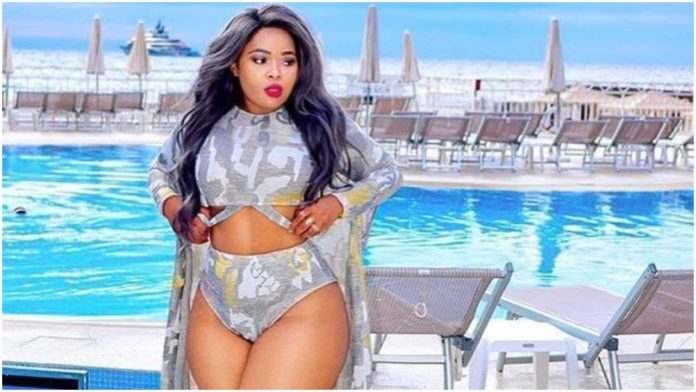 Nosipho is another South African celebrity with one of the hottest bodies and like her sister Londi, she is also a social media influencer with a strong Instagram fanbase. She is always entertaining and wowing her social media followers with tight fitted and body-revealing clothes that show her sexy curves. She currently has over 600 k followers on Instagram. She is also a businesswoman and the CEO of ZeeShop.
 17. Risper Faith (Kenya)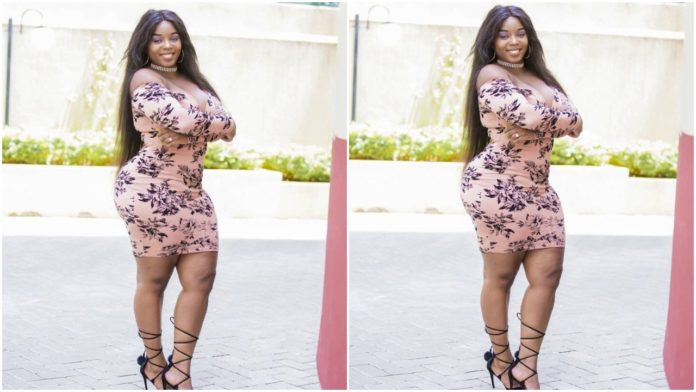 It is no more a story how much the Kenyan socialite loves to show off her curves at any given time and she sure knows how to do it right. Many thought getting married would slow down her vibes but that is far from reality; her marriage further made her a topic of discussion in the media and she has not failed in flaunting her curvy body and always giving the media something to discuss.
16. Grace Msalame (Kenya)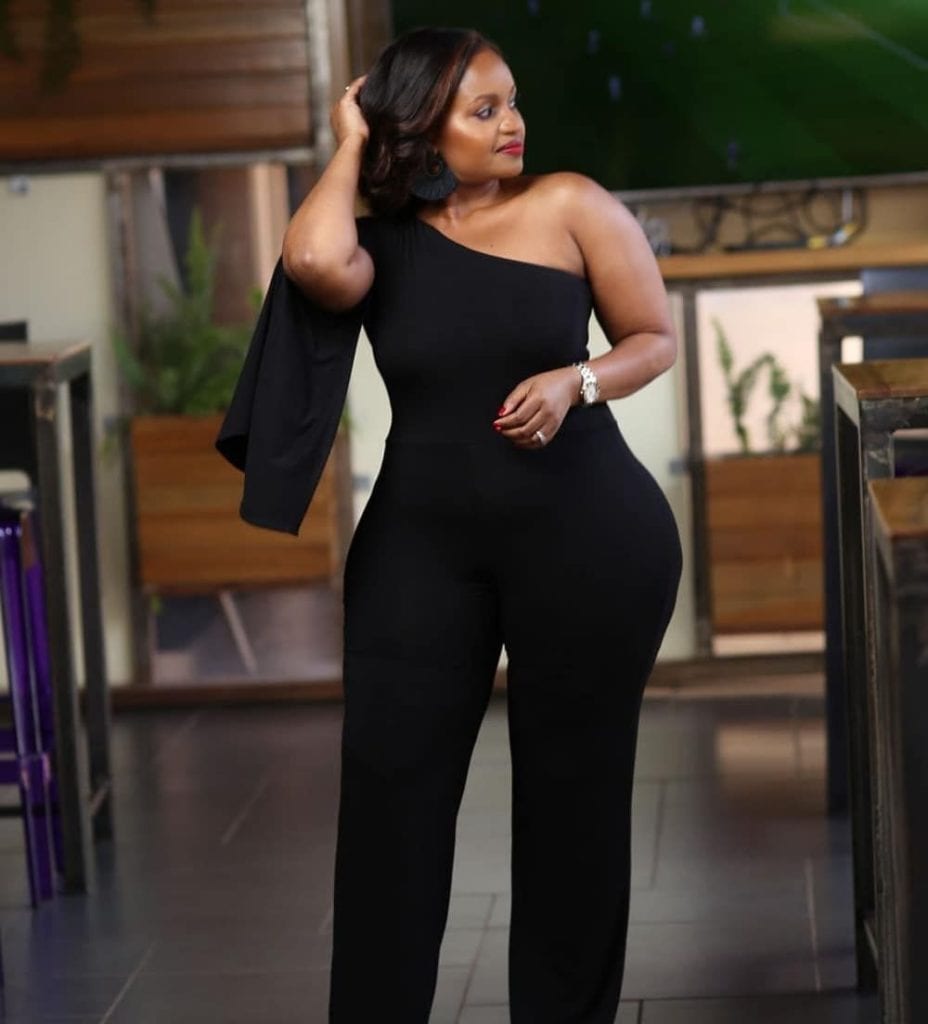 A mother of two and counting, and yet, she still has this curvaceous killer figure and a pretty face that makes men go 'gaga'. She has twin girls from a previous relationship and in mid-June 2020 word got out that she was expecting a third one which she has not released with whom she is having it. This isn't a surprise anyways as she has always kept her private life away from the prying eyes of the media.
Grace is a TV personality and of course one of the hottest TV personals you can find in Kenya. Her curves and beauty have earned her a spot on the cover of the True Love Magazine.
15. Biodun Okeowo (Nigeria)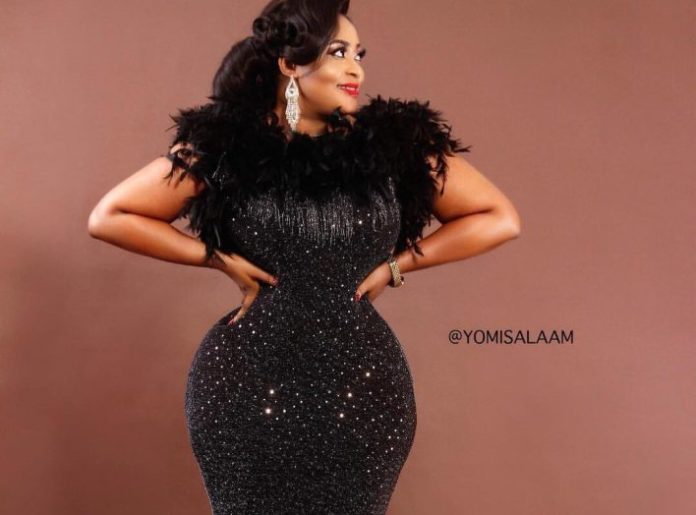 The beautiful and popular Nigerian actress is popularly known by her fans as Omobutty. She knows she has a nice figure and can't wait for an opportunity to flaunt it. Her killer curves have made many men go haywire. She is seen as one of the most powerful actresses in the industry today and her beauty plus her brain are also major boosts.
14. Anita Joseph (Nigeria)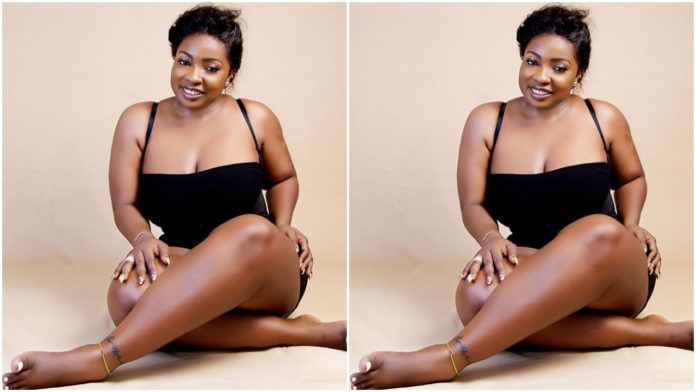 Anita Joseph or "Nita J" as she is popularly called is a Nigerian actress and model who made a grand entry into Nollywood in 2007 in the movie 'Bandit Queen'. She has since become a household name and considers her body one of her greatest assets. Interestingly, she says she was a tomboy growing up. Asked in an interview how she transformed into a beautiful curvy woman all of a sudden, she had this to say "Even as a tomboy the curves were still there, oh they've always been there. I wasn't a tomboy for long because I had older sisters that made sure I wore dresses and made my hair."
Anita is always online, sharing her hot photos although, she revealed that she may not be sharing certain kinds of pics online or twerk because of her new relationship status; she is married and her hubby doesn't like her twerking. She has 1.5 million Instagram followers and counting.
13. Tolu Toolz (Nigeria)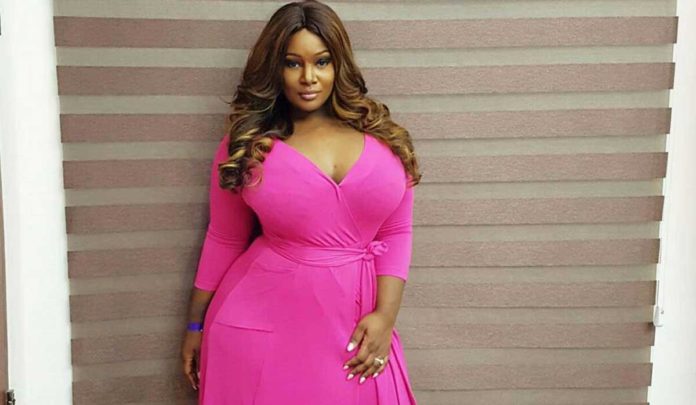 Tolu Oniru is a popular Nigerian Radio and TV personality popularly known as Toolz. She is graduated from London Metropolitan University with a degree in business and mass communication and best known for hosting The Midday Show on The Beat 99.9 FM, obviously, that's not all she is best known for, she is also known for her big booty and curvy hips which have made her stand out among her colleagues and she doesn't hesitate to flaunt at the slightest opportunity.
12. Terry Pheto (South Africa)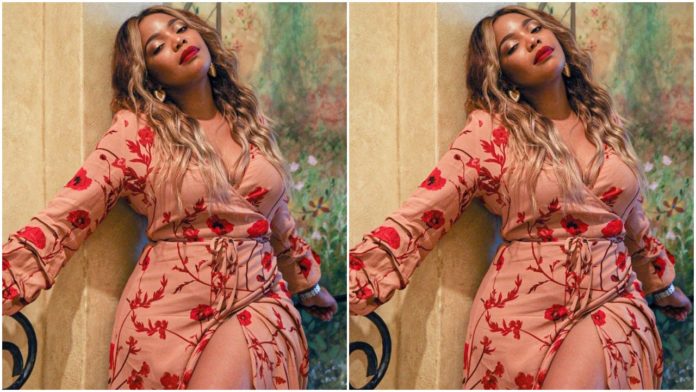 The South African beauty is not just popular for her acting skill and for her leading role as Miriam in the 2005 Oscar-winning feature film Tsotsi but also for her jaw-dropping curvaceous body. She is indeed a true definition of beauty and brains. She is also a social media influencer with over 900k followers on Instagram.
11. Vera Sidika (Kenya)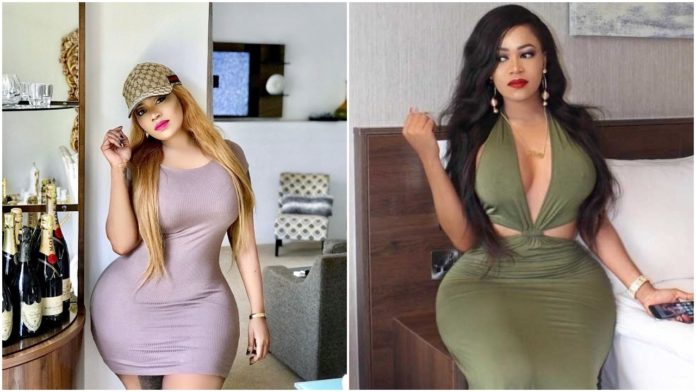 Did I just hear someone whisper wow? I sure did, look who we have got here; one of the curviest ladies in East Africa. Born in Mombasa, Kenya, Vera is a TV and social media celebrity. She is known as the Kim Kardashian of Kenya and gained media recognition after sharing the photos of her curvy backside on social media and in P-Unit's single, "You Guy". She currently opened a beauty parlor and has over 1.8 million followers on Instagram alone; she is also active in a few other social media platforms.
10. Didi Ekanem (Nigeria)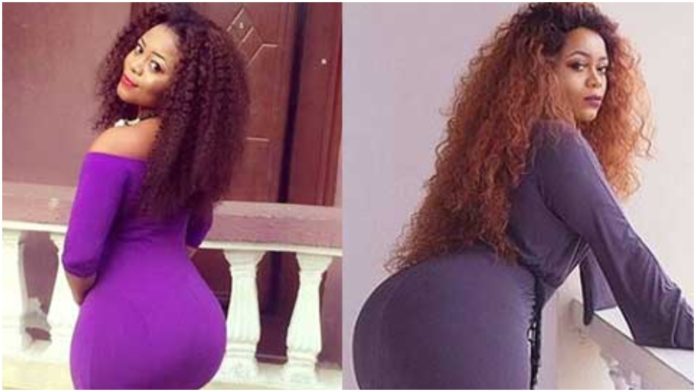 A young star with one of the biggest butts in the Nigerian movie industry. She once revealed in an interview that her big butt has always been a center of attraction for her and that so many male fans are usually caught starring at her big backside and how physically renowned she is. She currently has over 100k followers on Instagram. Asides from acting, Didi is also an entrepreneur and a brand ambassador, and she is absolutely good at what she does.
9. Mercy Johnson Okojie (Nigeria)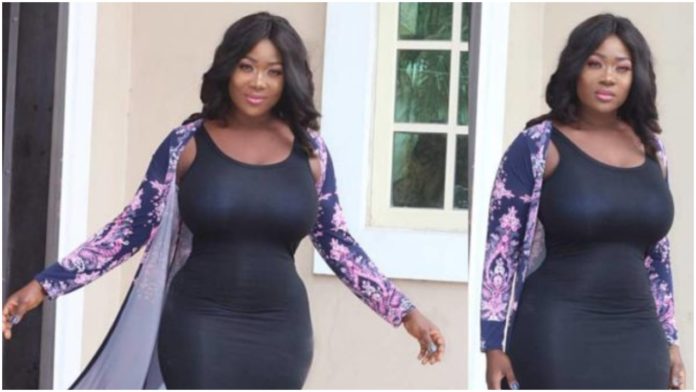 Call her the queen or goddess of curves and you might not be wrong, Even after four kids, the Nollywood actress still has her curvaceous shape intact and she is sure slaying with it. Mercy Johnson Okojie is one of the most popular and most featured actresses in the Nigerian movie industry and has some got dangerous curves which she loves to flaunt in the movies and on red carpets with full confidence and slaying even when pregnant. She currently has 8.4 million followers and counting on Instagram.
8. Nadia Nakai (South Africa)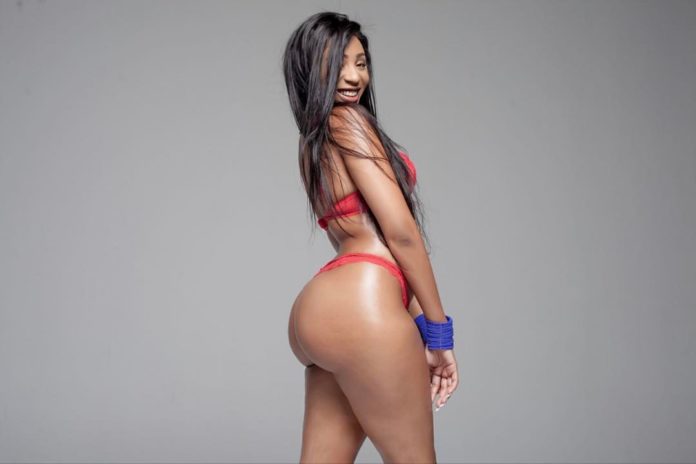 Nadia is a South African rapper and songwriter with a couple of awards to her name. She is a true definition of beauty and brain as it is not just her music career that has brought her so much fame and recognition but also her beauty and sexy body. Nadia's looks, as well as her curvy body, has earned her huge social media followership, currently, she has over 1.7 million followers on Instagram and counting. You can also catch a glimpse of her on her other social media handles.
7. Juliet Ibrahim (Ghana)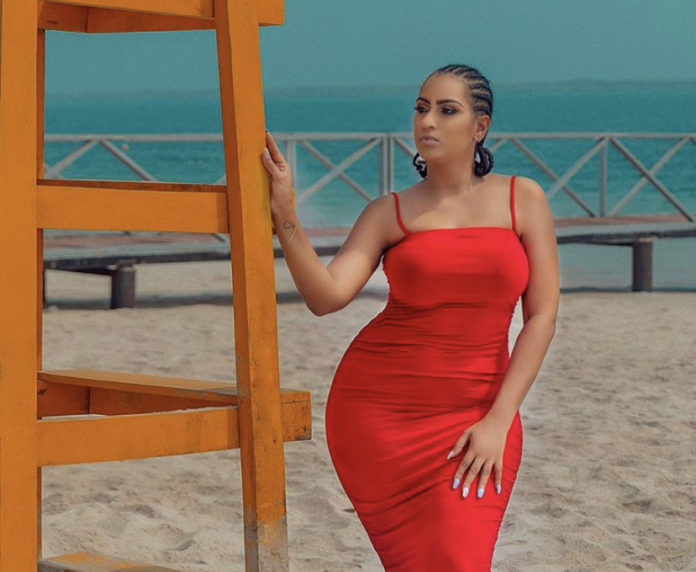 She is of Lebanese, Liberian and Ghanaian descent. A-listers Magazine referred to her as the "Most Beautiful West African Woman" and the reason is not far-fetched, her curves alone are enough to confirm that assertion. But don't get that twisted, her body is not the only reason she is celebrated, she is good at what she does and that is acting. Jully is not just an actress but also a humanitarian, singer and movie producer. And did we mention that she is a mother? Oh yes, she is. Juliet Ibrahim is one of those curvaceous mothers on our list. She is also a social media influencer with over 6 million followers on Instagram alone.
6. Tracy Obonna (Nigeria)
Popularly known as the 'Nigerian Bombshell' due to her killer curves, the Nollywood actress and model has also glamourized the covers of well-known magazines not to have caught the attention of some famous people in the entertainment world. She holds a master's degree in Business and Finance and currently based in Canada. She is the CEO of Sediore cosmetics, and with a blend of hips, booty, and pretty face, she seems to have it all.
5. Corazon Kwamboka (Kenya)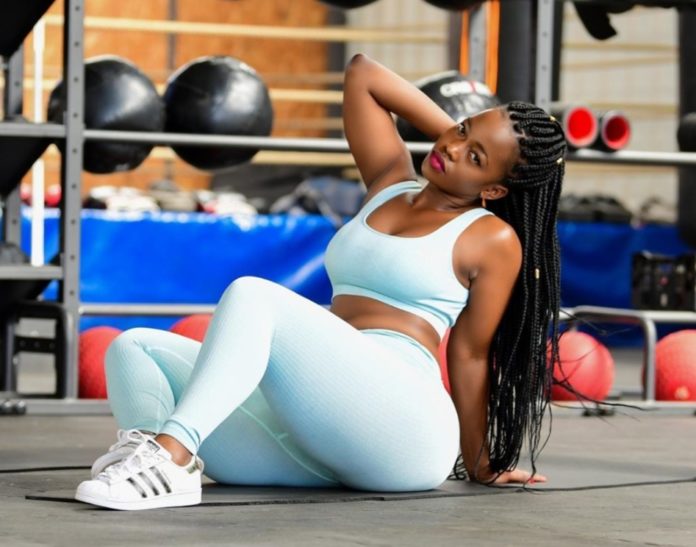 Who could believe this lady is a lawyer by profession, but the popularity her law profession couldn't give her, her curvy and voluptuous backside did. She went from being a lawyer to being one of the hottest models in Kenya. Hips don't lie indeed. That doesn't mean she totally left the legal profession, she only got more popular for her curves than her profession. She is an advocate of the Kenyan High Court and also good at what she does.
4. Joselyn Dumas (Ghana)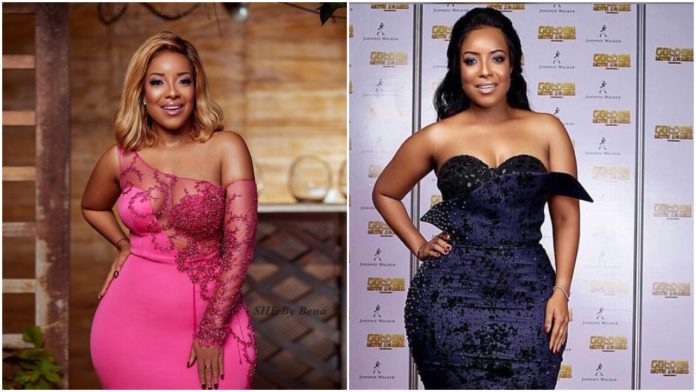 Bornin August 31st, Joselyn is an actress as well as a Ghanaian TV host. In 2014, she was nominated for an Africa Movie Academy Award for Best Actress for starring in A Northern Affair; she is also a recipient of several other awards including the 4syte TV awards for Hottest Ghanaian Celebrity, Ghana Movie Awards for Best Supporting Actress as well as City People Entertainment Awards for Stellar Contribution to the Movie & Media Industry in Africa and for Tremendous Growth in the Movie Industry, but that is not all. She is also well-known because she possesses one of the curviest hips in Africa. Indeed this shows that Africa is not just blessed with natural resources, but also with beautiful women that are heavily endowed.
3. Peace Hyde (Ghana)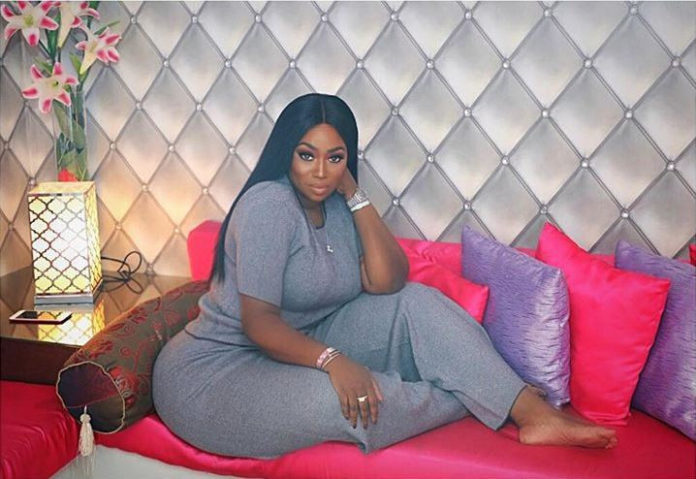 Another true beauty with brains that have made it to our list of most curvy African celebrities of 2020 is none other than Ghanian's model, actress, socialite, motivational speaker, media entrepreneur Peace  Hyde. She graduated from the Middlesex University in the UK with honors in Psychology. Hyde serves as the Head of digital media and partnerships and West African correspondent for Forbes Africa. She is also the founder of an NGO, Aim Higher Africa, a non-profit organization whose main focus is to improve the quality of education in impoverished communities across Africa. However, this is not all this black beauty is known for, all thanks to her curvy sexy body, she is on this list, she is naturally endowed.
In 2019, she had an accident that had her grounded indoor for three whole months but she is up and about her business.
2. Matilda Quaye (Ghana)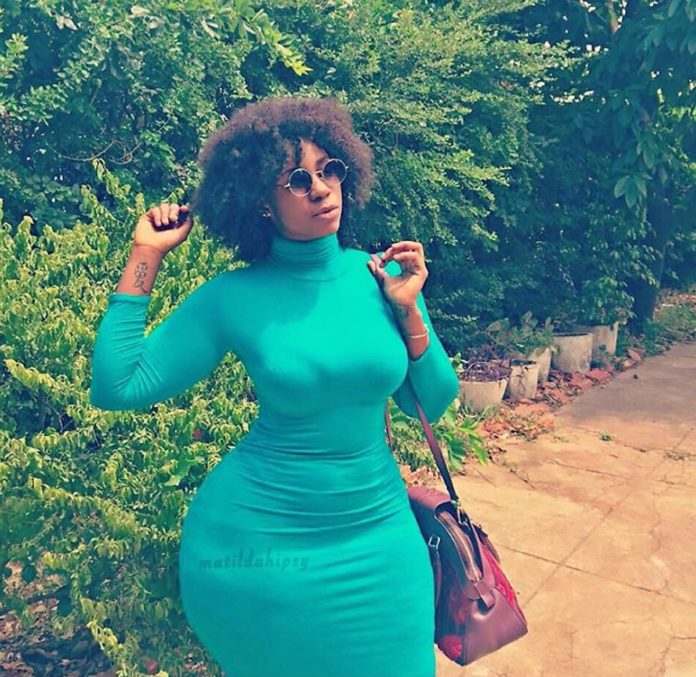 Matilda is popularly known as "hipsy" because she is believed to have the biggest hips in Ghana. She has continued to break the internet over and over again. She can't just stop putting up her jaw-dropping hips on the internet via her Instagram page where she has a growing followership. She is also on other social media platforms.
1. Princess Shyngle (Ghana)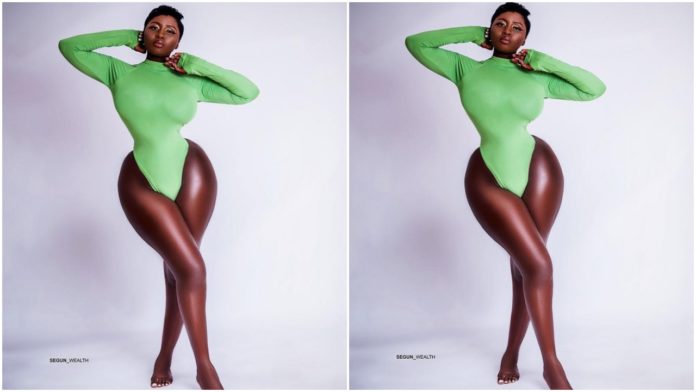 Suddenly she is taking over the Ghanaian movie industry with her talent and more especially with her dangerous curves and long legs. Her journey to fame began when she auditioned for the Next movie star Africa competition for which she eventually came out top. She has since taken over Gollywood not just with her exceptional acting prowess but also with her amazing hourglass and curvy shape. She prides herself as one of the sexiest women in Africa and we can't but agree with her.