Famed for being linked to several celebrities, Kennya Baldwin is known to be the daughter of famous Brazilian musician Eumir Deodato who is also known as Bossa Nova; wife of actor Stephen Baldwin, mother of models Alaia and Hallie; and mother-in-law to Andrew Aronow and Justin Bieber. Kennya has for many years been able to keep her private life at a distance.
Amidst many celebrities, she is most celebrated for being the wife of American actor, producer, director, and political activist Stephen Baldwin. Stephen is popularly known for his roles in Born on the Fourth of July (1989), and Let the Game Begin (2010) among others.
Aside from what has been itemized above, there are quite a number of things you didn't know about Kennya Baldwin, see them below.
What To Know About Stephen Balwin's Spouse
1. She is the daughter of Grammy Award Winning Brazzillian Musician
She was born in Brazil and named Kennya Deodato on October 24, 1968, to renowned Brazilian musician Eumir Deodato de Almeida and his wife Mary Ellen Deodato. As for her education, Kennya Baldwin was schooled in New York even though she was a Brazillian.
Right from childhood, Kennya was in the spotlight because of her father's career as a Grammy Award-winning musician whose music cuts across different genres in a most unique way. Some of his famous songs include: When it was Done, Courage, and Double Face, etc.
2. She Became Stephen Baldwin's Wife in 1990
In 1987, Kennya and Stephen Baldwin met and started their love journey which led to their marriage in the '90s. Stephen Baldwin is popularly known as the youngest of the 4 Baldwin Brothers. He is an actor, producer, and director who has made several appearances and contributions to many TV series and films including American Playhouse (1987), Crossing the Bridge (1992), Absence Of The Good (1999), Let The Game Begin (2010), I'm In Love With The Church Girl (2013), Faith Of Our Father (2015), and The Apostle Peter: Redemption (2018) to list a few.
Kennya Baldwin has proven to be a supportive wife who is constantly around her husband and has been with him through thick and thin. Especially during trying periods when they lost their house following Baldwin's failure to pay up his taxes.
More so, her husband Stephen is a political activist and openly supported Donald Trump in his aspirations to become United States President in 2016.
3. Her Daughters Are Models Alaia and Hallie; and Mother-In-Law to Andrew Aronow and Justin Bieber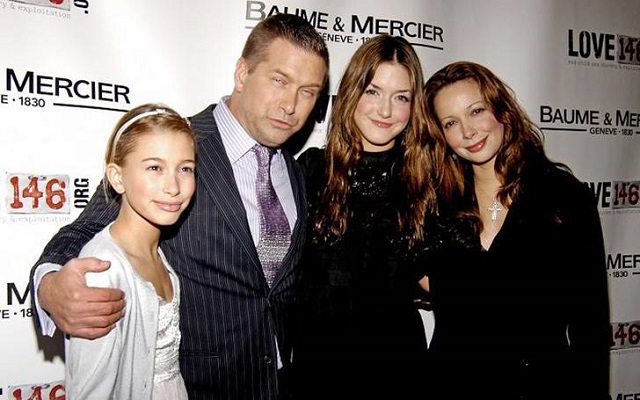 Following her marriage to Stephen Baldwin, the family welcomed their 2 daughters Alaia (born in 1993) and Hallie (born in 1996). The two girls have currently taken the route to become celebrities like their father, grandfather, and uncles through modeling.
Also, she homeschooled her daughters since she had to balance the support of her husband's career, raising her kids and giving them a good education.
Alaia is currently married to entrepreneur Andrew Aronow. In 2018, Hallie married award-winning Canadian singer Justin Bieber.
4. Kennya Baldwin and her Husband Are Christians
Although Kennya and Baldwin were both born into Christian families, both of them later deserted the religion for many years. While they both lost faith in Christianity, the nanny she employed, however, led Kennya to Christ through songs and words. Following that, Kennya also led her husband to her newfound faith and they have been devoted to the Christian faith ever since.
5. Kennya Baldwin Refused a Date With Leonardo DiCaprio
The Titanic star, Leonardo Dicarpo has always been admired for his acting talent and good looks and for these reasons and more, a lot of women would not mind having a date with him. Kennya Baldwin, on the other hand, turned down a polite request by the actor to take her out. She rather asked him to take permission from her husband.
6. Kennya Baldwin Prefers a Quiet Life
With fame coming from different angles of the life of Kennya Baldwin, she still manages to stay away from the media. Several reports say she doesn't use the social media accounts her daughters opened for her.
7. Net Worth
Kennya Baldwin earns a lot from her graphic designing job although the particular amount she earns is not known, however, research shows that an average graphic designer earns about $45,000 to $55,000 a year and since she's been working for a lot of time, she might be earning more.