Ayo Makun is a Nigerian comedian, actor, writer, film director, producer, and radio and TV presenter who has an estimated net worth of ₦2.5 billion.
The Nigerian comedy scene has seen several comedians who have made an indelible mark in the industry. The self-acclaimed "Warri boy" whose birth name is Ayodeji Richard Makun has sure written his name in the sands of time as far as comedy is concerned. He also makes money through acting, movie production, business, endorsements, events planning, and a whole lot more. Ayo Makun who gained popularity under the name AY started out as a personal assistant to the acclaimed king of Nigerian comedy Alibaba Akporobome and came to the limelight on the stage of the famous Night of a Thousand Laugh organized by Opa Williams.
Today, AY is known as one of the richest comedians of our time. In fact, the multitalented entertainer occupies the number two spot on the list of the richest comedians in Nigeria, second to only his mentor Alibaba. AY works hard to make his money and from what is obvious, he also plays hard, living in the lap of luxury with his family. Ayo has acquired a beautiful collection of exotic cars and lives in one of the most expensive mansions in Lekki – a high-brow area in Lagos Nigeria, but there is still a whole lot more to learn about Ayo Makun.
What Is Ayo Makun's Net Worth?
The popular Nigerian comedian is among the highest-paid comedians of our time. According to recent analysis, Ayo Makun is worth a handsome ₦2.5 billion.
His income comes from multiple sources spearheaded by his live comedy shows which take the credit for bringing him to public attention. Tons of money roll in from the sales of thousands of tickets for his comedy shows.
How He Accrued His Fortune
Ayo earns income through several means, including;
• Comedy gigs
• Movie production
• Acting roles
• Business ventures
• Endorsements
• Event Planning
His Comedy Exploits
From performing for Alibaba's show to his emergence to the limelight through Night of the Thousand Laughs, Ayo Makun became a household name in the Nigerian comedy scene in no time at all. His hilarious impersonation of Rev. Chris Okotie brought the entertainer to another level of fame, earning him the title "Best Up-Coming Comedian in Nigeria". Perhaps, his best life decision is leveraging the fame to launch the AY Live Show.
The comedian was already earning the big bucks when he started presenting the AY Live Program on Rhythm 93.7 FM's The Morning Drive; the show goes live on Fridays. Presently, Ayo is rolling in revenue from AY Comedy parodies, AY Live shows, and AY Cribs (a television situational comedy launched in 2013, featuring the likes of Buchi Franklin, Alex Ekubo, Venita Akpofure, and Justice Nuagbe) which are all on YouTube. His television comedy show, The AY Show airs on several terrestrial TV stations across the country, including Africa Magic.
AY Live grew to become an annual event, featuring the best of Nigerian comedians such as Gordons, Helen Paul, I Go Dye, Kenny Blaq, Bovi, and the likes. Selling tickets brings money in millions of naira and we are yet to factor in the revenue that will be generated from selling the CDs later. The comedy show which is deemed the biggest entertainment event in the country debuted in Nigerian in 2010, as well as abroad, earning millions in views. He even did a lockdown edition as the Coronavirus pandemic rages on.
Ayo Makun now acts as a mentor to several upcoming comedians; he achieved this through his monthly Open Mic Challenge hosted at the National Theatre every third Sunday but later moved to hotel and Entertainment Tent Federal Palace Casino, Lagos. The challenge is credited with producing talents that will excel in the sector like Elenu and Akpororo.
Unknown to many, AY is a guest columnist in "The Sun" (Nigeria), writing his "AY wire". He also takes the writing credit for "Laugh Mattaz" by Gbenga Adeyinka.
Movie Production History
It just appears Ayo Makun was born with the golden touch as everything he touches turns into gold. As the chief executive officer of Corporate World Entertainment, AY takes the credit for creating Africa's biggest comedy/music show. Going into movie making, he produced quite a good number of films, they include 30 Days in Atlanta which is credited as his debut movie production effort. The film belongs to the directorial portfolio of Robert Peters – a Hollywood director. Shot in New York, Accra, and Lagos, the movie has a stellar cast, featuring celebs from Hollywood, Nollywood, as well as Ghana.
30 Days in Atlanta came with a big bang, breaking the country's box office record. It went down in history as the highest domestic grossing movie of 2015, what's more, it made the Guinness Book of World Records list. He has since produced other movies like A Trip to Jamaica (2016), 10 Days in Sun City (2017), The Merry Man (2018), and the Accidental Spy (2017).
Acting Credits
In addition to what he earns as a movie producer, Ayo Makun broke new grounds in the movie world by undertaking some onscreen roles. He made appearances in all the movies he directed, in addition to others like Being Mrs. Elliot (2014), The Wedding Party, and The Lodgers, both in 2016. He also recorded an appearance in the 2017 American Driver and Mom at War that was released in 2018.
His first movie roles were accomplished in 2014 on the sets of 30 Days in Atlanta as Akpos and Being Mrs. Elliot as Ishawuru. Both productions were quite successful, especially the former which broke Nigeria's box office records in 2015. According to what he told CNN, the movie grossed an astounding ₦137,200,000.
Endorsements
It is the norm for celebrities to attract lucrative endorsement deals and Ayo Makun's case is not different from the rest. Since his emergence to the limelight, the father of one has inked endorsement deals with A-list brands like Haven Homes, Glo Communications, and Lekki Gardens. He has done extensive work for reputable brands, promoting shows for both corporate organizations and individuals. Notable among brands that have endorsed him are Unilever Plc, Glo, and he is a brand ambassador for Peak Milk and Western Lotto.
He is Shrewd in Business
Corporate World Entertainment (CWE) has the stand-up comedian as its chief executive officer. The company has a main focus of providing quality content for television and radio, as well as organizing live events, and also takes the credit for the production of most of Ayo's projects. Some of these projects include; AY Live VCD's, AY's Crib, AY's Open Mic Challenge, and his most-watched television shows. It equally powers the yearly sold out AY Live.
In present-day Nigeria, CWE is regarded as one of the best producers of comedic content. AY's business acumen also extends to include a deluxe night club called MVP Lounge in Lekki Phase 1. The exclusive clubhouse boasts a game room, restaurant, bar, karaoke room, including a gold and diamond room sporting a lounge. Its location is the penthouse of Omission Emporium Mall, Lekki Phase 1.
He is Involved in Events Organization and Management
Alongside Joselyn Dumas, he co-hosted the 2018 Golden Movie Awards Africa. The event was held in Accra, Ghana, at the Movenpick Ambassador Hotel. In fact, Ayo Makun rakes in a lot of funds through organizing events both in Nigeria and abroad. Besides, those who are brave enough to invite Ay to anchor their events have to be prepared to part with a huge sum of money.
How Much Does It Cost To Invite AY to a Function?
With a comedian of Ayo's caliber, it goes without saying that his services can only be afforded by the very rich in the society, both in Nigeria and outside the country. According to records, to get AY to grace your event means paying ₦2 million in the minimum and we have seen instances where his fees exceeded that amount.
AY may not be charging as much as other A-list Nigerian comedians like his mentor Alibaba, but he is among the most expensive.
Awards and Recognition
Since he burst into fame, AY has been raking in awards and recognition in their numbers. It all started in 2008 when the multitalented entertainer swept six different awards;
• Diamond Awards for Comedy – Comedian of the Year 2008
• Teen Favourite – Comedian of the Year 2008
• MBG Abuja Merit Award – Comedian of the Year 2008
• National Daily Awards – Comedian of the Year 2008
• Arsenal Award for Excellence – Comedian of the Year 2008
• Mode Men of the Year Awards – Comedian of the Year 2008
• City People Entertainment Awards – Best Comedian in Nigeria 2009
• Nigerian Entertainment Awards – Comedian of the Year 2010
• Creative Industry Awards – Most Creative Entrepreneur of the Year 2013
• Creative Industry Awards – TV Comedy Show of the Year 2013
• Africa Movie Academy Awards – Best Comedy Film 2015
• Nigerian Entertainment Awards – Best Supporting Actor 2017
• The Sun Awards – Nollywood Personality of the Year 2017
• Golden Movie Awards – Golden Movie (Comedy) 2017
• NELAS Awards 2018, United Kingdom – Best Event A.Y Live
Is AY The Richest Comedian In Nigeria?
Ayo Makun is not the richest comedian in Nigeria but he is not far from hitting that particular milestone. The father of one only tags behind the king of comedy, Alibaba whose fortune was pegged at a resounding ₦3.2 billion according to the last review.
Three other Nigerian comedians have also joined the billionaires club, they include the likes of Basket Mouth with ₦2. 1 billion, I Go Die with ₦2 billion, and Julius Agwu with ₦1.5 billion. Okey Bakassi is currently inching towards the mark with ₦800 million.
AY Started His Comedy Career as an Undergraduate
Since his undergraduate days, Ayo Makun has always been part of the showbiz industry. During his days as a student of Delta State University Abaraka, the comedian kept busy, organizing some of the campus' biggest events like Miss Delta, Miss Delsu, Face of Delsu, and the likes. Ayo was already a 300 level student studying music when it dawned on him that his talent lies elsewhere. Consequently, he changed to Theater Arts which made him spend nine years as an undergraduate.
It would seem that fate and providence already cleared his path to success as the young comedian ran into the king of Nigerian comedy Alibaba Akporobome in one of his shows. Ayo ended up as one of Alibaba's protégées, starting out as his event manager and personal assistant. It was during his time with the king of comedy that Ayo came to gain more understanding about comedy, he equally had a good grasp of what an audience wants, grooming himself into the professional comedian we all know today as AY.
He launched his professional career performing at the Fans Club show hosted by Alibaba at Victoria Garden City. A chanced performance at an Opa Williams comedy show, The Night of the Thousand Laughs in 2006 saw his rise to prominence. Since then, Ayo Makun has not looked back. The veteran comedian has grown from strength to strength and is currently known as one of the most bankable Nigerian comedians.
How Does Ayo Makun Spend His Money?
For somebody to accumulate a fortune of ₦2.5 billion in net worth, it goes to show how much of a hard worker he is. Ayo Makun does work hard, but the veteran comedian also loves to enjoy the fruits of his labor by indulging himself in a lavish lifestyle. He lives in a house to die for and splurges around town in only the best automobiles
Real Estate Investments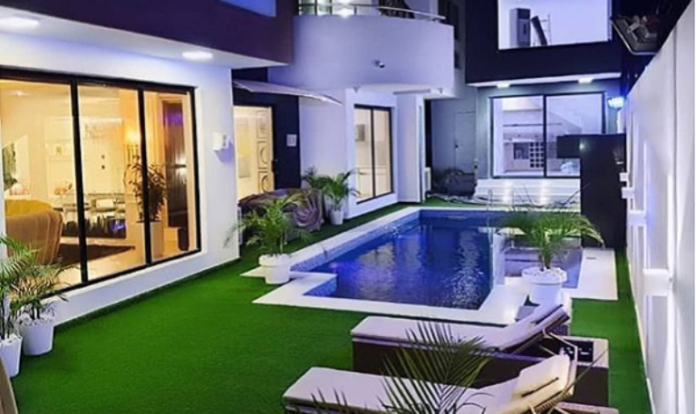 In the recent past, Ayo moved into his gigantic Lekki mansion in Lagos Nigeria. This multi-million-dollar villa, according to sources, boasts a structural design best described as a masterpiece. The interior, reports suggest, is equally striking, and more interesting is the fact that the interior decoration of the house was undertaken by Midas Interior – a company owned by Ayo's wife Mabel Maku. She is a professional in interior design. Upon the completion of his mansion, the multitalented entertainer gave his fans a glimpse of his new crib on social media.
Ayo Makun Loves to Cruise Around Town in Exotic Cars
If you want to talk about celebrities whose taste in cars goes to the expensive and exotic, AY deserves a mention. The acclaimed comedian has quite a good number of these luxury automobiles and he is not afraid to show off his beautiful collections. Here is a list of some of the vehicles in Ayo's expensive garage.
Mercedes-Benz G-Wagon
While celebrating his 2017 birthday, Ayo Makun gifted himself a white Mercedes-Benz G-Wagon, joining the long list of celebs who own the brand. The car's worth is said to run into millions of naira.
Lexus LX570
Lexus LX570 is another expensive car in AY's garage. The LX570 SUV was reported to be worth an astounding ₦65 million, offering a four-wheel-drive system and equipped with unique low-gearing functionality. The car's drive mode is in five off-road capability variants, like Mogul, Sand, Rock, Rock, and Dirt, as well as Loose Rock and Mud. The same day he spent ₦65 million on the Lexus, AY also presented his wife Mabel with another exotic car worth millions of naira.
Jaguar XJ
Ayo's Jaguar XJ came in black, a beautiful automobile sporting a long 124.3-inch wheel-base; it can be taken for a full-sized Sport Utility Vehicle. The car is lengthy on the outside, complementing its roomy interior. Many fans have seen the comedian splurging around town in this muscular car.
He is Into Private Jets Too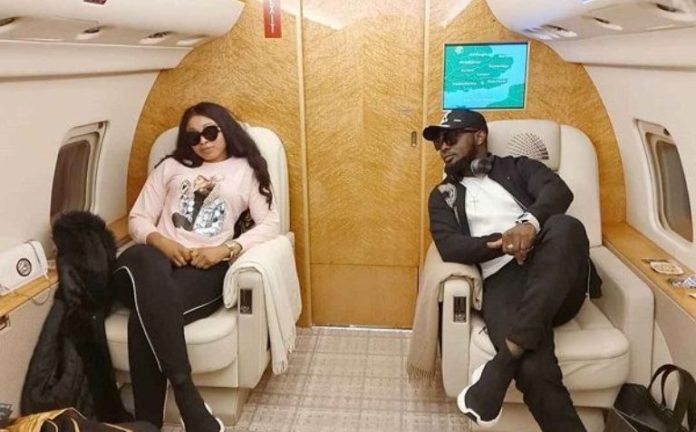 Though he doesn't own one, Ayo Makun is another Nigerian celebrity with a history of private jets. Recently, he treated his wife and daughter to an expensive private jet spin while going for a burial.
Philanthropy
On philanthropy, the comedian is quite good at giving back to society but he has a problem with how the public views such acts. According to AY, when you give and publicize it, you will be tagged a show-off king or queen and when you decide to keep your charity work under wraps, people will still call you out for being stingy.