Chip Hailstone is an American trapper/hunter who (together with his family) has become a popular reality TV star. Hailstone and his family reside in a remote part of Alaska known as Noorvik where they basically survive off the land. Their livelihood depends on animals that they hunt and kill as well as the ancient trading method of trade by barter. The family thrives in frigid conditions with only the most basic amenities – a reality that will strike fear into the hearts of the most courageous among us. The adventures of the Hailstone family, as well as others, are chronicled on the BBC docu-series Life below Zero. Find out more about this modern-day adventurer including why he was jailed.
Chip Hailstone Biography
Chip Hailstone (full name – Edward V Hailstone) was born on the 5th of March 1969 in Kalispell, Montana. His father's name is Daniel Hailstone. His mother, on the other hand, is named Mary. Information about Hailstone's childhood is sketchy; it is not known whether he attended high school or not. His father, however, taught him useful techniques such as fishing, hunting, and craft making. These skills would later come in very handy in his adult life.
Chip Hailstone first visited Alaska in 1988 at the age of 19. It was initially planned to be a transient visit but it later metamorphosed into an indefinite one. One cannot help but conclude that he was charmed by the beauty of the Alaskan Wilderness. He settled down near Kobuk River in Noorvik and commenced a subsistence lifestyle consisting of hunting animals such as walrus, fish, wolf, bears, and seals.
His Net Worth
Chip Hailstone has a net worth estimated at $100,000. He obviously couldn't have made such from his subsistence lifestyle. His source of wealth is the reality TV show, Life below Zero. He makes $45,000 from the show annually.
Life below Zero follows a group of individuals as they try to survive the Alaskan wilderness. The show is produced by the BBC and airs on the Nat Geo Channel. The hailstone family is not the only subjects of the show. Other participants are Sue Aikens (who lives alone in a camp near Kavik River), Glenn Villeneuve (who lives alone in Chandalar), Jessie Holmes (a fisherman and hunter who lives alone with his 25 dogs), and Andy Bassich.
The show has been nominated for four Emmy Awards and has won two. They are the 2016 Emmy Award for outstanding cinematography in a reality program and the 2017 Emmy Award for outstanding picture editing for an unstructured reality program
Chip Hailstone's Children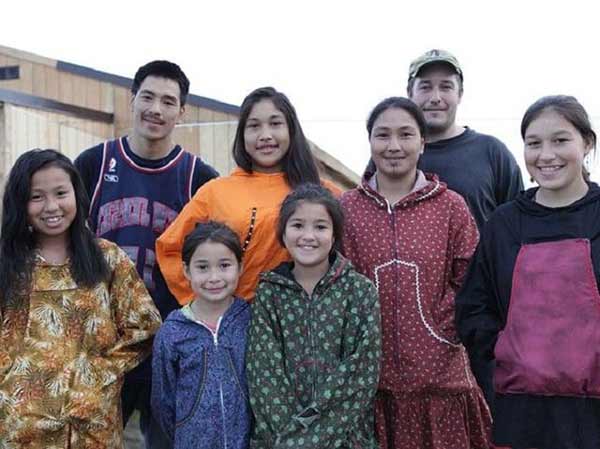 Hailstone is married to a native Alaskan named Agnes. Agnes was born in 1972 and is from the Alaskan tribe known as the Inupiaq. The couple reportedly got married in the Mid-90s and they have five daughters. Their names are Tinmiaq, Iriqtaq, Mary, Caroline and Qutan. Agnes also has two sons named Doug and Jon Carter from a past relationship.
Chip Hailstone is now legally the father of these two young men as he has adopted them. Doug and Jon are both married and have their own children. The entire family pitches in as they try to survive off the land. They all join hands in activities such as skinning, trapping, tanning, and harvesting etc.
The family also embarks on seasonal migration so as to get the best that the Alaskan wilderness has to offer. Additionally, they rarely waste any of their catch. Every part of it is either eaten or utilized in some other manner. Despite the fact that they live far from civilization, Hailstone and his wife have not forgotten the value of education. Their children are home-schooled. They also attend the local high school. Their eldest daughter, Tinmiaq, has both high school and college education.
See Also:  Hugh Glass Biography, Son, What Was He Known For, How Did He Die?  
Why Did He Go To Jail?
The reality TV star found himself on the wrong side of the law in 2011. This was as a result of two incidents involving his children. He claimed that a state trooper had physically assaulted his then-17-year-old daughter, Tinmiaq. He also claimed that a neighbour had pointed a gun towards his son. He subsequently filed a suit for a restraining order on behalf of his daughter.
However, a state trooper testified that no such physical assault took place. Chip Hailstone was then found guilty of two counts of perjury and two counts of providing false information to the police. He was sentenced to 15 months imprisonment and three years probationary sentence in December 2012. Hailstone appealed against his conviction insisting that he did not knowingly provide false information to the police. His appeal was dismissed in July 2017.
Chip Hailstone served out his prison term at the Anchorage Correctional Complex and has since been released. His incarceration made him miss an entire season of Life below Zero. His wife and daughters had to survive by themselves and they confessed that they missed him terribly.