It has come to be an unspoken agreement that the famous lingerie and swimwear model Claudia Sampedro is Kim Kardashian's mirror image, like her Cuban Twin. Just in the same way with Kim, fans have been keeping up with Claudia which is glaring in the massive number of following she has recorded online, her fanbase has crossed the threshold of one million on Instagram and still counting. She owes her fast popularity to her very good looking selfies as well as regular uploading of photos which is responsible for getting fans to follow and like her pages, besides, the number of followers she has on both Facebook and Twitter are way above 170k and 165k respectively.
It would not be totally wrong to say that Claudia Sampedro became a sensation on social media platforms due to her astonishing resemblance to Kim, which is evident in her tanned skin, dark brown hair as well as curvaceous figure. In fact, a glimpse of Claudia will instantly get you thinking about the American reality TV star. The model and actress has taken it upon herself to inspire the female population to take the bull by the horn, taking-on whatever life throws them. In addition to getting women motivated enough to take a quantum leap in their life endeavors, Claudia Sampedro ultimately desires to link her lifestyle, aspirations, and success with a positive and authentic message for the female population. The saying that some women are lost in the fire" whereas others "… are built from it" are her sentiments exactly. In addition to beauty, Claudia also has brains to offer as we are about to discover.
Claudia Sampedro's Biography
Claudia Sampedro is Colombian as her parents originated from there. Born on the 27th of October 1989 in Havana Cuba; the young model just turned six when her family migrated to Miami in the US, in search of greener pastures. She attended one of the local schools there but her modeling career took off when she was 16 years old. After a while, Claudia went to college to study Cosmetology, however, her career path had long been decided by the passion she had for the runway. Claudia's focus is on lingerie and swimwear modeling and she has graced the covers of many magazines.
Reports have it that Claudia Sampedro was employed by a top plastic surgeon in Miami, though the name of the surgeon has continued to elude the media, it is believed that she was with the doctor before she landed the contract with Nutri Sups as a sponsored glamour model.
5 Interesting Facts You Need To Know 
Personal Life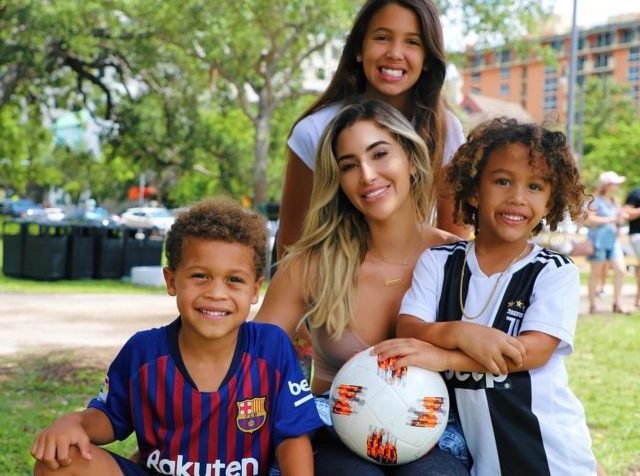 Claudia's romantic entanglement with NFL player Julius Peppers has been going on since 2014. Julius, who plays on the defensive has been cohabiting with the model for almost five years and together they welcomed a son named Amare on the 21st of September 2015. Prior to 2014, she was having a dalliance with an unidentified guy with whom she had a daughter Keana Skye in 2009. Likewise, her current boyfriend Peppers has a son from a previous relationship.
Sensational Body Statistics
She is averagely built with a height of 5 feet 6 inches, weighing a total of 54kg. The summary of her body measurement is 34-25-36 inches for bust, waist, and hip respectively. Claudia Sampedro wears a shoe size of 6.5 US, bra size of 34D and comes with brown eyes and blonde hair. However, the rumors have it that she has gone under the knife for breast enhancement.
Career
She started at age 16 with an agent talent scout named John Casablancas who enhanced her popularity by introducing her to numerous modeling shows. Eventually, she landed some modeling opportunities on the print media as well as a few commercials, following which she graced the covers of magazines such as Face to Face Magazine which earned her another job with Mixed Magazine. Claudia Sampedro's sponsorship deal with Nutri Sups came in 2011. Another big opportunity came her way in 2016 when she was called to join the cast of WAGS Miami which means Wives and Girlfriend of Sportspersons. Claudia was invited because of her relationship with Julius Peppers.
Claudia Sampedro's Net Worth
The model's sources of income are numerous; she earns from modeling, acting, sponsorship, endorsements as well as social media platforms. For every photo shoot, she takes from $30k to $40k. Claudia Sampedro current wealth has been pegged at $1 million while her boyfriend Julius is worth the sum of $41.5 million.
Trivia
Looks is not the only thing Claudia Sampedro has in common with Kim Kardashian, Claudia became the girlfriend of Reggie Bush after he called it quits with Kim.