Kim Kardashian West is an American television personality, entrepreneur, model, actress, and socialite famous for chronicling her personal life and that of her family on the popular reality series Keeping Up with the Kardashians.
Named one of Time magazine's 100 most influential people, as well as a 'pop culture phenomenon' by Vogue, Kim Kardashian remains one of the highest-paid reality television stars and a tremendously successful entrepreneur. The media mogul also earns millions of dollars from making posts on social media sites such as Instagram, Facebook, and Twitter.
Kim Kardashian's Ethnic Roots And Family Background 
Kim K was born Kimberly Noel Kardashian, on October 21, 1980, in Los Angeles, California. She is the second of four children born to Robert and Kris Kardashian (later Jenner). Kim's father was Armenian while her mum has a mix of German and Irish bloodlines. Consequently, the social media queen is of mixed ethnicity and ancestry which include Armenian, German, and Irish origins.
Kim Kardashian grew up in Beverly Hills, Los Angeles and was a preschool classmate of socialite Paris Hilton who introduced her to the social scene. She attended Marymount High School, Roman Catholic, girl's school. After graduating from high school, she worked as a wardrobe stylist and an assistant to Paris Hilton.
Kim Kardashian's Parents
Kim Kardashian's father was a successful trial lawyer who became famous for helping defend O.J. Simpson during his 1995 murder trial. She has an older sister, Kourtney, a younger sister Khloé and a younger brother Robert. Her parents divorced in 1991, and her mother Kris, a socialite and the family's business manager, married Olympic gold medalist, Bruce Jenner now known as Caitlyn Jenner in the same year. The union produced Kim's half-sisters, Kendall and Kylie Jenner. In 2003, Kim's father died of cancer. After their father's death, Kim and her sisters, Khloé and Kourtney, opened a clothing boutique called D-A-S-H and a number of other branded products, including nail polishes, cupcakes, clothing, furniture, books, etc, in the city of Calabasas near Los Angeles which was later expanded to several other locations.
What To Know About Kim Kardashian's Height, Weight & Measurements
Kimberly Kardashian is not one of your tallest celebrity favorites neither is she the shortest. She stands at an average height of 5feet 3 inches (160 centimeters) making her the shortest of her three siblings. However, the gorgeous and curvaceous TV star is the most popular of the Kardashian family whose presence commands undivided attention.
Regarded as one of America's sexiest and curvaceous women, Kim has an enviable hourglass and svelte figure. Not forgetting to mention her famous big butt despite her relatively tiny body. Over the years, Kim has managed to balance her weight through healthy diets and lifestyle. Even after gaining weight during her pregnancies, the social media queen has become known for her strong and fast post-partum snap-back.
Kim Kardashian currently weighs 54.5 kg (120 pounds) which is quite close to her ultimate goal weight of 115 pounds. Her body measurements are 38-26-41 inches.
Career Success
Kim rose to fame in 2007 after a sex tape with her former boyfriend, Ray J was leaked online in 2007. The video which was purchased by Vivid Entertainment Group for a reported $1 million resulted in a lawsuit filed against the company. Kim later dropped the suit for a settlement of $5 million paid to her for damages.
Shortly after in the same year, Kim and the rest of her family members landed a deal to star in a reality TV series, Keeping Up with the Kardashians which premiered on E! channel showcasing the family's fabulous LA lifestyle. The show which became popular with viewers was a huge success. It turned out to be the Kardashian's big break and Kim's dominant rise into showbiz.
The TV series later spun-off six related shows including – Kourtney and Kim Take Miami, Kourtney and Kim Take New York, Kourtney and Khloé Take The Hamptons, which were specifically about the Kardashian sisters' clothing boutique, Khloé & Lamar, focused on Khloé and her husband Lamar, Dash Dolls and I Am Cait which showcased Bruce Jenner's transition into a woman.
Given her good looks and curvaceous figure, Kim Kardashian's celebrity status has only grown over the years. Kim made her acting debut in 2008 with Disaster Movie and the next year, she made a cameo appearance in an episode of CBS's How I Met Your Mother. She has several other successful movie and TV appearances to her credit.
See Also: Tyra Banks Son, Married, Husband, Height, Boyfriend, Body Measurements
In 2014, the media mogul successfully launched a mobile game Kim Kardashian: Hollywood and a photobook titled Selfish in the next year.
Her Husband and Romantic Relationships
Kim Kardashian has been married three times. At age 19, she got married to a music producer, Damon Thomas. But they filed for a divorce in 2003 with Kim alleging that she was physically and emotionally abused in the marriage. Kim then moved on to a relationship with Ray J which created the 2007 scandalous and infamous sex tape.
Her second marriage was to a professional basketball player, Kris Nathan Humphries. The couple got married on August 20, 2011, but after 72 days, Kim filed for a divorce.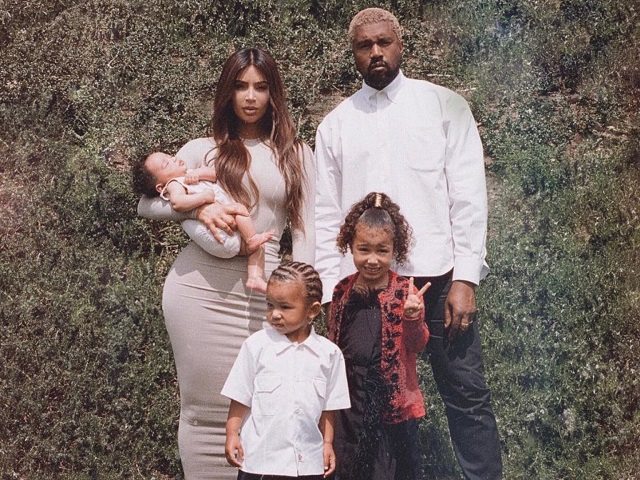 Kim is currently married to rapper Kanye West whom she began dating in 2012. The couple got engaged in June 2013 and tied the knot a year later in May 2014. Kim and Kanye have three kids together, a daughter, North West, born on June 15, 2013, a son, Saint West, born on December 5, 2015, and another daughter, Chicago West, born via a surrogate on 16 January 2018.