Whenever Cynthia Scurtis's name gets dragged into the news, you can always be sure that it has something to do with her ex-husband, Alex 'A-Rod' Rodriguez. The former high school teacher first rose to fame for her romance with the then-baseball star. That romance eventually morphed into marriage in 2002 and many hoped that the couple would last forever.
That hope was however dashed following a high-profile divorce riddled with infidelity accusations, bickering over who gets what and the likes. Thankfully, the couple was able to agree at the end of the day and Scurtis moved on with her life. Nearly a decade later, the lady is being dragged to back into the spotlight thanks to new disagreements over spousal and child support as well as insinuations that she does not get along with the new lady in her husband's life.
Cynthia Scurtis And Alex Rodriguez Were A One-time Power Couple
Cynthia Scurtis met Alex Rodriguez in 1996 while she was having her regular workout at the Body and Soul Gym in Miami. At that time, Rodriguez, who was a baseball player, had just been promoted to the major leagues and was doing quite well for his team, the Seattle Mariners, however, she turned him down many times before eventually accepting to date him.
These dates eventually metamorphosed into a real relationship and A-Rod asked Cynthia to marry him. Even though she accepted, her parents weren't entirely in support of the relationship because he wasn't Greek. The family later came around, and on the 2nd of November, 2002, the two were married by Scurtis' grandfather at Rodriguez's Texas mansion. Following the nuptials, Cynthia Scurtis and A-Rod made their home in Texas. They later moved out to New York in 2004 after A-rod signed a professional contract with the Yankees.
In New York, Cynthia Scurtis gave birth to the couple's first child, Natasha Alexander, on the 18th of November, 2004. A second child, Ella Alexander, would follow on the 21st of April, 2008. Ella's birth was a joyous occasion for the couple but it was marred by the high levels of distrust and misgivings in the marriage. The union was frankly on its last leg and it came as no surprise when Cynthia filed for divorce barely three months after giving birth.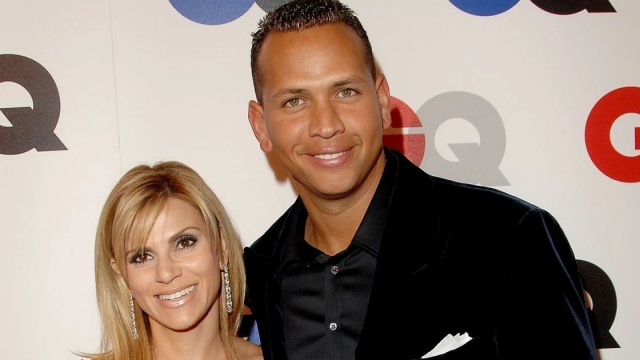 Their Marriage Hit the Rocks As A Result of Rumored Affairs
Cynthia Scurtis filed for divorce from her husband on the 7th day of July 2008. In her filing, she listed her ex-husband's marital misconduct and extramarital affairs as the reason for the divorce. She also accused him of emotional abandonment at the same time. The rumors of Alex being involved in extramarital affairs started when the couple moved out to New York in 2004.
Things, however, came to a head after the New York Post published a picture of Cynthia's husband hanging out with a former Las Vegas stripper in 2007. The publication dubbed him "Stray-rod" even though the baseball star denied any wrongdoing. Initially, Cynthia believed him despite the rumors, however, the final straw was when allegations began to surface that he was dating legendary pop star, Madonna. According to the rumors, A-Rod was not only getting physical with Madonna but had followed her on a new spiritual path to the Jewish mysticism known as Kabbalah.
When the story broke, Madonna denied the allegations and maintained that she had nothing to do with Rodriguez's marriage or the spiritual path that he had chosen to walk in. The singer also revealed that she only knew him because they share the same agent, Guy Oseary. Such denials were not enough to assuage Cynthia and she forged ahead with the divorce.
Details of the Divorce Settlement that made Cynthia Scurtis a Wealthy Woman
As per the divorce settlement, Cynthia Scurtis demanded for the couple's $12 million waterfront estate located in the upscale Miami suburb of Coral Gables, equitable distribution of the assets acquired during the marriage, life and health insurance, as well as private school tuition for their kids. Rodriguez countered by asking that they stick to the prenup that they signed a month before their wedding. The couple later came to a middle ground and the divorce was finalized in September 2008.
Cynthia got full custody of the children and the $12 million mansion that she asked for. Her settlement also came with a combined alimony and child support check of $115,000 every month from Alex Rodriguez. Such an impressive amount of support left the former school teacher quite wealthy and she now has a net worth at $14 million. She reportedly owns several cars and properties including a $700,000 condo on Fisher Island.
How Rodriguez's Super-star Fiancée, J-Lo, is Affecting the Former Couple's Relationship 
As earlier stated, Cynthia Scurtis got full custody of their two children with visitation rights given to Rodriguez. The couple was able to make this arrangement work for about a decade without much trouble. The girls stayed with their mom while their dad remained an active presence in their life. The exes got along quite well and the few disagreements they had were quickly smoothed over by their lawyers.
All these made for a healthy environment which has seen both girls thrive. For instance, the eldest daughter, Natasha, graduated from middle school with flying colors in May 2019. She was not only the head of the student government but was part of the volleyball team as well as musical theatre. All these strides fetched her the school's prestigious Swinson Cup Award, given to the student who exhibits attributes and ideals that are above ordinary and outstanding.
Such an honor was a high one and both of Natasha's parents were there to celebrate with her. Also present was Rodriguez's superstar fiancée, Jennifer Lopez, and the whole troupe got together for a group picture. That picture best typifies how Cynthia and her ex have successfully functioned post-divorce but there have been some cracks and many are pointing accusing fingers at the Latino singer.
Back in 2018, Rodriguez complained that the amount of spousal and child support that he was paying was excessive and took action to reduce it. The baseball legend argued that his income had drastically reduced since his 2016 retirement (from $30 million to $3 million per year). He also argued that Cynthia should utilize her master's degree and get some form of paid employment. He then stated his willingness to pay $20,000 monthly even though his daughters only needed about $7,000 -$12,000 each month.
Scurtis did not take lightly to this move. She described it as disheartening and stated that it was the baseball star who told her to quit her job and stay home with the kids when they married. She, however, revealed her willingness to collect $50,000 monthly. The couple has yet to reach an agreement but Scurtis has fingered her ex's fiancée as the person behind her troubles. According to her, she and Alex never had troubles with regard to settlement for nearly a decade. It was only when Lopez entered into the picture that the issue came up.
Cynthia Scurtis Has Moved On Too… 
Cynthia Scurtis is firmly moving on with her life, both personally and professionally. Career-wise, she has delved into the real estate sector and has constructed and renovated several properties in Miami over the years. She also utilizes her psychology degree to help out as a volunteer with several women support groups.
On a personal level, Cynthia is now going strong with Miami-based realtor and fitness entrepreneur, Angel Nicholas. It is not exactly known when the two commenced their relationship but they have been together for a while. They have also welcomed a daughter named Camilla, thus making Cynthia the mother of three children.
Cynthia and Nicholas were previously engaged but all evidence points to the fact that they may have tied the knot secretly. Back in early 2019, Nicholas shared a picture of both of them wearing white outfits and tagged it with "my everything" as well as "white wedding". He has also been spotted wearing a gold band on his ring finger ever since then. Meanwhile, the fitness entrepreneur has grown into the role of a stepfather. He attended Natasha's gradation in May 2019 and shared a picture of both of them hugging on his Instagram page.