Multi TV is a privately-owned satellite television platform stationed in Ghana with a presence in more than 26 countries. It has over 20 TV and radio stations with a range of sports, entertainment, news, and education options. For viewers to have excellent access to its service, it is vital that the Multi TV dish's installation and the accompanying decoder, whichever kind it is, is done correctly. Some choose to engage the service of professionals, but most prefer to do the installation themselves. This article aims to educate the latter group on the correct installation procedure.
How to do a Proper Installation of a Multi TV Dish
Before beginning the step-by-step installation process, one thing you must do is ensure the dish is facing east to face Multi TV satellite. The dish must be positioned similarly to match it and ensure you get an excellent signal. Below is the step-by-step process to ensuring a proper Multi TV installation:
The dish comes with a dish manual. The dish comes with a round plate, dish accessories, an LNB and its holder, a stand, and a dish cap.
Assemble the dish using the manual, then carefully attach the LNB into its holder at the last end of the angle bar.
Choose the rear end of a wall that you find suitable. Then proceed to mount the stand with the four holes at that same rear end. DO NOT bend the stand or twist it in the wrong direction. Therefore, hold the stand firmly with your hand, then access if the dish is adequately fixed enough for it to track signal while facing the east. If so, you can now proceed to mount the stand on the wall.
Ensure to use concrete nails for the wall and regular nails for the facial board.
Mount the dish in a place with zero signal-blocking obstacles, e.g., tall buildings, electric cables, or planted trees.
Tighten the dish partially to allow for movement and adjustment. Do this as you may need to move the dish vertically or horizontally until the signal is received.
Use the connectors to connect your coaxial cables from the dish with the receiver.
Connect into the receiver's LNB input.
Turn the receiver on.
As long as you follow the processes above, abide by the Do's and Don'ts, you should be successful with the dish installation. Once you are done, it is time to set up the accompanying decoder.
Step-By-Step Guide to Setting Up Multi TV Decoders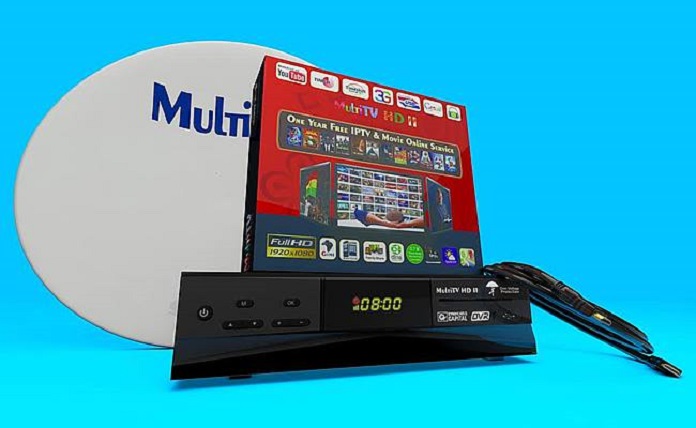 Multi TV has numerous decoders, and they are all set up differently. Different decoders require different setup processes. Each decoder's setup process is explained below. Identify your type of decoder and follow the setup processes diligently to ensure you get a positive result.
Syndicated Box Decoder
Select Menu
Go to Installation and press OK
Select Manual Search and press OK once again
Press the green button on your remote to edit the frequency
Choose Modify
Select OK
Input the number – 12522 and press OK
Select Polarization
Click on the right button beside OK to change to vertical
Press OK
Select a symbol rate of 27000
Press the blue button on the remote to save, then exit to resume scanning
Move the channel down button to start the search
Press OK to start searching
Press exit
StrongBox Decoder
Select Menu
Press the right volume button
Enter 0000 as the password
Select Manual Scan and press OK
Press the red button on your remote to select transponder ASTRA 3A/3B
Press the green button to add the TP list
Enter the frequency as 12522
Enter 27000 as the symbol rate
Change the polarization to either V or H to get the bar to change to green
Press OK to begin scanning
Press exit
Somotex Ash Box Decoder
Select Menu
Select Installation
Press the red button on the remote to edit
Input 12522 as the frequency and press OK
Enter 27000 as the symbol rate
Select polarization and change to either vertical or horizontal
Save and press OK
Press the blue button and OK to scan
Press OK on Yes
Exit to begin viewing channels
Quality Box Decoder
Press Menu
Scroll down to DVB-S and click OK
Input 0000 and press OK
Go to Dish Settings
Press the yellow button on your remote to edit TP
Input 27000 as the symbol rate
Select Yes
Go to service search and select OK
Go to 'start scan' and press OK
StrongBox (SRT 4330) Decoder
Tune in to a Multi TV channel
Press Menu
Click OK and input 0000
Scroll to the transponder and select 28E ASTRA 2A/2B/2F
Press the yellow button on the remote for edit options
Enter 12522 for frequency
Input 27000 as the symbol rate
Press the red button to scan, then press OK
Exit the menu and start watching
Multi TV HD LI/HD PLUS
Press the menu on the remote
Select installation and press OK
Select manual search and press OK
Scroll down and select frequency
Enter a frequency number
Select symbol rate and enter a number
Go to polarization and change it to V
Start the scan for channels
Exit to view saved channels
CA Plus Series 2/SC 101 S2/Multi TV HD
Select Installation from the menu
Choose settings
Enter 0000 as the password to gain access
Choose frequency and enter the number
Go to symbol rate and enter the number
Change the polarity state to V
Select Yes and press OK
Go to service search and press OK
Choose search mode
Move from auto to manual
Begin scan
Exit
Digital Combo Decoder VI/Combo Decoder T2/S2
Choose Installation from the menu
Choose satellite up by scrolling
Select manual search
Choose frequency and input number
Do the same for symbol rate
Change Polarization to V
Scan for channels
Exit when done
QC-XPlus Series II/QC-XPlus Series IV/QC 001 CD CAS
Go to installation
Select DVB-S and press OK
Input 0000 as the default password
Select dish setting and press OK
Select frequency and enter the number
Do the same for the symbol rate
Change the polarity to V
Select Yes and OK
Proceed to go to service search and press OK
Highlight search mode
Change from auto to manual
Start search
Press exit when done
Select yes and OK to save
SC-007 CA/SC001 CA/SC007 CA Plus
Go to installation
Select manual search
Select frequency and input frequency number
Scroll to symbol rate and input symbol rate number
Press the blue button on the remote control to save
Go to start scan and press OK to scan
Somotex (MTV-1722)
Select installation from the menu
Go to manual scan
Select frequency and input 12525
Enter 30000 as the symbol rate
Set the polarity to vertical
Press the green button on the remote control to begin the channel search
Press exit to begin watching
Somotex (MTV-9800J)
Select Installation from the menu
Scroll and choose satellite list
Select ASTRA 2A, 2B, 2D on the satellite list
Save by clicking exit
Enter 12525 as the frequency number
Enter 30000 as the symbol rate number
Select vertical as the polarity
Double click on OK to begin scanning
Press OK to save these settings
SRT 4920/4922/4922A/4922D+
Select installation and use 0000 as the password
Go to the manual scan
Press the red button and choose 28.2 ASTRA 1N/2A/2F
Select frequency and enter 12525 as the frequency number
Enter 30000 as the symbol rate number
Change polarization to vertical
Begin scanning for channels
Press exit to begin viewing
SRT 4950/SRT 4950H/4950M
Choose installation from the menu
Go to manual scan and press OK
Click on the SAT button and choose ASTRA 2 (28.2E)
Press the red button and enter 12525 as the frequency number
Enter 30000 as symbol rate number
Change polarization to V
Start scanning
Press OK when it requests for network search
Select OK when it asks to search only for FTA channels
Press the exit button thrice