Tiger Woods is an American professional golfer who has an estimated net worth of $800 million.
Tiger Woods needs no introduction. He is one of the greatest sportsmen in history and has won at least 15 majors. He is also one of the wealthiest athletes in the world with a net worth of $800 million. It has, however, not been all smooth-sailing as the golfer has dealt with back injuries as well as some personal scandals. As Woods inches closer to the one billion mark, thanks to his career resurgence, let us explore how he acquired his present fortune so far.
How Tiger Woods achieved his present net worth of $800 million
Tiger Woods built up his net worth from several sources including lucrative endorsement deals, prize monies, his design company as well as other business initiatives.
Earnings from his Golf Career
Woods spent several successful years on the junior, college and amateur tour before turning pro in 1996. He quickly racked up three PGA titles and crowned his outstanding debut year by becoming the youngest-ever winner of the Masters Championships in April 1997. Since that stellar debut season, Woods has gone on to win 15 majors (making him the player with the 2nd most number of majors) and a total of 81 PGA Tour titles (tied for first with fellow American, Sam Snead). All these titles come with hefty prize monies and the player has thus far accumulated a total of $118 million in winnings. This makes Woods the PGA all-time leader in terms of career earnings. Despite the above fact, Forbes estimates that prize monies only contribute about 10% of Tiger Wood's overall net worth.
Income from Endorsement Deals
Tiger Woods remains one of the most endorsed athletes in the world, and the reason is not hard to see. The American golfer has a talent for attracting viewers to the TV screens, and consumers to the stores (Nielsen estimates that Woods draws nearly 3 million extra views to every tournament while the CEO of Bridgestone has disclosed that Wood's influence has led to a 30% increase in sales). This special talent by Woods has been dubbed 'The Tiger Effect' and this makes him highly attractive to different brands.
The golfer has thus far scored sponsorship deals with companies such as Monster Energy, Bridgestone Golf, Golf TV, Rolex, Hero Motocorp, Taylormade, Upper Deck, AT&T, Gatorade, General Motors, Gillette, Tag Heuer, Fuse Science Inc., and Accenture. Woods' deal with Bridgestone fetches him between $1 million to $2 million per annum while his agreement with Monster Energy contributes $2 million to his net worth per annum. Going by Forbes estimates, the golfer has earned about $1.4 billion in endorsements since he turned pro in 1996. It, therefore, means that the lion's share of Tiger Woods' net worth is from endorsement deals.
Income from Nike deal
Woods' association with Nike deserves special mention as it is the most enduring deal that he has ever had. The golfer first signed up with Nike when he turned pro in 1996; bagging a five-year deal worth $40 million. Since then, Woods has signed three more extensions and his latest deal with the company is worth $200 million. Under the agreement, Nike previously provided the golfer with all of his golfing gear and apparel. However, since the company scaled back its golf division, it now provides Woods with just his gloves, shoes and apparel. The player then gets his clubs from Taylormade and his golf balls from Bridgestone. It is instrumental to note that in the wake of Woods' 2009 infidelity scandal, many of his sponsors deserted him but Nike stuck by his side.
Design Company
Another veritable source of Tiger Woods' net worth is his golf course design company known as Tiger Woods Design (TWD). TWD calls upon the golfer's world-renowned experience, as well as his love for the sport, in order to create a collection of amazing courses all over the world. TWD has experienced mixed fortunes since inception. They have successfully launched courses in places such as Houston and Montgomery, Texas. They have also witnessed setbacks on some proposed projects in Dubai, Blue Ridge (North Carolina), and Punta Brava, Mexico.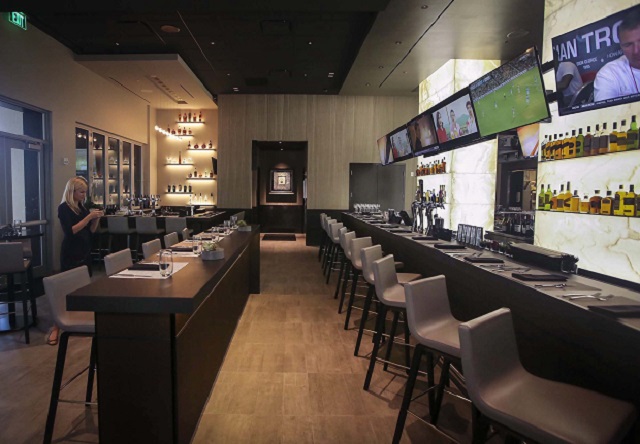 Restaurant
Woods has also made forays into the food industry. The golfer invested $8 million to set up his flagship restaurant, The Woods. Located in Jupiter, Florida, the restaurant/sports bar offers a diversified selection of spirits as well as inspired American cuisine. The Woods is presently managed by Wood's girlfriend, Erica Herman. Even though the exact amount of revenue generated by the outfit has not been revealed, it safe to assume that they must be making a healthy profit given the numerous 5-star ratings it has online.
Tiger Woods Net Worth Milestones:
1995: $10,000 (before he turned pro)
1997: $7 million (signs first deals with Nike and Titleist)
1999: $40 million
2001: $50 million
2003: $100 million
2005: $250 million
2009: $500 million (career earnings surpass $1 billion)
2010 $400 million (Net worth was slightly impacted after divorce settlement)
2016: $700 million
2019: $800 million
2020: $800 million
2021: $800 million