As a customer of Afrihost, you are entitled to a ClientZone account which is a portal designed to help you manage your packages and carry out various transactions in the convenience of your home without having to visit their outlet. The issue, however, is that there are still some who always wonder how they can create or login into their Afrihost ClientZone account.
A South African service provider that might not necessarily need any introduction, Afrihost is an Internet Service Provider that has been in business since it was first established in 2000 by Gian Visser, Brendan Armstrong, and Peter Meintjes as well as Greg Payne who later became a part of the business.
Through the years, it has grown into one of the most vibrant and popular ISPs in South Africa. Once partly owned by MTN before it decided to sell its shares, Afrihost has a number of packages for its users that cut across hosting, internet services, and more.
Among its products are Fibre, LTE Fixed Wireless, ADSL and VDSL broadband, and also web hosting packages. Once you are able to purchase any of the products, you get a user-friendly management portal; the Afrihost ClientZone.
How You Can Create Your Afrihost Clientzone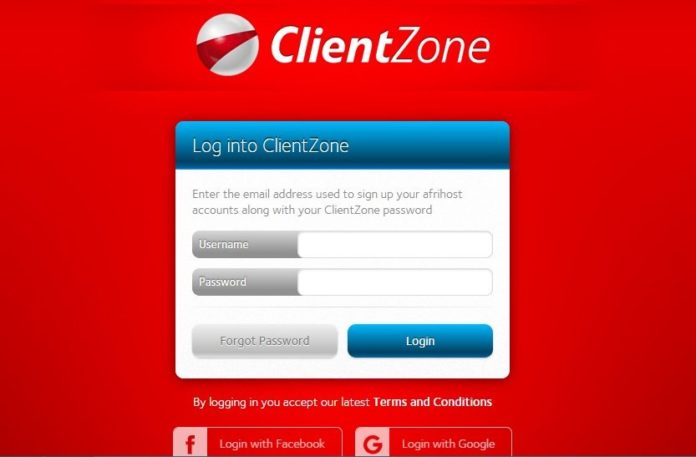 Creating this one-stop portal, which as stated, allows you to carry out various transactions and activities including making purchases, checking balance, and renewing packages, among other things is an easy process.
As a customer, you are not directly involved in the creation of the portal, as once you make a purchase or you sign up for any product, it will automatically be created for you. Once that is done, you will receive your ClientZone access details via the Afrihost email you are given in the process of signing up.
What makes it even more interesting is the fact that once you sign up to more products in the future, they automatically get added to your ClientZone without having to create a new portal or having to add it manually.
How To Login To Your ClientZone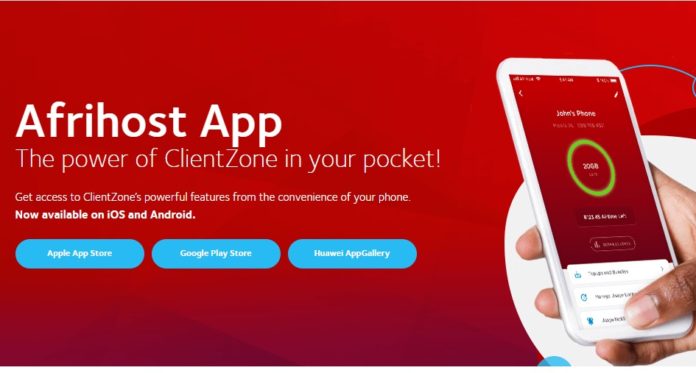 Before going to the process of how you can access your management portal, it is important to know that just as you can do it directly via the web, there is also an app that one can download for more convenient use. The mobile app allows one to also carry out various ClientZone functions. It is available both for iOS and Android devices. The app is also available for download in the HUAWEI AppGallery.
To log into your ClientZone account, you will, first of all, retrieve your details from the mail that was sent to you, containing the access data. With that, you can now follow these steps:
1. On your web browser, visit the clientzone.afrihost.com.
2. When the page finally opens, put in your Username and Password in the fields provided.
3. Hit on Login and that should take you to your account.
4. If you have previously linked your account to your personal Google account or Facebook, you can also decide to log into your ClientZone account using either button as seen on the login page.
Note: The process is the same as the mobile app; once it is downloaded and launched, you will simply put in the required details and login.
Problems That You Might Have Creating Or Logging to Afrihost ClientZone 
When it comes to creating the Afrihost ClientZone account, the issues one might face are always limited because it is an automatic process. However, the major problem one might face when trying to log into the account would be the failure to access the account due to the usage of wrong details.
Here are the steps to take in resolving forgotten password issues via password reset:
Kindly go to the ClientZone login page or launch the app
Put in the email address that you use to access your ClientZone account into the Username field.
Now, simply click on the 'Forgot Password' button.
Log into your primary email (the one used) as a link will be sent there. When you click the link, it will open the password reset page.
On the page, put in a new password and then type it a second time to confirm
Click on 'Reset My Password'.
In addition to this, you will be asked to enter a One Time PIN (OTP) for the purpose of extra security.
The OTP will be sent via SMS to the primary contact person of the account.
Enter the OTP and click 'Submit'. Once this is done, you can use your details and the new password to gain access to your Afrihost ClientZone Account either via the webpage or the app.
Afrihost Has A Strong Support System
If one experiences other issues with the South African internet service provider or you have other inquiries, Afrihost has robust support which you can contact. Its customer care has received a number of accolades in the past for its efficiency.
Importantly, Afrihost makes it possible for one to get support through a number of ways including by visiting their outlets and offices, via email, chats, and social media among others. Here are the various contact details to use:
Whatsapp
Helpers can be accessed for assistance and inquiries via this link from Mondays to Fridays (07:00 – 20:00) and also from Saturday to Sunday (07:00 – 16:00).
Email
Afrihost accounts: accounts@afrihost.com
Afrihost support email: support@afrihost.com
Community Answers/ Help Center
One can also get solutions to problems and answers to inquiries from Afrihost community page. More so, you can also access video tutorials on different things here including Afrihost ClientZone Account, Broadband, devices, hosting, and mobile services.
In the help center, there are useful resources for everything from your account to email, domain hosting, and much more.
Phone calls
0800 011 000
International- +27(11) 612 7300
Note: The phone lines are only available between Mondays to Fridays from 07:00 to 17:00. More so, standard call rates are charged for calls.
Live Chats
For a quick resolution to problems, there is also the option of live chats which will pitch you up with someone who will give you an immediate response to inquiries and issues.
To use this option, visit the help page and then select Afrihost Live Chat. A new tab will appear requesting you to fill in your details and get on with chatting with the live team.
Visit Afrihost office or outlet
There are also different offices that you can visit or outlets close to you, depending on the issue you are having.