Hulk Hogan had only one sibling, a brother named Allan Bollea. Sadly, he died in 1980, which is why no one gets to hear anything about him. The wrestling champion also has a 33-year-old son named Nick Allan Bollea. 
Both fans and the general public have been full of questions regarding the identity of Hulk Hogan's brothers. There are still many who would love to know whether the champion of the World Wrestling Entertainment sired a son with any of the two women he was involved with.
The facts have finally come to play and it has come to public attention that the son of a dance teacher and a construction foreman was not born as an only child. Besides, sources have been writing about his son who loves to walk on the wild side. This write up is replete with inside information about Hulk Hogan's son and brothers, read on to get more.
Who Are Hulk Hogan's Brothers?
It rather comes as a surprise that we have not been hearing about the siblings of a man so popular, but there is a cogent reason behind this. To state it simply, Hulk Hogan did have a brother whom he spent his formative years with, however, the reason we don't get to hear about the only sibling of the legendary wrestler is that the guy is long dead. He was born with the birth name of Allan Bollea in May 1947.
However, Hulk Hogan's brother was barely 40 years when he died in the month of April 1986. According to the records, his death was as a result of injuries from gunshots. The man was shot a couple of times, in the back which was quite fatal, but the records failed to furnish us with the incident that led to the tragedy and exactly where the shooting took place. Thus, that's all the information available on Hulk Hogan's brother.
 Does He Have A Son?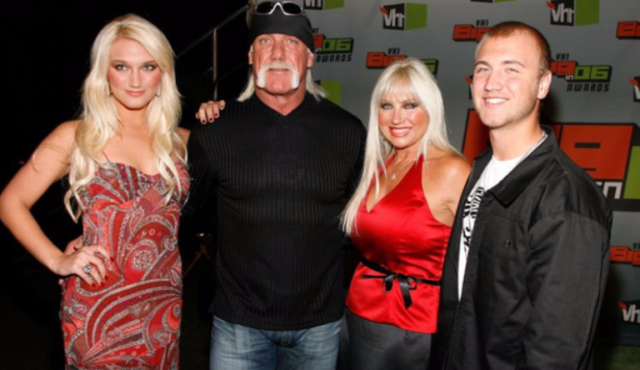 With the identity of Hulk Hogan's brother revealed, let's x-ray some facts about the wrestling champion's son. He is called Nick Allan Bollea, born on the 27th of July 1990 In LA County California. Nick earns a living as an actor and a reality TV personality, best recognized as the son of Hulk Hogan and for his appearance on Hogan Knows Best reality show and its sequel Brooke Knows Best alongside his mum Linda Hogan, his dad, and Brooke Hogan his big sister.
Is Hulk Hogan's Son a Wrestler? 
Many people believe that any son of Hulk Hogan would end up as a wrestler, but that is not the case here. Apart from acting and reality TV, the son of Hulk Hogan nursed ambitions of joining the car racing competitions as a professional because, in 2006, Formula Drift (the sole professional drifting series in all of North America) gave him a Formula D competition license. He even went as far as participating in one of the series' competitions in Atlanta on the 12th of May 2007.
He also took an active part in the NOPI Drift series and joined the 2007 Denver NOPI drift event after qualifying 10th and later placed 3rd at their event in Pittsburgh. Nicks attended amateur drifting contests albeit sporadically, but thanks to his celebrity status, the son of Hulk Hogan was able to attract some sponsors which informed his brief contract to Dodge.
Other sponsors that supported his car racing career include the likes of Mac Tools, Polaroid, Sparco, BF Goodrich. It would seem that his interest in the fast cars fizzled out because Nick's last competition car was recorded as Nissan 350Z.
From what is obvious, Nick's interest in fast driving never fizzled out as the young man was quite notorious on the roads, attracting speeding tickets faster than magnet would attract iron. To worsen the situation, Nick got into a serious road accident in Clearwater, Florida on the 26th of August 2007, barely half a month after collecting his 4th speeding ticket within 11 months. The vehicle that he was driving fishtailed and rolled across the road, crashing into a palm tree as well as the median strip. The impact completely destroyed the car.
While Nick emerged from the crash unscathed, the story was quite different for his passenger John Graziano. He sustained serious brain and eye injuries which was blamed on the fact that that the then 22-year-old John failed to wear his seat belt, thus, he is expected to spend the rest of his life in a nursing home.
The crash incident eventually brought the young Nick to face criminal charges and on the 9th of May 2008, he was sentenced to prison at Pinellas County Jail for a period of eight months with his driving license suspended for 36 months. Hulk Hogan's son was eventually released from jail on the 21st of October 2008 as a result of "good time" and later went to stay with his mom in Clearwater, Florida.
Who are Hulk Hogan's siblings?
Hulk Hogan is his parents' only surviving child. He had only one sibling, a brother named Allan Bollea, who was born in May 1947. Unfortunately, his life was cut short in April 1986, just before his 49th birthday. Reports have it that he was shot a couple of times in the back which resulted in very fatal injuries that ended his life. However, nothing is known about the events leading up to the incident.
Why Does Hulk Hogan Calls Everybody Brother
Speaking during an interview with NOLA.com, Hulk Hogan explained his reason for calling to everyone "brother." According to him, when he was becoming a star in professional wrestling, it was easier for him to refer to everyone as "brother" rather than trying to remember their names. This is because he was meeting with a lot of people and there was no way he could remember all their names.