The Nigerian movie industry is one interesting space, but, it has witnessed the end of many marriages. However, we have been able to keep hope alive by looking at the union of celebs like Mercy Johnson and her husband Odianosen Okojie; the duo has proved that true love still exists for celebrities. From every indication, Mercy is living in marital bliss despite all the controversies their union has withstood in the past. From the feelers we are getting, the Mercy/Odi union is not likely to join the long queue of crashed celebrity marriages for a very long time to come.
We cannot talk about Mercy and Odianosen Okojie's married life without giving a mention to the four cuties that came to cement their love. The celebrity actress started having children immediately after her wedding and has a total of four kids to show for her almost one decade in marriage. Mercy's first child Purity is said to be a spitting image of the actress, Henry is the only son in the family and Angel is following closely behind him in age, while the baby of the family is Divine.
Mercy Johnson and Odianosen Okojie Met on a Flight to France in 2008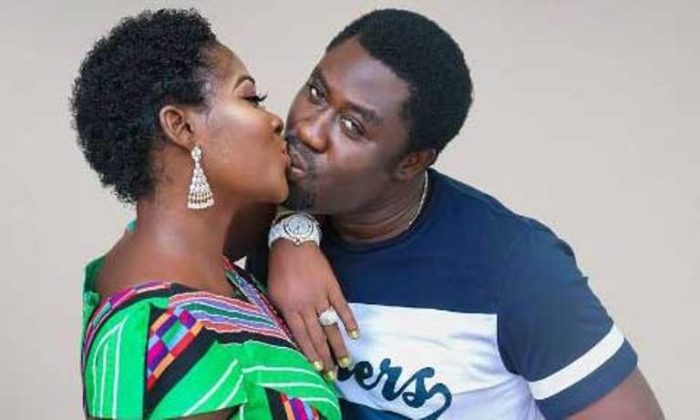 The love between Mercy Johnson and her spouse Prince Odianosen Okojie started in 2008 when the duo met on a flight. They were flying to France on the same aircraft and were both sitting in business class. A discussion ensued between the two which led to Odianosen, also known as Odi asking for the Nollywood actress's phone number.
According to what we gathered, Mercy initially declined his request as she didn't deem it necessary, but being the natural hunter like most men, Odi found a way of getting what he was looking for and that marked the beginning of their relationship. The couple dated for three solid years before they decided to take their dalliance to the next level. Odi asked Mercy to be his wife with a showy diamond ring.
They Exchanged Marriage Vows in 2011 Amid an Uproar
On the 26th of August 2011, the Iyana Ipaja area of Lagos State wore a new look as Mercy Johnson and Prince Odianosen Okojie did their traditional marriage rites in the area. The big day proper was scheduled for the next day, being the 27th of August 2011 when the couple pledged commitment to each other. This happened at the Believer's Loveworld church (Christ Embassy in Oregun Ikeja). The reception followed immediately after church service at the 10 Degrees Event Centre also in Lagos.
Though the celebrants banned all press cameras from the event with promises to release the official photos later, some pictures still filtered out from guests who couldn't resist taking a few shots. Mercy was seen in a wedding gown designed with a sweetheart neckline; the tail was an a-line silhouette sporting a dramatic cathedral length. She signed it off with a shimmering necklace, a lace bolero, in addition to a cathedral-length veil. Odi matched her in elegance, appearing in an all-white suit with gold designs.
The couple's wedding was really a grand and showy affair as it attracted a lot of dignitaries from Nigeria and beyond. For one, the beautiful Ghanaian actress Yvonne Nelson was the maid of honor and she came into Lagos with other celebrities from Ghana. Also sighted were several government officials and a lot of Nollywood stars.
Let's Meet Mercy Johnson's Husband Odi
Far from being part of the entertainment industry, Mercy's husband Prince Odianosen Okojie earns a living as a businessman and politician. His middle name Odianosen is an indication that he hails from Edo State Nigeria. Before he met Mercy Johnson in 2008, Odi was already a man who has had several interactions with the opposite sex. Notable among his escapades is his failed relationship with Lovely who is in fact credited as his first wife.
According to what we gathered from the records, Odi and Lovely were joined together in a traditional marriage which resulted in the birth of two children. Though their union lasted for quite a while, the couple made no move to formalize things via a church or court wedding; this was why Lovely was not able to stop Odi and Mercy's wedding from taking place.
The Secret Behind Their Enduring Union
Fans can't help but wonder how Mercy Johnson has been juggling the home front with a successful acting career for almost a decade without major issues. In her response, Mercy revealed some funny ways through which they have kept the fire of their passion burning. According to the Dumebi actress, she sometimes purchases some funny cards and hides them inside Odi's pockets. She also makes a point of dressing nicely whenever he is around. Besides, the actress is not afraid to let Odi into her deepest secrets, even the one she would be ashamed to share with friends. On his own part, Odi would never condemn her; he would rather share her emotions as he comforts the actress.
Besides, despite having separate rooms in their Luxurious mansion, Mercy and Odi have never slept apart for a single night. Mercy let on that they just love falling asleep in each other's arms, even when her husband makes a joke by telling the actress to go to her own room, Mrs. Okojie's response would always be that the room belongs to both of them.
In case of any disputes or misunderstandings, the couple will always find a way of reaching a consensus without involving any third party. Odi has the knack for making his wife laugh whenever she is upset and their union has no room for secrets and deceit. In fact, Mercy Johnson said she learned how to be patient from her marriage, and the mutual understanding they share helped their relationship a lot. Mercy said she goes through pains whenever Odi is upset with her. The couple enjoys each other's support; they usually have some quiet time together in secluded places and attend functions together. All these little things keep boredom very far from their union, besides; they see themselves as each other's best friend.
Here Are Mercy Johnson's Children
For many celebrities, attaining success at the home front is nothing but an unrealizable dream, and finding time for their loved ones seems to be impossible. This trend has given rise to uncountable matrimonial problems among our stars. However, the Dumebi actress seems to be untouched by this narrative as she has birthed four beautiful children (one boy and three girls) and her home is sure running on oiled wheels. Mercy is super proud of her family as she always flaunts them on social media.
Purity Okojie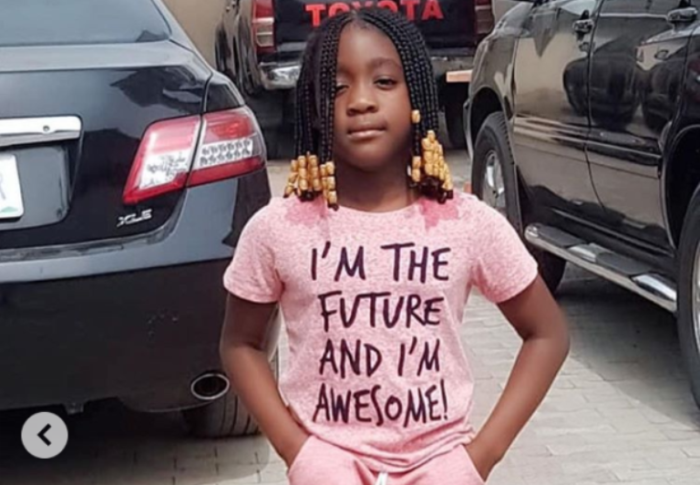 Mercy Johnson became a first-time mother on the 30th of December 2012 when she welcomed her first child Purity Ozioma Okojie. Quizzed on why they decided on the name Purity, the proud dad explained that the name is an embodiment of Mercy Johnson's character whom he described as wonderful, unblemished, and kind. His daughter's beautiful name according to Prince Odianosen Okojie is the consequence of his wife's character traits.
An apple doesn't fall far from the tree and Purity Okojie is a good example as the little girl has turned out to be the spitting image of the Nollywood star. Her graduation from nursery school was well celebrated by her parents who took to Instagram to tell the world that their baby girl was on her way to primary school. Purity clocked eight years old in 2020 and her parents threw a memorable party in celebration. Speaking about the individual characters of her parents, Purity said she is more likely to get some cash out of her dad than her mum, but then, her father is the one likely to pick out the wrong child from the crowd.
Henry Okojie
Purity became a sister to Henry Okojie on October 15, 2014. Henry is the only boy in the family and turned six in 2020. In celebration of his big day, the boy's doting parents got him five cakes decorated with several cartoon characters, including – Paw Patrol, Avengers, PJ Masks, the Monster Machines, and Blaze. Photos from the birthday celebration were promptly shared on social media as Mercy and Odi wished the celebrant a happy anniversary
Angel Okojie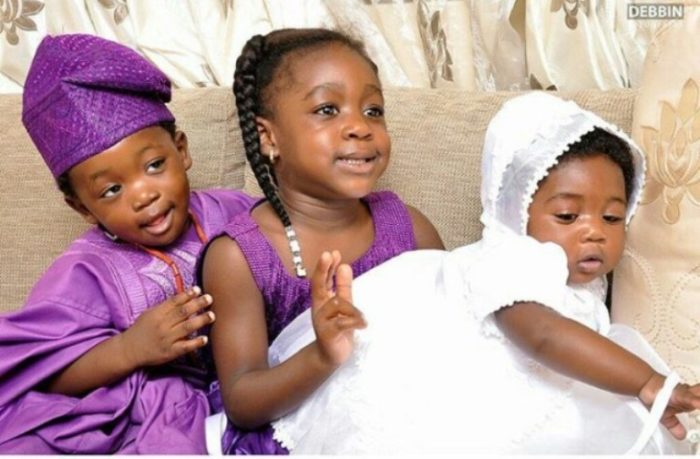 Angel Onosetale Okojie became part of the Okojie family in 2015, precisely on the 11th of December. Angel who clocked five in 2020 couldn't throw a big party like her other siblings as it was a weekday and she had to be in school. However, the movie star and her husband still did their best to make the day as memorable as possible.
Divine Okojie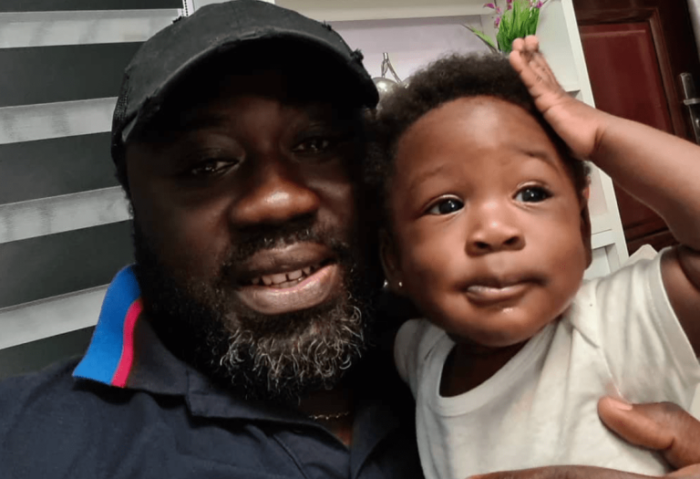 4th of May 2020 heralded the birth of the Okojie's last child. Named after her mom, Divine Mercy Ehinomen Okojie who was born in the United States is celebrating her first birthday soon as she basks in the loving attention of her parents and older siblings. Mercy recently shared an Instagram post where she was seen spending good time with Odi and Divine at their poolside.
Truths About The Scandal Involving Odi's Estranged Wife Lovely Okojie
When plans were already underway for Mercy Johnson to tie the matrimonial knot with Odi in 2011, the politician's estranged wife came out to raise alarm, claiming that she was legally married to Odi and they have a couple of kids. By then, the Nollywood star was busy with her wedding shopping in Europe. Everything seemed to be running on oiled wheels when Lovely dropped her bombshell, backed up with photos taken at their marriage ceremony.
The public exhibited mixed reactions to the news, while some condemned Prince Odi for betraying his wife, others attacked Mercy for hooking up with an already married man. There were still a few who advised Lovely to give up as she was never legally married to the prince; they only did a traditional wedding.
One would be far from the truth to say that Lovely's timely bombshell didn't cause a setback to the couple's proposed plans; it did. However, while people thought their wedding plans would be truncated, the lovebirds presented a united front and against all odds, their wedding later came to pass as proposed, though they had to employ very tight security to pull it off.
Considering the politician's first failed marriage, people really doubted that the second time around would be successful. These expectations begin to ring true when you consider the rate of divorce among celebrities like Mercy Johnson. However, the movie star proved that she is different by leading a tranquil and blissful married life with Odi for nearly a decade. Moreover, their marriage lacks the typical drama that we see in celebrity marriages. Even when a rumor ran rife that they were experiencing some marital troubles back in 2018, the duo emerged from the drama stronger than before. According to Mercy Johnson, her spouse is her pillar and strength
Lovely Okojie Later Broke Her Silence On The Uproar She Caused
A while after their wedding, ENCOMIUM revealed that Lovely was still bitter about the way her marriage to Odi ended. According to them, the mother of two felt betrayed and has not fully recovered from the experience, thus, Lovely is not even contemplating going into a second marriage.
On the 15th of March 2015, ENCOMIUM Weekly enquired about how she was coping with the situation. Lovely responded that she had no choice but to move on with her life after experiencing the debacle that saw Odi pledged the forever commitment to another woman. Speaking from Canada which is her base, Odianosen's estranged wife maintained that everything that happened has become history and she doesn't owe anybody any explanations. Life, according to her, is filled with ups and downs and she has learned to accept it as her fate.
The Couple Had Issues With Davido and Tonto Dikeh
Nigerian singer Davido and Prince Odi were engaged in a feud sometime ago and according to reports, it was all due to a deal gone bad. Davido reportedly received the sum of three million naira to perform at the opening ceremony of Henod Luxury Hotel belonging to Odi but failed to appear as he went to the US on a tour. When Prince couldn't reach the singer and his staff, he got infuriated and sought redress from the court for breach of contract. The case was later settled out of court as Mercy Johnson's husband got his refund, but there was already bad blood between both men. This was why Davido took to Instagram to attack the actress and her husband upon hearing news of the birth of their baby, calling them "wicked people" and "evil set of people".
On Tonto Dikeh's part, she made a sly remark about Mercy Johnson after she returned to acting four months after delivery. Tonto said people who rush back to work so fast can only be because they were broke and prayed that God would give her a husband that will be able to take proper care of her when the time comes. Perceiving that Tonto was referring to her, Mercy engaged the actress in a Twitter war which led Tonto to call Mercy's baby a witch. However, after getting married and having her own baby, Tonto realized the enormity of her careless comments and asked Mercy for forgiveness which she promptly got.