Williams Uchemba's date of birth is unclear but it is certain that he was born on the 22nd of October because he celebrates his birthday on that day every year. He is married to Brunella Oscar, a medical practitioner.
Williams Uchemba, a popular Nollywood actor, is one of the widely talked-about movie stars in Nigeria and is always in the spotlight especially because of his philanthropic gestures and, sometimes, controversial moves. Having started out as a child actor, he has warmed his way into people's hearts and is a fan favorite who is admired for his boldness, business savviness, and top-notch acting talent.
Williams is also admired, especially by the ladies, for his very handsome features which stand him out as one of the good-looking Nigerian actors and have also led to curiosity about who the women in his life were. This is why when Uchemba eventually got married, his wedding caused a stir among Nigerians.
When Was Williams Uchemba Born?
It is a known fact most famous persons around the world have their dates of birth plainly stated for the general public to know. However, for Williams Uchemba, this is not the case. Even though he is a very popular person, his date of birth has remained unclear. Over the years, there have been lingering speculations about what his real age is because this information is not readily available to the public. What is certain is that Uchemba was born on the 22nd of October because he celebrates his birthday on that day every year. However, the year he was born is not very clear.
Many people have claimed that Uchemba is now in his 30s but this is not certain as it has not been fully confirmed. However, an Everipedia profile of Uchemba suggests that the Nollywood actor was born on the 22nd of October, 1994, and is now 28 years old. This happens to be the most authoritative claim of Uchemba's age so far.
Why Uchemba's Age Is Not Certain
It is no secret that Williams Uchemba is a very private person when it comes to his personal life. As an actor and philanthropist, he is very vocal and is also outgoing in society He is equally very active on social media where he shows off his philanthropic works and career moves very frequently. He has also met with top political leaders and is considered to be a very funny and convivial person.
However, when it comes to his personal life and what goes in it, Uchemba is quite tight-lipped. Nothing much is known about this aspect of him. Apparently, this is why his real date of birth is not quite a sure thing.
When Did Williams Uchemba Begin His Acting Career?
Williams Uchemba kickstarted his acting career as a child and actually came into the limelight as a child star. Our investigation shows that he started acting in 2000 long before he even turned 10 years old. His acting prowess stunned Nigerians at the time considering the fact that he was only a little boy.
He went on to become one of the most popular child actors in Nigeria after he starred in The Journey of the Dead, a 2001 Nollywood movie alongside Nollywood heavyweights like Pete Edochie, Olu Jacobs, and Ramsey Nouah.
He later starred in other movies including Beyond Belief in 2003, Dorathy My Love in 2005, and The World of Riches in 2006. Uchemba has also starred in some highly talked about blockbusters like Merry Men 2 in 2019 and Sugar Rush also in 2019. Over the years, he has transitioned to philanthropy and movie production.
Who Is Williams Uchemba's Wife, Brunella Oscar?
Williams Uchemba is currently a happily married man. The Nollywood actor is married to a beautiful woman called Brunella Oscar. Since she got associated with Uchemba, all attention has been on Brunella who many agree is in a class of her own when it comes to beauty. But who really is this Brunella Oscar?
Brunella Oscar is a Nigerian woman who lived and studied in the UK before meeting Uchemba. An Igbo woman, she was born on April 20th, 1992 to Mr. and Mrs. Oscar Nwaolisa who are both from Alor, a town in Idemili South of Anambra State, South Eastern Nigeria. Reports show that Brunella has a brother and two sisters and was raised outside Nigeria.
Brunella is a widely read woman. She studied at the Scuola Media Giancarlo Siani and Cowley Language College before bagging a Bachelor's Degree in Biomedical Science from Anglia Ruskin University. Not stopping there, she enrolled in a Master's program and graduated with a Master's Degree from Hull York Medical School in 2018. She is now a qualified physician.
The Possible Age Difference Between Uchemba And His Wife
Many people have been speculating about what the age difference is between Williams Uchemba and his wife, Brunella Oscar. This is because some feel the woman is a bit older than he is. But is this true?
Well, Uchemba'a real age is not certain but one of the most credible sources of his date of birth, Everipedia claims he is 28 years old at the moment. Going by this, it is safe to say he is younger than his wife who was born in 1992 and is 31 years old. Going by this, we can deduce there's a possible 2 years age gap between the couple.
How Brunella Oscar And Uchemba First Met
The story of how Brunella Oscar and Williams met is quite an interesting one and it was told by Brunella herself. According to her, she was the one who first reached out to Uchemba. She explained that she was online on the 22nd day of November 2016, and was just randomly scrolling through Facebook when she saw a video of Uchemba in which he was giving young people advice and preaching to them. She was attracted to him immediately.
According to her, the video was 15 minutes long but just 30 seconds into it, she heard a voice telling her 'this is my husband' even though at the time she had never heard of who Uchemba was or what he did for a living.
She eventually messaged him on Facebook but did not get an immediate reply. However, she was so excited about the voice she heard in her head about him being her husband that she started telling her friends that she had found her husband when she went to school the next day. At the time she had just started doing her Master's program. Everyone thought she was crazy.
Eventually, she got a reply from Williams Uchemba on the 23rd of November 2016. He asked her where she was from and she told him. They got talking immediately and later decided to start talking on WhatsApp after Uchemba asked for her number.
Things progressed quickly and they started video-calling each other very often. They clicked so well that it felt they had already known each other for 10 years prior. It was clear that they were meant for each other.
Williams Uchemba later invited her to the Winter edition of the Youth Assembly conference at the UN Headquarters in New York so they could finally meet in person. She agreed and they eventually met in New York. The couple was thrilled after meeting each other. They spent about one week in New York and it was such a beautiful period in their lives. They felt like they had known each other all their lives. About four years later in 2020, they became husband and wife.
The Couple's Wedding Was A Grand Affair
Williams Uchemba and Brunella Oscar got married towards the end of the year 2020. They started with a traditional wedding ceremony which was held on Sunday, November 15, 2020. The event which was was a very classy one, trended on social media. Their traditional marriage ceremony was held at the bride's hometown of Alor in Anambra state, South Eastern Nigeria.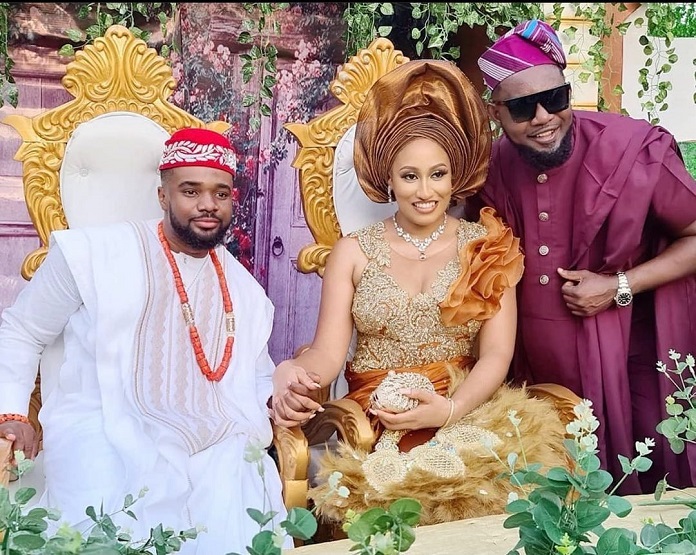 At the wedding, Brunella stunned people with her amazing outfit which was a gold-colored embellished mermaid-inspired dress complete with four layers of neck beads and a stunning headpiece to match. Uchemba on his part dazzled in his traditional agbada outfit which he matched with a beautiful red cap.
As expected, different celebrities thronged the wedding in their own classy outfits. Celebrities like AY Makun and J. Martins graced the wedding.
Brunella And Uchemba's White Wedding 
Some days later on Saturday, November 21, 2020, Williams Uchemba and Brunella Oscar had their white wedding. The wedding took place in Lagos at the Dominion City Church, Lekki Epe expressway. The wedding was officiated by the senior pastor of the church, Pst. David Ogbueli and was attended by close friends and family members of the couple.
Different high-sounding celebrities also attended the event. Different celebrities like Banky W, Falz, Peter Okoye (Mr. P), Ay, IK Osakioduwa, and many others were all in attendance. It added a lot of spice to the already mouthwatering wedding ceremony. The white wedding also trended online as fans took to social media to wish the couple well.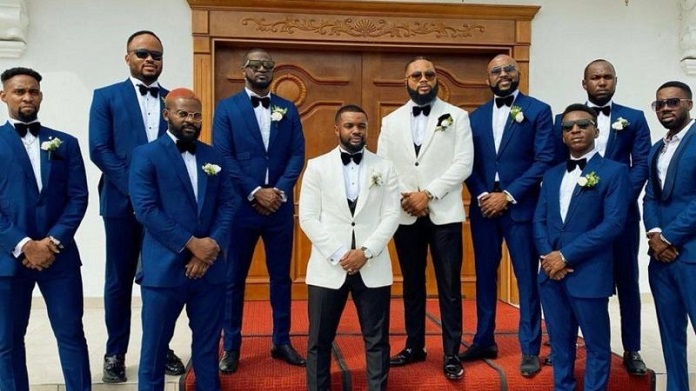 Inside The Blissful Relationship Uchemba And Brunella Share Since Their Marriage
Since their wedding took place, Uchemba and his beautiful wife, Brunella seem to be having a blossoming relationship. Shortly after their wedding, the couple traveled outside Nigeria to enjoy their honeymoon. They went to two different cities on vacation as they began their lives together as a married couple.
First, they were in the beautiful city of Dubai where they took time to take thorough glimpses of the insanely gigantic architecture and also have a great time taking in other sites. In the photos that they posted on social media, Uchemba dressed up in Dishdasha or Kandura; the traditional UAE outfit for men while his wife Brunella, stood beside looking elegant in her Abaya; the traditional long flowing dress for women in the UAE.
After this, the couple traveled to Cape Town in South Africa to enjoy 'round two' of their blissful honeymoon. The photos that they shared from the time they had together in Cape Town showed they had great chemistry and were extremely enjoying their union.
While in Cape Town, the couple joined the viral 'Your View, My View' social media challenge while having breakfast together in a beautiful setting. Uchemba shared two photos of them on his Instagram page; in one image, his wife, Brunella is seen looking very pretty and eating her breakfast in front of him while the second photo showed Uchemba striking a rather hilarious pose in front of his woman.
The husband and wife were also seen enjoying boat cruises and going for swims in very fancy swimming pools.
In other posts on Instagram, the couple is seen hardly being able to take their eyes off each other. It was clear that they were having the best time of their lives. And, right now, there is no sign at all that things may be going awry for the couple.
The Allegation That Threatened To Ruin Their Happy Moments
Shortly after Williams Uchemba and Brunella Oscar's white wedding, an allegation was made against Uchemba that threatened to put a dent in the new couple's happy moments. The drama began when Kosi Ugo, a Nigerian man believed to be a blogger took to Facebook to make some shocking allegations; claiming that Williams Uchemba is homosexual. According to Ugo, Uchemba's marriage is dead on arrival, and that it was a matter of time before his wife finds out and starts having problems with him.
The alarming allegations stunned many Nigerians and social media went wild as people reacted to the shocking claims. For some time, Williams Uchemba trended online as Nigerians got divided over the allegations. The whole thing was more shocking because Uchemba had just had a fabulous wedding with his gorgeous wife.
The allegations caused so much stir that, eventually, Uchemba stepped forward to address the matter. In his reaction, he said anyone who has any allegations against him should feel free to make those allegations. However, those allegations must be backed by evidence.
He went on to say that if anyone makes false allegations against him without backing the said allegations with evidence, he will not hesitate to respond with the 'full weight of every legal option' at his disposal and drag the accuser to face the law. He ended by saying that was the last time he would speak on the matter as he was planning his honeymoon with his wife.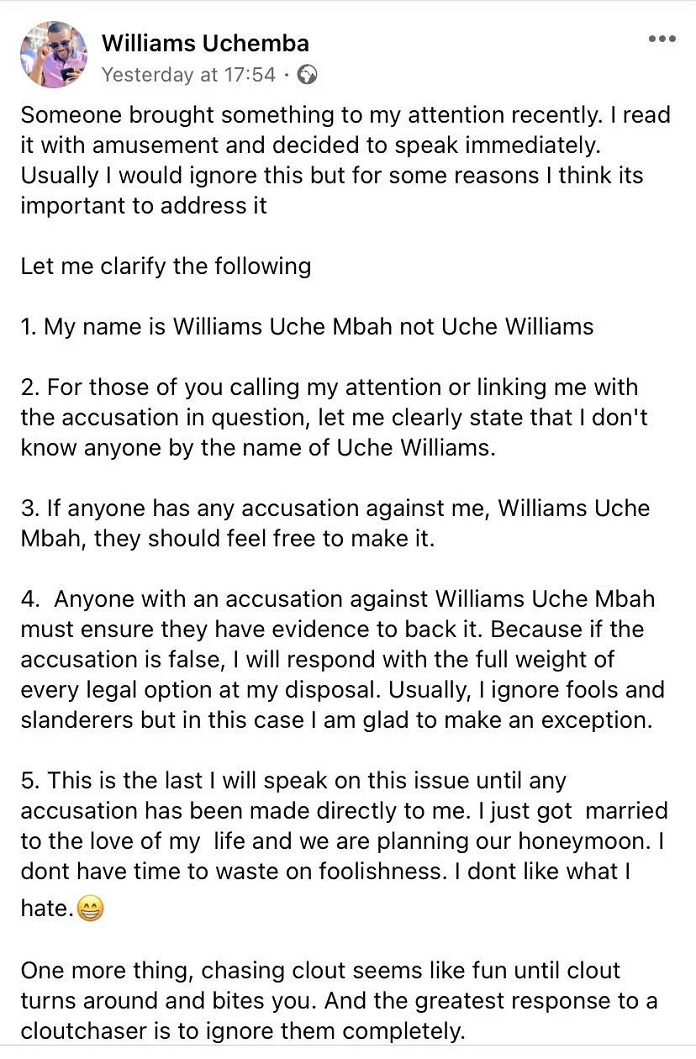 After Williams Uchemba's reaction, the allegation and the stir it caused died away slowly and the couple started posting photos from their honeymoon. Even though the malicious allegations were clearly intended to cause some rift in the actor's marriage, it failed to achieve this aim.
Ever since then Uchemba has continued to mesmerize fans with his affection for his wife. So far, it is safe to say that Williams Uchemba and Brunella Oscar have devoted themselves to making their marriage work and enjoying their ride every step of the way.
Instructions:
Provide answers to the questions – his age, date of birth and who the wife is