South African singer, actress and dancer Kelly Khumalo has had some very interesting relationships in the past with some ending in what could best be described as a total disaster. One which many could easily go back to, was her love life with her ex-boyfriend, Jub Jub with whom she has a kid.
Many years after the turbulent relationship, she was out in 2020 to reveal that she is now trying to mend the fences that were torn apart between her and her ex for the sake of her son, even though she has alleged in the past that the rapper abused her both physically and emotionally while they were together.
Kelly Khumalo and Jub Jub Were First Romantically Linked In The Late 2000s
It was in 2010 that it emerged that Kelly and Jub Jub were first linked to each other after the singer ended her relationship with Prosper. At the time, Jub Jub whose real name is Molemo Maarohanye was slowly making waves in the music industry as a rapper while Kelly was already a famous entertainer who had already made a fairly successful career as an actress and singer.
The relationship did not last a long time before the two music stars caught the eyes of almost everyone interested in watching as they were not only cute together, but were projected to be the next power couple to come out of the South African entertainment industry.
By March 2010, trouble started for Jub Jub who together with friends, killed four kids, leaving two more with brain damages following a drug-influenced drag racing near a school. Jub Jub was found guilty of murder and attempted murder, as well as other related offences for which he was sentenced in 2012 to 25 years behind bars. He appealed the judgement and was successful in having his sentenced reduced to 10 years in 2014 after the earlier judgement was overturned to culpable homicide.
All through his trial, Kelly Khumalo was right by Jub Jub's side, offering him her support. However, by the time he would finally be released from prison on parole in 2017, after 4 years behind bars, their relationship had since ended in 2012 in an unceremonious way.
Khumalo Revealed Their Relationship Was Marred By Jub Jub's Constant Abuse
Although out in the open Kelly Khumalo and Jub Jub seemed to have the ideal kind of relationship and were often seen as the "it" couple, there was so much going wrong in private. All these did not come out until the relationship later came to an end.
She revealed that the relationship was mostly a push and pull type in which she would push him away at one moment before pulling him in again. Although she became a victim of abuse two years after they started dating, she felt trapped because she couldn't leave. On one hand, she was very much in love with the rapper, and on another, she was on drugs, making it harder to leave.
When they first started, Jub was a sweet fellow, but along the way, things got out of hand and he started harassing her, according to the singer. It completely caught her off guard because, in the couple of years they spent together, there was no sign that he could do that. However, looking back, she said the signs were there but she chose to ignore them altogether.
At a point in 2011, she resorted to getting a restraining order against her ex-lover. Interestingly it would later seem as though both Kelly Khumalo and Jub Jub were abusive towards each other. There was a time, she revealed, that they almost tore each other apart in a police station, leaving their son in the car.
More than the abuse that seemed unending, she also alleged that Jub Jub cheated on her while they were together.
The Singer Pulled The Plug On The Relationship After Going Public About The Domestic Violence She Suffered
I don't have to this will one day…🙏🏾 https://t.co/B0v5zhvBrn pic.twitter.com/Ofsx7t3Mb8

— The Voice Of Africa (@KellyKhumaloZA) August 6, 2020
Because it was extremely hard for her to walk away from the relationship on her own, the South African singer decided to take the unconventional path of revealing to the public that she was being abused by her then-lover. It was a trick that worked for her because once she did that, it became hard for her to return to Jub, believing that she was going to let her fans down.
She still went back to him, but the guilt and the feeling that she had to do the right thing for her child with the rapper, made it easier for her to leave him. She decided the rapper had to take care of the things in his life including his abusive tendencies before she would accept him back.
After getting the guts to call the relationship quits for the last time, Kelly Khumalo became an advocate against domestic abuse, helping people through difficult relationships by speaking out. Her advice to other women is that the moment a man shows abusive tendencies, they should walk away because staying would only make the abuse worse.
Their Relationship Did Not Improve After Jub Jub Left Prison
Years after their relationship was strained because of the abuse that characterized their time together, Kelly and Jub Jub did not let the waters of the past pass under the bridge following the release of the rapper on parole in 2017.
The animosity between the two continued even after their break up as they would take turns at throwing jibes at each other on social media. Kelly Khumalo claimed that her baby daddy has never made any effort at connecting with his son and she shared a picture on social media, showing the injuries she sustained from the relationship years ago.
In response to Khumalo's social media reveal, Jub made an Instagram post, "It must be hard putting make-up on your two faces every day," which immediately got the two former lovers trending on social media.
The Couple Welcomed A Son In 2010
When all seemed to be wine and roses for the couple, they welcomed a son named Christian who was born in 2010. Before the birth of her son, she took in for the rapper back in 2009 but she lost the pregnancy after he abused her.
The singer has since remained the sole parent of her son and the daughter she later had with the late South African goalkeeper, Senzo Meyiwa. For someone who has recorded much success both as an actress and a singer, Kelly revealed that her proudest achievements yet have remained her lovely kids.
Kelly Khumalo continued to raise her son without allowing the Jub's family access to him until recently when she introduced him to that side of the family. Also, she contacted Jub Jub who is now the host of the South African reality television show, Uyajola 9/9 to get his family to carry out a ritual which would allow the kid to be presented to his paternal grandfather. She reached out to mend fences with her former lover for the sake of her son.
Kelly's Other Relationships Also Came To Scandalous Endings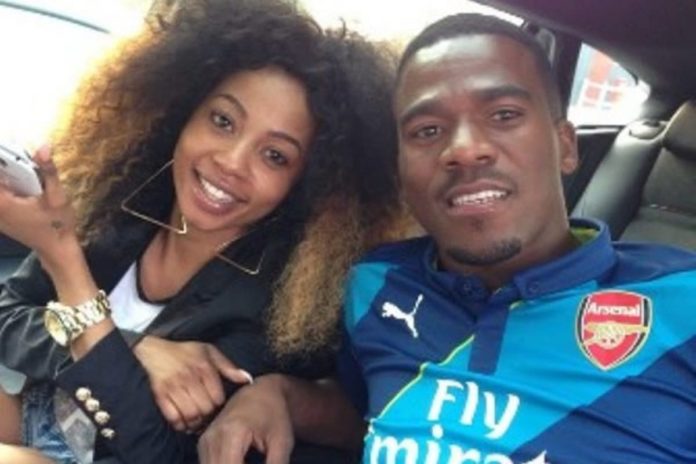 For someone whose name seems to always have the air of scandal, Kelly Khumalo's other two relationships have also ended in agony.
Her relationship with the late Prosper Mkwaiwa, before meeting Jub, ended in a bad note. Their plans to get married were shelved. It was later rumoured that Prosper started encountering various misfortunes after he took the singer's virginity. Unfortunately, the businessman and music promoter died in February 2015.
After things ended with Prosper, she went on to date Jub Jub and then to then Orlando Pirates goalkeeper, Senzo Meyiwa. This relationship was not without its own controversies, mostly because the goalie was still married at the time. That did not stop Kelly from welcoming a child with him, a daughter named Thingo. Sadly, Meyiwa was shot and killed on 26 October 2014 in Kelly's home in what was thought to be a robbery case, but now believed to be a case of assassination.