American actor, James Van Der Beek joined the entertainment industry back in 1993 as a teenager. In addition to his starring roles on Dawson's Creek, CSI: Cyber, Varsity Blues, and The Rules of Attraction, Beek later gained media attention for contesting on the 28th season of the famous reality TV dance show, Dancing with the Stars. Meanwhile, a look at the actor's personal life shows that he has married twice. Firstly to well-known American actress, Heather McComb (2003-2010), and secondly to not-so-popular Kimberly Brook. Here is more about the later and her relationship with the actor.
Who Exactly Is Kimberly Brook, James Van Der Beek's Wife?
Kimberly Brook is an American business consultant, film producer, and blogger. She was born on the 22nd of March, 1982 in Washington, U.S.A. Among the projects she has worked on as a producer are Teenage Paparazzo (2010) and Heads Up (2015). In her blogging career, Kim concentrates in the areas of wellness and environmental protection. She has made contributions to a number of publications such as People and Food Heals Nation. Kimberly however, only became known to the public as the second wife of James Van Der Beek.
As earlier hinted, Vand Der Beek initially married Heather McComb on 5th July, 2003. Brook, however, began dating Beek sometime in 2009 after the latter separated from McComb in April of the same year. Kimberly Brook and James Van Der Beek subsequently married on the 1st of August, 2010; that was some months after Beek concluded his divorce proceedings with his former wife on March 31 of the same year. The wedding was a private ceremony that came off in Tel Aviv, Israel, precisely at the Kabbalah Center close to the popular Dizengoff mall. Interestingly, that was the same place the couple first met each other back in August 2009.
Meanwhile, Kimberly has remained taciturn when it comes to her background and the years before she met James Van Der Beek. It crawled into the media light that she has a younger sister named Tiffany Brook. Following her marriage to James, Kim has become known as Kimberly Van Der Beek. She is quite very supportive of her husband and has since garnered much prominence for always cheering him on while he gave his best on DWTS.
Also See: Michelle Buteau – Biography, Husband (Gijs van der Most) and Other Facts
Who Are Kimberly Brook's Children & Family Members?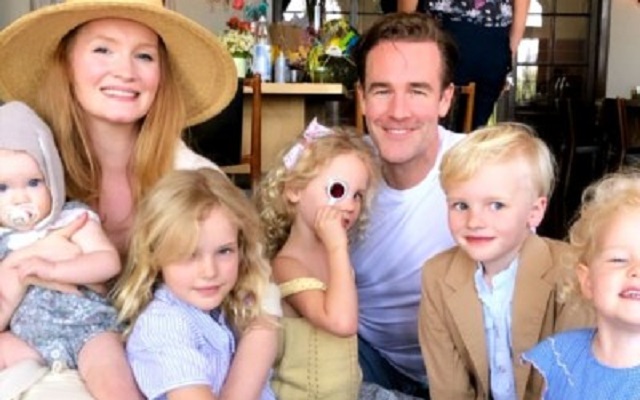 Kimberly Brook's family comprises her husband and children. At the time of her wedding, Brook was heavily pregnant with her first child with James Van Der Beek. The baby which is a girl later arrived on the 25th of September, 2010. They named her Olivia Van Der Beek. Kimberly subsequently gave birth to her second child and first son named Joshua on March 13, 2012. The couple later welcomed their third child, a daughter whom they named Annabel Leah on January 25, 2014. Early in 2016, precisely on the 23rd of March, Brook gave birth to their fourth child and third daughter, Emilia. The couple's fifth child and fourth daughter, Gwendolyn subsequently arrived on June 15, 2018.
Aside from her five surviving children, Kimberly Brook's husband in a September 7, 2018 Instagram post revealed that she has so far miscarried three pregnancies. The third miscarriage, according to him, occurred right before she took in her fifth child, Gwendolyn. The couple has since joined hands to advocate for those who are going through similar circumstances, urging them to feel no shame about it. Van Der Beek is particularly of the opinion that "Miscarriage" be given another name as the current one bears with it the notion of the blame on the part of the woman as though she "failed to (properly) carry her baby" whereas it's never in any way her fault.
Meanwhile, the parents of five are not yet done. Kimberly and James on the October 7, 2019 episode of DWTS, revealed with much excitement that they are expecting their sixth child together. According to James, they have not "closed up shop"! While they await the arrival of their sixth bundle of joy, Kimberly Brook alongside her husband is obviously enjoying their large family. Their individual social media accounts, especially Instagram glaringly attest to this fact. Each of the couples never gets tired of making frequent updates of their lovely and memorable moments with their children. Together, they make a wonderful family.