Mandie Taketa may not enjoy the same level of fame and popularity as her ex-husband Wayne Brady, but she can still hold her own as an actress, entrepreneur, and yoga instructor. The beautiful actress has also functioned as a fitness model as well as a martial artist. However, she is best recognized as Wayne Brady's former wife. A Hawaiian native, Mandie gained proficiency in martial arts under the tutelage of her own dad who trained her from a very young age. Since then, the martial artist has been serving as a referee in several martial arts competitions and has participated in a good number of them as well.
Mandie Taketa's interests also include dancing through which she earned a full dance scholarship to study at the University of Hawaii. But she preferred to move to LA in pursuit of a career in both acting and dancing. Since her divorce from Wayne Brady, Mandie seems to favor the quiet life as she has not been active on social media platforms, however, she is active on Instagram, though her posts only come sporadically.
What Is Mandie Taketa Doing Now?
Presently, Wayne Brady's ex-wife is quite busy with her work as the chief executive officer of Everything Did Productions which she established in 2011. Before then, she was engaged as a professional dancer and is a known cheerleader. She has proficiency in acrobatics as a gold medalist flyer at the national level. Mandie Taketa's other career interests include her stint in bodybuilding, winning more than a few fitness contests. She is also qualified to function as a physical therapist and a yoga instructor.
Mandie Taketa actually tried her hands at acting but it would seem that the performing arts was not really her forte. Though she did not make a big bang, the former wife of Wayne Brady was part of the cast of ManBand! the Movie where she played the character of Vicky. The movie was an independent comedy, dealing with several issues like reality television, pop music, as well as age discrimination.
From what is obvious, Mandie Taketa didn't stay very long on the movie scene and wasted no time in launching a career as an entrepreneur which has proved successful to date. In addition, the mother of one has been part of This Lifetime as the creative brain behind the establishment since November 1995.
Life After Wayne Brady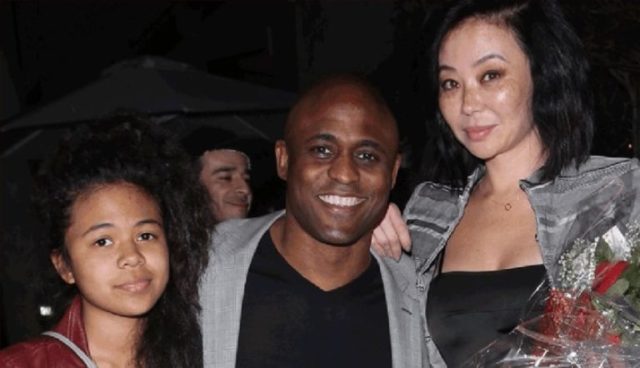 It is a general belief that once couples get separated or divorced, they can never have the same connection with each other. However, it would appear that professional dancer and martial artist, Mandie Taketa, and her ex-husband Wayne Brady are well on the right track to proving this popular belief wrong.
It during Wayne Brady's 1996 showcase in Ohau, Hawaii that he met Mandie Taketa. Love blossomed between the duo who commenced dating immediately, moving to LA together after the end of the show.
Their nuptials followed three years later on the 5th of April 1999. The couple had one child together, a beautiful daughter called Maile Masako Brady who joined the family in 2003.
Their marriage ended three years later, on their wedding anniversary, precisely on the 5th of April 2006. They stated irreconcilable differences as the reason for their separation. Mandie Taketa eventually filed for a divorce on the 2nd of July 2007, requesting spousal support as well as the physical and joint legal custody of their daughter.
Read Also: Amatus Sami-Karim, Mahershala Ali's Wife – 6 Things You Need To Know
However, one surprising fact about the co-parents is that their relationship seems to be quite amicable despite their divorce. Though their marriage has come to an end, they are still the best of friends, assisting each other with their different needs. Mandie Taketa purchased a house in the neighborhood where Brady lives, just to make co-parenting easier. On his own part, Mandie's ex-husband appreciated his ex-wife for making life easier for him.
According to the comedian, Mandie was right by his side when he fell into depression after his 42nd birthday. Brady has since confessed that he still likes his ex and that she was with him when he had no one except his mother was. However, fans are beginning to see this declaration on the comedian's side as an indication of a reunion. Maybe the second time around will be better than the first time.