Lesedi Matsunyane Ferguson is a South African actress, content creator, and film producer, better known as the daughter of actor cum film producer Neo Matsunyane, and long-standing South African actress, Connie Ferguson, who has been one of the most admired women in the South African entertainment industry.
Lesedi is best known for the role she played in the popular Mzansi series, The Queen. What's more, it seems the more Lesedi tries to make a name for herself outside her parent's fame, the more she ends up under their shadows. Hence, she has let out her dislike in people always linking her success to her parents and therewith maintained that she wants to be independently successful.
Profile Summary of Lesedi Ferguson
Full Name: Lesedi Matsunyane Ferguson
Date of Birth: 31st December 1992
Age: 30 years old
Place of Birth: Johannesburg, South Africa
Nationality: South African
Marital Status: Single
Child: Rowena Malema
Parents: Connie Ferguson and Neo Matsunyane
Education: AFDA: The School for the Creative Economy
Occupation: Actress, Producer
Years Active: 2011 – Present
Lesedi Ferguson Is Following In The Footsteps Of Her Famous Parents
Lesedi Matsunyane Ferguson was born in Johannesburg, South Africa on the 31st day of December, 1992. She is the daughter of multi-talented actor Neo Matsunyane and actress Connie Ferguson. Connie and Neo tied the knot in 1993, meaning that Lesedi was born before her parents got married. The marriage, however, hit the rocks after five years, precisely in 1998 and they both went their separate ways. Lesedi is the only child they share.
Three years after the union ended, Connie met and got married to Shona Ferguson in 2001. Together, they welcomed a daughter named Angel Ferguson in 2002. Shona Ferguson, who remained a father figure to Lesedi until his death, was also a seasoned actor and film producer. Lesedi was only six years when her parents got divorced and so was raised by her stepdad and mother.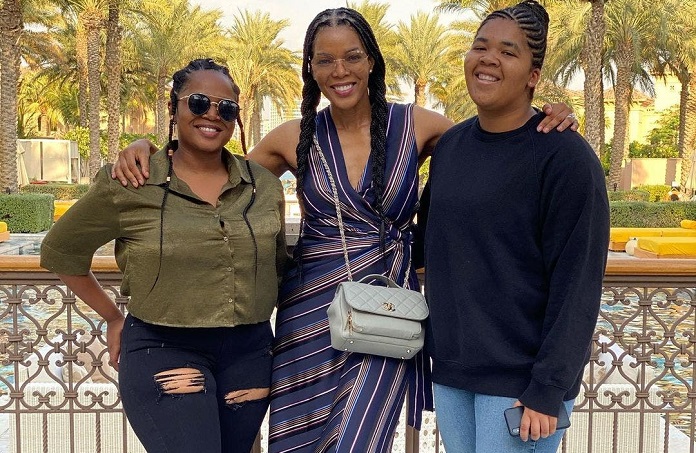 Lesedi attended Sacred Heart Marist Brother's College and later moved to Aurora Private School for her high school education. In 2011, she went to study at AFDA Cape Town and graduated in 2014 with a BA in Live Performance.
Her Parents Played a Role In Her Career Choice and Rise To Fame
Lesedi Ferguson found herself surrounded by successful actors right from birth and it seems to have influenced her career path. She said that even though she had always had a passion for acting since she was a child, she got a good influence from her parents, especially her mother. Connie balances her career with family life despite her busy schedule. Shona and Connie take full parenting responsibility to their two daughters and this greatly influenced Lesedi to tread the path on which they are. The fact that her parents are already established and well known in the industry also earned her some big roles, thereby, contributing to her quick rise to fame.
Lesedi Ferguson Began Her Acting Career in 2011
Growing up in the midst of big actors as parents, Lesedi became interested to follow in their footsteps. She started nurturing her passion for acting in her childhood but kicked off her career officially in 2011 when she was 19 years old. She had her first appearance in the Vuselela Series that aired on Soweto TV from 2011 – 2013. The following year, she acted the role of Ruby Dikobe in one of the biggest Mzansi TV shows, Generations.
Through serious learning, Lesedi Ferguson mastered the African-American accent which earned her some big roles in the South African film industry. After the show in 2012, she took a break from the industry only to return in 2020 with another big role. She got the role of an African American named Davina Moore on the eTV drama series Rhythm City in 2020. In the series, she played the character of a 20-year-old girl trying to adapt to the culture and traditions of Johannesburg.
Furthermore, Lesedi has taken up roles in the popular Ferguson Films series, The Queen. The program is produced by her parents; Connie and Shona, who also played roles in them. In addition to acting, Lesedi works as a casting coordinator and member of the production crew for several works of her family's production company. She is the production coordinator and assistant in Ferguson's Production. She has once made an appearance alongside her parents on Lewis commercials in 2011.
Recap Of All Her Roles
Vuselela: 2011 – 2013
Generations: 2012
Rhythm City: 2020
The Queen
The Actress Maintains That She Is Not Successful as a Result of Her Parent's Fame
Lesedi Matsunyane-Ferguson has made it very clear that in as much as her career is flourishing, she independently wants to carve a niche for herself in the entertainment industry. She expressed her dislike of people linking her achievements to her parents, given their notable status in the industry. Although her parents have influenced Lesedi's career path, she now does not want to be in their famous shadow any longer.
Shona and Connie Ferguson have influenced not only Lesedi but also her sister Alicia Angel. Alicia makes it to the entertainment industry, not as an actress but as an artist. Lesedi maintained that she built her skills and herself against the calls of nepotism trending around her. Hence, she continues to put in more effort in her career to ensure that she becomes a success in her own light.
Lesedi Ferguson Is Not Married But Has A Son
Lesedi is the mother of a boy named Rowena Malema. She had the child out of wedlock in 2015 while she was an undergraduate. The actress's baby daddy is a famous South African photographer, Austin Malema. The two met in Cape Town while they were students at AFDA. Although the relationship had ended long after she birthed her child, Austin ensures that he is a part of Rowena's life and takes his part of the child's responsibilities.
On the other news, the actress said that her parents and sister Alicia really supported her in raising her son. Her mother Connie mentioned that she was not going to judge her daughter for giving birth out of wedlock because she also had her even before she got married. Connie subsequently divulged in an interview session with True Love magazine that one of the things she loves most about her life is the fact that she is a grandmother.  Rowena is a source of joy to the entire family as they would go on to flaunt him on their social media pages.
Lesedi, in a Q/A session she had on her Instagram handle, said that she is single and not dating anybody but currently concentrates more on her career and weight loss routine.