Details about pilot salaries in Kenya are among the highly sought-after information about the aviation sector in the East African nation. It is no secret that pilots are glamorized all over the world. This is clearly because of their jobs' unique nature, which sees them flying through the air to different parts of the globe all year. It is a completely fascinating experience for most people to get into a plane and fly to different destinations in style and luxury. So, a pilot's job appears to be a surreal one.
In Kenya, like other parts of the continent, it is a really big deal to be a pilot. Pilots are thought to be among the elite people in society who receive a lot of money as compensation for their troubles flying through the air. This is why details about how much they earn exactly are sought after.
The Kenyan Aviation Industry Is A Very Vibrant One
The aviation sector in Kenya has experienced massive growth in recent times. As a matter of fact, the overall number of domestic and international departure seats in the East African country has increased by more than three quarters since 2010. This is according to the analysis of published OAG Schedules Analyser data. Also, existing schedules data shows that aviation in the market will expand by 6 percent year on year.
Today, Kenya is in the top three aviation markets in Africa. The sector is reported to employ about 15,000 people. In addition to this, the sector supports another 96,000 jobs by buying goods and services from local suppliers. It is also reported that the aviation sector in Kenya supports another 43,000 jobs through the wages that are paid to its employees, some or all of which are eventually spent on consumer goods and services. Other jobs are also supported through tourism. In total, over 410,000 jobs are currently being supported by air transport and tourists arriving by air in Kenya.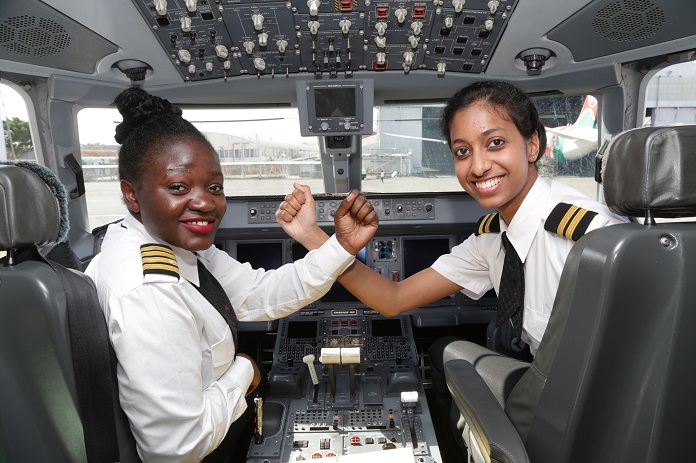 Factors That Determine A Pilot Salaries In Kenya
As expected, all pilots do not earn the same salary in Kenya. There are different factors that affect a pilot's salary in the country as it is everywhere else. These factors include:
The level of education
The level of experience
The location and routes of the pilot
The company the pilot works for
All these factors come to play when a pilot's salary is determined in Kenya. Some pilots who work for more successful airline companies make more money than others who work for the less known ones. Also, the more experienced pilots make more than the newcomers in the industry.
Every year, new pilots are unveiled and recruited. These ones have to begin climbing their ways to the top, starting with low wages before commanding the bigger paycheques as time goes on. Also, some pilots who have bagged different certifications and have acquired higher certificates like MSc and Ph.D. degrees tend to earn higher than those who do not.
A Clear Look At Pilot Salaries In Kenya
Like in other parts of the world, pilots are well paid in Kenya. It is a known fact that pilots are among the best-paid professionals not only in Kenya but across the globe. In Kenya, pilots earn a lot more than the average citizen does and this does not come as a surprise at all.
It is noteworthy that in Kenya, the money a pilot earns money is dependent on whether he is a private or airline pilot.
Private Pilots
Private pilots do not fly a large number of people around in large commercial passenger planes from city to city, instead, they usually fly planes used for private customers who are usually very rich and elite people in society. Private pilots are known to taxi corporate executives from place to place and also transport top celebrities such as movie stars and musicians to their shoot locations or transport professional sports teams to their next games.
Because of the nature of the work, which involves one on one conversation with their customers, these private pilots often get to personally know and bond with people who use their services. Also, they earn their money based on their negotiation skills and how much their clients are willing to pay per hour of flight. Many private pilots set their own terms and others like to be a little more flexible with their charges based on who they are flying.
Airline Pilots
Airline pilots are pilots who work for an airline or aviation company. These people fly large numbers of flight passengers on huge commercial planes from city to city and often do not have any form of personal interaction with passengers. In this case, the airline pays them a salary at the end of the month for their services.
Pilot salaries in Kenya are paid based on the different factors we have listed before, including experience and airline company involved. The average airline pilot in Kenya rakes in about KSh200,000 (about $1,800) every month. However, other pilots earn a lot higher than this. In fact, top pilots with incredible levels of experience earn as much as KSh1.6 million (about $160,000) monthly.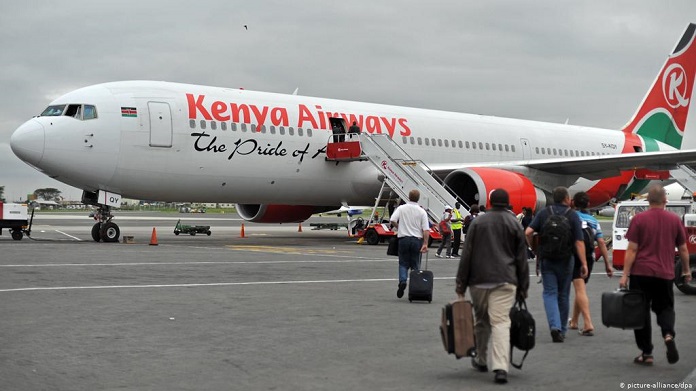 Who Are The Highest-Paying Employers Of Pilots In Kenya?
Kenyan pilots are actually among the highest-paid pilots in Africa. Airlines in Kenya have made sure their captains are well taken care of for years. At the moment, the airline that pays pilots the highest amount of money is Kenya Airways, the official flag carrier airline of Kenya. According to reports, the airline actually pays as high as Sh1.6 million to its top pilots.
There are other airlines that also pay highly in Kenya. They include:
Astral Cargo
Swift Tango
Timbis Air
Tubania Aviation Group
The Requirements To Meet To Become A Certified Pilot In Kenya
There are hundreds, if not thousands, of Kenyans who dream of becoming pilots someday. This can become a reality if they take the right steps. To become a pilot, there are some things to do and take note of. First, one needs to have the right academic qualifications.  Realize that the basic academic requirement one needs to have to land a piloting job is a bachelor's degree related to engineering, aircraft operations, aeronautics, and aviation
education.
Apart from this, it is also noteworthy that one also has to enroll in an aviation or aeronautics program that has the complete approval of the Kenya Civil Aviation Authority. In order to properly begin an enviable career as a pilot, one has to have at least an Airline Transport Pilot's License (ATPL). This is because this license will increase a person's level of landing a job as a pilot. One also has to train with Kenya Civil Aviation Authority after which they will obtain a Private Pilot's License (PPL) and later Commercial Pilot's License (CPL). After this, they will be asked to complete a certain flying number of hours to qualify for the next step in their career.
Aspiring pilots in Kenya are asked to undergo different tasking tests and training before they eventually get employed to fly people around. Pilots are also advised to join a group or an association of fellow pilots because this will open more doors to different job ventures.